Working from home has its perks, but a common complaint among employees who work from home is the loss of work-life balance. Since they are closer to their workstation at all times, they are more likely to lose the sense of time and hence overwork themselves sitting on that chair in front of the desk. Though this is extremely detrimental to employees' mental health and wellness, it is also equally damaging to the physical health of employees.
Sitting all day in the same position gives rise to many issues such as obesity, uncontrolled blood sugar levels, an inactive lifestyle, and not to mention never-ending back pain. Thus, it is important to address these issues in your daily routine activity. And even if you are not willing to leave your home for some daily dose of workout, you can as easily set up home gym equipment through a bunch of choices online.
From yoga for office workers to chair yoga for back pain, each thing, when practiced in moderation, can bring loads of benefits to your daily routine. In this article, we will pick out the best yoga mats for office workers and a review to choose the best yoga mats for you. Let's go with our best yoga mat review.
The Best Yoga Mat Reviews in 2022
The best yoga mat for you isn't the one that just looks pretty, but it is a platform where you can relax, stretch, work out, carry out intensive exercises, and not feel a sense of pain or pinching on the rough ground. Though not most of us are aware of choosing a yoga mat with much consideration, the modern world and studies have proven otherwise. Below are our best options to buy a yoga mat for your home or gym workout.
1. Bellabeat Yoga Mat
If we talk about what is special in the Bellabeat yoga mat, then you must know Bellabeat flagship has an aim to make your workout life much easier and more impactful. This yoga mat from Bellabeat is made with high-quality materials, and the best feature about this mat is that it is biodegradable and recyclable. It is hypo-allergenic, free from toxic materials, and very comfortable.
The 6mm thickness of this yoga mat provides a high level of support for joints and gives you ultra-high comfort. Though it is priced higher than most yoga mats, you can also get a decent discount with the employee purchase program.
2. Jade Yoga Harmony Mat
Because the Jade Yoga Harmony Mat is constructed entirely of rubber, it has certain benefits: it absorbs a lot of moisture and aids in maintaining traction in sweaty conditions. Although it is a little thinner than some alternatives, it offers a supporting yet spongy feeling under the hand, foot, and knee. There are four sizes available, but be aware that the larger size you select will make it heavier.
3. Gaiam Yoga Mats
Let's move to the next product in our yoga mat review. Gaiam balance ball office chairs are well known for excellent posture and strengthened core, but their yoga mats are no less when providing exceptional comfort. From beginners to experienced yogis, this yoga mat is suitable for all. You can work out from home and enjoy the smoothness of the 6 mm PVC surface. The non-slip texture makes your workout fun and much easier.
4. Lulumelon Yoga Mat
The signature yoga mat from Lululemon is not just a best seller but also endorsed by professionals. This reversible mat is made of natural rubber, is smooth but sticky, has five millimeters cushioning, and is durable under heavy use. In conclusion, this mat will give you the ideal amount of support when you have a challenging class.
5. Manduka 5mm Yoga Mat
The Manduka Yoga Mat can be your best option if you seek an environmentally friendly mat. It's constructed from natural tree rubber, comes in various muted colors, and is free of harmful plasticizers and dyes. Because of its biodegradable nature, it requires monthly care for routine cleaning. The 'catch-grip' technology of the Manduka Mat provides just the appropriate amount of hold and suppleness to move between poses.
6. Liforme Yoga Mat
This yoga mat review will come to the next product - Liforme mat. This green mat degrades naturally in landfill settings. It also includes helpful recommendations to assist you in practicing with the appropriate form. For those who care about alignment, the Liforme Yoga Mat is great because it is sticky like the Lululemon mat.
7. Cambio Extra Long
Do you belong to the outliers when it comes to average height? Then this extra-long yoga mat is for you. It measures 84 by 30 inches which are suitable for everyone. The yoga mat is padded, prevents injuries, and feels extra soft under your feet and knees. Although it weighs a bit heavier than other options, it comes with an easy-to-carry strap option.
8. Prosource Extra Thick Yoga Mat
If you suffer from pain in your joints and heels but don't want to give up working out, then you deserve this extra pleasant and thick yoga mat from ProSource. It has many reasons to be on this list and even more in your home workout collection. The 1.5 inches thick form provides enough cushioning, and the non-slip surface provides a stable base for your workouts.
9. Luga Pro Non-Slip Yoga Mat
A yoga mat that is non-slip but also not rough on your feet? Check. Find this best option when you are on a budget but very serious about your comfort. It is suitable for long yoga classes and tends to absorb your sweat like a sponge.
10. Alo Yoga Chakra Mat
Doesn't the name fascinate you enough? This yoga mat is an optimal choice based on the original Sanskrit of yogis. It is antimicrobial and has a moisture-wicking surface and an anti-slip grip against the floor. You will also find a grid texture that keeps your feet planted while providing extra soft support.
How To Choose a Yoga Mat?
No matter how straightforward the choice seems, the need for a proper yoga mat never goes out of style. Certain factors play a huge role in picking the best yoga mat.
Thickness
Choose a mat that is approximately 1/8-in thick (or 3.175 mm) if you are unsure where to begin. This is a very common thickness. These mats are great for people who have vigorous, fluid practice.
Material
You have various options when choosing the material for your yoga mat, ranging from affordable PVC to sustainable natural rubber. The mat's price, weight, grip, and durability will vary depending on the material you select. Generally, thicker mats outlive thinner mats.
Price
No matter how important, a yoga mat isn't worth stripping your money off. You can find affordable options with better features only if you expand your search and compare before purchasing.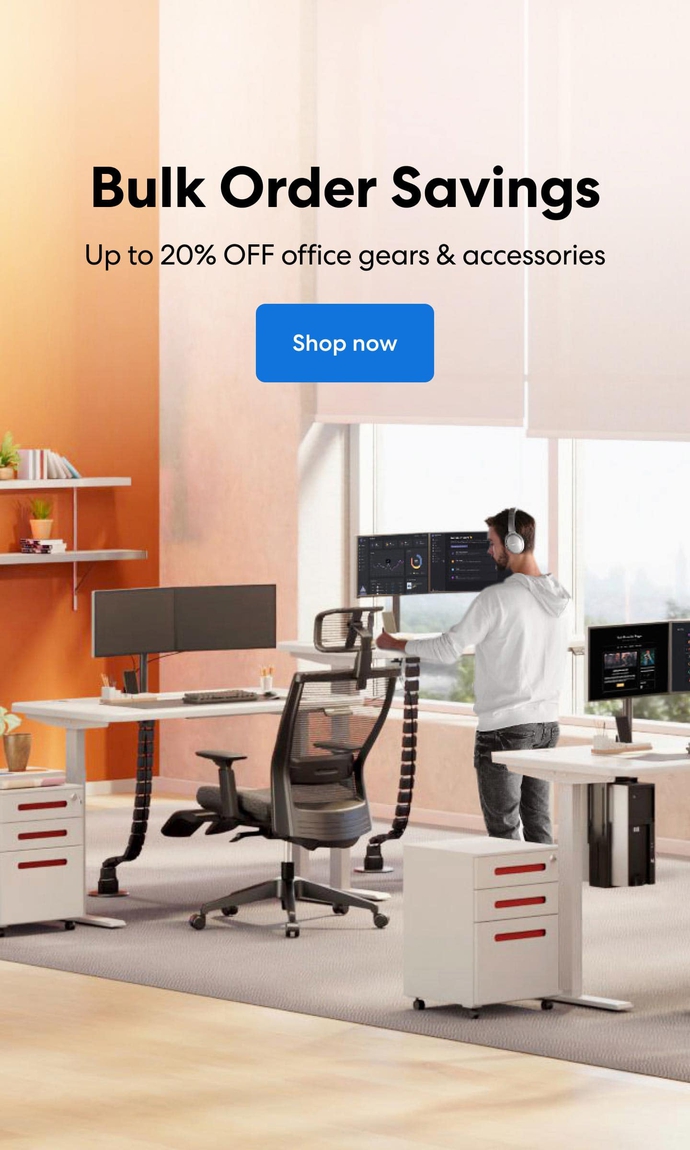 Subcribe newsletter and get $100 OFF.
Receive product updates, special offers, ergo tips, and inspiration form our team.