A chair designed for posture can help you withstand lengthy periods in front of the computer. While you certainly don't want to spend lots of money on a chair, a good chair for your posture can be a smart buy in terms of your wellbeing, comfort, and productivity. In this article, we go over the top best chairs for posture to help with your posture and provide you with the information you need to pick the finest ergonomic chair for good posture for you. 
Why Does Your Posture Matter?
Your physical body, as well as your emotional health, benefit from good posture. When sitting or standing, good posture provides even, balanced pressure to the spine's ligaments and muscles. This evenly distributed workload decreases physical strain on the body, lowering the risk of headaches, tight necks, pain in the lower back, and other muscle aches. 
You may feel better psychologically and emotionally if you have good posture at work or when doing anything. In fact, according to one study, proper posture increases your self-assurance in your own thinking. 
Keeping your joints and bones in good alignment is one of the many advantages of maintaining proper posture. Ensuring that muscles are used effectively and efficiently. Specializing in the reduction of excessive wear and tear on joint surfaces. 
Top 11 Best Chairs for Posture Improvement
1. ErgoChair Pro
The ErgoChair Pro has a 22-degree reclined sitting posture and tension that can be adjusted. Each of the five lockable settings on the posture correcting chair is designed to keep your spine stable and preserve your lumbar region. It also consists of ultra-breathable woven mesh, which gives a tiny amount of posture-correcting support. 
After a hard day at work, this best chair for posture keeps you from becoming tired. Because the backrest and padding move in harmony at an ergonomic 2:1 ratio, you may extend and recline without putting pressure on your legs or lower back. Buy an ergonomic chair to end the day with the same amount of energy you started with. 
2. ErgoChair Recline
The ErgoChair Recline is the most versatile and user-friendly chair for good posture on the market. With just two simple levers, you can change the support for any incline. Keep it simple with a backrest and a leg rest or go all out with a backrest and a leg rest. Your body requires movement, and this chair makes it simple. 
This is the best ergonomic chair for working or studying for lengthy periods of time. It has a mesh back to keep you cool in the heat of summer. ErgoChair is BIFMA-certified, airflow-optimized, and woven for long-term durability. It has a small bend to fit your body and stimulate mobility while also properly distributing balance and weight. 
The mesh task chair to help with posture is gently arched to support the natural curve of your spine. It's simple to alter since everyone is different. This reclining ergonomic chair keeps a strong alignment whether you're sitting upright in focus mode or resting back for a power nap. With added comfort, you can add an adjustable headrest and a leg rest.
3.  ErgoChair Plus
It has a mechanism that is entirely adjustable and configurable. This posture support office chair offers the best comfort and support, you can also effortlessly adjust the tilt angle, armrest, seat height, and lumbar support. 
This ergonomic chair's intuitive design is tailored to your height and body type. Even if you're taller, these features ensure that this product provides unrivaled comfort and adaptability. The fishbone shape made of sophisticated TPE material is another standout element of the ErgoChair Plus.
4. Ticova Ergonomic Office Chair
Another ergonomically advanced invention is the Ticova ergonomic office chair to help with posture. Ticova's 3D intelligent back is unlevelled, allowing you to stretch and move while maintaining a healthy mix of support and flexibility. The suspension back is made up of elastomer strands that change in thickness and tension to provide more comfort along the spine and less comfort elsewhere, allowing for a full range of motion while sitting.
The Intelligent suspension back has a framework that provides lumbar support. This posture correction chair keeps your spine in its natural S shape and helps your body maintain a healthy posture with less fatigue. The seat height may be adjusted between 15.5 and 20 inches, making it ideal for people of various heights.
Certain people complain that the Ticova posture correct chair is overly firm or stiff. Others, on the other hand, prefer a chair with extra cushioning. The chair begins to create unpleasant squeaky and creaky noises after a few months of use. To avoid any problems, it's best to examine the state of your chair on a regular basis.
5. NOUHAUS Ergo3D Ergonomic Office Chair
The NOUHAUS Ergo3D ergonomic office chair is a must-try if you want the best chair for posture that can get you through the day. It has a sleek, polished look to it, as well as a unique support for all-day comfort. This corporate office chair has several adjustable features that help to reduce stress while also promoting comfort and productivity. It is not only ergonomically developed, but it also has a modern and trendy appearance that sets it apart from the competition. 
With more adjustability and functionality than many other chairs for good posture, this executive office chair is ergonomically engineered to reduce stress during the day. Back angle adjustment, seat height adjustment, Synchro-tilt, seat depth adjustment, and arm height adjustment are just a few of the features. 
The desk chair has received both positive and negative feedback. Firstly, it's a little pricey. As a result, it's an investment that must be considered first. There are four different ways to alter the back section in this chair to help with posture. Because of this, after a few months of continual adjustment, it begins to wobble, which isn't very appealing. The headrest is also too far back, making it difficult to rest on. 
6. Ergohuman by Eurotech
This reclining desk chair comes with eight various settings for all-day comfort. Tilt tension control, synchro tilt, seat depth, backrest height, tilt lock, seat angle, seat height, and armrest height are some of the features. It also includes a ventilated mesh seat and back that allows for greater air circulation and support.
The chair's back angle is simply adjustable thanks to a three-position tilt-lock. You may either lock the chair back into position or regulate the amount of force required to recline or sit up straight using the tension control. The back, seat cushion, and headrest may all be adjusted to fit the demands of different users. 
Customers find that the mesh chair's numerous personalization options may be too much. Some users also claimed that after a few seasons of use, the back support loosens up a little. The neck support of this posture support office chair is also a little stiff and unsettling.
7. DRAGONN Ergonomic Kneeling Chair
This posture support office chair is made to help you maintain good posture and avoid back problems. It can hold and support up to 250 pounds. It's simple to use and comes with plenty of padding for your comfort. This best chair for posture is suitable for both professional and domestic use.
Back pain is frequently induced by hunching over your workstation for long periods. The DRAGONN ergonomic kneeling chair features a practical design that combines the advantages of standing with the convenience of sitting. This chair can maintain your spine straight by keeping your back upright and spreading your weight equally.
The ergonomic kneeling chair for good posture is a one-of-a-kind design that is intended to alleviate back problems. It is possible, however, that this is not the case for everyone. After a few weeks of use, the caster wheels appear to be weak and are frequently the first component to break. The wood beneath the cushion is also not particularly sturdy. Finally, after utilizing this medicine, some customers experienced soreness in their knees and upper shins. As a result, it's wise to see if you can get used to a design like this before making a purchase.
8. SIHOO Ergonomic Office Chair
This office chair for back pain is specifically created for people who spend hours in front of their desks. It promotes proper posture and offers ergonomic support while allowing you to move freely. The slim back allows you to twist and stretch while its "spine" adjusts and moulds your body naturally. This lumbar support follows you whether you're sitting or lying down.
This posture correct chair is designed to increase blood and oxygen flow while you study or play, allowing you to be focused and comfortable at the same time. Its six ergonomic functions urge computer users to adopt the best posture possible: a working recline that decreases spine pressure and slows fluid loss from spinal discs.
This may be a huge expenditure to consider because it's quite costly. Assembly can take some time, so be patient and put in some effort when putting the chair together. Some users say that the spine design is also uncomfortable. Overall, the benefits exceed the disadvantages.
9. Modway Jive Ribbed High Back Tall Executive Swivel Office Chair
The Jive Executive office chair is a simple, elegant, and functional chair. It has a textured vinyl back for further durability and natural posture support. Seat cushions and armrests are both cushioned for leisure, and the armrests' structure allows for a 90-degree wrist tilting for typing. It is rated as one of the best chair for posture correction in the market.
A chrome-plated metal base of the office chair is equipped with five dual-wheel rollers, and a tension lever and tilt lock allow for natural back position changes. This swivel chair with adjustable height boosts productivity and is a great addition to any corporate environment. 
The Jive office chair is a fantastic choice to think about. It does, however, come with a few drawbacks. This device is excessively stiff for certain consumers, and it tends to slide back too easily. It's also prone to cracking due to loosened screws, so keep an eye on it to avoid problems. 
10. ProErgo Ergonomic Kneeling Chair
Both neck and back discomfort is relieved by the ProErgo ergonomic kneeling chair. This kneeling chair has three different height settings so you may adjust it to your liking. It is meant to organically correct your posture, allowing you to work for hours in front of the computer without experiencing stiffness.
This posture correct chair is designed to give your back, knees, legs, and buttocks the most comfort possible. The mesh, thick three-inch padding on this ergonomic kneeling chair ensures superb all-day comfort. It has four caster wheels to allow you to move around like you would in a typical office chair.
Kneeling chairs may not be appropriate for everyone. The ProErgo ergonomic kneeling chair is no exception. After a few hours of use, some people find it painful on their knees. As a result, they decided to only utilize it for brief periods. It also didn't come with any assembly instructions, which is a big no-no for anyone who isn't particularly handy with tools. 
11. Duramont Ergonomic Adjustable Office Chair
The Duramont ergonomic chair is both stylish and functional. This best chair for posture contains several  features that allow you to find the ideal position, it provides adequate back support and may be adjusted to the desired height and depth. It is one of the most effective chair postures for lower back pain currently available.This chair includes an adjustable headrest that allows you to choose the right height and distance for your neck strain. The backrest can be tilted and adjusted to the desired level of tension. It's made of breathable mesh, which provides for appropriate air circulation and cooling.
Users have complained that the chair is overpriced for the functionality it offers. The chair's construction and craftsmanship are excellent, but it comes at a hefty price - something to keep in mind if you decide to purchase it.
Conclusion
If you spend a lot of time in front of a computer, you should definitely invest in a good ergonomically designed chair for good posture. This might help you avoid back and neck problems, which can make it difficult to complete tasks. It is not always necessary to spend a lot of money on the best chair for proper posture. All you have to do now is continue your search for the best ergonomic chair to make working more pleasant and productive.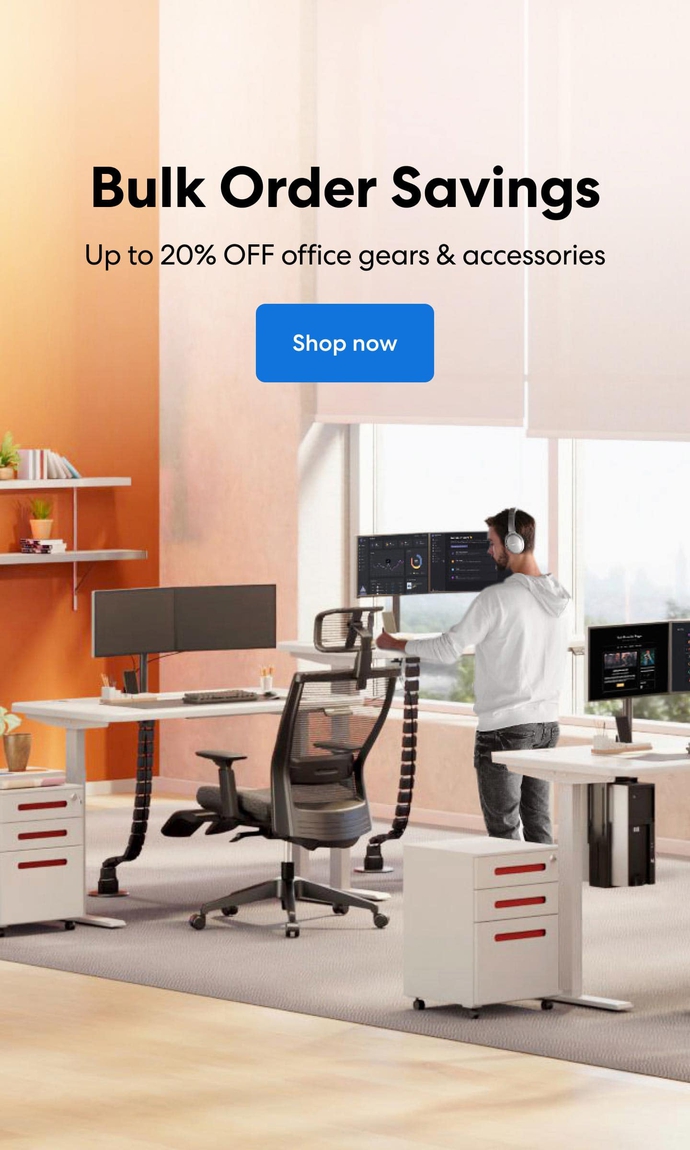 Subcribe newsletter and get $100 OFF.
Receive product updates, special offers, ergo tips, and inspiration form our team.