Smart Products
Save Spaces With 11 Corner Standing Desk Bases For DIY Lovers
1,051 Views
The best home offices have a lot more going on than looks. It's the place that, if planned properly, can support most work, style, and seating preferences, and other partialities. So, when carrying out the building of a DIY corner standing desk base, you need the best ideas. The office that you use has left an impact on the work you do. Openness is the one feature that does that and boosts employee engagement, effectiveness, and concentration. The demands surrounding remote work have increased, and investing time in your corner standing desk frame pays off in the long run.   
DIY is Better
DIY is the better option in so many ways: for one, it is more affordable as you choose a standing desk frame or DIY adjustable desk legs and then add a top. Since the entire top has to be made by yourself, you get more customization too – that's another benefit. Some people feel that buying an adjustable standing desk is the best way to go. There's nothing wrong with making this choice.
However, you get a pretty standard set that might not fit your room perfectly. While the L-shaped standing desk base or frame is still slimmer, it's the top that's the problem. Buying the height-adjustable corner standing desk base is easier as it's got all those motors, glides, and other mechanisms. Adjusting a huge l-shaped top is another issue, and that's why so many customized their own desktop.       
More Stability
There are a lot of components that go into making an adjustable height desk stable. Since most of them are located in the corner standing desk legs, you cannot do much about it. One design point on the desk that you do have control over is the top. Making your own top means that you get to decide how heavy or light it can be and improve overall stability that way. The amount of stability you get from the L-shaped standing desk varies, and unless you add a solid steel frame like the SmartDesk Frame, you need other alternative materials. For example, if you have a very tall desk, you need some cross bracing. Then you need to consider aspects like flexing, twisting, front load, backload, etc. You may have to add more structural components to get that stability, but at least the desk won't wobble.      
Best Corner Standing Desk Base
1. SmartDesk Frame
This SmartDesk Frame from Autonomous is available in a Core and Pro Edition. The Pro Edition features dual-stage, dual motors with more lift capacity. The Core Edition is a little less extreme, with just a single motor and a smaller price tag. The Pro Edition has a higher price tag as it also offers you crossbar and motor overload protection.   
2. iMovR Lander DIY Desk Frame
This Lander base is the best DIY frame and includes a paddle controller, smartphone compatibility, stability. It's easy to assemble and comes in three variants: a 2-leg base with a crossbar, a 2-leg base without a crossbar, and a 3-leg base.
3. Jiecang Electric Desk Base
This L-shaped standing desk base option offers better reliability, durability and is perfectly suited for mid-range use. The frame supports a desktop load that isn't too heavy nor too wide.    
4. FEZiBO DIY Desk Frame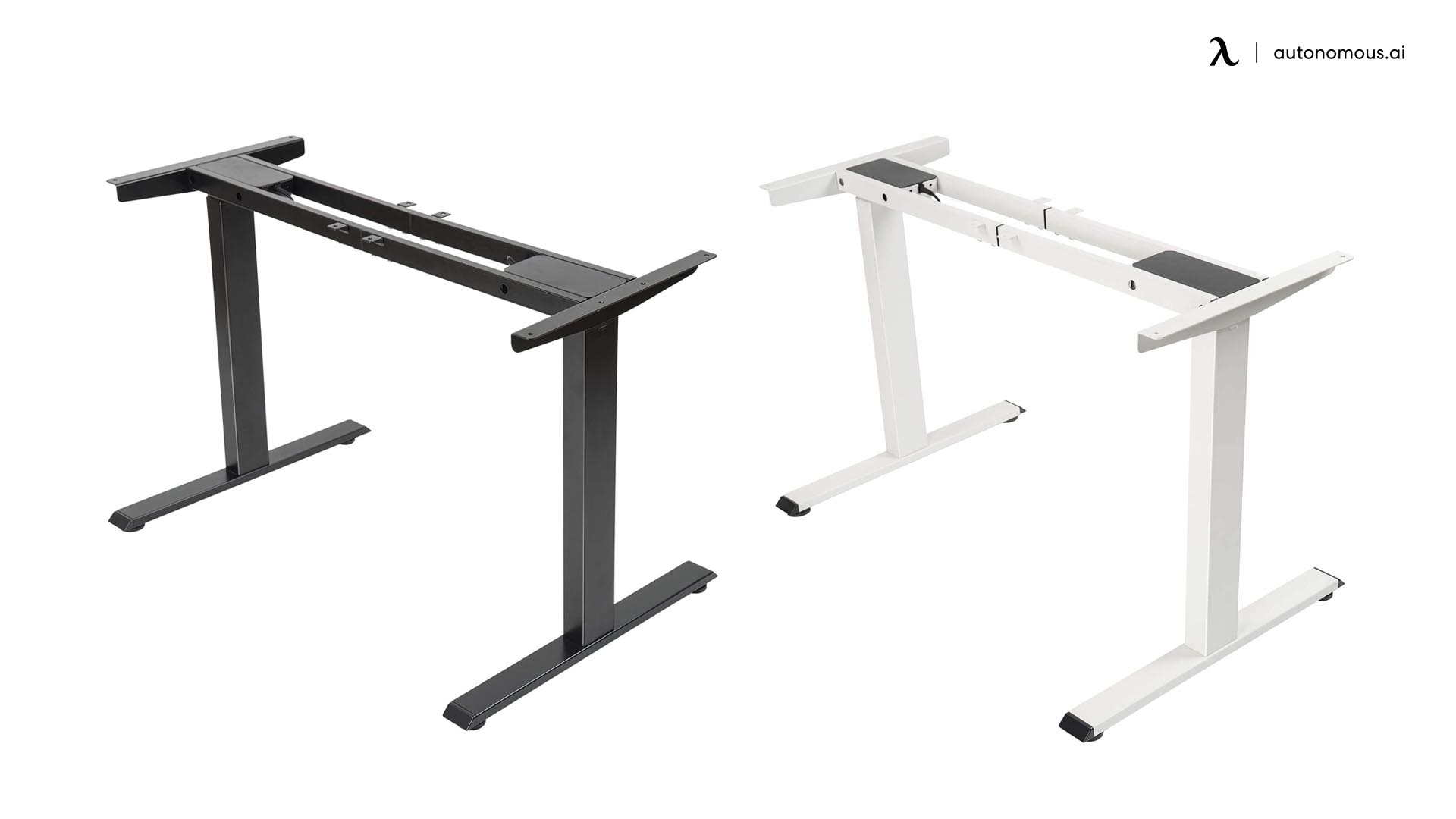 The most affordable corner standing desk base option on the list, this electric desk base fits a medium-height user. It supports a good ergonomic position along with accessories: monitor arm, keyboard tray, etc.
5. iMovR Lander Lite DIY Desk Frame
In this affordable version of the Lander frame, iMovR has kept most of the technological goodness. It is made with quality materials, precision robotic techniques to give you superior value.
6. iMovR Freedom DIY Desk Base
The Freedom Standing Desk is available at a low point with great quality. It has a standard height range of 25.7 inches to 43.8 inches. The frame features PerfectPaint lift columns, quiet operation, and color options. 
7. UpLift Curved Corner Desk Frame
The Curved Corner Desk frame is a low-cost option. It provides an exceptional amount of lift capacity, stability, and three lifting columns. Then, you get a 7-year warranty on the base that can transit at1.5 inches/ second. It is fitted with a 2-button controller that has four memory presets.              
8. Eureka Ergonomic E-60 Desk Frame
This frame employs high-quality designs and components. It has an electric, dual-stage, precision-synced lifting system. The frame supports an LED digital controller with four programmable height presets. Although the desk comes in a single 42-inch x 60-inch size variant, you can shift the 'L' to the right or the left side.
9. MultiTable Mod-E Pro Electric L-Shaped Desk frame
The L-Shaped Mod-E Pro Desk is a minimal offering. The corner standing desk base comes in one color and four standard sizes with triple electric motors protected by a 7-year warranty. Like most of the other desks, this one even has a digital controller with three programmable height settings.     
10. Fully Jarvis DIY desk frame
The corner standing desk legs can support any desktop surface, turning it into an adjustable-height workspace. It is durable, stable, easy to assemble, and has a 158 kg lifting capacity. The frame can go as high up as 65 cm and heavy. Plus, you have a lifting column with a wider base and steel feet to prevent wobbling. Exterior hardware enhancements provide a neater look, reduce vibration and noise.   
11. Uplift V2 commercial
This frame is a pricey, premium option and made for the shorter user. The corner standing desk base comes with additional benefits like returns, free shipping, and a 10-year warranty. The V2 Commercial can be increased to 47.7 inches and lowered to 21.6 inches. It can even be expanded from 41 inches to 79 inches too. You have good support in the form of cross-support that provides great lateral stability while holding up a 355 lbs weight capacity.
Keep up with Autonomous news
Stay informed, stay inspired with our new blogs.
WRITTEN BYAutonomous
We build office products to help you work smarter.