The current state of the global economy has given rise to the concept of the smart office. This is because the traditional office environment, which consists of a regular desk, coffee machine, and internet connection, is no longer sufficient for employees. 
Hence, the continuous search for ways to improve employee productivity, business operations, and reduction in employee attrition by making workplaces "fun" has necessitated the adoption of smart offices as an incentive. 
What Is a Smart Office?
A smart office is a workplace that is efficiently integrated with several technologies. They are made possible by combining different hardware, software, and IoT platforms to transform a traditional office into a digital one. 
Smart office technology can include touchless faucets, smart printers and scanners, biometric door locks, intelligent lighting, conference room access systems, etc. 
The control of smart offices is in the hands of employees either through a device or IoT platforms. Smart office technology is great since it uses data analytics to personalize solutions for every employee. 
Automation embedded in smart buildings and the consistent data they get from it has helped businesses to improve their operational standards, optimize maintenance, and efficiently manage energy consumption. 
Benefits of a Smart Office
Smart office solutions create several benefits for both employees and businesses. They create opportunities to improve business efficiency, employee morale, and they also provide a competitive edge. Below are some of the benefits. 
Increase Collaboration, Employee Retention, and Productivity
At the core of many successful companies is an efficient collaboration among employees. A smart office provides better rapport between individuals and teams through improved communication capabilities. 
When the unnecessary hurdles to communication are removed, a workplace where employees can freely and quickly share ideas is created. This naturally leads to improved productivity for the employees and the business. 
Simplifying daily operational tasks and work schedules, such as sharing files and documents among team members, also improves productivity. 
Improved Relationships and Employee Retention
A smart office solution helps to improve office relationships through collaborative and communication tools. The comfortable and toxicity-free working environment that results from this increases employee retention. Additionally, companies can attract talent when they have an excellent work-culture reputation. 
Improved Employee Participation
Employees that are satisfied with their workplace become more engaged. They're happy and energized to be at work every day and are ready to generate and share their ideas.
Cost Reduction and Better Management Decisions
Information from smart office solutions can be analyzed to help operational managers and business executives make data-driven decisions to reduce costs and improve performance. 
Temperature and lightning can be efficiently managed to reduce costs using smart and sensor-activated systems. 
Identity Management and Improved Security
Companies can improve their on-premises security by adopting a smart office system that can quickly identify and distinguish employees from visitors. Additionally, the use of WIFI-connected sensors, video cameras, and digital badges, accessible with a smartphone application, increases office security. 
11 Smart Office Ideas to Improve Work
Smart Lighting
The potential to reduce energy costs with smart lighting is why companies often adopt it first when going the way of a smart office. The critical components of smart lighting include IoT sensors and controls, LED lighting, connectivity, analytics, and intelligence. 
Smart lighting can save energy by turning lights on or off when IoT sensors detect movement or lack thereof in a room. Automatic adjustment of lighting with daylight is also possible through lighting luminance. 
Recent improvements in smart lighting have put the control of the lighting system in the hands of users who can adjust the intensity of light from their smartphones. 
Additionally, smart lighting includes devices that enable users to control their window blinds from their smartphones or with their voices. Products such as SmartShade by RYSE work well with any window with blinds that use a looped beaded chain. This smart office technology is suitable for home office setups. Employees who wish to purchase this product at a reduced price can benefit from the Autonomous Employee Purchase Program. 
Smart Climate Control Systems
Smart climate control systems use sensors placed around the office to regulate temperature by detecting activity and analyzing usage patterns automatically. As a result, businesses can make informed decisions from the usage data they gather and reduce their carbon footprint. 
Some systems give employees the ability to control smart office technology in their workspaces with their smartphones, boosting employee morale and productivity in the long run. 
Smart climate control systems such as the SmartCocoon smart vent by Autonomous integrate efficiently with building HVAC systems. With its smartphone application, users can adjust the temperature of each room in their building. This smart device is suitable for professional and home office contexts.
The uHoo smart air monitor from Autonomous, which gives a comprehensive analysis of room temperature, humidity, dust, and toxins, helps users take complete control of their space. Like the SmartCocoon smart vent, the uHoo smart air monitor can be accessed from users' smartphones. 
Smart Conference Rooms
Smart conference rooms are composed of comprehensive software or platforms that save employees from the frustration of looking for meeting rooms by streamlining and improving the entire process. 
These systems allow users to book meeting rooms, catering, equipment, and send reminders to attendees on changes in location and time of meetings. Additionally, some systems are integrated with smart visitor management systems, which automate visitors' check-in processes and provide the necessary support. 
Meeting interruptions and rooming sharking are avoided as these systems have smart screens that detail current room occupants and scheduling of upcoming reservations with their purpose and duration. 
Smart conference rooms are ecosystems that cannot function efficiently without some key smart elements, such as a video conferencing software, which handles the process of meeting schedules and invites. 
An easy connection to company computers or in-room services through a smart video conferencing camera is part of this ecosystem too. Additionally, the use of smart whiteboards, which can be seen by and shared with remote teams, impacts meeting outcomes. 
Companies can use virtual reality (VR) devices to mimic real-life experiences during a video conference. When employees feel they're in the same room, the overall meeting experience is improved. 
Smart Workspaces
Organizations can create smart workspaces where employees, either individually or in teams, can work without the formality of meeting rooms. These areas within an office empower employees to choose their working environment, depending on the type of task they're working on. 
An activity-based work environment may be created to allow employees to work in different spaces throughout the day as their needs change. For example, smart offices built with activity-based settings might have 1:1 meeting rooms, smart meeting rooms, soundproof rooms for phone calls, and compact spaces for individual work. 
Companies can also combine a hot desk with a smart office, which reduces the needed amount of physical space. They help companies by not permanently assigning desks to employees. 
A comprehensive desk booking system allows companies to have better control and management of these desks. The facilities or IT department can better estimate the number of desks needed and available on a given day. This system is suitable for distributed teams who often need spaces to work productively. 
Smart Desks
A must-have for most smart offices, especially those with hot desks or activity-based spaces, are smart desks. These desks have a variety of accessories, such as lamps, wireless charging capabilities, and charging ports, which make employees more productive. Additionally, smart desks are adjustable, making it easy for users to alternate between sitting and standing while working. 
The adjustable capability of smart desks improves employee satisfaction and healthy lifestyles because it helps improve blood circulation and metabolism system as users switch to standing positions often. 
Smart desks have activity logs that give an analytics breakdown of the time spent sitting and standing. Additionally, synchronizing the desks with scheduling software keeps users abreast of their schedules. 
Video Monitoring
Companies can adopt smart office technology such as video cameras to improve security at the office. Additionally, these cameras can help building administrators make better decisions by collecting and analyzing data on office space usage. 
Modern video cameras are accessible remotely from a smartphone or desktop. The images are often on the cloud and can be downloaded for deeper analysis as the need arises. 
Gamification
Companies can use well-designed games to make their processes more appealing to employees. Gamification can be combined with smart office solutions such as VR and AR to create real-world scenarios during recruitment processes. 
Office Maps
A smart office helps employees and visitors navigate large office buildings. They can quickly locate floors and search conference or meeting rooms, as well as other office spaces from their smartphones. 
Digital Assistants
Digital assistants are increasingly becoming part of commercial teams of companies. With voice control given to employees, these digital assistants can book conference rooms, send emails or start a phone call. It impacts productivity as it helps employees to focus on their core tasks. 
Workplace Safety
Companies can implement IoT technologies to monitor and reduce the risk of ergonomic injury in the workplace. For example, smart office technology such as connected wearables and RFID tags can detect falls and easily track employees. 
Companies in the manufacturing, agriculture, and construction sectors can benefit from technologies that manage and communicate the need for preventive maintenance of gears or work equipment. This reduces the risk of employees working with potentially lousy equipment. 
Smart Asset Monitoring
Asset tracking technologies such as RFID tags, GPS trackers, barcodes, etc., help companies to reduce the risk of asset theft and loss. It also helps them efficiently manage, maintain, and track them in cases of misplacement within an office building. 
Challenges to Smart Office
A few challenges can make or mar the smooth transition from a traditional to a smart office. Below are four challenges to smart office implementation. 
Costs
The biggest challenge to a smooth transition is the issue of funds. Many smart office technologies are not cheap, affecting a company's decision to adopt the approach. 
However, companies on a tight budget can start with smart office technologies that automate their workflow before moving to more expensive solutions such as full-fledged smart conference rooms. 
They can also explore renting smart office technology rather than buying to reduce cost. 
Security Risks
Smart offices are perfect for large, distributed teams. However, employees working from all over the world pose the risk of privacy violations. Additionally, there's a limit to how companies can control employees' online activities who are not in a traditional office. 
Hence, employees are susceptible to cyber-attack. However, the likelihood of this can be restricted by implementing controls that restrict access to sites necessary for work tasks. 
Employee privacy concerns are another hurdle that companies must scale. Due to the interconnectedness of all business solutions, it becomes easy for companies to track employee activities in real-time. 
Although this tracking helps companies monitor their assets and prevent theft, there's a growing concern about the ability of companies to access employee information outside working hours. 
Efficiency Reduction
There are many vendor specific IoT systems in the market. The implication of this is compatibility problems when companies become tied to specific hardware and software of different vendors. This leads to reduced work efficiency when the different technologies adopted by a company cannot communicate and share data. 
Lack of Understanding

The lack of understanding from decision makers of what a smart office is prevents the transition from traditional offices. Many executives still fail to see the benefits of smart technology solutions, especially when the business is experiencing success. 
This lack of understanding makes it difficult to get the support of people who will approve the purchase or implementation of a smart office. 
Additionally, the integrations required for an efficient smart office are complex and challenging. Some companies don't have the requisite skill or talent to the technologies. 
Conclusion
The smart office is here to stay, and its demand will keep growing. Therefore, companies need to understand their current process and the need to transition from a traditional office. 
The deployment of a smart office no doubt improves business processes and employee productivity. However, potential security risks are a significant concern for any company looking to implement these technologies. 
Remember also that you can leverage the Autonomous EPP for elements such as the SmartDesk series.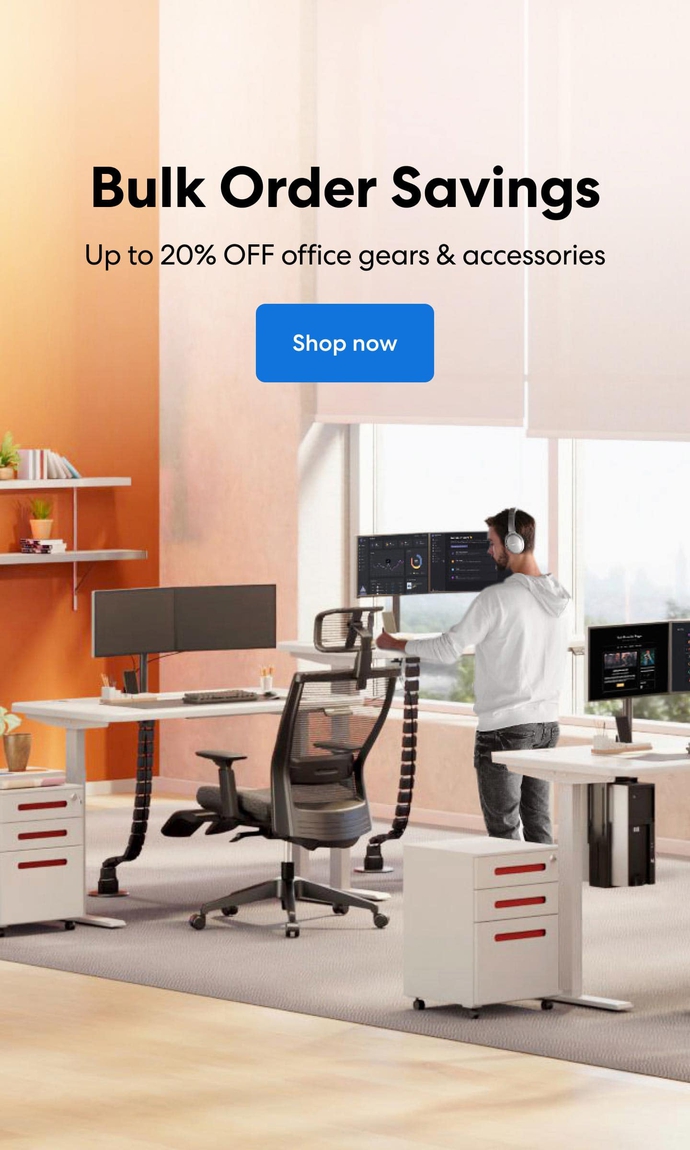 Subcribe newsletter and get $100 OFF.
Receive product updates, special offers, ergo tips, and inspiration form our team.