Smart Products
11 Space Saving Office Chair for Your Stylish and Durable Office
1,422 Views
Whenever there is a use of the word 'saving,' we all turn our attention towards it. Humans are drawn to saving things such as money, time, space, effort, etc., in many ways. Sure, it is human nature to get something better for them, which doesn't demand much. And the example of a workplace is somewhat similar. We all have looked for cheap yet comfortable office furniture while setting up our home office amidst the pandemic.
After all, what's the shame about? A space-saving office chair will help you utilize the tiniest corner of your house without disturbing the entire work-home balance. Space-saving desk chairs have many benefits other than just being low on price and space. If you have been searching for desk chairs for small spaces or need an ergonomic office chair that is comfortable and space-friendly, here are some of the top office chairs for small spaces.
The Best Space Saving Chair for Your Workplace
It is without a doubt that only an ergonomic chair can be suitable for today's workplace. The long working hours and the workload makes all of us exposed to various stresses, and having improper seating on top of that will damage human health, both physical and mental. The best ergonomic chair comes in various shapes and sizes so each person can choose the product according to their needs.
Our list of small comfortable office chairs only includes the best ergonomic chair for small space, so your health and efficiency is not compromised even if you are a little restricted on space.
1. ErgoChair Pro
ErgoChair Pro is a fully adjustable and space-saving office chair. It has a back with curved support to conform to each body type. The seat is perfectly cushioned, and the armrests are made to provide the right angle to elbows and shoulders. The adjustable height, armrest height, seat tilt, and backrest make this product a great pick for the user. It has a weight capacity of 300 pounds so people who worry about this product being weak can relax.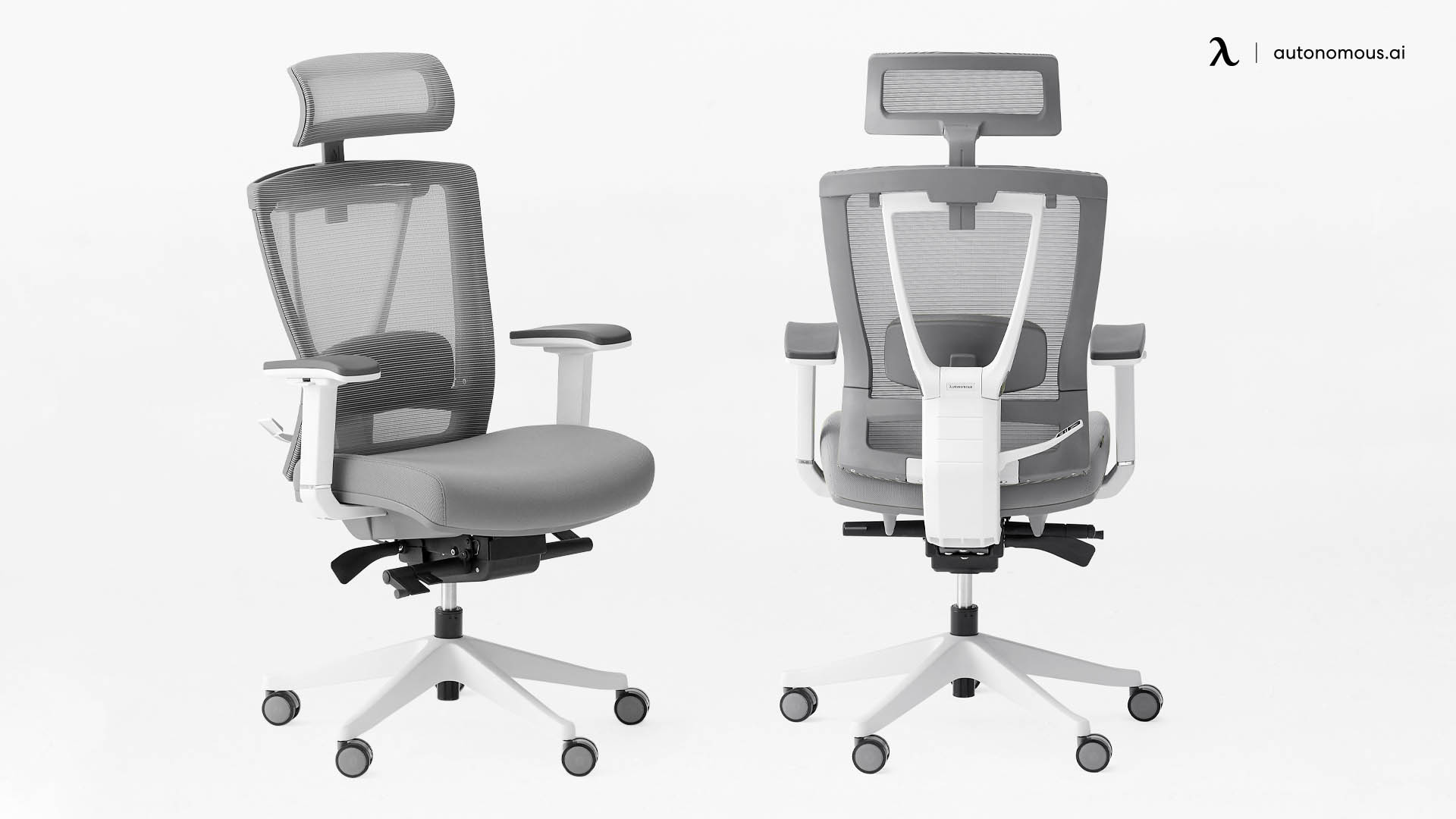 2. ErgoChair Pro+
ErgoChair Pro+ is a highly flexible and versatile chair for people who have to move a lot while working. The wheels allow a seamless experience while keeping the chair stable and sturdy. The back support is cushioned and the mesh structure gives a perfectly engineered support to the back. This is one of the best computer chairs for small spaces.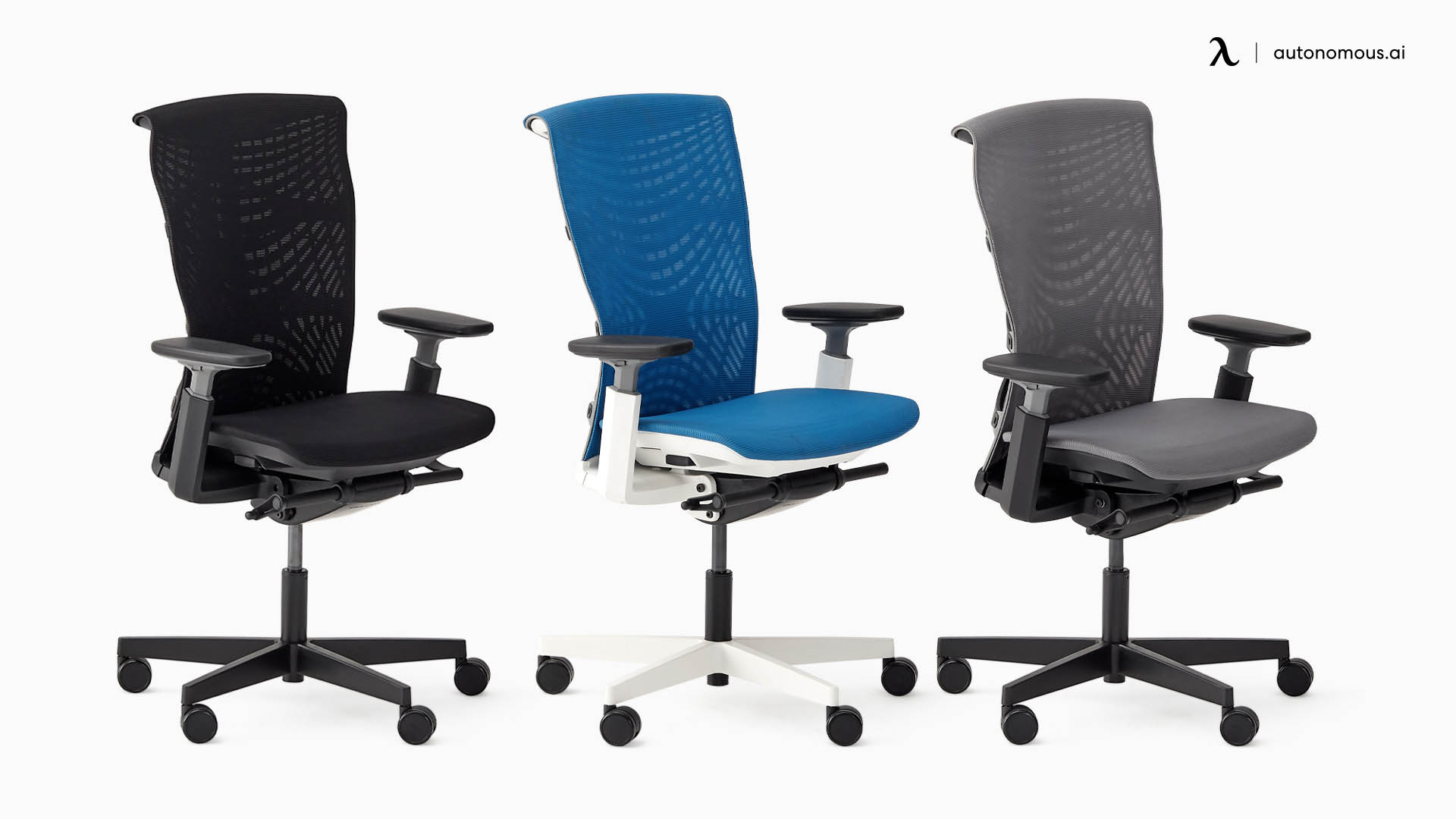 The weight capacity of this chair is 300 pounds, and frameless construction adds to the strength and durability of the product. ErgoChair Pro+ also has active spinal support that keeps the back straight and comfortable.
3. ErgoChair Recline
ErgoChair Recline is a great substitute for your basic computer chair. It is a computer chair for a small space that is more comfortable than your couch. Thanks to the smart features and many technologies engineered into this piece of furniture. Ergo chair core comes in two attractive colors, grey and black; the mesh back allows comfort and breathability to the maximum point.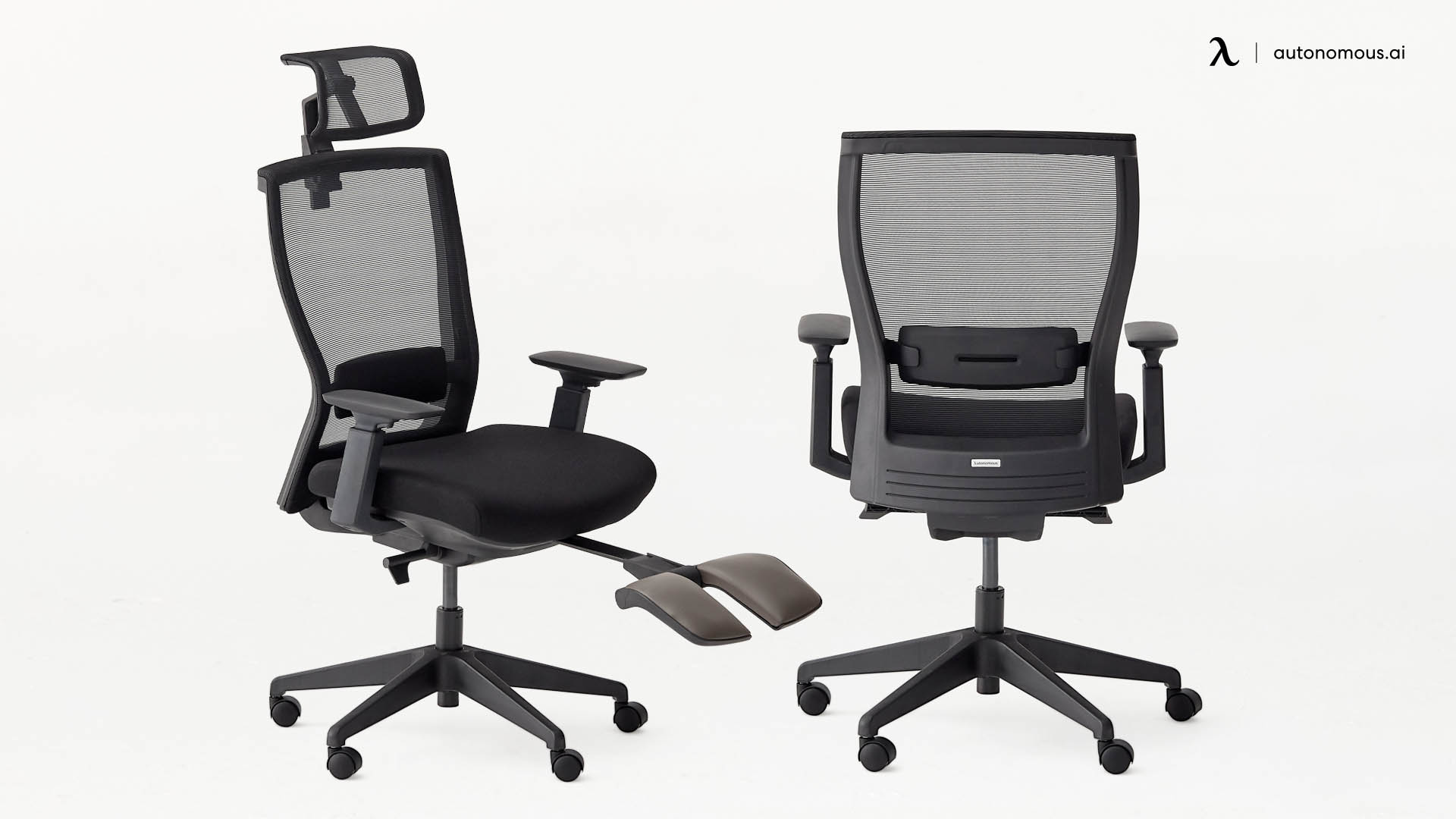 Moreover, the chair has an adjustable height, armrest, and seat title. The comfortable foam seat makes sitting on it for hours feel like a breeze. The lumbar support and reclinable back add to the versatility of this product.
4. AvoChair
This stylish piece of furniture will surely catch a glance or few. It is tiny and an ideal space-saving office chair. The most commendable features include adjustable height, armrest, back tilt, and tension adjustment. Moreover, the elastomeric back seat of AvoChair made of mesh adds to the aesthetic and makes this product breathable for the user. The chair has a weight capacity of 250 pounds combined with a sturdy aluminum alloy base.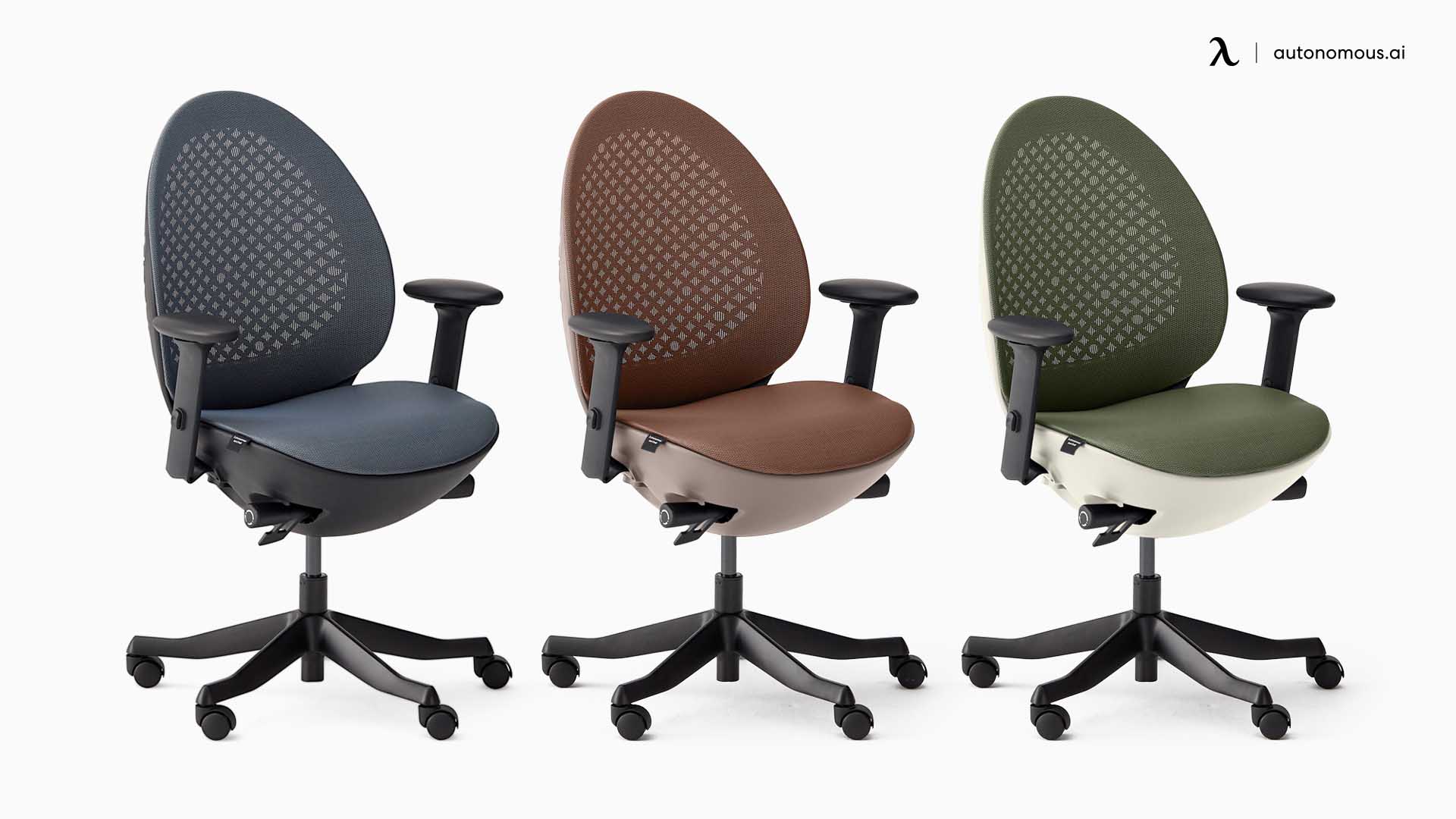 5. John Lewis Ergonomic Chair
An office chair from John Lewis' home office collection can help you avoid aches and pains. From the backrest to swivel capabilities and an adjustable seat height for comfort, this ergonomic desk chair has everything you'd expect from a more costly model. It doesn't have a headrest, which is something to keep in mind if your neck and upper back are bothersome, but it's a solid option overall.
6. Flynn Office Chair
This piece of furniture is as modern as it gets. It is modern, offers a classy look, and has a very minimalist yet attractive design. The upholstered chair is perfectly cushioned at the seat and the back. The handy swivel base and padded seat make this space-saving office chair a great choice. Moreover, the chair has castors too for smooth movement. The only drawback is this chair doesn't have armrests.
7. Knox Office Chair
The Knox office chair looks traditional and old-school in style, but it doesn't mean it doesn't have any know-how about office ergonomics. The Knox office chair will transform your workplace for the better. A strong metal frame and wheels support the seat cushion and the comfortable backrest, making it ideal for everyday usage. It's simple to move around even if you're tethered to your workstation.
8. Humanscale Diffrient Office Chair
A popular space-saving office chair for people who have to spend long hours working. The ergonomic chair is both comfortable and versatile. It is upholstered for maximum comfort and great aesthetics. The chair has a back adjustment system that will conform to every body shape and type.
9. Cooper Mid-Century Leather Office Chair
It combines daily comfort with a Mid-Century inspired style, making it one of the most popular office chairs among GLAMOUR readers. It's simple to change the seat height and move around your room, and the well-padded seat and backrest will keep you comfortable at home. Back hurts? Well not anymore mate!
10. Comhoma Office Chair
The Comhome office chair is a great deal for an affordable price. It is a complete investment for a strong back and an optimum posture. The adjustable seat makes it easy to sit and cater to each individual's needs. This space-saving office chair makes working for long hours comfortable and doesn't tire your body.
11. Setu Multipurpose Chair
It has received several honors, including the Best Sustainable Design Solution, and has a Kinematic Spine that bends and flexes in response to your movements. It has a sleek and attractive design, and it adjusts to your weight as you sit, with elastomeric fabric that molds to your shapes to keep you comfortable and supported
Hey, you have special pricing through your company.
Get exclusive rewards
for your first Autonomous blog subscription.
WRITTEN BYAutonomous
We build office products to help you work smarter.