Workplace Inspiration
11 Study Office Ideas for Productivity with Minimal Design

Autonomous
|
Mar 21, 2022
1,302 Views
Productivity is the key to success and completing tasks in minimal time. We know that you are inspired by the modern, minimal study office ideas and wish to get one for yourself too. This sort of setup is mostly incorporated in a home office, so we will be helping you out in that regard.
You may have a study office room already, but the challenging task is to set this room in a way that you have a minimalistic setup that helps you boost your productivity.
We know that you must be facing difficulties in planning your study office room in a way that you stay minimalistic and ensure that you have higher productivity. Therefore, we have shared our best office study setup ideas to help you plan one for yourself. These ideas will not only inspire you to be more productive, but they will also help you have a better focus on your work by limiting distractions. So, let's have a look at them.
11 Study Office Ideas to Boost Your Productivity
1. Study Office with a Gallery Wall
Giving an artistic touch to your study office is a great way of making it inspirational for you. What you can do is get some paintings and portraits to hang on the wall. The next thing you can do is get a drafting table to use as your work desk.
You may even place an antique globe at one corner to give a picturesque effect to your office. Such an office with a gallery wall coupled with an antique look will create a serene atmosphere where you will be able to concentrate on your tasks better. 
2. Bright and Tidy
Giving a tidy look to your office is the second-best way of maintaining minimalism while boosting productivity. You can do this if you use light colors to paint your study office and maintain an overall bright and tidy theme by choosing light colors, say white. You may get yourself a white office desk and chair to make it gel well with the atmosphere that you are trying to create. 
3. A Sleek Office Setup with a Unique Touch
You can create a sleek office setup if you focus on the geometry of the furniture you are getting in. Try investing in a curvy wooden office desk and chair. To give a unique touch, you may think of investing in brown-colored swivel chairs instead of common wooden chairs.
Having a line of shelves on the wall can also help you make it further sleek. You may place books in a nice order to ensure it looks sleek. 
4. Mid Century Inspired Study Office
You may construct your home office study in light of your mid century modern motivations. You may get yourself some midcentury armchairs and couple them with Navajo rugs to give a sleek look. You may place a couple of shelves around too in order to make it look further sleek. 
5. A Study Office with Popping Colors
This may sound different to you, but an office with a pop of colors can be a new way to promote minimalism and boost productivity. You may use a color combo of green and gold to add that pop. Coupling this color combo with brass and leather accents can be a nice move. So, think of getting a green office chair and table to satisfy this office study setup. 
6. Sunny Workspace by Alexandra Von Furstenberg
Alexandra Von Furstenberg has designed shelving, an acrylic desk, and a side table. There are also certain uniquely designed desk chairs and Dax Design cabinets. You may adopt the same to maintain the minimalistic touch while ensuring you boost your productivity by aligning your office accessories in the best way possible. 
7. Blue Themed Study Office
Going for a blue-colored office can be a unique way of promoting minimalism while boosting productivity. Since blue is a very calm and cold color, it will promote a soft and calm environment. Thus, you will maintain minimalism in such an office.
Additionally, you can maintain the minimalistic setup by using a magnetic desk organizer in your desk to keep any lingering accessories. 
 8. Navy and Green Themed Study Office
Like the blue theme, the navy and green theme can be a great combination for promoting a productive work environment. You can think of adding pieces of furniture that are of the said color theme. You may get a navy-blue side table and work desk. You may also think of using these accents elsewhere in the room to promote a serene work environment. 
9. Monochromatic Vibes
Using a single-color accent to design the entire room is one of the best study office ideas. You can do the same to design your home office. Try using a single color to design the entire office. You may also get some aesthetic frames and monochromatic artwork to hang on your walls. This will create a minimalistic and productive environment. 
10. Study Office with Dark Walls & Bold Rug
You might be surprised, but a dark-themed study office can also be a great way of promoting productivity. This will only be suitable if you have a large study room. In such a case, paint the walls with some dark color and add a large bold rug at the center. You may place your desk on this central rug to make it look aesthetic. 
11. Space-Saving Office
Your situation might be the exact opposite of the previous case, and you might have a small corner where you can plan your office study setup. In such a situation, you may get yourself a drop-front desk and attach it around a corner which you find the most suitable for your office.
You may also place a wireless charging desk pad on this desk to ensure you have your accessories charged. All of this will ensure that you have a seamless work experience. 
Wrapping It Up
We hope that all these study office ideas will help you have a wholesome work experience. You may adopt any other study room ideas that you think can align with the ideas that we have shared above. We believe that you found our article helpful in planning a minimalistic yet productive office study setup.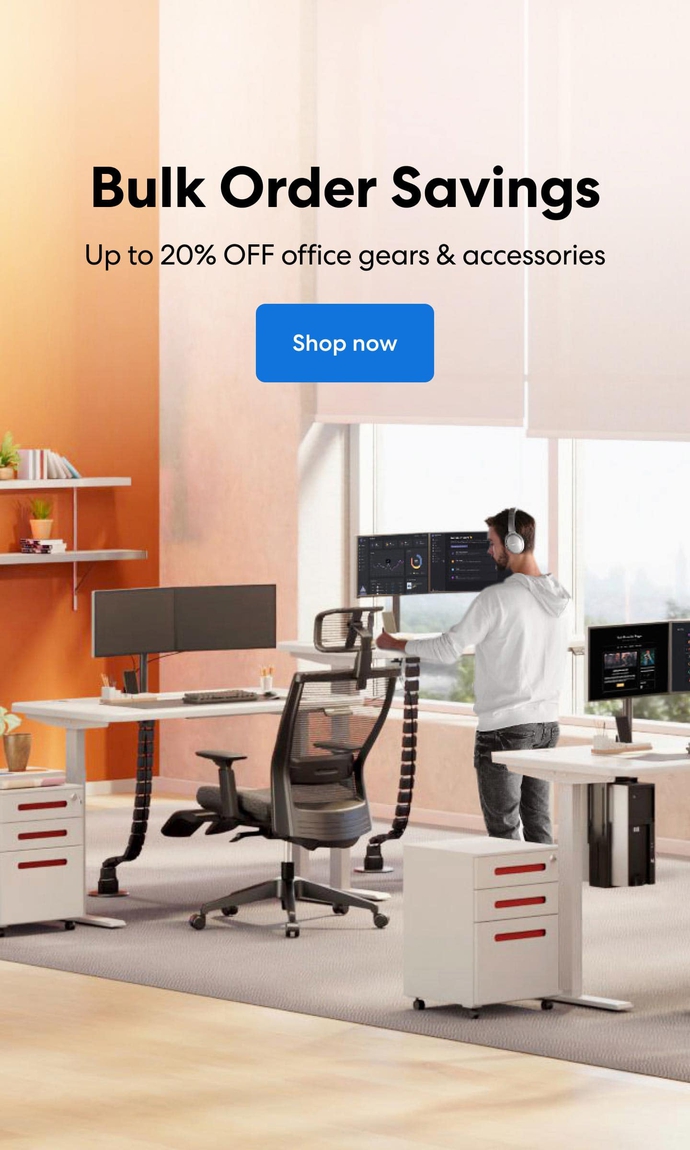 Subcribe newsletter and get $100 OFF.
Receive product updates, special offers, ergo tips, and inspiration form our team.