If you are looking at purchasing an electric standing desk in the UK, then you have come to the right place. There are so many different options available to you, all with their own pros and cons. Knowing which of these is the best can help you make a better choice for your needs. An electric adjustable desk in the UK can improve your entire workspace and can even assist in boosting your productivity and focus. Purchasing one of these electric stand-up desks in the UK can really revolutionize the way you work as well as the way you feel while doing so.
What is an Electric Standing Desk?
An electric standing desk is a derivation of the traditional standing desk. A traditional standing desk is a type of desk that is designed to have a variety of ergonomic properties. What these desks allow you to do is to alternate between standing and sitting positions while you are at your desk. It has a number of benefits of standing desk for you such as:
Improved circulation

Improved posture

Better overall health

Increased productivity

Increased concentration
These advantages are all fantastic for anyone who needs to work at a desk. One may find it a bit unconventional to work at their desk while standing; however, you may be surprised to find out just how effective it could be. It is generally accepted that you should alternate between a sitting and standing position around every 30 minutes for the best results. This is because remaining seated for extended periods of time is not very good for you and standing for a few minutes at set intervals can really do wonders for you.
However, even though these benefits sound fantastic, these standing desk frames in the UK are not without any cons. The cons associated with the standing desks are not deal-breakers by any means, but it is important that you are aware of them before you decide to complete your purchase. Some of the cons associated with standing desks are that:
Using the wrong height settings can result in you experiencing more back and neck pain.

They are generally quite expensive.
An electric standing desk is a variation of this traditional design that uses electric motors to move the desk up and down. The normal standing desks generally use a hand crank to adjust the height of the desk which can be a tiresome process, and just inconvenient. Electric standing desks on the other hand are able to automatically move to a height that you have set at intervals that you have also set. The majority of electric standing desks have a few memory settings so that you do not have to remember your preferred height as the desk does so for you and automatically adjusts to that height at the press of a button.
Coupling an electric standing desk with the best ergonomic chair in the UK is the best way to get some surefire results. An ergonomic chair allows you to get the best results while you are seated, and then adding the standing desk into the mix means that you no longer have to worry about any health risks while working. By adding these two items to your office, you can be assured of the benefits to your productivity and health.
The Best Electric Standing Desks in the UK
Listed below are some of the best electric standing desks in the UK that you can purchase. All of these are unique and offer a variety of different features, all designed to improve your experience while working.
An ergonomic standing desk is an ideal addition to any workspace for a variety of purposes. As a result, people continue to incorporate this furniture into their offices, increasing its popularity. However, as a result of the high demand, the availability of standing desks has increased. As a result, the demand for standing desks has expanded, resulting in a multitude of options. This is particularly true if you're looking for an electric stand up desk in the UK.
Choosing the correct standing desk can be difficult with so many options. As a result, we've compiled a list of the best electric stand up standing desks in the UK. This was done to assist you in finding the best standing desk for your office in the United Kingdom. If you live in the United Kingdom and want to raise the amount of time you spend standing each day by using a standing desk, keep reading.
1. SmartDesk Core – Home Office
The SmartDesk Core - Home Office, built by Autonomous, is the first standing desk on our list in the United Kingdom. A heavy-duty stainless-steel frame and a dual-motor system are included in the design of this standing desk. This motorized device is quiet and durable, making it an excellent option for moving from a sitting to a standing position with ease.
This standing desk can also support up to 300 pounds, making it ideal for those who need to keep a lot of office equipment on their electric adjustable desk in the UK. This SmartDesk Core also comes with a completely adjustable framework that allows the user to reduce the amount of time they spend sitting each day. Finally, the included keypad allows you to easily move from a sitting to a standing position, with four pre-set height changes.
2. SmartDesk Pro – Premium
The SmartDesk Pro - Premium is another Autonomous standing desk available in the UK. The SmartDesk Pro Premium standing desk differs from the original SmartDesk Core in that it has a larger height adjustment range. As a result, when using the SmartDesk Pro, you have the option of raising or lowering the desk to your desired height. This is due to the fact that this electric standing desk in the UK is designed to adapt to a maximum height of 52 inches and a minimum height of 26 inches.
Furthermore, the SmartDesk Pro has a minimalist design, making it the ideal addition to your home or workplace. It also includes a powerful motorized system that helps you to make fast and quiet changes. Finally, you'll have a sturdy and stable foundation to work with. As a result, you should be able to easily carry out your everyday work tasks without having to worry about the negative consequences of sitting for long periods of time.
3. Autonomous L-Shaped Standing Desk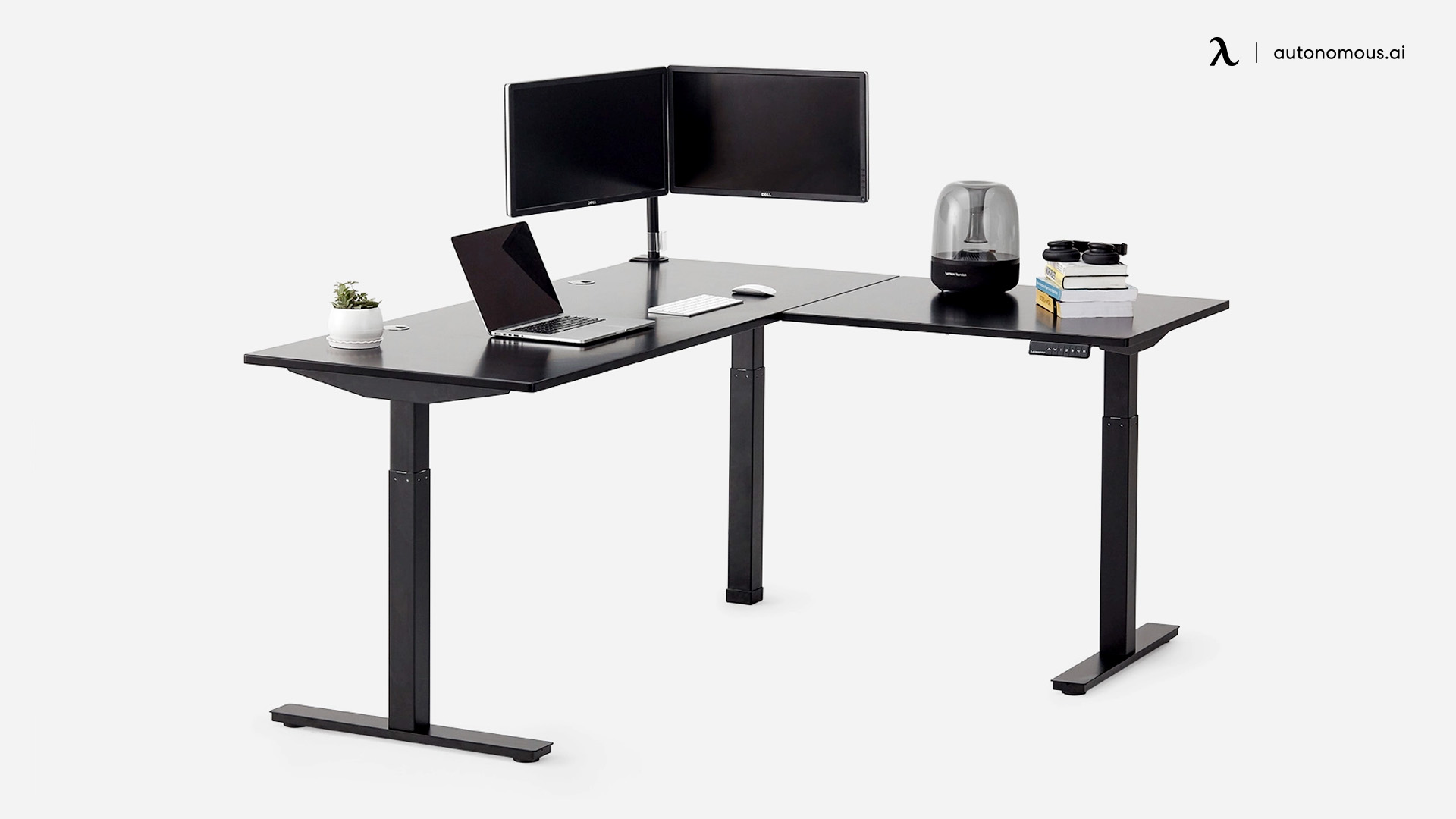 The Autonomous L-Shaped Desk is an excellent standing desk in the UK for office employees looking for a desk that can fit into a corner workspace or make the most of the limited space available in their workstation. Furthermore, the architecture of this best electric sit stands desk in the UK incorporates cutting-edge ergonomic features, making it fully customizable and flexible.
The structure's high-performance and sturdy triple motorized base are engineered with anti-rust industrial stainless-steel features. This contributes to the integrity and sturdiness of this electric adjustable desk in the UK. Finally, it has a sleek and professional appearance, making it an excellent addition to every workspace.
4. Autonomous DIY SmartDesk
If you want a totally customizable standing desk, consider Autonomous' DIY standing desk. When you buy the Autonomous SmartDesk DIY, you get full creative control over creating a standing desk that's completely special and tailored to your particular workspace.
This Autonomous DIY Kit includes a world-class high-performance motorized frame with heavy-duty features that produces less than 45 decibels of noise when adjusting from a sitting to a standing position. This electric frame can also allow these height changes when supporting between 300 and 330 pounds. Not to mention, this standing desk frame in the UK is renowned for its affordability. This is because you're just buying the frame and can get a desktop that better suits your needs for a lower price.
5. Yo-Yo Converter Classic 90 Adjustable Workstation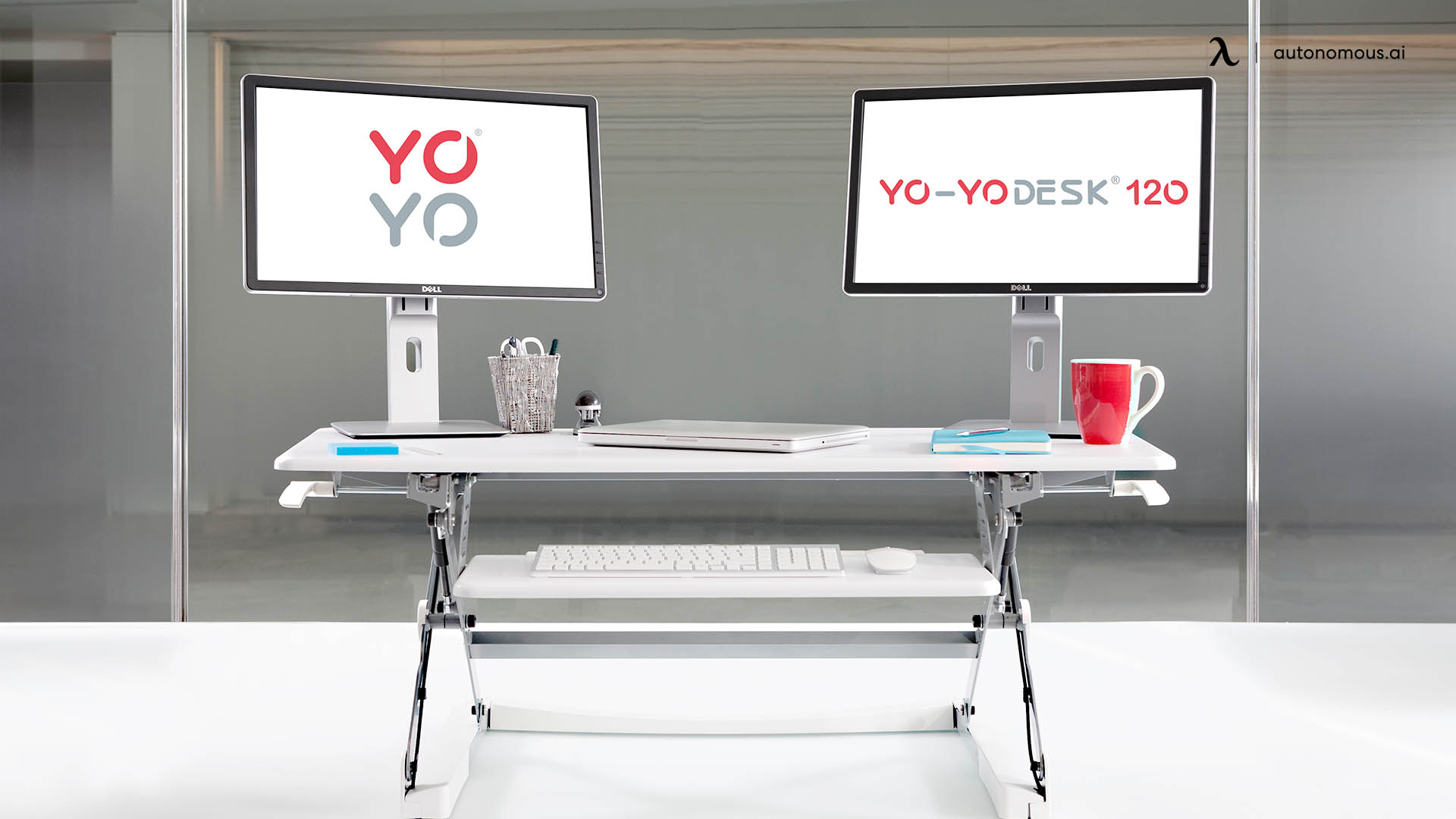 This Yo-Yo Converter Classic 90 Adjustable Workstation is available in four sizes. As a result, you receive an electric standing desk in the UK that meets your exact workspace sizing specifications. It also comes with a three-year warranty and a wide range of height adjustment options. However, the lower lift capacity is restricted, and transitioning from a sitting to a standing position can be difficult if the limited weight capacity is exceeded. Nonetheless, it's a fantastic standing desk solution that can be used in a variety of workstations.
6. DlandHome Adjustable Standing Desk
If you want to provide your children with a more ergonomically beneficial workspace, the DlandHome Adjustable Standing Desk is a great option. It is the best electric sit stand desk in the UK. Many office staff, on the other hand, can find the workspace to be constricting. With that said, the standing desk is known for providing outstanding customer service and top-notch wobble-free functionality, including lockable wheels.
7. Bontec Mobile Tray Workstation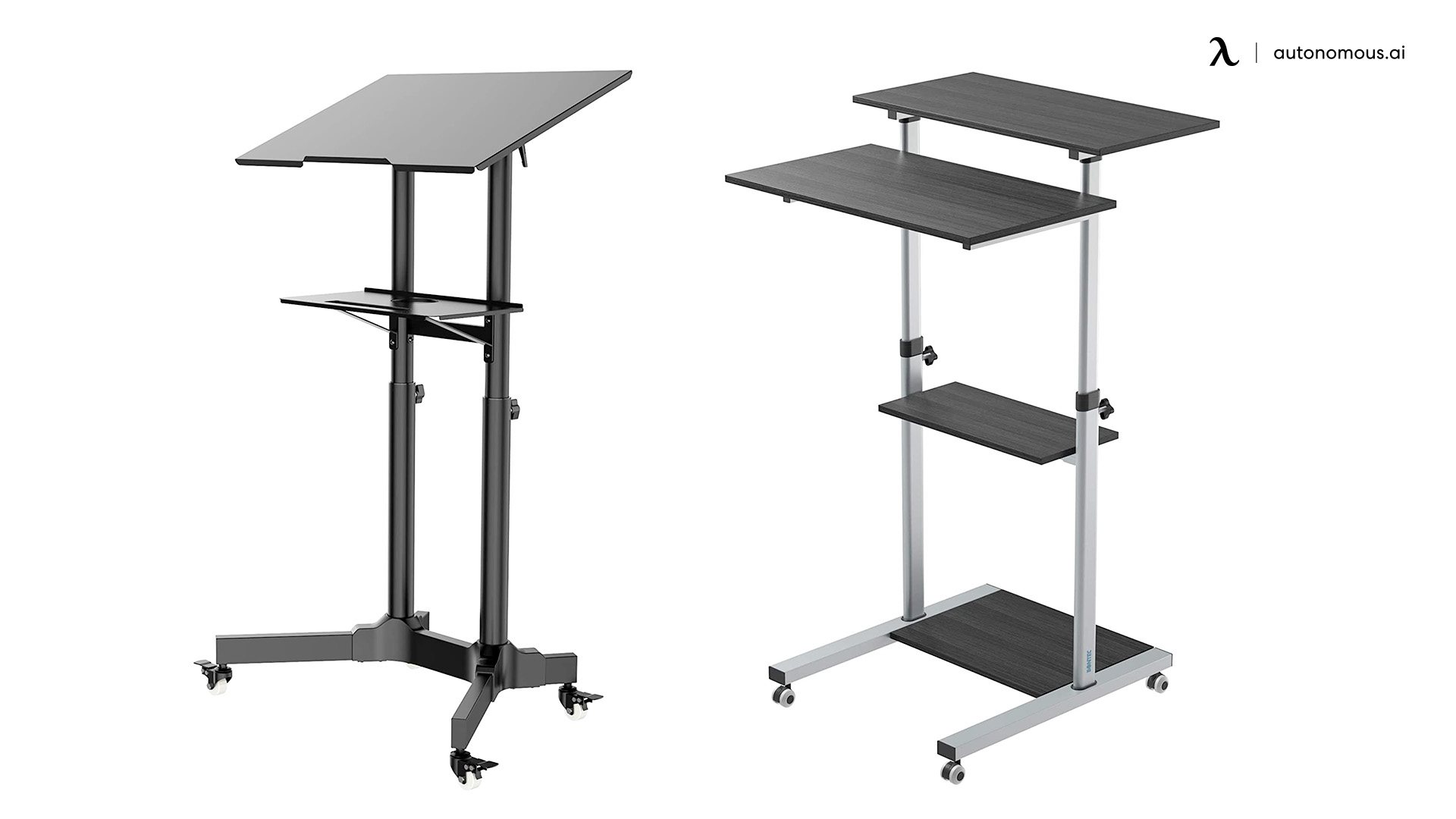 This Bontec Mobile Tray Workstation is built with a stable and wobble-free alloy steel desk base. Not to mention the fact that it has 360-degree swivel wheels. This standing desk's overall output indicates that it is simple to use. It isn't the best choice for taller office employees, and it has a lower weight capacity, which may be a challenge for those who need a lot of office equipment on their desk at once. Nonetheless, one of the most common features of this standing desk in the UK is its built-in locking mechanism.
8. Mobile Computer Workstation Adjusting Sit-Stand Desk
One of the most common electric standing desks in the UK is this Mobile Computer Stand Up Desk Store. It's available in two different sizes and has three additional shelving options. It also comes with 15 height-adjustable settings for quick and easy adjustments. It has lockable wheels to ensure that the unit stays stable when you're working. However, the initial assembly is said to be difficult and time-consuming.
9. DlandHome Laptop Standing Desk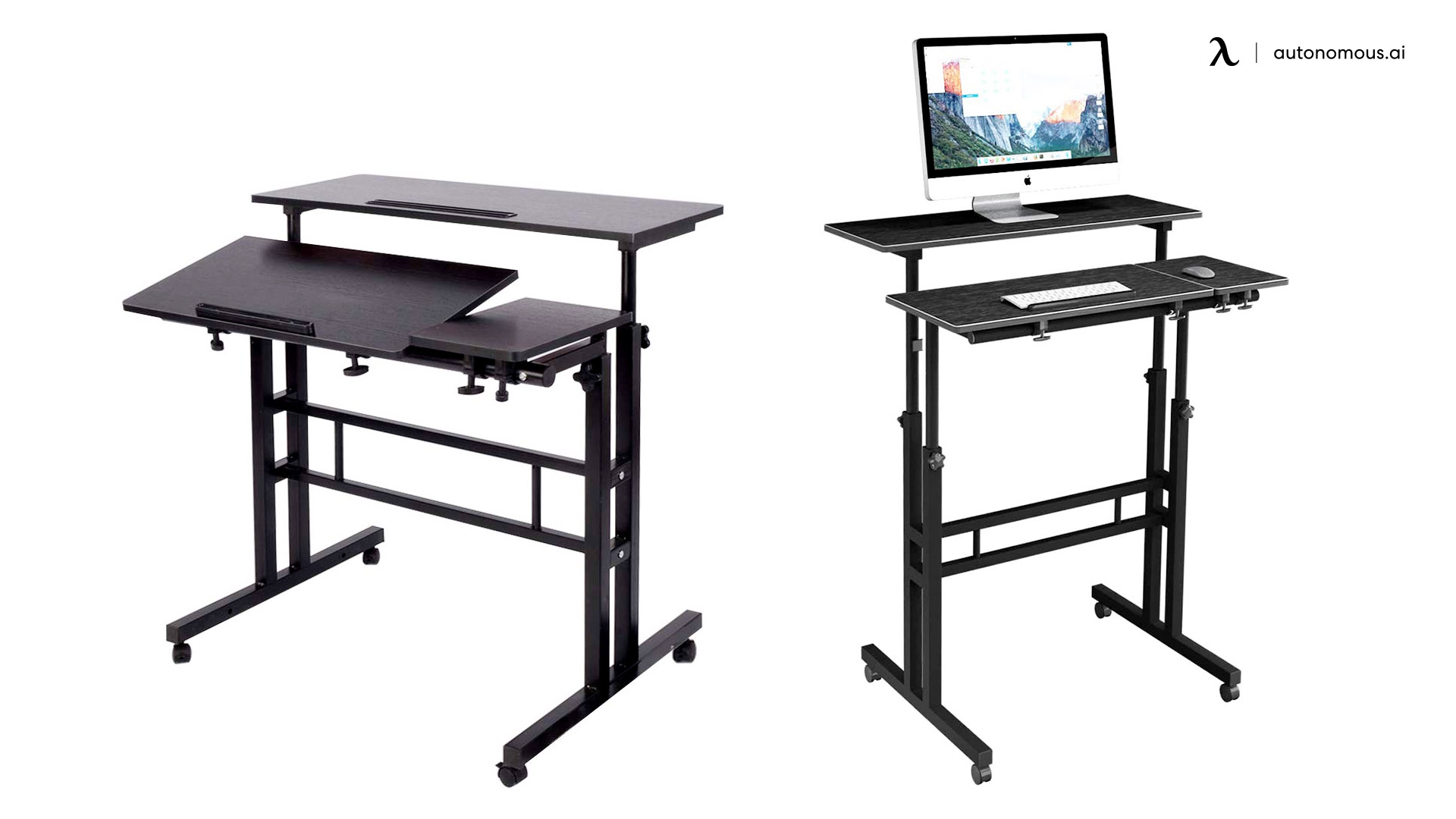 This DlandHome Adjustable Standing Desk is known for its flexible versatility and includes wheels in the construction of the best electric sit-stand desk in the UK. Having said that, there are a slew of other features that contribute to the stand desk's overall high efficiency. This standing desk's design includes movable and lockable wheels for added ease, and the desk is also known for being simple to use. However, it has a complex assembly mechanism and lacks stability at higher height changes.
10.  Vivo Desk-VOOOV Adjustable Standing Desk
The assembly of this Vivo Desk-VOOOV Standing Desk in the United Kingdom is simple and convenient. Not to mention that it has enough room for every office worker's needs and allows for a smooth transition. It's also built with a robust steel frame for increased durability and flexibility. Finally, the whole model is extremely cost-effective. It does not, however, come with an extended warranty.
11.  iMovR Lander L-Shaped Standing Desk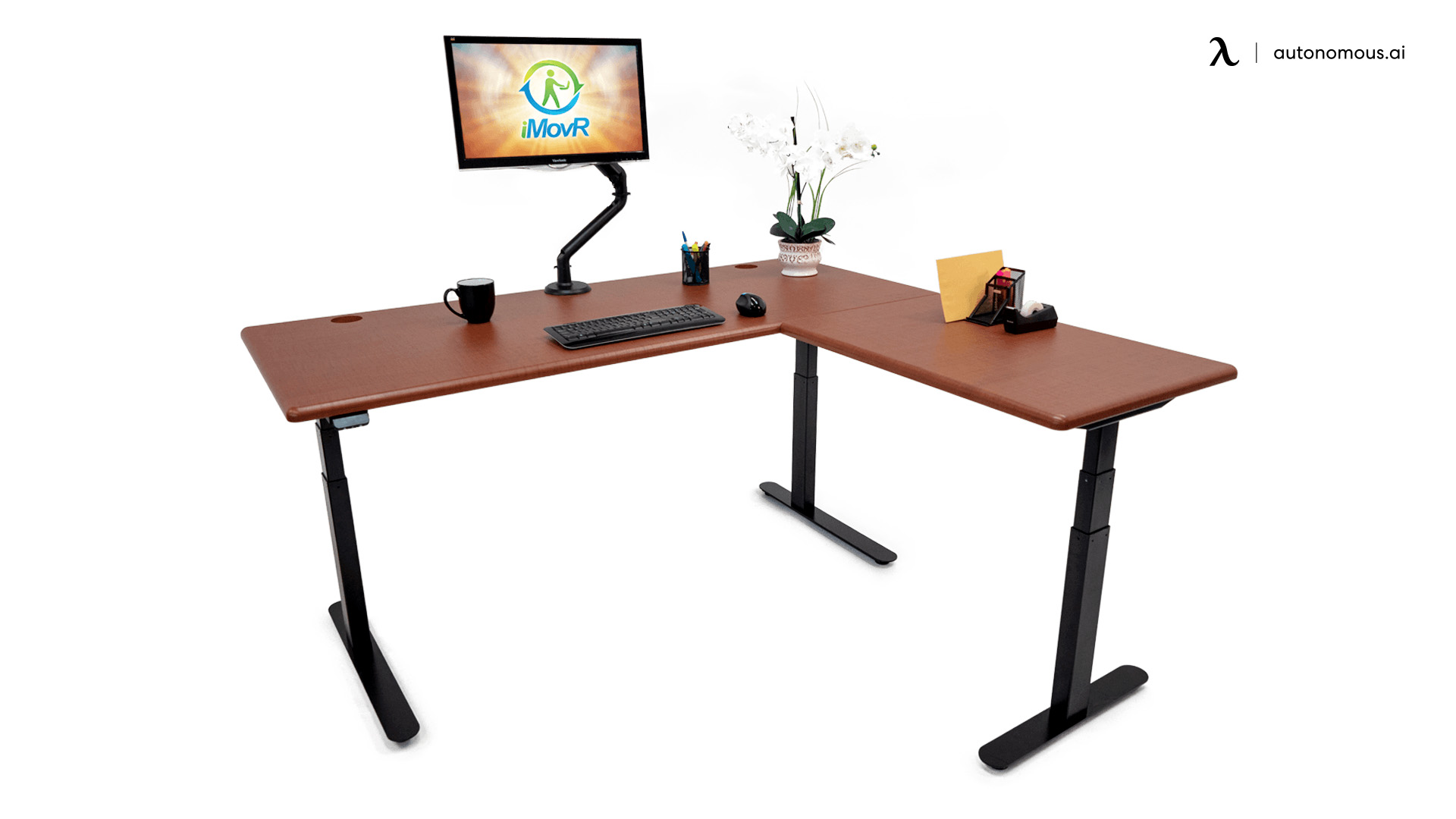 The fact that this iMovR Lander L-Shaped Standing Desk is shipped almost 90% pre-assembled is a genius feature included in the design. It's also equipped with high-tech features that improve the standing desk's overall efficiency. It's also made of sturdy materials, ensuring that it can last for a long time. As a result, you should be given an extended warranty period for your peace of mind. This model does, however, come with a hefty price tag. It is one of the best electric standing desks in the UK.
12.  VariDesk Pro Plus 35 Standing Desk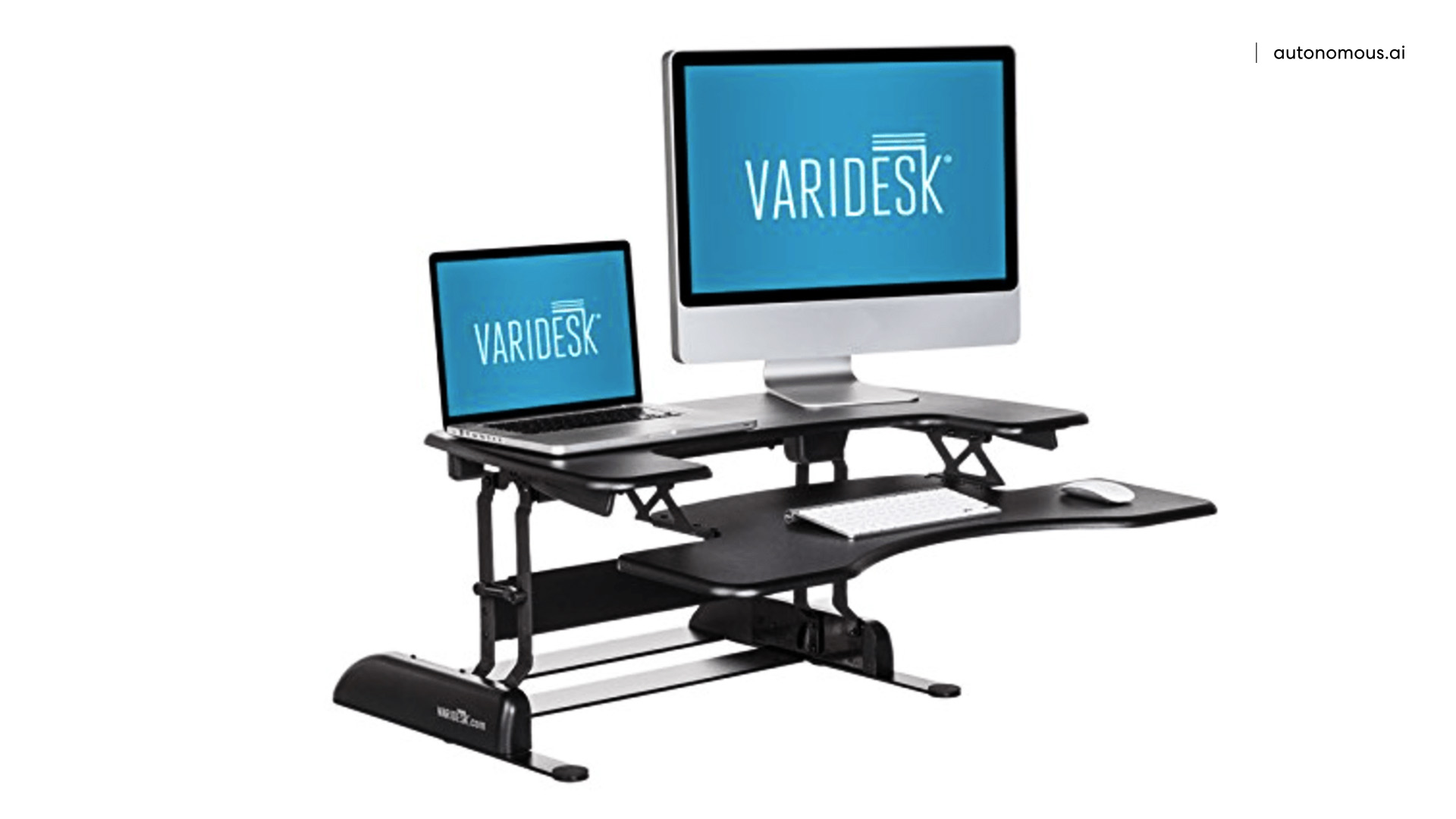 This VariDesk compact standing desk is built to eliminate the need for customers to set up the unit, saving time and providing additional convenience. It also comes with a five-year warranty and features large upper and lower work areas. A spring-loaded frame also allows for simple height changes. Not to mention, the use of high-quality metal and wood products increases the product's longevity.
The Bottom Line
After reading this article, you should have a much better idea about the best standing desks in the UK. Knowing which of these options is the best for you can result in you picking an ergonomic standing desk that completely revolutionizes the way you work. Now that you have an understanding of which are the best electric standing desks in the UK, you can go ahead with your purchase of any of the options listed above knowing that you are getting the best value for your money.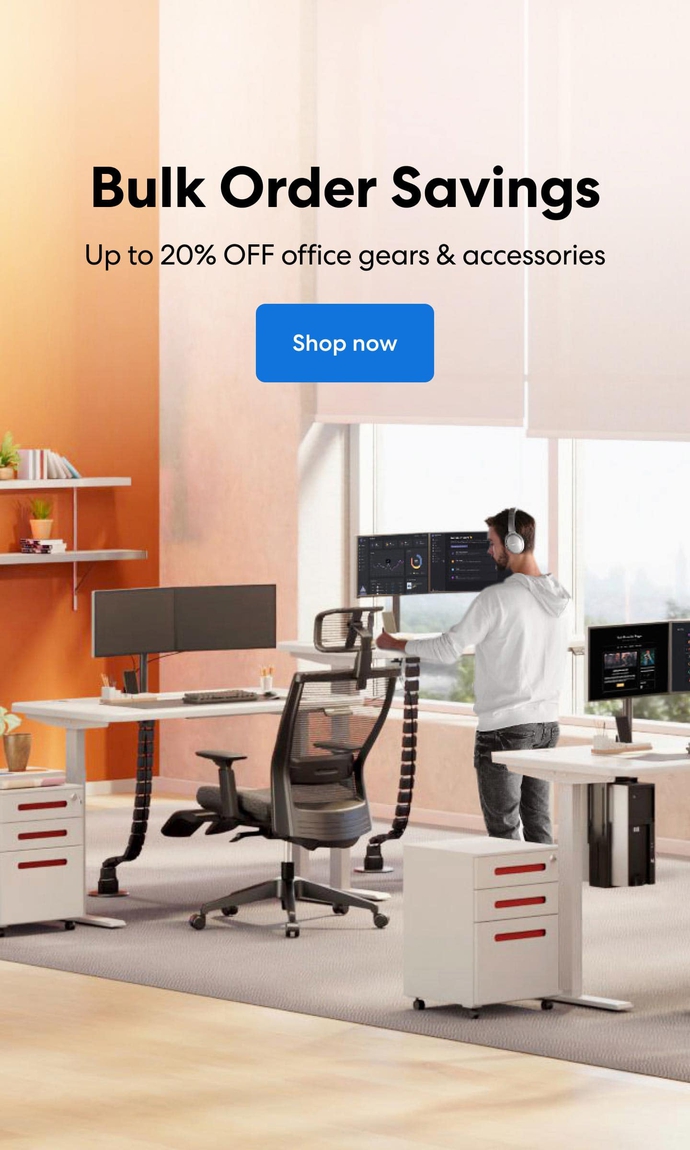 Subcribe newsletter and get $100 OFF.
Receive product updates, special offers, ergo tips, and inspiration form our team.