Whether at home or the office, the best minimalist office desks of 2022 will help you work safely and comfortably. You are better off investing in an office desk designed with your well-being in mind, even though you may be tempted to purchase a budget basement model to save money.  
Having an office with a minimalistic design and the right equipment can boost your productivity and your emotional state. With the correct ergonomic standing desk or even a great gaming chair, you will feel more comfortable performing your work tasks.  
This article explores some of the best dark wood desks for minimalist offices in 2022 and highlights the features of these fantastic products. What's great about these dark brown office desks is that they all come with excellent features, quality build materials, and many positive customer reviews.  
Without further ado, let us begin this piece. 
13 Best Dark Wood Desks for Minimalist Office Design
1. SmartDesk Core
The SmartDesk Core comes in a walnut color and is a fully automated piece of ergonomic equipment. What's fantastic about this desk is that it contains two whisper-silent motors that can quickly raise the desktop to 45 inches and hold 270 lbs. 
There is also a programmable keypad that you can use to preset the height settings, meaning it only requires that you press a button to go from standing to sitting. You will be more than impressed with the solid steel two-stage frame that keeps the entire structure stable.  
These dark wood desks come in various colors, but we must say that we appreciate the walnut color the most, especially when it comes to our dark wood minimalistic office. 
One of the best things about the SmartDesk Core is a 30-day return policy and a five-year warranty. 
2. SmartDesk Corner
This desk provides you with more power to get everything done and more space to boost your creativity. The work surface comes in white, black, and walnut, while the frame can be black or white. 
What's incredible about buying the walnut SmartDesk Corner from Autonomous is that you can get a discount if you pay in cryptocurrency. If you buy it on the Solana network using USDC, you can save up to 12% on your purchase.  
You will be impressed with this model's upgraded whisper-quiet triple motors that can easily lift and bear 400 lbs weight capacity. If you want to raise the height of this table, all you need to do is press one of the four programmable buttons. 
Another fantastic thing about the SmartDesk Corner is that it comes in modular segments, so you can find the perfect fit no matter where you want to place it. You can expect a five-year warranty and exceptional customer service for your minimalistic office when you buy this product.  
3. Office Hippo Professional Desk
This is one of the most well-priced wood gaming desks on this list and is a good all-rounder overall. It is sturdy, well built, and offers a palatable price tag and various sizes.  
The table is relatively simple to put together and can be assembled in a few hours alone or with the help of a friend. Once the table is made, its stability shines through, and it will stand wherever you place it due to its soft rubber feet.
We mentioned that you could get various sizes, including the most prominent model, which is 74 inches wide; its comfortability allows two people to work next to each other with significant space to fit a couple of monitors in between.  
One of the things worth mentioning is that there are handy cable management holes on either side of the desk. Purchase this desk if you want something that will last for years and give you the space you need from a workstation. 
4. Uplift V2
This motorized dark wood desk is excellent if you want the option between standing and sitting throughout your workday. The adverse effects of sitting all day can be detrimental to your health and potentially bring debilitating ailments in the future.  
You should look no further than the Uplift V2 standing desk if you consider going this desk route. This table oozes quality, is rock solid, and stable, which is excellent because some standing desks tend to get wobbly when raised to their highest level.  
Its motorized actions are quiet and smooth, you get a cable management system thrown in, and there is a massive range of different choices for the size of the wood for the desktop. The Uplift V2 allows customization with various accessories and is backed by a confidence-boosting seven-year guarantee.  
There is a standard and commercial model of the Uplift V2 standing desk, so you are spoilt for choice when it comes to options. Whatever model you purchase, this dark wood desk is far from affordable compared to the other desk on this list, but that is hardly a surprise given the motors and engineering involved.  
5. IKEA Linnmon
If you are in the market for a solid desk that offers plenty of storage options, consider checking out this model from IKEA. 
The Linnmon dark wood office desk is equipped with Alex drawer units underneath or comes as a standalone piece, either one or two compartments. If you want maximum storage, you can add a pair of drawers to each side of the desk. 
There is a ton of space for all your paperwork and folders, plus whatever else you want to place on top of the work surface. The worktop is also impressive in length and depth (please note that there is also a smaller variant available). 
Overall, you are getting a good building quality and excellent valuation proposition here. A couple of comments online have stated that the desktop is prone to get chipped, but that could boil down to carelessness.  
6. Furinno Computer Desk
This is an excellent dark wood desk for someone on a budget. It is nice and compact, plus it comes at a fantastic price. Furinno makes a lot of tables, and this one is a tempting one for people with minimal cash and a minimalistic office.  
Naturally, you should not expect a high-class build at the bargain price of this model, but you do get a solid product that is relatively easy to assemble.  
You get a tiny convenient computer desk that is a fantastic option if you want to save space in the office. It also comes with six medium-sized drawers, meaning you will have ample room to sort all your essential documents.  
People can also slot their computer tower on the right-hand side shelf, plus there is a slide-out tray for their mouse and keyboard.  
Now, if you think about the recommended retail price of the Furinno, combined with the amount that most online retailers offer it for, there is quite a significant discount you can get on this dark wood desk with drawers. This is an excellent buy if you don't want to spend too much money on your office table. 
7. Piranha Unicorn Reversible Corner Desk
What's great about this flexible corner dark wood office desk is that you can position the more extended section either on the right or left-hand side of the desk. Either way, it provides an extensive workplace and is a robustly built, brilliant piece of furniture.  
Even though this is one of the larger tables on this list, it can still fit into your minimalistic office perfectly. If you are someone who needs two monitors while working, you can easily place them on top of the stable work surface.  
The best thing about this reversible corner dark wood desk is the finishes that it comes in. You have the options of white woodgrain, graphite black, oak, and dark walnut finishes.  
8. John Lewis Abacus Small Desk
People who don't have much space in their study or office look for a smaller desk with minimal features. That is where this product from John Lewis steps in; it is good quality and a highly compact table with an oak or walnut finish.  
You will be happy to know that there is an optional keyboard tray which can be fitted if you require one.  
There are also various models of the Abacus desk, including one with a set of drawers and an Abacus corner dark wood desk. If you have a small office or cubicle, you will be more than happy with what the John Lewis Abacus small desk can offer you.  
9. Mind Reader Home Office Stand and Sit Desk
This dark wood office desk is sold by none other than Walmart. If you are looking for a space-saving model like the one above, you may want to check out the Mind Reader home office stand sit desk. 
What's great about this product is that it is wallet-friendly, but as the name suggests, it lets you adjust the height of the worktop manually. With the ability to sit or stand during your workday, you will be less likely to experience ergonomic injuries and can perform your best when completing your crucial work tasks.  
The height adjustment mechanism is well lubricated and can easily lift 280 lbs. Even though this model is budget-friendly, the build quality is exceptional. You will be able to use the Mind Reader standing desk for years and will enjoy every minute of it.  
10. FlexiSpot Desk
Suppose you are searching for affordable options for a wood standing desk; this table may be your best choice. The FlexiSpot standing desk has some nifty features despite its relatively low price.  
It includes an alarm that alerts you when it's time to change from standing to sitting (or vice versa), and a quiet motor lifts the worktop with three preset heights. 
You will be impressed with the five-year warranty that FlexiSpot offers with this dark brown wood desk. It would be silly not to invest in this desk, especially if you look for a meticulously manufactured table. 
11. Tribesigns Computer Desk
The Tribesigns desk is all about extra storage and efficiency. It has a simple and minimalistic design that includes three primary components: a cabinet with shelving space, a lower bookshelf tucked away beneath the workspace, and a large work surface.  
There is plenty of room for all your office décor and office equipment despite the table having a relatively small footprint.  
You can choose from a white desk with a brass frame, an all-black finish, or a light walnut desk to match your home décor. It is important to note that this model may take some elbow grease to assemble.  
12. Branch Office Desk
If you have never heard of Branch, now you have! This brand sells dark wood office furniture for professional and home spaces at surprisingly cost-effective prices. One of the company's best products is this walnut standing desk, which features options to add on desk power, a brushed cable port, a supportive steel frame, and a beveled tabletop. 
The best thing about this dark brown wood desk from Branch is that it is guaranteed to last you for years, thanks to the company's 10-year warranty and the quality of the materials used. This might be the ideal desk for you if you are someone who works from home permanently.  
13. Bon Augure L-Shaped Computer Desk
If you have the space in your minimalistic office to fit an L-shaped desk, we recommend you go for this dark wood desk with drawers. You will not only have plenty of space for your computer, but you will also have extra room for office supplies, papers, books, and a printer.  
Even though many L-Shaped tables are pretty clunky, this sleeker option pairs a rustic oak and walnut surface with powdered metal for a sophisticated farmhouse style. 
There is ample surface area and storage space without taking up to many square feet in your office. Do you want to know what is even better? This desk's storage shelf can be moved from the left to the right side of the desk, depending on your preferences. 
Conclusion
Minimalistic offices are all the fad lately, and rightfully so. Now that you have discovered some of the best dark wood desks for your minimalist office in 2022, it is time to go forth and purchase one. 
Each model mentioned in this article has been scrupulously designed and comes with excellent warranty plans. What are you waiting for? It's time to go out and buy the desk of your dreams.
Video ads for product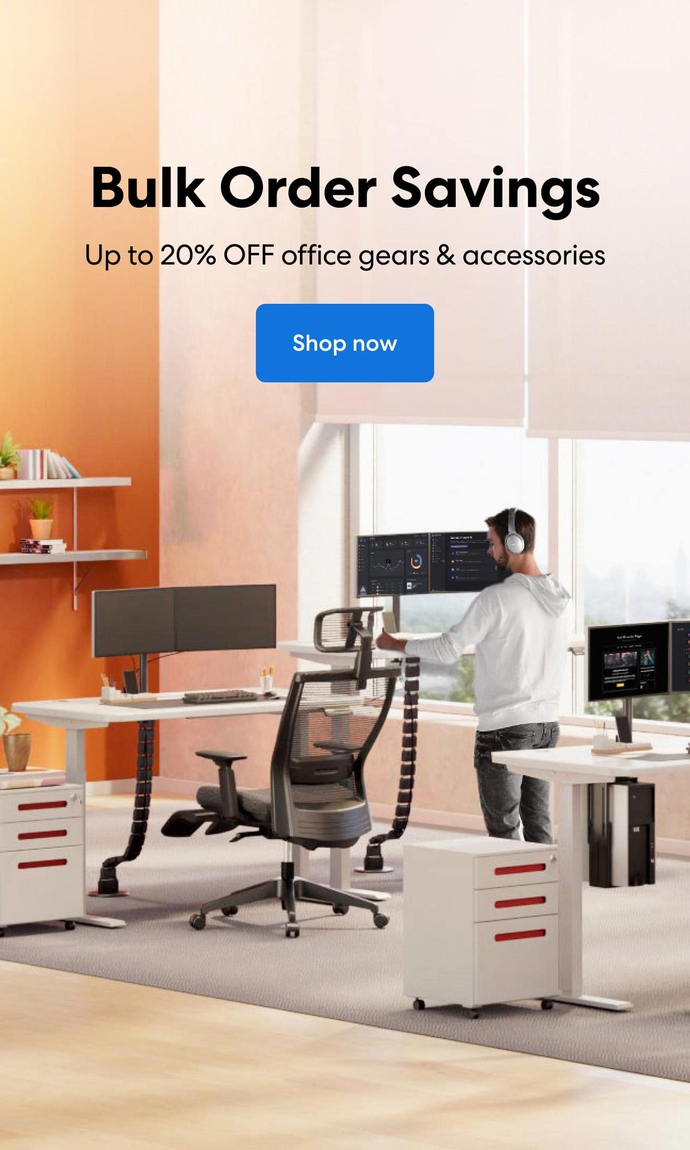 Subcribe newsletter and get $100 OFF.
Receive product updates, special offers, ergo tips, and inspiration form our team.