Wireless charging is not as complicated as it sounds. First off, it's not precisely wireless since a cord connects to the charging station, meaning some models won't charge your smartphone if they are not plugging it. 
Many shapes, styles, and build materials are used to create an RGB wireless charger. You also have many options, including wireless battery packs, pads, headphones, stands, and much more.  
This review explores some of the best RGB charging pads and highlights their features. After this piece, you will clearly understand the top 10 best wireless chargers for under $100.  
Without further ado, let us begin this piece.
13 Best RGB Wireless Chargers Under $100
1. Prismo RGB Wireless Charger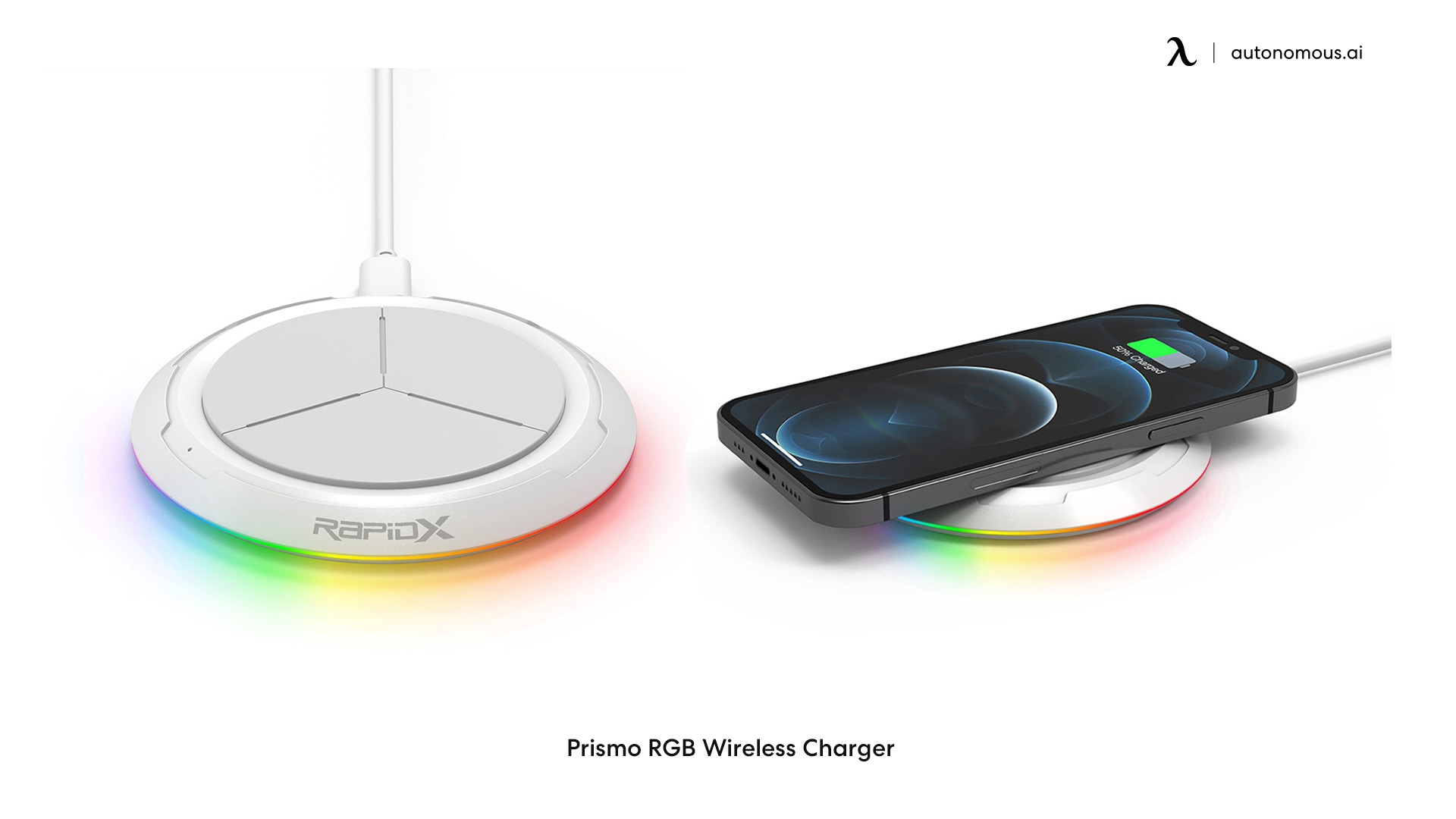 The Prismo RGB wireless charging pad is a fantastic little device that offers 10-watt wireless charging. It has nine RGB modes for deep color customization and is powered by a USB-C input.  
There is a non-slip rubberized and soft-touch material that covers the device, which not only looks stunning but feels great too!  
Depending on your mood, you can set the colors to one of nine colors and enjoy the ambiance it brings to the room. It even allows you to alter its pattern and color if you wish.  
The Prismo allows you to cycle through various colors or display one color at a time. It is dynamic and can be placed across multiple office setups, including tiny workspaces. What's great about this smart office device is that you will receive a one-year warranty with it for peace of mind. 
2. Twelve South Wireless Charger
A remarkable thing about this RGB phone charger is that it is embedded in a clear acrylic resin that protects it and looks fantastic. It can sit nicely anywhere on your desk or in your home because of its neutral design. 
This RGB wireless charger is unique because you can add a custom artwork or 4x6 photo to the charging module. A transparent magnetic cover keeps the image secure and allows you to personalize this device. Adding one of these to your RGB gaming desk will definitely bring a vibe to your room. 
All you need to do is plug the USB-C charger cable in, and you are ready to go. You must print some pictures now that you have a RGB phone charger that doubles as a photo frame.  
3. Nomad Base Station
This is one of our top picks for RGB wireless chargers, and rightfully so. The Nomad is a pad loved worldwide for its padded black leather surface and elegant aluminum chassis.  
It doesn't slide around the desk because it's pretty heavy (with the rubber feet help with stability). The LED light dims if there is minimal light in the room and is not obstructive. Inside the box, you receive a USB-C to USB-C cable that you can plug straight into your Android phone if you want to charge it faster.  
You will need to use an Android 30-watt adapter to hit 15-watt speeds as there is no power cable included with the package. If you own an iPhone 12, you will be happy to know that magnetics are enabled inside the pad. This helps the newest iPhones remain in place so that you never wake up to a dead phone due to misplacement.  
4. Anker PowerWave Pad and Stand
The Anker pad and stand shows that you don't have to spend an arm and a leg for wireless charging. This RGB phone charger is made from plastic and has a rubbery finish on the base to stop slips and slides. What's incredible about this RGB wireless charger is that the tiny LED lights up blue when it charges and flashes to indicate an issue.  
You can easily see your phone's notifications because the included stand makes it convenient and practical. Another great thing about this wireless charger is the price, meaning it is cheap enough to buy a few and spread them throughout your home.  
This wireless charger comes with a four-foot MicroUSB cable, but please beware that you need to have your own power supply. If you are looking for a budget-friendly option that can charge your phone effortlessly, you need to give this charger a try.  
5. Apple MagSafe Charger
The Apple iPhone 13 and iPhone 12 have magnets installed inside of them so that people can put MagSafe accessories on the back. That is where this charger comes in. You don't have to worry about accident misalignment since the charger magnetically stays attached. That means no more dead devices when you wake up in the morning. 
Plus, this wireless charger is great because it powers your iPhone faster than most wireless systems. The built-in magnets let you keep using your mobile while it's charging. One downside to this charger is that the charging cable isn't very long, and the puck will be rendered useless if you don't use a MagSafe compatible case.  
Overall, this is an excellent genuine RGB desk charger that gets the job done perfectly! 
6. Mophie Snap and Wireless Charger
The system provided by the Apple MagSafe device is severely limited to recent iPhone models only. If you want to experience that magnetic life, it would be good to check out the Mophie wireless charger.  
One of the best things about this device is that it works with MagSafe iPhones. It also comes with an adhesive magnet you can use to stick to the case or back of the phone to enable the same function. 
You will have to align with the correct spot when fitting the installation kit, but once it's in place, you can hold your phone on the wireless charger via magnets. The Pixel 5 can be attached to this device with its case on, though it may not stick as well to certain other surfaces. 
Once your phone and adapter have been attached, you can use other accessories from Mophie Snap+. There is a range of wireless chargers with light, power banks, and car docks that you can choose from.  
Buy this RGB desk charger if you are looking for a more premium quality wireless charger.  
7. iOttie Wireless Car Charger
It would be best if you didn't struggle with cables, and that includes in your automobile. This robust car mount from iOttie comes in two styles, a CD vent mount that clips into place or a suction cup for your dashboard/ windshield. 
You can adjust the height of the feet, so your phone is always in the sweet spot for charging. The arms wrap around your phone automatically when your mobile hits the trigger at the back of the mount. 
That means you can place your phone one-handedly and not worry about having it fall off the wireless charger. There is a MicroUSB port to plug in the supplied cable, and from there, you can insert the other end into a power supply or your car socket. You can use it to charge another phone because it includes a second USB-A port. 
Great for iPhone and Android devices users who want a minimalistic but high-quality wireless charger. 
8. Nimble Apollo Wireless Pad
If you are shopping around for an eco-friendly charger, you may love this one. The silicone surface is excellent and lets this device easily stick to various surfaces. It is manufactured from recycled silicone, and the device's texture prevents your phone from slipping off the surface.  
The rest of the wireless charger with light is made with post-consumer plastic and alloy, and even the package is free from plastic. Better yet, if you have an iPhone 13 or iPhone 12, the magnets inside the device will keep it perfectly aligned for better charging.  
Even though the Apollo is not as strong as the MagSafe charger, it still does a pretty good job. It comes with a power cable and a 20-watt charging adapter, which is a bonus.  
9. Google Pixel Stand
When you are sleeping, you don't want LEDs in your face, as the light is distracting and messes with your melatonin levels.  
With the LED light on the Pixel Stand, it only briefly switches on when you place your device on the charger. This RGB wireless charger is the best paired with a Google Pixel 6 smartphone because it gives you extra perks like the sunrise alarm clock. 
You can also convert your phone with Google photos into a digital photo frame. The device does this by using the album's photos to populate the screen while charging during the daytime. 
What's incredible about this wireless charger is that it has a bedtime mode that triggers at your desired hour. It is also one of the fastest ways to recharge your Pixel 7, and its built-in fan keeps things super cool while doing it. 
Thankfully, if you want to keep it quiet, you can turn off the fan so that the wireless charger is entirely silent. Another fantastic thing about this device is that it comes with an adapter and power cable. 
This RGB wireless charger still works great with other smartphones, but you won't get the Pixel features. The only downside is that the portrait features only work in an upright orientation.
10. Kerf Wireless Charging Block
If you are looking for something other than plastic and alloy wireless chargers that rarely blend into your environment, you need to give the Kerf a look. This wireless charger is made from 100 percent locally sourced natural wood, giving it a smooth and dynamic finish. 
You can choose 10 wood finishes from canary to walnut, and each device will come with a solid bottom to prevent slips. It starts from $50, and depending on the rarity of the wood; these chargers can become significantly pricier. 
There is also the option to engrave it to make the device personalized to your design, taste, and style. The company also makes phone cases so ask for the RGB wireless charger to come from the same woodcut. 
If you want to add a cable and power supply, that will cost $20 extra, which is a terrific way to prevent electronic waste if you already have those cables.
11. Courant Catch: 2 Essentials
It would help if you didn't settle for a wireless charger for your phone that is not aesthetically pleasing, as this can put a damper on your mood and may look out of place on your desk. This Courant RGB wireless charger oozes elegance and is wrapped in a caramel color Belgian linen 
The Courant Catch can be used at the front door as a spare wireless charging device because of its small size. There are rubber feet that prevent it from slipping or falling around, and five coils mean you don't have to be as exact with the placement of your device. 
12. iOttie iOn Wireless Duo
This dual charging model looks pretty and is wrapped in soft fabric that feels awesome. What's cool about this charger is that you can charge another mobile on the rubber pad next to it. It can be used in either landscape or portrait, though the former orientation will block the pad. 
An adapter and cable are included with this device, making its good value for money. One thing that could distract some users is the LED on the front.
13. Mophie 3 in 1 Wireless Charging Stand
Our final entry is another one from Mophie, and it helps people who don't have MagSafe phones. This wireless charger with light can do the same as its Apple counterpart and recharges mobiles exceptionally fast. 
The good magnetic puck for the Apple Watch means you take advantage of the Nightstand mode, and the center stand lets you place your iPhone horizontally or vertically. There is also an indented spot for earbuds cases to avoid sliding off quickly. 
Thanks to an elegant glass finish, the whole thing looks rather striking. What's excellent about Mophie is that it keeps its devices updated with the latest firmware for the best wireless charger benefits. 
Conclusion
Whether you need an Android wireless charger or a standing desk with a wireless charger, the fact of the matter is that you will benefit from either one. When you have an ideal computer desk setup, you can increase your productivity and stimulate your well-being. 
It may be a good idea to check out some other home office essentials that could make your life easier in this modern world we live in.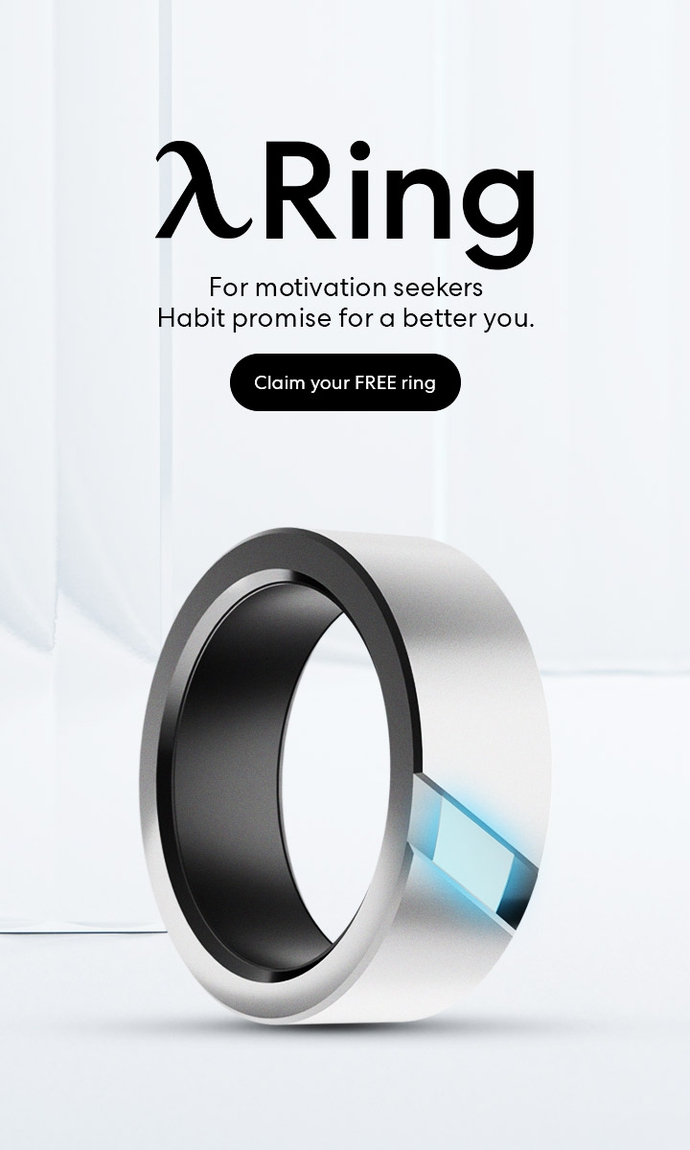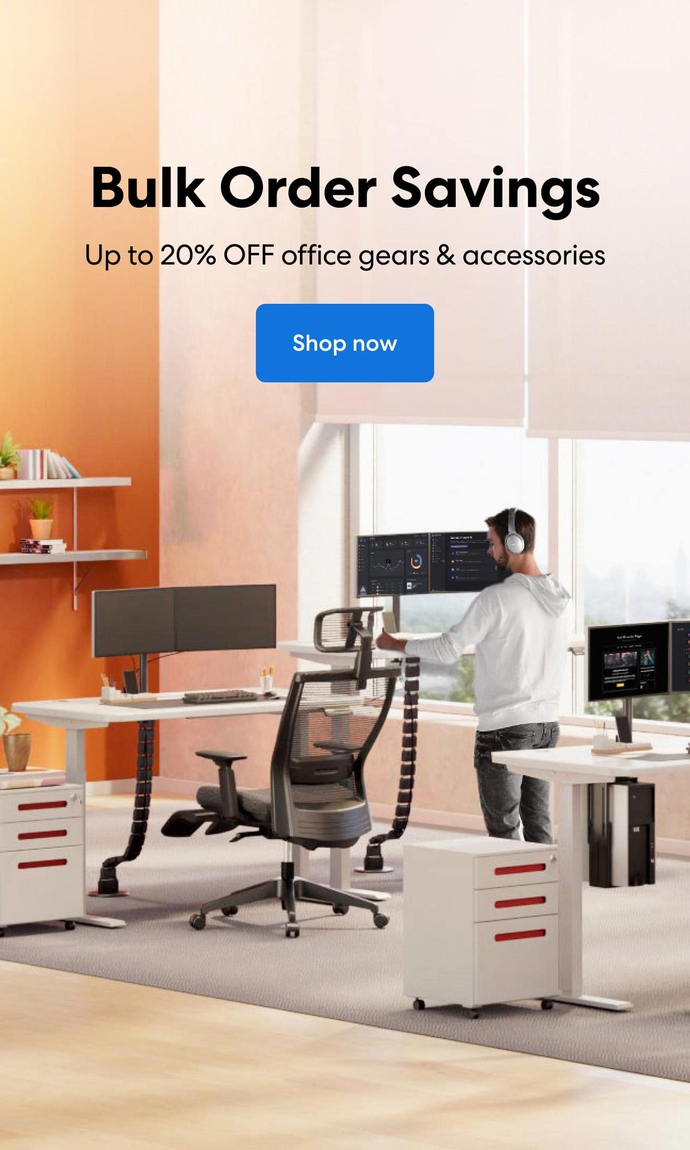 Subcribe newsletter and get $100 OFF.
Receive product updates, special offers, ergo tips, and inspiration form our team.