If you are here, then you must be interested in seeing some of the best desks for college students currently on the market. While many models can serve both office workers and students, some are way more suited to the young ones who are about to transition into the working world. 
What makes the difference between someone who is looking for a home office standing desk versus someone who may be looking for dorm room desk ideas? Context is a big part of it, but that is only one element of the equation. 
A desk for studying is not necessarily always a good substitute for a desk for getting serious accounting done. Much of the information out there tends to focus on workers and their needs. College students are essential too, especially considering they're set to become the next generation of the said workers. 
That's why this list is dedicated to helping you find the best student desk for home use. This could apply whether it speaks to a home in the traditional sense or the on-campus living arrangements that may be present. 
First, you start by getting a look at the essential elements to consider when choosing the best study desk. Following that, there is a list of 15 of the best models on the market. 
What to Consider When Choosing a Desk for a College Student
Size
The amount of desktop real estate that is present is always something to bear in mind. How many things do you plan to place on the tabletop? Maybe you have a laptop and a whole bunch of lab papers. The said laptop may have external peripherals, such as a wireless keyboard and mouse. 
On top of all of this, you may have plans to get certain desktop accessories that you need to account for before you purchase the table that's going to become the centerpiece of your college desk setup. 
To this end, even after reading reviews about what could constitute the best college student desk you have ever seen, you should take the time to research the dimensions of the tabletop so you know it can accommodate you effectively. 
Material
College students rarely, if ever, find themselves to be affluent enough to easily purchase furniture at will. In most cases, there is a limited budget at play, whether it's coming directly from the student or a parent. 
That's why it's essential to pay attention to the materials used to build the desk. Softwood variations known for not lasting very long provide a perfect example of the kind of tabletop that you want to stay away from. 
If your budget is limited and is going to continue to be that way, then you want to purchase a desk that can withstand the test of time. High-quality MDF wood is a perfect example of a solid material choice that can grant you longevity. 
In the same breath, you may also want to pay attention to the warranty period that your preferred vendor is willing to offer. Not only does this indicate the level of coverage you have for factory faults, but you can also use it to gauge the level of faith that manufacturers have in their product designs. 
Footprint
This is closely related to the size consideration earlier. However, while that one is focused on the tabletop and what you want to put on top of it, this one focuses on the size of the desk and its ability to fit in the designated space. 
College students often find that they don't have a lot of real estate to work with, which means that gigantic units are not going to work out. 
Again, make sure you have an acute understanding of the kind of space you're working with so you can choose an adequately sized desk for your study needs. 
Price
As alluded to before, college students are not known for their deep pockets. Therefore, choosing cost-effective designs is a priority. 
Even if you are not willing to compromise on getting an adjustable computer desk, you do have to work within the limitations of the funding available. 
Note that your objective is not to get the most expensive item you can within your budget. Instead, you want to get the best value. A high price tag does not always translate to high quality. 
Evaluate the different options you have based on feature set and price, then you can choose effectively. 
Extras
Technically speaking, this is not something you should necessarily go out of your way to secure when you are hunting for a table. The core features that contribute to your studies are the most important ones. 
However, when you begin to contrast different models, you might pick up on a couple of extra perks that bring quality of life benefits. Any desk that allows you to take advantage of these is almost an automatic win.
15 Best Desks for College Students
1. Happen Pillar Compact Desk
Surprisingly, this is a 2 minute assembly Happen desk using no tools. Beyond that shocking revelation. You have a powerful dual-motor, LED memory keypad display, sturdy build quality, and a beautiful finish! 
The warranty here is five years. 
2. Wistopht Desk
This is a good desk for studying. This compact and adjustable Wistopht desk with a wireless charger is truly a sight to behold. It does require a bit more space than some of the smaller units, but the composition and features make the purchase of this stand up desk worth it. 
There's a tempered glass tabletop with digital displays, an embedded drawer, and power outlets to complement the aforementioned wireless charger. You can also rest easy with a five-year warranty to protect you. 
3. Timotion Compact Standing Desk
The Timotion compact standing desk is another magnificent adjustable option. Again, while it's not super large, it's not on the smaller side either. 
Some of the advantages are a 270-pounds weight support limit, electric dual motor, simple keypad controls, and high durability. Again, you are getting a five-year warranty here. 
4. Autonomous SmartDesk Core
The final entry is as much of a college desk as it is a home office standing desk. This is none other than the Autonomous SmartDesk Core. The keypad included is simple to use, there are four programmable settings, an electric dual motor, a solid two-stage steel frame, and a beautiful MDF word tabletop. 
It lifts up to 270 pounds with ease and includes a five-year warranty for your protection.
5. Stand Steady Joy Desk
The Stand Steady Joy Desk makes an excellent unit for college students who want something durable and great looking too. Stability is provided with aesthetically pleasing X-pattern stability bars. 
The design of this desk for studying does not require a lot of space, and the tempered glass top makes for a great look. While it's not an adjustable unit, it still can accommodate everyone within the average height range, even including those up to six feet tall. 
6. Lemberi Computer Desk
Some of the best desks for college students can be described as small and sturdy. Their form factor makes them the perfect size to fit into the small space that a dorm room offers, and they're strong enough to ensure that the limited budget is well spent. 
There are no bells and whistles here, which is expected of a low-priced option that does exactly what you want it to. Once you don't have much equipment, there is nothing to worry about with this one. 
7. Need Computer Desk
Need describes this best desk for college students as a writing desk, but the simple design is so much more versatile than that. While it can be the large flat surface that a student may need to do some architectural drawing or lab reports, it can also be a space to use your laptop in peace. 
It's bound to stick around with you for years and allows you to choose between a warm wood grain or an all-black design. Note that the wood is mold resistant and the legs feature powder coating. 
8. Prepac Kurv Desk
If you have any concerns whatsoever about space, then this may be the best study desk for you. The small footprint is mounted against the wall with a few shelves that you can take advantage of for different purposes. 
The fact that the shelves are stacked vertically means that you get a combination that yields a great surface area without compromising too much real space in your room. This also makes it an ideal sitting or standing desk for studying. 
9. Lufeiya Small Student Desk
Again, you have a small desk that should fit well into whatever space you have. This one also features a sleek and modern design, which should contribute greatly to whatever aesthetic you have. 
Impressively, the manufacturer decided to include a built-in storage compartment, allowing you to easily store your desk accessories away.
10. Inbox Zero Adjustable Standing Desk
Some of the best desks for college students are the adjustable ones, and that explains why this Inbox Zero adjustable option is here. You can take advantage of sit-stand sessions using a durable workstation. 
The durability comes from a steel frame and a manufactured wood tabletop. There are even memory presets to help you remember the positions that you enjoy the most. Additionally, you get a lateral storage bag that helps you to organize things neatly. 
11. Vivo Height Adjustable Desk Converter
Vivo is known for a few tables that are great in the office space, but there is also an incredible college student desk design. This comes in the form of a standing desk converter. 
Maybe you already have a little desk and either don't want to or can't spend the money on a new one. Well, this converter allows you to transform your existing unit into an adjustable standing one. 
It gives you a respectable surface, as well as a separated peripheral tray. 
12. Sabine Adjustable Standing Desk
This one from Sabine was specially built for small dorm rooms as home spaces. There is a generous range of height adjustment, allowing you to enjoy tremendous sit-stand sessions. 
There is no back strain to reach anything, considering the relatively small footprint. Built-in USB ports allow you to keep your device charged easily. 
You can see the targeted approach to design, as what would not necessarily make a great office desk is the perfect college student desk. 
13. WeeHom Reversible L-shaped Desk
There has been a focus on small units, but some college students may have larger spaces or a corner that they can take advantage of. That's where the WeeHom reversible desk comes into play. 
It's aesthetically pleasing, contains storage shelves, and there is even a stand for your system unit. 
The composition is also durable, and as the name implies, you can reverse the long and short sides if you wish. 
14. SHW Home Office Desk
This unit is not too far removed from the one before in terms of size. It's a 48-inch standard design, so it's meant for those who have a little bit more space to play around with. 
Of course, this means the tabletop can accommodate just about whatever you need. Color customization is present, so getting it to fit your visual needs is no challenge at all. 
Expect to have this one well beyond your school years, thanks to its steel frame and durable wooden tabletop. 
15. Bestier Computer Desk
This is another best desk for college students. You get a bookshelf and computer desk in one package. How much more can one say about that? The best part is it's not even bulky. 
The design is modern, and it can help you save quite a bit of space in your dorm room. Additionally, there are six colors to choose from for a touch of customization.  
I expect things to look pretty neat with this one. 
Final Remarks
College students require a lot of preparation for the challenging times ahead of them. Beyond studying and making use of learning materials, they must be provided with adequate facilities to learn. 
This often includes furniture elements, such as tables. To this end, you got to see some of the factors that constitute the best desks for college students. 
If that wasn't enough, you then got to see 15 of the best options on the market with a justification for why they were allowed on this list.
Video ads for product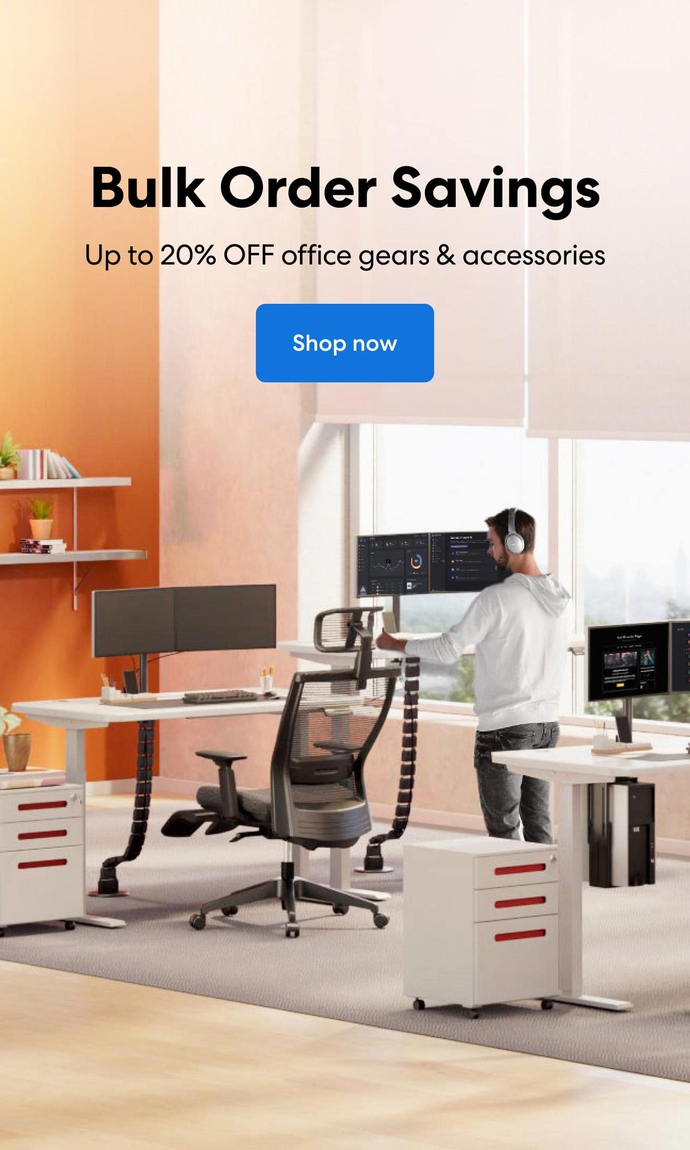 Subcribe newsletter and get $100 OFF.
Receive product updates, special offers, ergo tips, and inspiration form our team.