Smart Products
15 Best Double & Two Person Desks for Collaboration Workspace

Autonomous
|
Oct 31, 2021
4,025 Views
One of the best things about ergonomic products is that there is a wide variety of designs and product types on the market for you to choose the one you need. Ergonomics companies want to address all their customers' needs, so they offer different products to solve specific situations. 
Working by yourself is always a nice experience. You can focus on your work without anyone bothering you or distracting you from what you need to do. However, you may need to work with another person one day, and that's when you need a double workstation desk. 
Collaboration workspaces need items that make it possible for two people to work at the same time without bothering the other. It could seem troublesome when you first think about it, but using a dual monitor computer desk (alongside other tools) can make everything easier for you. 
You need to get the right standing desk if you want to enjoy all the benefits that ergonomic products have for you. Read this page to know the 15 best desks for two in 2021! 
Why Should I Get Double Desks?
Double desks are something office workers get for specific situations, so you may not need to get one if you work by yourself. Home office workers who don't have onsite partners are better off with individual desks since they don't need additional space. 
However, two-person desks are ideal for companies that work with small teams or don't have enough funds to get desks for everyone. Managers often look to save money from office items by getting L-shaped and double desks for their workers, so don't get surprised if that happens at your office. 
Apart from helping people who work in teams and managers looking to save some extra money, getting a double workstation desk can bring many other benefits to your workspace. One of them, for example, is that those products are designed to optimize your working space, which boosts your overall productivity. 
Having enough space to store your working gear allows you to organize your work setup, which is sometimes a dull activity for office workers. Speaking about the partner on the other side of your desk, these products' main goal is to make every interaction between you and the workers more valuable and productive. 
Although these desks encourage you to share your working space, there tends to be some separation space between the two setups to avoid unnecessary interactions that could distract you from your work. Still, you're going to have enough space to talk to your co-worker and hand them any file you need them to check.
What Should My Double Desk Include?
All ergonomic products tend to be different from each other, and that applies to desks too. However, these items need to share some features to be considered high-quality ergonomic desks. 
You need to consider those features when looking for a home office desk for two, so here are the most important things that a double desk should include: 
Adjustability
The best part about ergonomic products like two-person desks is that you can adjust them to fit your body, so one without enough adjustability features is just a regular item. Standing desks need excellent adjustability regardless if they are individual or double desks.  
Stylish Design
Many office workers overlook their two-person desk's design and buy items that don't fit their office's aesthetic. Although it seems unimportant, not having a visually appealing workspace can make working an exhausting and boring activity for you. 
Buying nice-looking designs, on the other hand, not only makes your office look better but also makes your brain more active while working.  
Space
Something that makes multi-person desks different from other ergonomic desks is that they have enough space for you to work with your partner with no trouble. Due to that reason, these desks must allow you to work comfortably without being distracted by your co-worker.  
What Are the 15 Best Double Desks for Collaboration Workspace?
Without further ado, it's time to discover some of the best two-people desks you can find on the market. Looking for the right products to buy can be challenging for some people, so in this case, you may choose one of the two-person desks on this list. All the products on the following list are of high quality.  
1. Autonomous Smart Desk Duo
Autonomous has always tried to offer enough products to help you regardless of what you need for your office. Considering that, it would have never missed the opportunity to design a desk for two computers to help the ones who need to work in small teams.  
The SmartDesk Core Duo gives you two wide desks with independent controls and programmable keypads. These desks also include two cable trays and two dual motors able to lift 290lbs comfortably.  
2. Autonomous Smart Desk Corner
Although the SmartDesk Corner wasn't originally designed to be a two-person desk, the space it has allows more than one person to work with it. That's one of the strong points of the product since you can get it whether you need to work with another person or not.  
Its whisper-quiet triple motors allow you to adjust its height at any time without making any noise. The SmartDesk Corner is also durable and sturdy due to the solid steel frame that makes it resistant to scratches and any damage the desk could receive over time.  
3. Dominik Desk
Eco-friendly ergonomics fans are not left behind on this two-person desk list, which means some of the products here are environmentally-friendly items. One of them is the Dominik Desk, and it's made of solid wood and a steel base material that makes it decently durable.  
If you like to take time to assemble your ergonomic products, this desk for two computers is the one for you since you may need to take some time to do it. However, that allows you to adapt everything to your needs from the beginning.  
4. DlandHome Double Computer Storage Desk
The DlandHome Double Computer Desk is optimal for people looking for a minimalist design that is also elegant. Its wooden design makes it a nice fit for most office aesthetics, so there's no need to worry about that. Apart from being sturdy and durable, this desk is big, so take that into account if you have a small workspace. 
This two-person desk also comes with a little shelf in the middle of the two desk areas. You can use that shelf to store files and office equipment that could be helpful for your partner.  
5. Kaden Computer Desk
Stylish office desks are also here to show you how appealing your office can look with them. The Kaden Computer desk proves that by giving you a spacious and beautiful desk design that makes your workspace look better than ever.  
The Kaden desk for two computers connects two study desks and a printer stand in the middle of them, which is made to connect both areas. This is another wooden-made desk, so it's perfect if you are looking to remodel your office.  
6. Caben Desk
Although it's not a wooden two-person desk, the Cabe desk for two offers you a similar amount of space to the previously mentioned product on this list. Office workers and gamers usually buy similar products since they both need similar features. 
This Caben 2-person desk is an example of that since it's highly requested by gamers because of its design. Unlike the Kaden desk for two computers, this item has multiple shelves available for you, so saving your items has never been easier.  
7. Latitude Run Double Workstation Computer Desk
We understand that some people enjoy DIY products, but assembling ergonomic products is considered a nuisance by many people. Fortunately, the Latitude Run Double desk is easy to assemble, so you can get everything done in a few minutes.  
The connection area between the two desks makes it simple to talk with your co-worker, which optimizes teamwork.  
8. Kiro Desk
This desk is well-known among office workers, so the number of people looking for it is higher than it is with most products on this list. That's because of how practical its design is when you need to work with another person. 
While it doesn't have a luxurious design, the Kiro desk has everything you need in a two-person desk without it being outrageously expensive. This multi-person desk is water-proof and anti-scratch, so don't worry about it deteriorating after a time of use.  
9. SogesHome 2-Person Computer Desk
Getting back to elegant and sophisticated desk designs, we have the SogesHome 2-Person Computer Desk. Most double desks are big, so they are useless if you work at small offices. Regardless of that, the SogesHome desk is perfect for people with limited space. 
Despite being considerably small, this desk has enough space for two people to work with it. The two desks in this product are connected by a big shelf, so you can use it to store all kinds of things as it happens with other multi-person desks on this list.  
10. Nexera Liber-T Desk
Overall, this two-person desk comes with a central storage system to separate both desk areas. Its design is one of the simplest ones on this list, but it's still practical enough for everyone who is looking to upgrade their office. 
11. Costway Two Person Computer Desk
The main issue about ergonomic products is that they are significantly more expensive than traditional office items, so not all office workers can afford them. Fortunately, some companies focus on selling budget-friendly ergonomic items to help the ones with lower budgets. 
Most people think that cost-effective products are of bad quality, but that's not always true, at least when talking about ergonomic items. Affordable office desks offer you the fundamental features every desk should have while being decently durable and sturdy.  
The Costway Two-Person Computer Desk aims to give people the opportunity to get a decent double desk without spending all their budget on it. Apart from having several shelves, this two-person desk also happens to be an L-shaped desk, so it has enough space for all your working equipment.  
12. Two Person Computer Desk Double Workstation
While other products on this list have a mid-shelf that connects both 2-person desks, the Two-Person Computer Desk Double Workstation has a wall-like shelf that separates both areas. You can still communicate with your partner with no problem with this desk, and it's also optimal for people who want more privacy while working.  
13. HomCom Industrial Double-Sided Desk
Minimalist two-person desks prove that you don't need the most luxurious and expensive item on the market to enjoy the essential benefits of ergonomic products. As long as the item has decent looks and fits your office's aesthetic, everything's good.  
The desk's worktop and sturdy metal frame make this product a purchase that can stick with you for several years without deteriorating or losing its original appearance.  
14. L-Shaped PC Laptop Desk
As we mentioned before, office workers can take advantage of gamer furniture to work. That's because gamers need an item that allows them to sit for extended periods without suffering from back pain. 
Back support and posture correction are some of the best things ergonomic products can have since those features can get some of the worst physical problems that working for long hours causes to your body.  
15. Barbra Reversible Desk
Finally, we have the Barbra Reversible Desk. This product doesn't have the same structural design as others on this list. The Barbra desk is formed by a large office desk with enough space for several people to work with it.  
The desk's best part is its stylishness, which makes your office look modern, elegant, and excellent for conferences.  
Bottom Line
With so many alternatives available on the market, you now need to decide which of the 15 two-person desks listed above are best for you and your partner. However, most of desks for two offer the same features and similar designs, so you can pick the option you feel more comfortable with. 
You can also check our website if you want to know more about ergonomics and office working!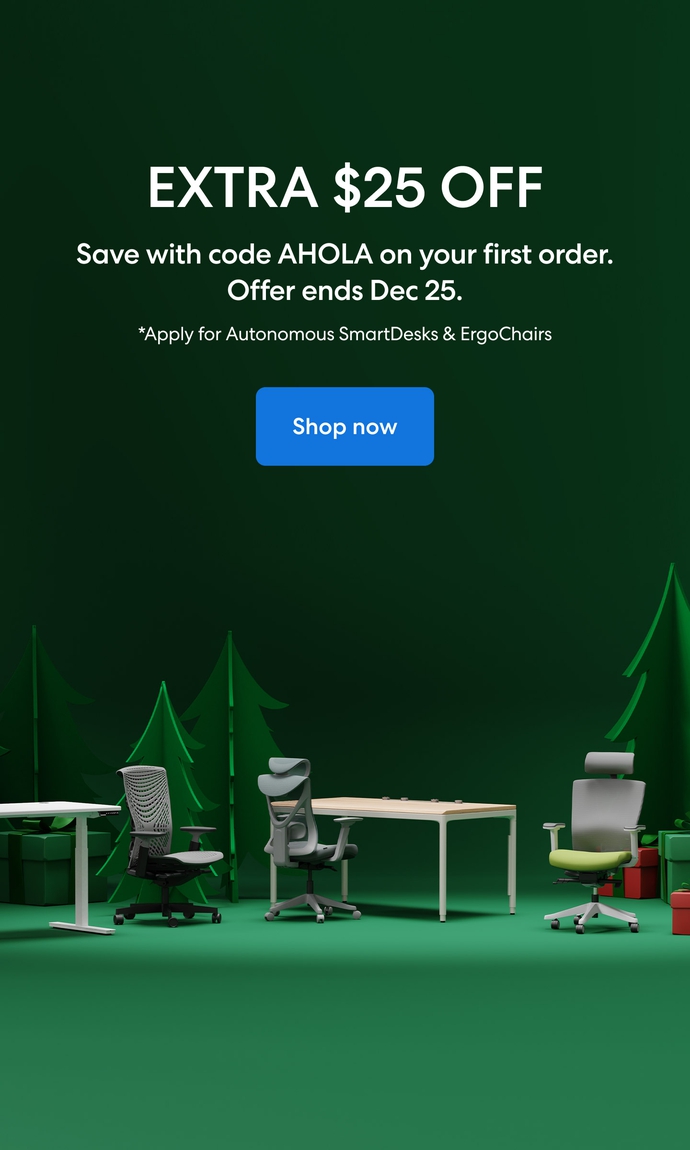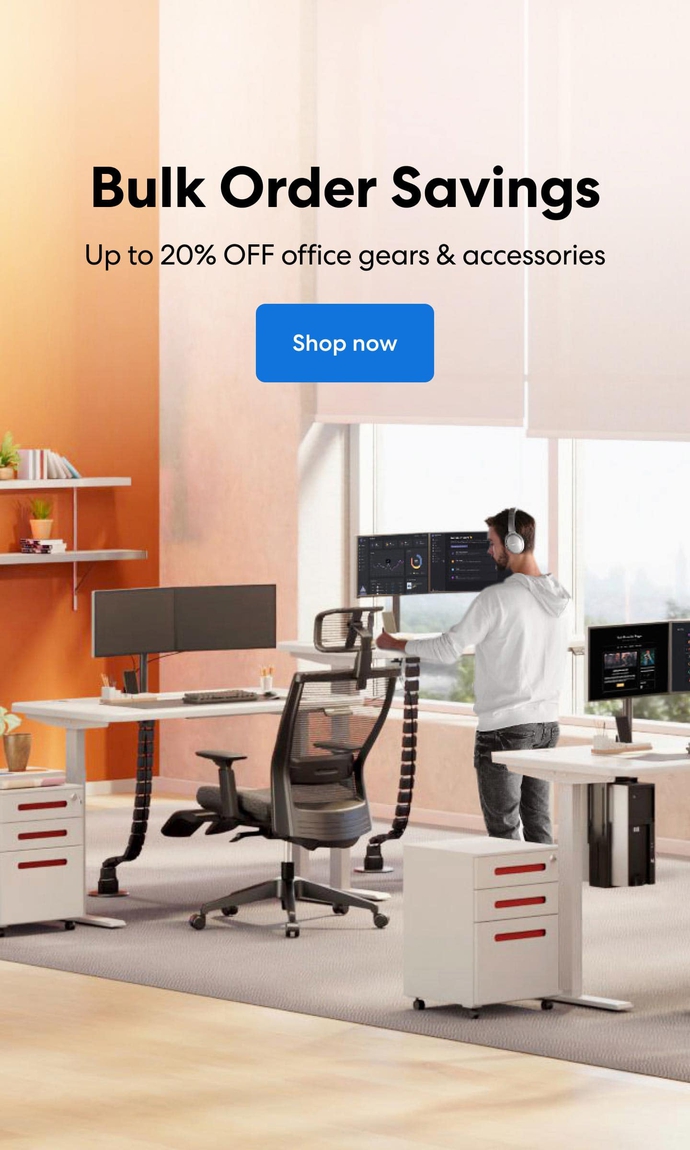 Subcribe newsletter and get $100 OFF.
Receive product updates, special offers, ergo tips, and inspiration form our team.