Smart Products
The 35 Best Electric Standing Desk Options in 2023 for Your Office

Autonomous
|
Sep 27, 2022
11,438 Views
The modern office has seen a host of changes compared to its previous form. The traditional practice of sitting at a desk for long hours presents several challenges for the office worker who is just trying to get through the day and meet the requisite deadlines. Why should you suffer while doing something good when an electric standing desk can make things so much easier for you?
You can't fathom the difference a standing office desk makes in your work routine until you've gotten the experience of using one. Even if your office doesn't yet feature any, the chances are that you've taken note of their increasing popularity. A motorized standing desk sweetens the pot even more with its adjustable nature.
35 Best Electric Standing Desk Options
1. SmartDesk Pro
Thanks to all the home office option features being present with a better height range, the Autonomous SmartDesk Pro holds the distinction of being the best electric adjustable desk you can get your hands on. Take advantage of a seven-year warranty, an easy assembly process, a beautiful design, a sturdy foundation, a fresh finish, etc. This BIFMA and EMC certified design is going to be serving you for years to come. 
2. SmartDesk Core
As the name implies, the SmartDesk Core is best suited for your home office space. Nevertheless, you can take advantage of the flawless Autonomous design in your traditional office. It features a heavy-duty steel frame, an impressive dual-motor design that combines silence and speed, four programmable height settings, and an elegant aesthetic. The weight limit is 300 pounds, which is more than you should ever need in an office context. 
3. Autonomous SmartDesk Frame
It's hard to get more customization than having a DIY option on your hands. This SmartDesk DIY kit from Autonomous takes only minutes for you to assemble. The base is very sturdy, it's quiet in motion, features top tier manufacturing, and all it needs is whatever tabletop you choose to place on it. The personalized experience comes from the freedom to top it off however you see fit.
4. SmartDesk Corner
5. SmartDesk Connect
6. Autonomous CompactDesk Pro
7. Autonomous CompactDesk Core
8. SmartDesk Connect Pro
9. Standing Desk by Mount-It!: Touchscreen Keypad
10. Wistopht SmartDesk: Pro
11. Wistopht SmartDesk Pro: Anti-collision & USB Ports
12. Wistopht SmartDesk: Core
13. FinerCrafts Standing Desk: Curved Top
14. EUREKA ERGONOMIC L60 L-shaped Standing Desk: Key board tray
15. EUREKA IM63 Curved Desk: Additional Storage & Manual Height Settings
16. EUREKA ERGONOMIC Standing Desk: Double Drawers and Hutch
17. ApexDesk Standing Desk: Pneumatic Lift Mechanism
18. FENGE Ultralong CompactDesk: Drawer and Bag Hook
19. FENGE Ultrawide CompactDesk: Drawer and Bag Hook
20. ApexDesk CompactDesk: Touchscreen Control & USB Charging Port
21. The Office Oasis Premium Small Computer Desk: Built to Last
22. FENGE Electric Standing Desk: 2-Tier Desktop
23. EUREKA ERGONOMIC Home Office Desk Study Writing Table
24. ZipDesk "Desk in a Box" Standing Desk
As the nickname implies, the desk arrives almost completely set up. Without having any tools on hand, it can be ready to go in no more than eight minutes. Even so, disassembling it completely is not a hard task, making moving around in the office or transitioning to a new office space a breeze. It boasts a 10-year manufacturer's warranty, which is a testament to the confidence in the design. It's fairly priced, well built, and should do a great job as a part of your office setup. 
25. SHW Electric Height-Adjustable Computer Desk
This entry is for those who are on a tighter budget than most. Alternatively, if your use of your standing desk is going to be infrequent or temporary, it can also work for you. Its entry on this list is for its versatility to this end, instead of the build quality and features that other desks highlighted may have. Even so, it features a simple assembly process, and it's surprisingly quite sturdy. There is the slightest wobble at its maximum height, but it's not enough to detract from your work experience. However, note that the motor does slow down with continued use, which explains its optimal use case. 
26. TechOrbits Electric Standing Desk
While you can use this TechOrbits desk in your traditional office space, it's best suited to those who are working from home. The design is incredibly simple, which lends itself to smooth integration in just about any environment you could imagine. All its components have a lifetime warranty, so redress is always possible for manufacturing defects. With a height adjustment range of between 28 and 48 inches and it's memory preset functions, you should be set. 
27. ApexDesk Elite Series
This desk comes in a 60 inch and a 71-inch size. Therefore, it's best suited to offices with a little extra space to allocate to an electric standing desk. It features a dual-motor lifting system that is very reliable. However, it must be noted that the motor speed is quite a bit slower than you'd expect from traditional units. It stores four presetting memory heights and can handle up to 220 pounds of equipment, which should be more than enough for most office needs. While it may not be the most cost-effective option, the real estate makes up for it. 
28. Lander Lite Desk
This is a made-to-order desk that defines the phrase "variety is the spice of life." It has a ton of revolutionary features, and the choices you have where size and color are concerned, add up an unbelievable number. You get a 10-year warranty, as well as a 100-day satisfaction guarantee. It also takes no more than eight minutes to assemble since it arrives almost completely put together. Its weight capacity is 225 pounds, and it goes as high as 55 inches, which means some of the more vertically blessed office workers should have a blast with it. 
29. GeekDesk Max
This keep desk build is a solid mid-range option for those who want consistency at an affordable price. The brand is known for being one of the first on the market, but it has not maintained its status at the top of the food chain. That distinction belongs to the number one option. There is not much variety in design, but the choice of materials and a crossbar's inclusion give a solid experience. One point to note is that this is not the best choice for those who have longer legs. 
30. iMovR Lander L-desk
An L-shaped electric standing desk is always a great option for those who plan on working from corner spaces. As unbelievable as it may be, there are over 1000 different size and color combinations to choose from. The sturdy desk comes almost fully pre-assembled and only requires 15 minutes of effort to get started with. There's a lifetime warranty on the frame, five years on the desktop, and 10 on the base. Impressive features, such as mobile app-controlled height adjustment, more than justify its high price tag.
31. Vari Electric Standing Desk 48
If nothing else in your office gives it a premium look and feel, this electric standing desk stands up to the task. It's very easy to assemble, features built-in cable management, and its build quality is something to write home about. There is great real estate present, which means finding space for your equipment is no trouble. The only issue is that height changes are not as fast as most would like. 
32. Airlift Tempered Glass Electric Standing Desk
This desk has an even fancier aesthetic than the previous option. Its beauty is matched by its practicality, as there is a lot of tabletop space, a hidden drawer for your various items, a USB charger port, etc. It can reach a height of up to 47 inches, and its movement to get there is as smooth as the desk looks. Additionally, the unit features a touchscreen controller with three different programmable heights, so you never lose track of your favorite positions.
33. Flexispot Electric Height Adjustable Desk
In many cases, the words "budget" and "quality" don't necessarily go hand in hand. The same is not true for this adjustable standing desk option from Flexispot. While it doesn't have the heaviest weight capacity with a maximum of 154 pounds, it offers a four-foot width and a stable enough base for you to get some serious work done. The form factor is also very commendable, as it can fit into small spaces. 
34. iMovR Lander Desk
Here lies one of the most revolutionary electric standing desk designs on the market. It holds the distinction of being one of the few that arrives in an almost completely assembled state. Additionally, the work that you're required to do to get it set up doesn't require any tools. It has an intuitive electric height control, a respectable adjustment range, and enough width for all the equipment you need. Note that you can connect your smartphone to the desk via Bluetooth, for an even more convenient adjustment method. 
35. VariDesk ProDesk 60 Electric
It must be said that this electric standing desk is one of the most expensive options you could consider. VariDesk is known for its standing desks and converters, so much of that price is nothing more than paying for the brand name. Nevertheless, it comes halfway pre-assembled, features durable material, and uses a horizontal beam to prevent wobbling at higher heights. Though it's hard to deny the quality underneath the hood, cheaper options do a similar and even better job. 
The Pros and Cons of Having Standing Desks
Pros of Having a Standing Desk
The benefits associated with standing desk use are undeniable, and this realization is why they have been popping up so much in office environments worldwide. Here are the most notable of the advantages:
A standing desk helps you

maintain proper posture since it eliminates the natural slouch synonymous with sitting for most persons. 

Chronic pains commonly associated with prolonged sitting can be mitigated with a standing desk in the mix. Not only is this better for you to function effectively in the office, but it also translates to your quality of life.

You can enjoy a greater resting calorie burn since standing burns more calories than sitting.

A

healthy blood flow is promoted since your legs aren't bent consistently.
Cons of Having a Standing Desk
Even a revolutionary item, such as the standing desk, has its downsides. Are you wondering what they could be? Luckily, the list isn't too extensive. Here's what you can expect:
Until you get into the right rhythm, you are likely going to be standing too much, which can put your joints under unwanted pressure.

Standing can be a very uncomfortable norm to acclimate yourself to when you've become content with sitting for so long.
Factors to Consider When Buying an Electric Height Adjust Desk in 2022
Assembly
Isn't it great to get your electric office desk shipped to you in an assembled and ready to go manner? Unfortunately, that is a rare occurrence, so you need to be prepared to go through the assembly process before you can start taking advantage of the sit-stand lifestyle. Even the best adjustable standing desk is no use to you in several pieces.
Though assembly is typically required, the best electric office desk options allow you to put them together without formal training in construction.
Stability
Who wants an electric stand up desk that's falling apart? Even a cheap office desk needs to be able to handle your equipment atop it without tumbling down. Additionally, many standing options have an issue when they are adjusted to higher heights. These models tend to get wobbly at that point, making them more distracting than productive. 
Weight Capacity
No one expects you to be balancing the whole office on your electric standing desk, but it would be nice to know that the one you choose has a half-decent weight capacity. This is a highly subjective metric, so the most important thing is to choose a desk that can accommodate the load you plan to place on it. It's always a good idea to leave yourself some breathing room too. So, if you estimate that your equipment weighs about 150 pounds (which is unlikely in most office contexts), then getting a desk with a 200-pound or 250-pound weight limit is a plus.
Adjustment Range
Remember that the best way to use an electric standing desk is to practice optimal sit-stand sessions. Therefore, you're not only concerned with how high the desk can go, but you also need to ensure that it goes as low as you need it to when it's time to sit. Once you can comfortably get a seated and standing height, then you can move to the next item on the checklist.
Warranty
What happens when a factory defect puts you in a position where you cannot use your standing desk? Of course, you can't expect the manufacturer to replace the item or provide any service if you destroyed the desk intentionally. However, you do need to know that you're covered for a reasonable period by the desk's manufacturer.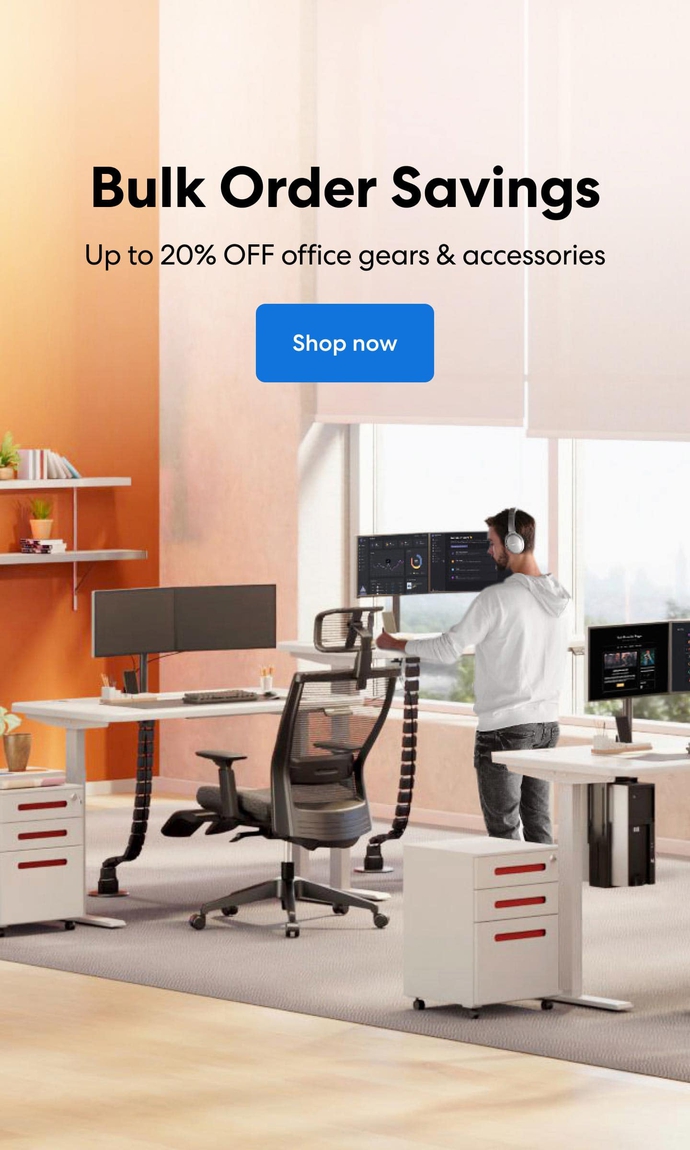 Subcribe newsletter and get $100 OFF.
Receive product updates, special offers, ergo tips, and inspiration form our team.