Do you think your dining table is the perfect working spot at home? Well, you may be habitual to sitting there, but know that it is not good for your health. You need an ergonomic desk for home like a smart desk to combat stiffness in the knees, back, neck, and long-term health issues.
If you sit in one place for a prolonged period, it can lead to body soreness along with multiple health risks. Well, that is why we have listed down the 15 best ergonomic home office desks for you. With these modern home office desks, you can switch positions between sitting and standing for a healthy work-life balance!
1. SmartDesk 2 – Home Office by Autonomous
The SmartDesk 2 is an ideal ergonomic desk for home, featuring all the qualities of a premium desk at a great value. This home standing desk comes with a subtle wood top and sturdy steel frames made to last long. Moreover, you can adjust the desk-height to 4 programmable settings with its smart keypad. Rest assured, as its noise-free dual-motor system allows you to change the height within seconds.
2. L-Shaped Smart Desk by Autonomous
You may need a large workspace, and Autonomous perfectly understands that. This L-shaped standing desk is like a 2-in-1 set of desks letting you place all your work essentials within your reach. Plus, it has an enhanced triple-motor system to lift to 330 lbs silently. In addition to this, the desk includes a cable tray so you can always keep your workspace clutter-free.
3. Double Desk by Autonomous
Whether you like extra workspace or need a desk for two, this double desk is an excellent ergonomic desk for home. This multi-featured spacious desk has four programmable heights and two intelligent control pads. Additionally, you get two cable trays for cable management along with in-built power plugs for supreme convenience!
4. Standing Desk by ARTIFOX
This solid walnut hardwood desk by ARTIFOX is beautiful and functional. It has a cable grid to store your cords neatly along with a dock so that you can personalize your desk. Additionally, this wooden table includes two pegs to let you hang your headphones, bags, and other accessories.
5. Flexpro Power by Stand Steady
If you want a table-top desk, this Flexpro Power standing desk is a brilliant option. It has two sections with the top one big enough for two monitors and a laptop. You can place your accessories on the lower level. The best thing about this desk is its foldable feature that you can use with up and down buttons.
6. Everywhere Rectangular by Herman Miller
This Everywhere is one of the most minimal ergonomic home office desks that you will find. It has a plastic laminate maple with a steel base for a smooth finish and durability. Though it does not offer height-adjustable features, it is an excellent lightweight option for a simple desk for your home office.
7. Sphere Standing Desk by Focal Upright Furniture
For those of you looking for an ergonomic workstation desk to uplift your room's look, this is for you. The Focal Sphere standing desk is aesthetically-pleasing and has a curve to achieve the right ergonomic seating position. The best part is you can keep it flat or angled at 15 degrees to work efficiently. The table also includes two cup holders for convenience.
8. IDASEN Standing Desk by IKEA
If you want a minimal ergonomic desk for home, the IKEA IDASEN standing desk is a great choice. It has a simple-looking blacktop and is easy to adjust. You can change its height by pushing the lever placed on the front side or use the Ikea mobile app. To top it all, it comes with a cable management tray neatly tucked under the table for a clutter-free workspace.
9. Smart Desk by Woolsey
This smart desk is like a hi-tech center that looks like a simple work table from the top. Though it is the priciest option here, this modern home office desk is packed with a wireless charging pad, USB port, and cable management system. Plus, it comes with a dual-motor system that allows you to raise its height to 50 inches.
10. Bamboo Standing Desk by Jarvis
If you are looking for aesthetics and ergonomics, the Jarvis Bamboo desk is a good option. It is made with polyurethane-coated bamboo, ensuring durability, and has a keypad for height control. Plus, it can withstand up to 350 pounds of weight, allowing you to keep your monitor, laptop, and other accessories.
11. Mobile Standing Desk by Tangkula
This mobile standing ergonomic work desk stands out from the others with its four wheels allowing maneuverability and pocket-friendly prices. You can easily place two monitors on this minimalistic desk and adjust its height with a simple lever.
12. Mobile Standing Desk by Mount-It
It is another mobile desk with locking wheels that you can quickly move around or keep in one place. This desk has four different shelves for your monitor and accessories, plus it is height adjustable. You can swap it from standing to sitting and back with the two knobs.
13. Gaming Desk by EUREKA ERGONOMIC
Though it is not a standing desk, this gaming desk offers several features for your office setup. It includes a convenient cup holder on one side and a headphone hook on the other. Plus, it comes with a holder and mouse pad as complementary accessories.
14. Single Column Desk by S Stand Up Desk Store
If you are looking for a minimal ergonomic workstation desk with a crank system, this column desk is the right choice. It is big enough for your laptop or two monitors along with accessories. Plus, you can adjust its height with the crank lever.
15. Bamboo Laptop Desk by HOMFA
This is another table-top desk built for your home office. The bamboo table has adjustable legs and five tilting angles to choose from. Additionally, its swirl design for heat dissipation makes it highly-practical as well as aesthetic.
EndNote
Finding the best home office desk is undoubtedly challenging but also extremely necessary. Pick your favorite ergonomic desk for home from this list to bid farewell to body stiffness and keep health risks at bay!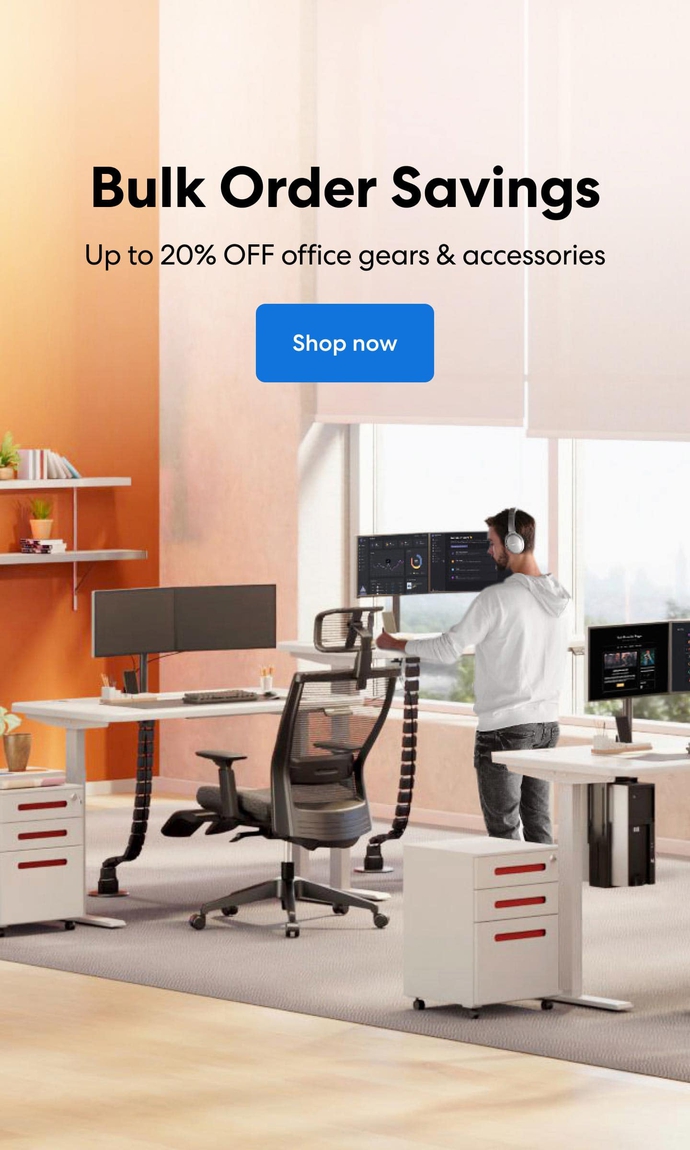 Subcribe newsletter and get $100 OFF.
Receive product updates, special offers, ergo tips, and inspiration form our team.