Smart Products
22 Best Home Office Desks for Two - Double Workstation
9,834 Views
Office workers need ergonomic items to improve their productivity and work performance. That's because it helps them to feel better while working. Additionally, using ergonomic products avoid back pain and other physical health issues.
Some office products help people address specific situations. One of those items is double desks! People buy home office desks for two when they need to cooperate with co-workers or when two people work in an office. Standing up from your workstation to ask something to your co-workers can be a nuisance for some people.
A double workstation desk or 2-person desk is the perfect solution if you want to maximize the space in your home office. A good 2-person desk for home office should be sturdy, practical, and have plenty of storage to meet the storage needs of an active office. In addition, there should be enough horizontal space on the top of the top 2-person desks to accommodate several people.
Double desks allow you to work next to your co-worker. That makes everything easier for you and for the person who works with you. Yet, you need to choose the right type of office desk if you want to take advantage of the benefits these products offer.
Dive into this page to know the 22 best home office desks for two!
What Are the 22 Best Home Office Double Desks?
Now that you know what to look for in a dual office desk, it's time to know the 22 best home office double desks. All the desks listed below offer you the essential features every home office desk for two should have. That being said, here are the 22 best home office desks for two:
1. Autonomous SmartDesk Corner
For a more sophisticated 2-person office desk, check out the SmartDesk Corner from Autonomous with all the modern ergonomic features. Despite its huge working surface, this L-shaped desk can gracefully fit into any corner of the room. The desk is available in three colors, black, white, and gray, and the desk frame also comes with two options. This allows you to play with the combinations within the desk.
SmartDesk Corner, other than being high-quality, offers twice the space, works with whisper-quiet motor action, and has a weight capacity of 400 pounds. This high weight capacity makes it a desirable product for work and gaming both.
This two-person desk offers height adjustability from 29 inches to 48 inches and has 4 programmable settings to achieve the desired height. It is made up of modular segments to give the best fit. Besides all these wonderful features, the desk has a cable tray to minimize cable clutter and promote perfect cable management. It also comes with a 5-year warranty.
2. EUREKA L60 L-shaped Standing Desk: Programmable Keypad, Right-handed
A two-person desk has many benefits over a single desk because the ability to brainstorm things together and have your own space while being close enough to work together greatly improves teamwork. This Eureka Ergonomic L-shaped gaming desk is one of the best options you will find in the market. The huge working surface makes it a sufficient desk for two people, but the R shape adds to the benefit of having a private workspace despite sharing a desk. The ergonomic desk is electrically controlled and powered by dual motors which operate quietly.
The whisper action motors make this desk suitable for busy workplaces and prevent any disturbance during work. Moreover, the desk is enough to hold three large-sized monitor screens or four regular-sized monitor screens.
3. EUREKA ERGONOMIC L60 Computer Desk: Left Side, Pink
Get your hands on this 2-person computer desk if you are both fans of pink aesthetics. Ideal for a girl's room or two friends studying or working side by side. The Eureka Ergonomic L60 computer desk is a cute purchase for anyone with taste. The desk has a large surface with a big mousepad, allowing quick movements and high response rates. Besides that, it has a sleek design with smart legs, which look great and save extra space under the desk for cabinets or other storage options.
It has a carbon fiber textured top that adds an extra smooth finish and durability to last a lifetime. The desk surface is designed to be scratch resistant and stain-free. Other than looking great, it comes with an effective cable management solution. You can also mount your headphones, charger, or other devices on the side of the desk and spare some space for a more comfortable work setting.
4. EUREKA ERGONOMIC EUREKA Ultra Long Standing Desk: Manual Height Settings
Manual standing desks are also common as they are cheaper when compared to electric desks. Some manual desks also offer a greater weight capacity because they are not connected to motors to manage the desk's height. This 2-person workstation desk is a hit among customers despite being manually controlled. It is a long-standing desk and hence offers a work area easily sufficient for two people. The desk is fully ergonomic with all the height adjustments, a wide surface area, a compact design, and a minimum square footprint.
The slim legs of this two-person desk provide sufficient space for your chair to slide in or keep other accessories safe under the desk. And just because this desk offers manual height adjustment doesn't mean it is tough to manage. The five-lever height adjustment system is as smooth as possible, and you can attain any desk height from 24 to 32 inches. With a weight capacity of 165 pounds, the desk offers a 5-year warranty to its users.
5. EUREKA ERGONOMIC 60" L Shape Glass Gaming Desk: Music Sync RGB
Glass surface desks have a contemporary and elegant quality that other desks cannot match. A glass surface desk is ideal for professional workspaces and set up like a modern executive office. For instance, some choices, like the L-shaped glass gaming desk from Eureka, are at the top of the list despite concerns about quality and strength. The desk's glass top is not the only star of the show; it also features an RGB system that is timed to music. The desk has a gaming feel thanks to the RGB lights that shine through the tempered surface.
Because of its reversible L-shape, the desk may be used against any corner or even changed into an extended workstation. The glass's surface is heat- and scratch-resistant and made to survive for a very long time. Solid carbon steel provides roomy legroom and enough room for one or more filing cabinets to slide under the desk. IThis two-person desk has extras, including a cup holder, power strip hook, headphone holder, and sticky cable ties, and it has a heavy weight capacity of 330 pounds. Despite being a gaming desk, it also serves as a 2-person desk home office that prefers to work with many desk accessories.
6. EUREKA 60" L-shaped Standing Desk: Programmable Keypad, Left-handed
Gaming battles are one of the most crucial parts of gaming. But the problem arises when you don't have a proper gaming setup to compete in the best possible way. This 60-inch L-shaped desk stands out because it was created specifically for left-handed users or people who take gaming battles with their friends. Due to this characteristic, Eureka is a brand with enough consumer appeal. The long home office desk is adequate for both work and games.
It has a 60-inch-wide R-shaped surface, an electric power lift motor system to control the height, and a programmable keypad. Three monitor displays may fit on the desk, and it has an electric height adjustment with four memory settings. This two-person desk has a weight capacity of around 300 pounds and a 5-year warranty. Another interesting addition to this desk for gamers is the large mouse pad surface which substantially improves gaming performance.
7. EUREKA L-shaped TechDesk: Monitor Stand & Dual Headphone Hook
Eureka Tech Desk is an L-shaped desk with a monitor stand. The desk is ideal for your modern gaming setup because all the tech features combined deliver an exceptional gaming experience. The desk, sufficient in size, has a separate monitor stand where you can keep an extra screen or even some gaming accessories.
It is height adjustable, works with dual electric motors, and operates quietly. You can rely on the Eureka L-shaped desk for stability and durability.
8. SmartDesk Core Duo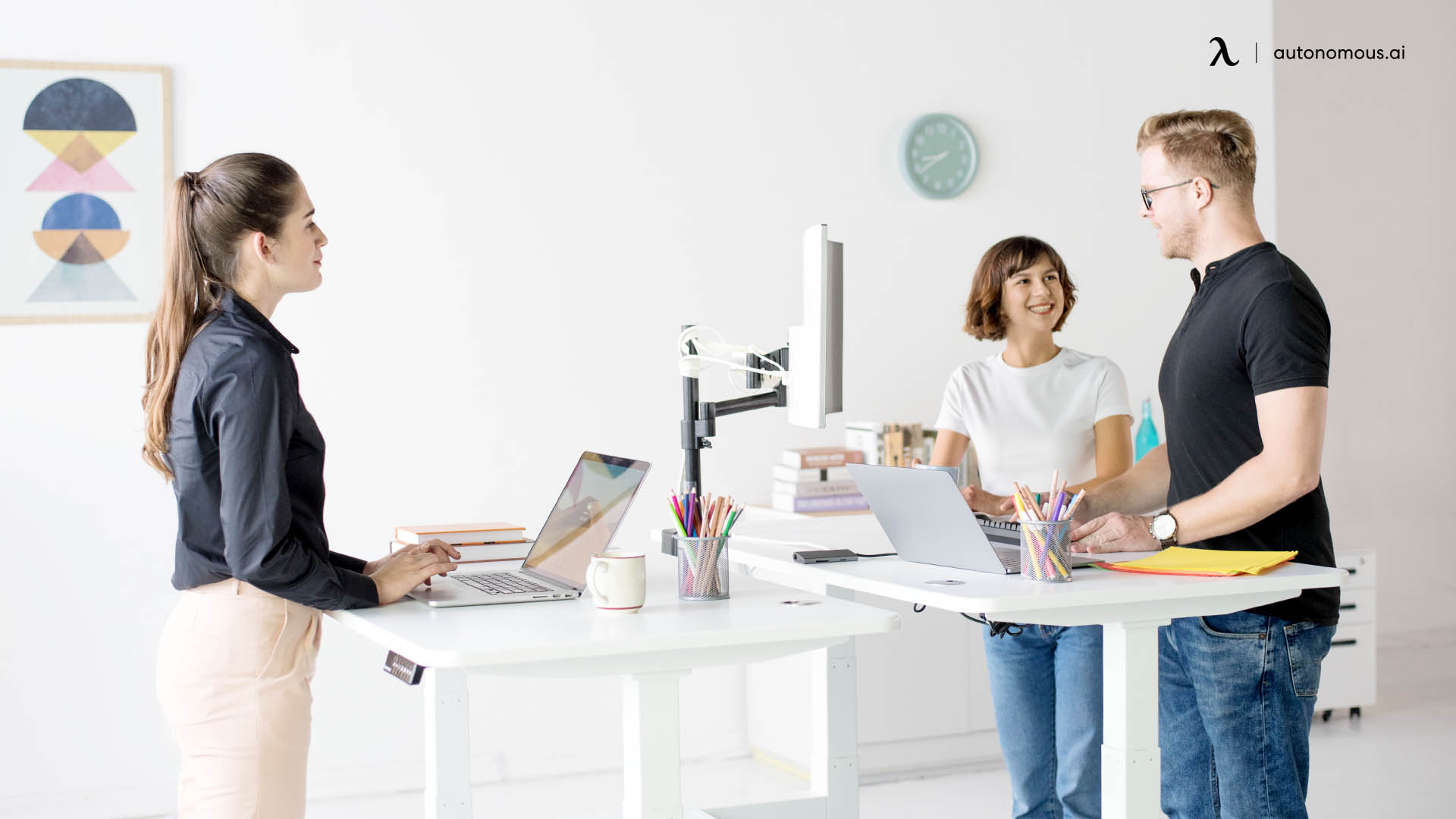 The overall best home office desk for two is the Autonomous SmartDesk Core Duo. This double desk is perfect for teams and partners that need to constantly communicate while working.
Its dual motors allow you to lift 290lbs with no trouble. Apart from that, each desk has programmable keypads that allow you to save your favorite configurations for your desk. Naturally, this desk is height adjustable.
If there's any problem after you get the double desk home office, you can use its 7-year warranty, so don't worry about that.
9. DlandHome Double Computer Storage Desk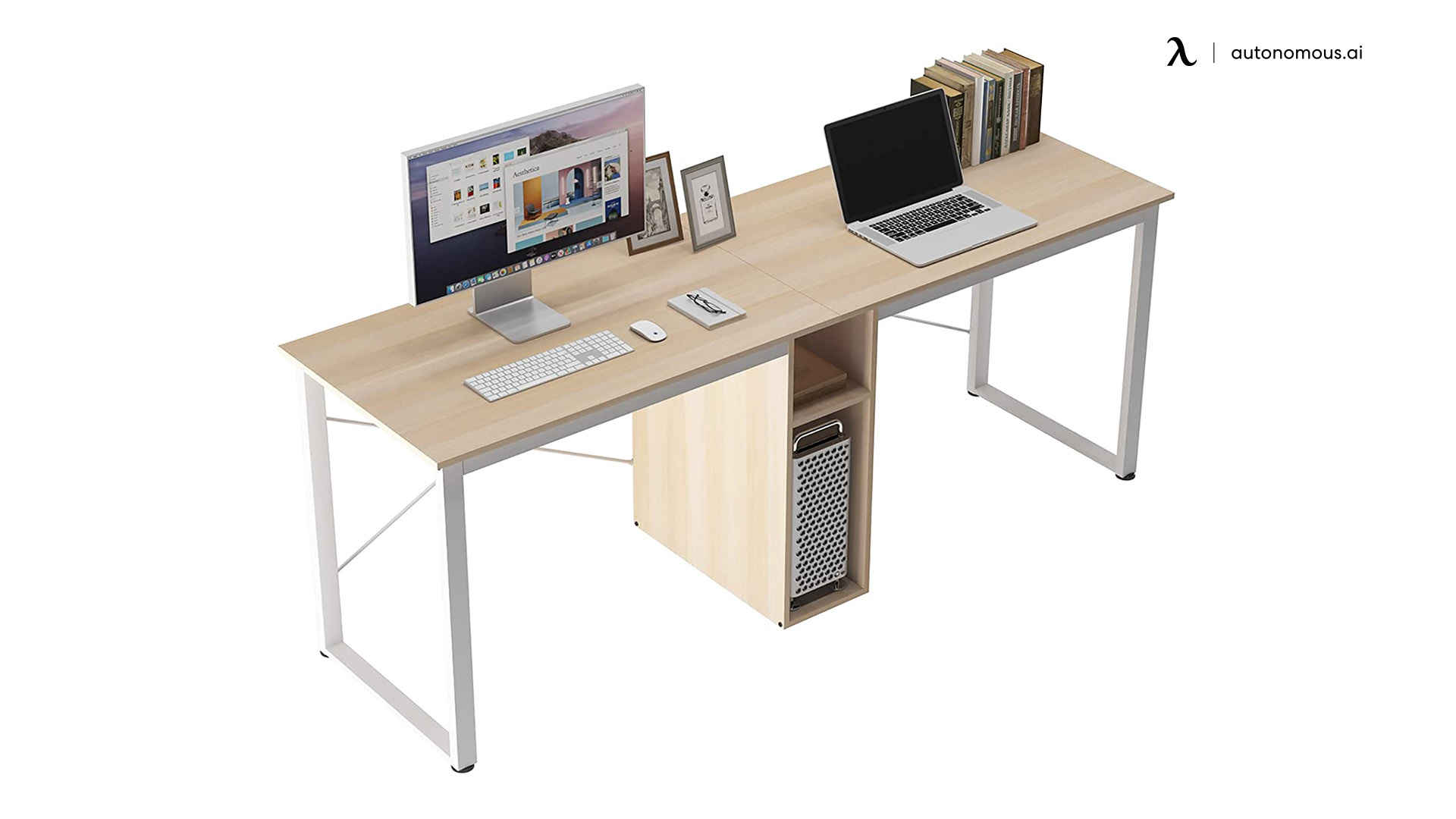 If you are looking for a classy-looking desk for a wooden-made setup, then the DlandHome Double Computer Storage Desk may be the one for you. The best thing about this desk is its sturdiness and durability.
With this desk, you don't have to worry about it deteriorating or getting broken after a time. The DlandHome is a big double desk home office, so consider that if you have a small workstation.
10. Merax Home Office 2-Person Desk
Unlike the previous desk on this home office desk for two list, the Merax Home Office 2-Person Desk is better for small workstations. However, being a small desk doesn't compromise the desk's functions. This product allows you to work by the side of your work partner with no trouble.
Storage space is one of this desk's strong points. It allows you to store your working gear and office equipment. That makes it easier for you to save your office items to use later.
11. Dominik Desk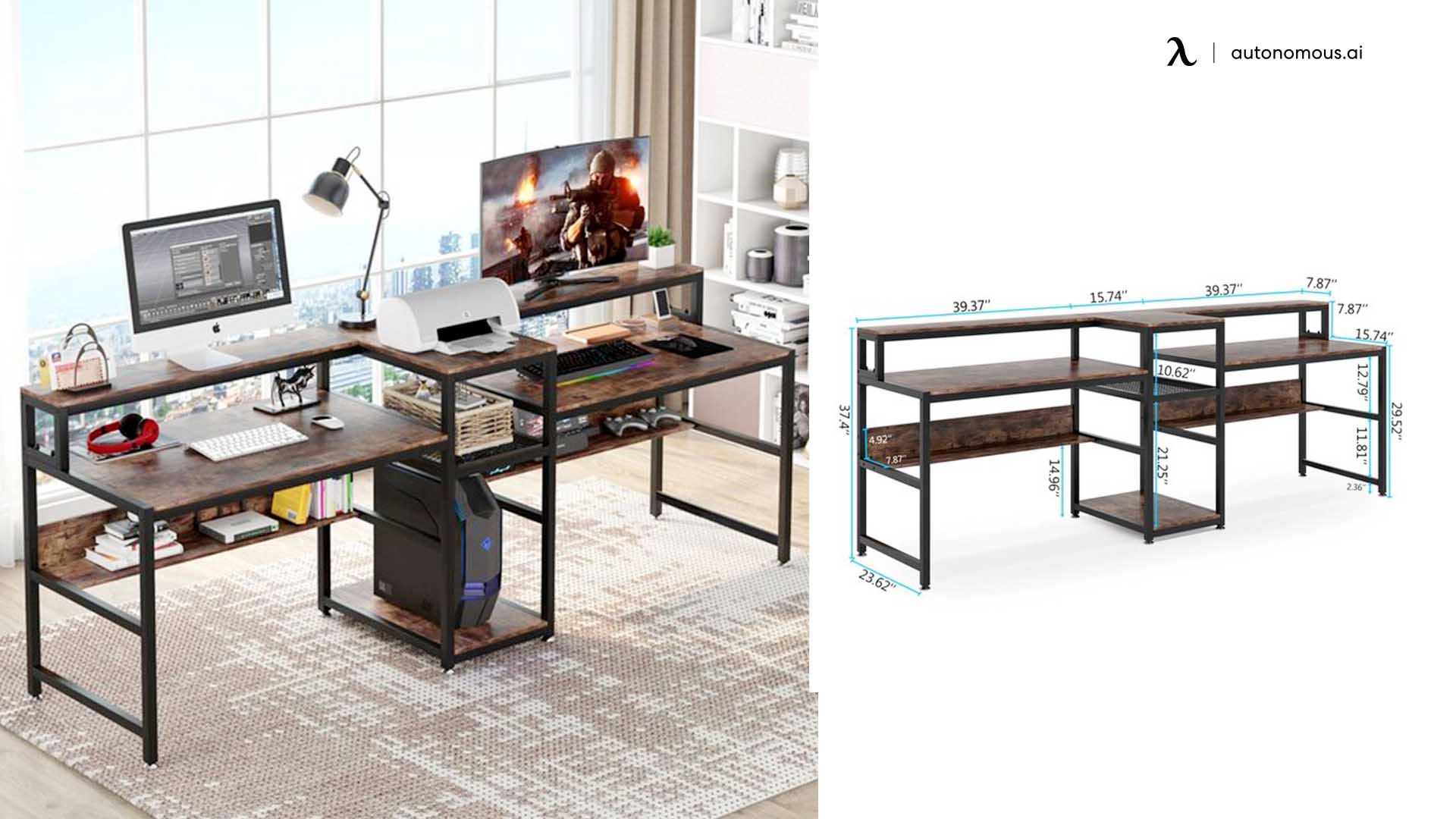 Here is another home office desk idea for two.The Dominik Desk is the best option for you if you care about taking care of the environment. This eco-friendly desk is made with solid wood, and its steel base material makes it resistant and durable. You need to assemble this double workstation desk before using it.
Regardless of that, assembling it allows you to customize the desk and make it perfect for your body characteristics.
12. Latitude Run Double Workstation Computer Desk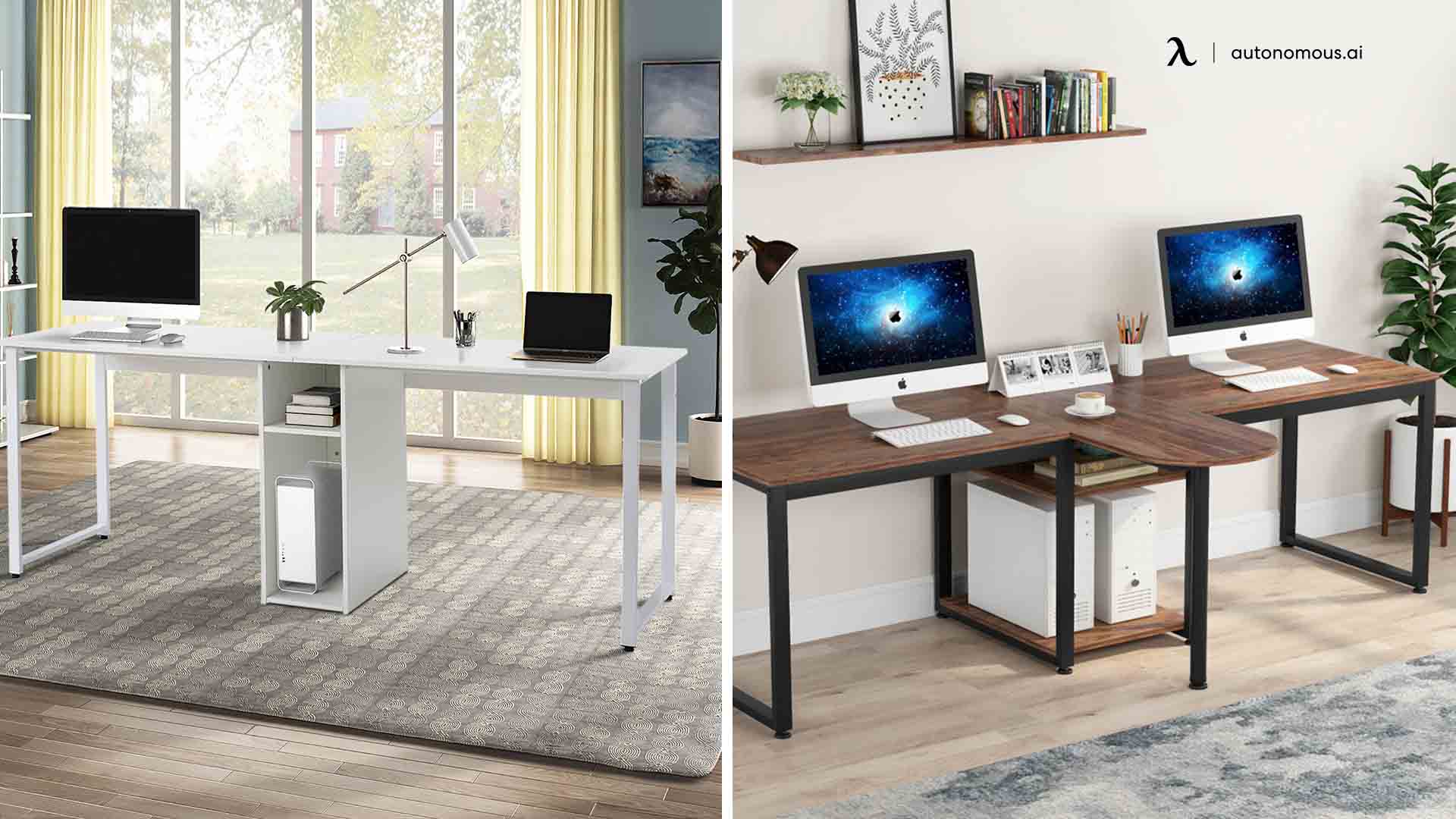 Latitude Run has made several office desk designs. That includes 2-person office desks. This product expands your storage and therefore how many things you can use to work. The connection between the two desks makes it easy for you to talk to your work partner and work with them at all times.
This two-person desk is easy to assemble, so you don't need to take a lot of time to adjust your desk before using it.
13. SogesHome 2-Person Computer Desk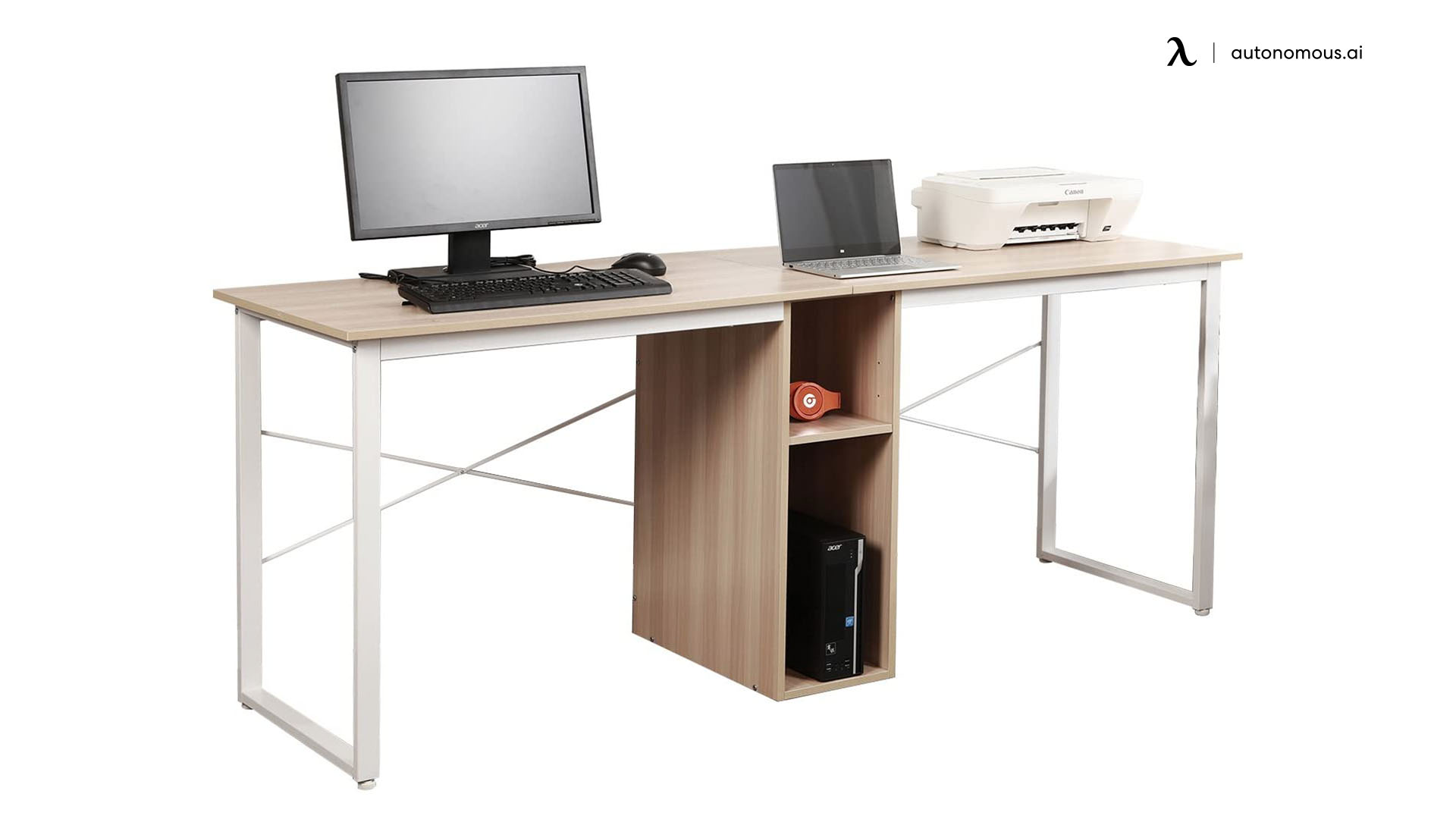 This ergonomic product is sophisticated and elegant, so you can consider it if you want your workstation to look classy. This double workstation desk's sides are connected by a big shelf, so you can talk to your co-worker while using that space to store books, files, and things of the sort.
The SogesHome desk is not as big as others on this list. Go for this alternative if you want a sophisticated two-person desk you can use in small workspaces.
14. Burglind Computer Desk
Many people want a warm-looking double office desk for two for their home office desks. Wooden-made and beige-colored items are perfect for those kinds of setups. The Burgling Computer Desk is a computer desk for large monitor types and has underneath open shelves on each side of the desk. That means both co-workers have the same amount of space to store their equipment and working gear.
This two-person desk has free shipping for some places, so take that into account while analyzing the product's price.
15. HomCom Industrial Double-Sided Desk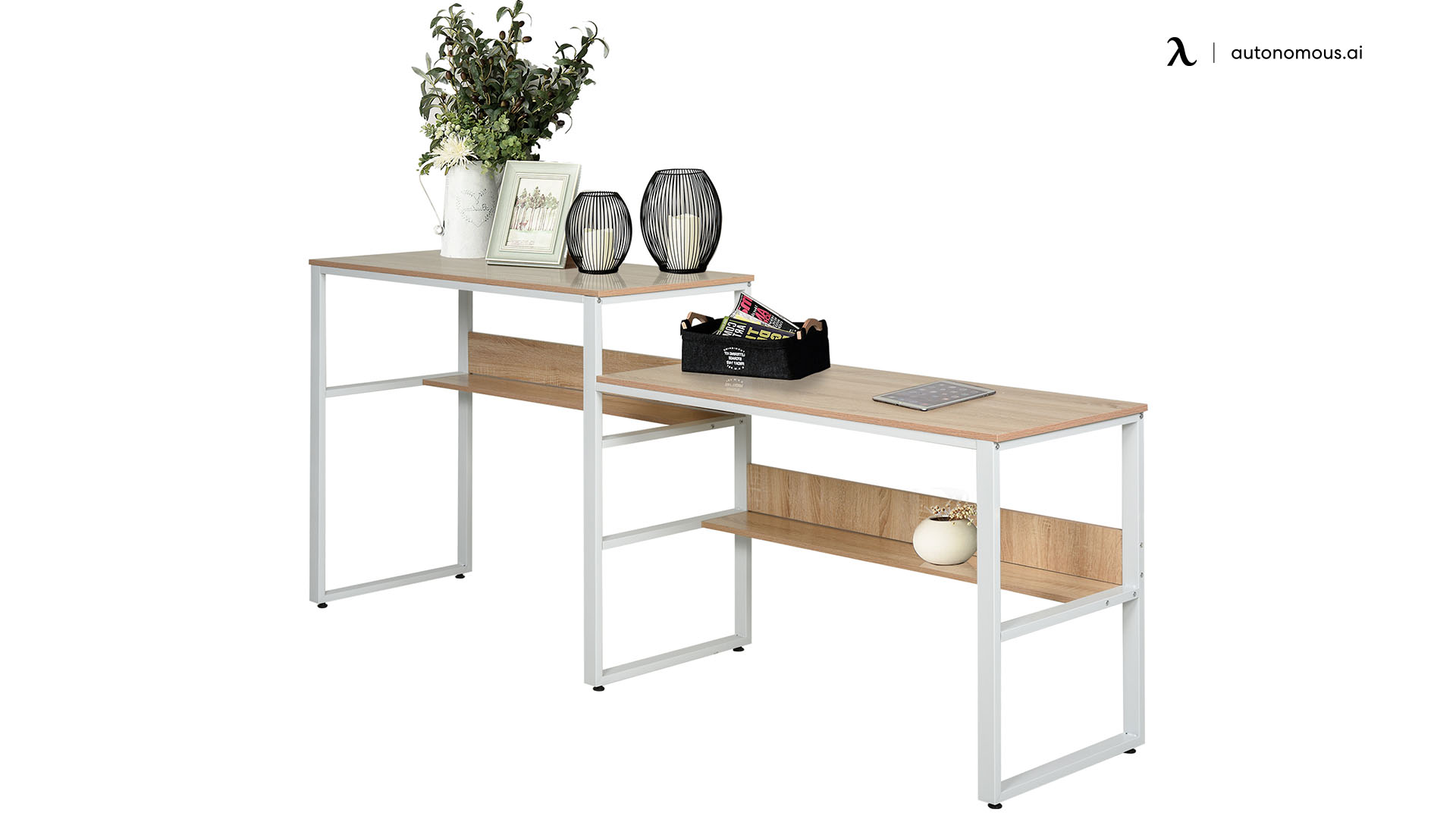 The HomCom Industrial Double-Sided Desk has a modern style that makes it a worth-taking option for home offices and modern office buildings. Even though this desk has a compact design, it offers you a large working space that is enough for you to do anything you need.
Its materials are durable. That's because of its tough worktop and sturdy metal frame. The storage this two-person desk offers you is ideal for people who use a lot of desk accessories while working.
16. Costway Two Person Computer Desk
If you are looking for a budget-friendly desk for your home workstation, you may consider the Costway Two Person Computer Desk. This dual office desk is also an L-shaped office desk, so it gives you enough space to work all day. The desk's large desktop allows you to place computers, plants, and other things on it.
17. Caben Desk
You may be amazed with this home office desk idea for two. Office workers and gamers tend to buy the same products for their workspaces and gaming rooms. That's because both of them use computers for extended periods, so they need to take care of their physical health. The Caben desk is an excellent example of a desk gamers and office workers can go for.
This desk is affordable and available in black, oak, and rustic colors. Choose the one that best fits your office's aesthetic!
18. Parent Desk
Like the previous product on this list, the Parent Desk is available in different colors for you to choose which one you like better. This two-person desk's support legs are doubled, so it's more stable than other options on this list. Combining this desk with a wireless charging lamp will make your workspace more elegant and modern.
Apart from that, the Parent Desk has rectangular shelves that also work as middle support, so you can place all the things you want in them.
19. Waddington Desk
The Waddington Desk is different from others on this list because it's made of three main pieces instead of two. Those main pieces are the two side-desks and a printer stand that connects them. Yet, that doesn't limit how much you can communicate with your work partner.
20. Willa Solid Wood Desk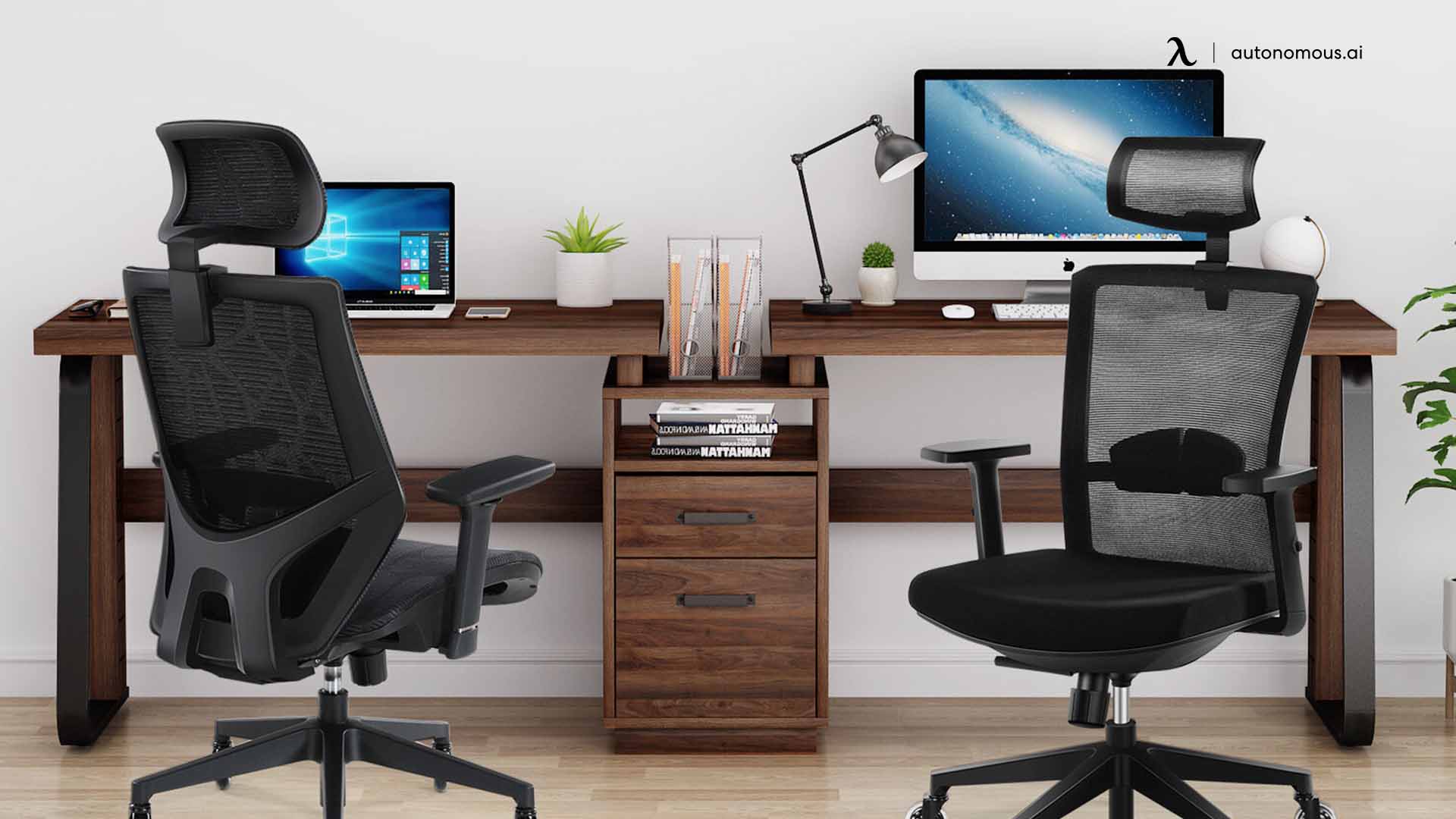 As its name suggests, the Willa Solid Wood Desk is made of wood. That means it is a good option for wooden setups. One of the best things about this two-person desk is how flexible its design is. You can use it for many things and customize it to adapt to your body characteristics or goals.
21. Fenella Desk
If you want to be as close as you can to your co-worker, then the Fenella Desk is the one for you. The Fenella Desk is not connected by a middle structure or something of the sort. That means nothing separates your working space from your partner's.
This desk' legs also work as extra storage space, so you can use them to store anything you need to work or when taking an effective breaktime.
22. Alrich Desk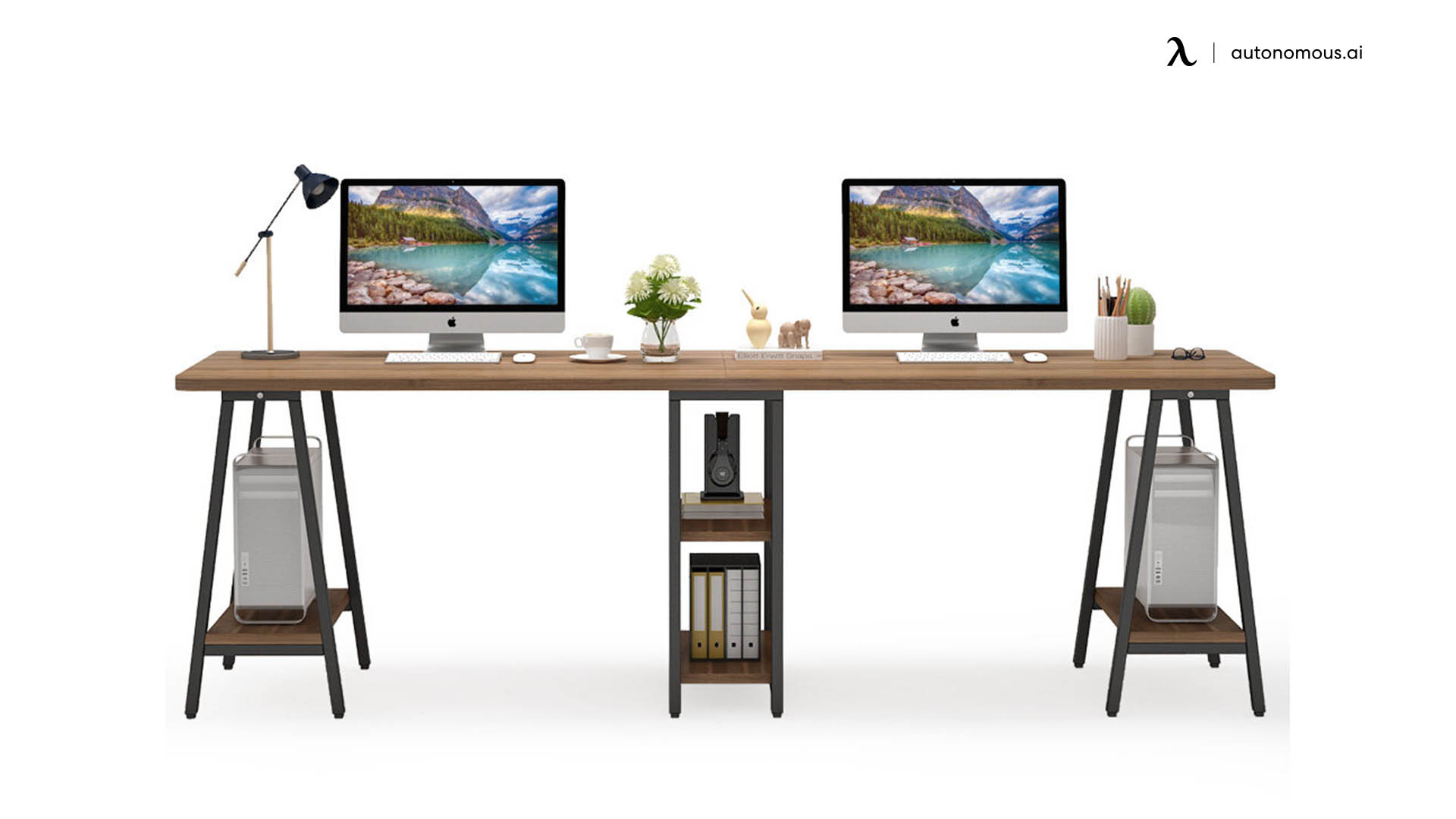 Getting to the end of this list, we have the Alrich Desk. Being the last on the list doesn't make it a bad option. The Alrich desk offers you everything you need on a two-person desk, so there's no need to worry about that.
The Alrich desk has many shelves and a CPU bracket. Apart from that, its stable legs prevent it from losing balance or breaking after a time.
What Should I Consider When Looking for a Double Desk?
Before getting to know the best dual office desk on the market, you need to learn what to consider when looking for one. Each desk is different from the other, but all of them need to have some specific features to offer you the comfort and productivity increase we mentioned before.
Apart from that, your personal taste is essential when deciding which desk to go for. However, it's not easy to find the perfect desk for you if you don't know what to look for when buying ergonomic products. We are here to help you, so here are some of the things you need to consider when looking for a 2 person home office desk for your workstation:
Space
Whether it's a home office or an office building, you need to analyze how much space you have available in your workstation. Since home office desks for two are meant to be used by two people, they tend to be bigger than standard office products.
Considering that, you should ask the company to give you the office desk size. Doing that allows you to compare it with your office's space and see if the desk is a good fit for it.
Communication
The main advantage these products offer you is how easy it is to communicate with your co-workers. If a 2-person computer desk doesn't allow you to talk to your work partner, try to look for other options.
That's because a dual office desk that doesn't allow you to communicate with your co-workers is just a standard desk. There's nothing wrong with standard desks, but they can't help you as much as a double office desk can if you need to work close to your co-worker.
Features
As we mentioned before, a home office standing desk can help you increase your productivity and improve your work quality. That's the reason many people who need to work for extended periods go for ergonomic products before standard or traditional office items.
The back support and posture correction these items can give you help you avoid all kinds of physical and mental health issues. Considering that, we recommend you get office desks with ergonomic features.
Some of the functions you can look for in a double workstation desk are height adjustability and extra storage space. Yet, the most important feature an ergonomic standing desk can have is a decent range of height adjustments.
Design
Aesthetics are also important when choosing the best fit for your workspace. Having an appealing workstation helps you reduce stress and anxiety. That's because it makes you like the place where you work, therefore making your brain more active while working.
Most ergonomic products are available in different colors. Take all the time you need to choose the one you feel more comfortable with.
Budget
Double workstation desks and ergonomic items, in general, tend to be more expensive than standard office items. That doesn't mean you have to keep yourself from buying them, but that you should look for items that fit your budget.
There are many affordable 2 person home office desks on the market. Those products give you the essential features every 2-person computer desk should have. You may also need to save some money for other ergonomic items, so try looking for a budget-friendly office desk.
Tips for Designing a Home Office With Two Desks
When setting up a desk for two people, remember that the space's primary function is to function. Thus, each person's needs must be met by the space. It would help if you also considered style—again, the design style of your new "co-worker" is likely to be different from yours. Your double desk home office doesn't necessarily need to be designed in one style or have matching desks. However, a consistent design should prevent your 2-person desk in home office from feeling like a flea market.
Prioritize function
It should not be the other way around – your desk, shelves, and storage should serve you. Look for pieces that fit both your dual office desk and your needs when investing in furniture, and then choose pieces that are both beautiful and functional. In a room that complements your living decor rather than screaming "soulless cubicle," warm woods and soft, comfy chairs work well. It is surprisingly easy to incorporate modern metal or artistic pieces into a contemporary double workstation desk or home office.
Choose the right location
The size and shape of a home office functional desk vary widely. Whether it's located in a comfortable corner, separate room, or in the kitchen, it's up to you. Consider the process you follow when doing your work before choosing a place for your home office modular office furniture.
You could even transform your kitchen island into a full-fledged workstation if you are a hectic mom. However, for professionals, the best choice would be a space that is isolated and isn't impacted by the rest of the household distractions.
You should assess space availability
Don't forget to leave enough space for comfortable working. From your metal office desk, determine whether you can move around and sit down comfortably. Though this may seem obvious, you underestimate the amount of space you require and face problems later. You should measure your workstation in the same way the professionals do: take a minimum of 60 inches width and an 84-inch depth.
How to Choose the Right Furniture
For a successful corner home office desk, you need a nice chair and desk. It is a good idea to choose a wide enough desk to accommodate your PC and everything else you will need to work efficiently. For example, taking notes, keeping a reference book, or storing reference materials could be included. It would help if you aimed for a desk at least 48" wide (120cm) desk.
If you are simply using a laptop for a short period, then you don't need to make these additional measurements. The most comfortable desks are those that are 60 inches (150 cm) bigger. Adjustable-height desks are ideal in most home office environments, but they're not always practical.
A desk that isn't too high; about 20 to 30 inches would fall within your reach easily. If possible, purchase a comfortable, adjustable chair of good quality. You can reduce back and neck pain with the right tools and furniture.
Storage needs
Home offices often overlook storage needs, which can have a major impact on productivity. Ensure there is ample storage space by adding extra cupboards, cabinets or shelving. First think about your workflow and then consider these thoughts: Where does the work come from, where do you plan on working on it, and where the completed work goes?
Install your inbox letter holder closer to your desk, so it's easier to access all the new work, tasks and office communications. Organize things close to where they are needed. For example, reference materials should be kept close to your desk so that they are easily accessible - keep manuals, catalogs, and reference books nearby at all times.
Choosing your lighting
Your home office is efficient when it has good lighting. If you can, select a location in your home that gets a lot of natural light for most part of the day. For example, you could try placing the desk so that you are facing the windows when seated. This position will ensure that the light doesn't reflect off the PC screen.
Transparent window shades and blinds allow you to reduce glare in your room without darkening it. The wall color should be lighter, and the mirrors, if any, should reflect the natural light as much as possible.
You can use overhead ceiling lights to provide general lighting. Try placing a lamp with an open-top to achieve the overhead light effect. On the other hand, a desk light will provide you with task lighting without those annoying shadows. If your light fixtures are not bright enough, consider replacing them with bulbs mane for daytime use.
FAQs
How should a home office be organized with two desks?
Arrange your desks across the room at opposite ends so that you have as much space as possible for each of you. It's best to use two distinct but coordinating desks within one space (the two pictured desks are excellent examples). Next, add some shelves to each area for supplies and personal items.
Are L-shaped desks suitable for two people?
Your partner and family won't have to compromise on space by working on the same surface. There aren't too many double workstation desks around (which is why we include it here as a bonus). Two people can use the desk at the same time. It is not uncommon for two chairs to sit side-by-side on the extra-long variations.
Two-person desks are called what?
There are two sides to an L-shaped desk, so it has an angled shape. Therefore, it is best suited to people who want an all-in-one design. In comparison with a traditional desk design, corner desks usually have a larger writing surface.
How big should a desk for two people be?
Shared workspaces are made easier by two-person desks. As with other desks, they are similar in depth but usually have a wider surface - usually over 78 inches. Co-working spaces, offices, or even at home can use these office desks. You'll usually find storage columns in the middle or on the sides of these desks where they connect.
It suggested that shared desks should be three feet wide when placed side by side. While that's a minimum suggested width, it's more appropriate to have four feet of width per person for more comfortable arrangements.
In a double workstation, what is a reasonable desk depth?
Two people need to be comfortable at a two-person desk. It often measures over 70 inches long and requires more than 50 inches in width. These desks should be made from hardwood, plywood, or other material with a high weight capacity.
Conclusion
As you could see, there are many different alternatives on the market when talking about double office dual office desks for office buildings and home offices. Each one of them offers different benefits to office workers, so don't hesitate to get one!
Try to consider the things you learned while reading this article when you look for a home office desk for two or a standing desk. Remember that this can be an investment that may help you improve your work performance in the long run.
Hey, you have special pricing through your company.
Get exclusive rewards
for your first Autonomous blog subscription.
WRITTEN BYAutonomous
We build office products to help you work smarter.