While most people are good to go with a standard desk or a stand-up desk for their office, you should look for office furniture that specifically addresses your office needs. Do you use a laptop to work? Then, you need a laptop desk.  
Office furniture focuses on meeting your needs while working, and you don't have the same needs when you have a laptop as when you have a regular PC. You could work with a regular desk if you have a laptop, but a portable laptop desk is a better fit for your workspace.  
Nonetheless, since most people go for standing desk setups or standard desks, they don't know what to look for in a laptop tray table or which small laptop desk to get. We are here to help you with that! Read this page to know the 15 best laptop desks and carts of 2022. 
15 Best Laptop Desks & Carts You'll Love
1. Mount-It! Rolling Laptop Desk
The first small laptop desk on the list is the Mount-It! Rolling Laptop Desk, and we can already tell you that Mount-It! has some of the best laptop desks you can find on the market, so they are your safest option.  
One of the reasons people love laptop desks so much is they can use them from their beds, couches, or anywhere they want in their office, and this desk's casters let you do that since you can easily move the desk from one place to another in a matter of seconds.
Apart from that, the Rolling Laptop Desk is made of sturdy materials that fit most laptops. This product has a 10-year warranty, so you don't need to worry about having any desk issues that could make you lose your money in the short term.   
2. Mount-It! Height Adjustable Laptop Tray

We just said the Mount-It! lineup has some of the best designs you can find when looking for a laptop desk for a bed, and you can see that by noticing the first three products on this list and Mount-It! desks. The Mount-It! Height Adjustable Tray for Laptop is the second desk on this list, and it shines up for its adjustability range.  
As its name suggests, you can adjust this desk for it to be higher or lower depending on your taste, which is ideal for you to switch between different sitting positions while working. This is not this laptop desk's only feature, though.       
Aesthetics are also important when getting a new small laptop desk, and the Height Adjustable Laptop Tray has a minimalist design that could fit any aesthetic, so you don't have to worry about it not fitting your office's looks. Its load capacity won't be an issue, either.  
3. Mount-It! Mobile Standing Desk
Getting to the last Mount-It! product on this list, we have the Mount-It! Standing Desk for Laptop. Standing desks are an office worker's best friend since they allow them to work on the human body's ideal position, which is the standing one. However, you can always switch to sitting anytime you feel like it. 
Being a standing desk doesn't mean not being a portable one, so don't worry about this laptop table being too big for your office equipment. You can either use it as a bedside table or a standalone laptop table for presentations, so adjust it to address your needs at all times! 
Casters are also one of this desk's strengths since its lockable casters allow you to smoothly move it with no problem. This product even has additional features such as a tablet holder and a bag hook for you to have everything you need to work at hand.  
4. Avantree Adjustable Laptop Table
The Avantree Adjustable Laptop Table is the first laptop desk on this list that is not a Mount-It! product, but that doesn't mean it's a bad alternative for you. Similar to others on this list, this product is a multifunctional table, so you can use it for watching TV, working, and even as a food table!  
Although most people use it for their beds or couches, it's also an ideal product to use while standing, so don't hesitate to try it any time you feel like it since that position is perfect for preventing back and neck pain.  
5. LapGear Home Office Lap Desk
One of the best things about laptop desks is their features can benefit you in several ways more than just allowing you to use your laptop in a specific place. The LapGear Home Office Lap Desk is an example of that since it also holds and lifts your phone.  
This product's design is made to make its user feel comfortable at all times without them needing to stand up to look for their phone or anything else. It's more common for people to use this portable laptop desk when sitting on a couch or lying on their beds.  
6. Techni Mobili Modus Laptop Desk
The Techni Mobili Modus Laptop Desk offers you the closest thing you are going to find to a laptop desk setup for an affordable price since it's not that common for laptop users to get a full set up on a small laptop desk. The reason for that is they don't have space to do a lot of things.   
Regardless of that, this laptop tray table looks similar to what many standard desks offer you since it gives you one drawer and two shelves to store all your belongings. This desk's casters also allow you to work anywhere you want in the office.  
We understand many people don't like buying chairs and desks because they don't like DIY activities, but assembling one of these desks is an easy task, so that shouldn't be an issue for one of our clients, and you may only take a few minutes doing it. 
7. Lifetime 80251 Adjustable Folding Laptop Table
Following up with another product that is perfect for people working on a budget, we have the Lifetime 80251 Adjustable Folding Laptop Table. This product offers you many benefits and only one disadvantage, and if you can overcome the disadvantage, you are going to have one of the best desks you can ask for:  
The laptop table looks like an ironing table. It's true, but that also means it offers you a lot of space. Thanks to that, you can store all your office equipment there and still have space for things such as food or beverages.  
Durability is one of this table's greatest strengths, so you can expect it to last years with you without deteriorating itself or losing its brightness after years of use. That's due to the materials used for this laptop desk for beds since they are sturdy enough to prevent scratches or any other issue that could bother you while working.  
Storage is not an issue with this laptop desk, either. You can fold it and unfold it whenever you want to store it in your house and then start using it again. Additionally, the Lifetime desk allows you to work while standing.  
8. Seville Classics Mobile Laptop Desk Cart
If you are not sure if you should get a laptop table, you first need to make a laptop desk pros and cons list. Spending a lot of time assembling would be part of the cons, and that's one of the reasons the Seville Classics Mobile Laptop Desk Cart is easy to adjust and set in no time.   
Rolling over your office is sometimes necessary depending on your job position, and this laptop desk is for people who need a smooth-rolling ability that allows them to work all the time you need.  
Regardless of that, you can change it if you don't like working while standing.  
9. Drive Medical Overbed Table
Adjustability features are more than important when dealing with office furniture since they allow you to make the desk the best one for you without paying a fortune for it. Therefore, you want a product that allows you to customize it as much as you can.  
The Drive Medical Overbed Table is an adjustable desk you can raise or lower to several positions in a matter of seconds, so switch between sitting and standing anytime you feel like it. These transitions don't make any noise, which is a good thing for offices where people get easily distracted.  
10. Nnewvante Laptop Desk
This is one of the most minimalist products on the list yet, one that is unique among them. The Nnewvante Laptop Desk is a laptop desk for a couch you can easily use at all times thanks to its size and how light it is. You can also fold it to take it with you anywhere you go.  
Although this is a list about office desks and we are focusing on the benefits you give office workers, this desk is also a top-tier product for regular people who just want to eat anything or use their computer while they watch TV or play video games.  
11. Mind Reader Adjustable Laptop Desk
Are you looking for a budget-friendly option that helps you work on your laptop and gives you all the basic features you need in a tablet tray? You can always rely on the Mind Reader Adjustable Laptop Desk, which is this list's most inexpensive product, and that's not easy to achieve. 
Being a low price doesn't mean not having any features since this desk also has pillow support for its users to feel good at all times while working on this laptop desk. Since it's a multi-functional desk, adults and children can use it. 
12. SONGMICS Multi-Function Lapdesk Table
As its name suggests, this product's strongest part is you can use it for many things, so investing in it also means investing in many things. The reason for this is you can adjust this desk to be how you want it to be and also use it as a bed tray with enough space for you to place all your belongings.  
DIY haters must love this laptop desk since it comes pre-assembled, so there's no need to worry about spending a lot of time building a desk. This product is also 100% made of eco-friendly products, so go for it if you are an environment enthusiast.  
13. NNEWVANTE Sofa Table TV Tray/Laptop Desk
One of the main issues of laptop desks is since people know they are multi-functional, they think any desk in the world could work as a desk, and things don't work that way. You need to meet certain requirements if you want to help office workers the most you can.  
This NNEWVANTE product checks all the boxes, so there's no need to worry about it. Other than that, you should all appreciate how this small laptop desk saves space and offers you a compact size design for your bedroom or workstation.  
14. Aidata Ergonomic Sit-Stand Mobile Laptop Cart
Sit-stand solutions are ideal for your back, but getting one is often more expensive than getting a regular desk. However, this alternative is not that luxurious, so it's also within the range of someone working on a budget. Get this Aidata release if you want to go for ergonomic products for your office! 
15. Yescom Adjustable Height Rolling Mobile Stand Laptop Desk
Getting to the last desk on this list, we have the Yescom Adjustable Height Rolling Mobile Stand-Up Laptop Desk. While this product's name is self-explanatory, it's also worth noting its design boosts your aesthetic without being too flashy.  
Conclusion
Laptop users don't need to get an expensive PC desk if they only need space for a laptop, and all the laptop desks on this list are more than good. Therefore, the only thing they need to do is get a mobile standing desk for a laptop they like best for their office! 
Video ads for product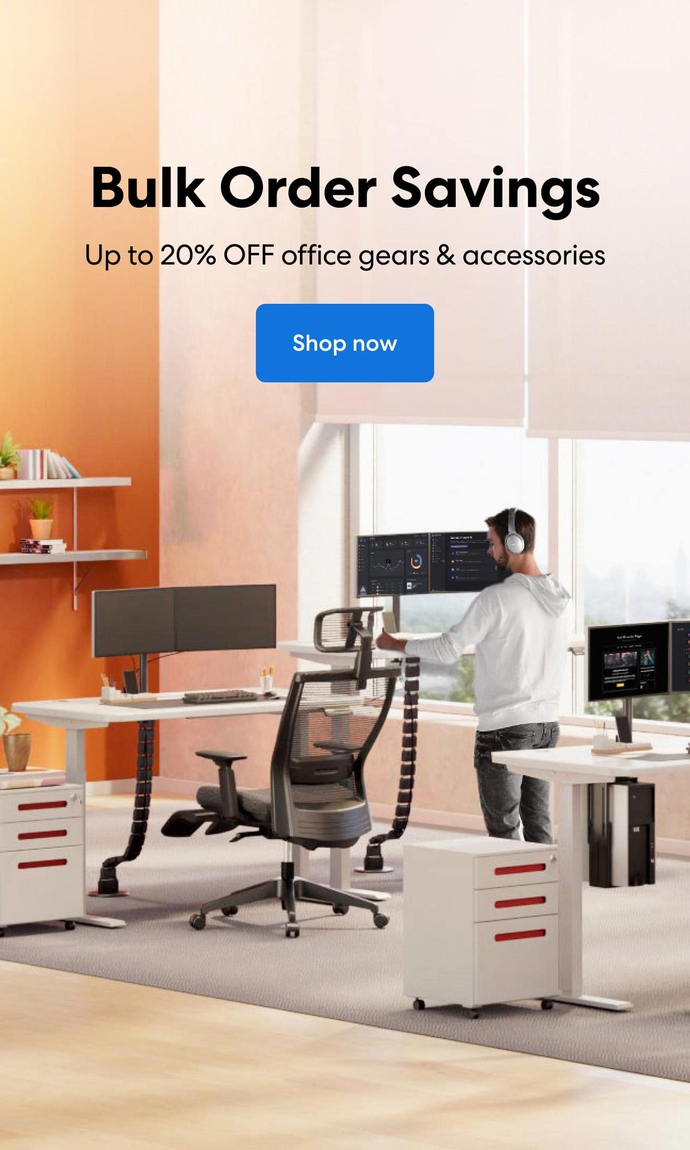 Subcribe newsletter and get $100 OFF.
Receive product updates, special offers, ergo tips, and inspiration form our team.