Smart Products
15 of The Best Standing Desks for Office and Home Settings

Autonomous
|
May 15, 2022
1,441 Views
You can have one of the best office chairs around town, but sitting consecutively for hours in one is in no way doing any favors to your body. With that being said, being on your feet all day long isn't exactly good for your body either. This is where a standing desk comes in, giving home and office users the best of both worlds. Below you will find 15 of the best standing desks that deserve standing ovations, both literally and figuratively. 
If you are yet to find out what separates a standing desk from the normal average desk that you are most likely accustomed to, today is your lucky day. A height-adjustable desk, as the name suggests, offers the benefit of adjustment from a sitting height to a standing height and vice versa, which will accommodate different tasks and add a range of movement to a worker's day. By adding a standing desk to your office setting, whether at home or work, you are increasing focus and productivity, which is one of the many reasons why one would pick this ergonomic office furniture over its traditional counterpart.
15 Best Standing Desks for Office and Home Settings
1. SmartDesk Connect by Autonomous
The first of the best adjustable desks under review is the SmartDesk Connect by Autonomous; it is considered one of the most advanced desks to currently hit the market. It is not every day that you hear of a smart desk that is controllable from afar. Autonomous has provided a desk that not only contains all the features of a height-adjustable desk but allows these likable features to be controlled remotely as well. 
Thus, if you are looking for a good remote-control desk, look no further, as the SmartDesk Connect is the best option available to you. With this desk, you are able to make your work life easier and it makes accompanying tasks less stressful just by using an app on your smartphone. 
2. Standing Desk by Mount-It! - Sustainable Melamine
Don't be fooled; while this height adjustable desk may not be the epitome of technology, it is still important that you are not choosing to settle for a traditional desk that will not take into account your posture or back health. If the SmartDesk Connect is not the desk for you, the Sustainable Melamine Standing Desk by Mount-It is another viable option when looking at the best sit-stand desks. 
With this sit-stand desk and its built-in electric motor, you are able to elevate your workstation, allowing you to change from sitting in your office chair to standing without the typical interruption of workflow or productivity in three programmable presets.
3. SmartDesk Core by Autonomous
If you are working from home, a classic home adjustable desk is just what you need for day-long productivity and increased well-being. Autonomous allows you to choose the healthy option for your office at home by providing an ergonomic piece of furniture called the SmartDesk Core, with four programmable memory settings, a spacious desktop, and a minimalist aesthetic; the SmartDesk Core compliments all working professionals.
4. Autonomous SmartDesk Corner
When the SmartDesk Corner by Autonomous exists, there is no need to imagine a stand-up desk that has all the same features as the desks mentioned above but doubles the space. The spacious worktop of this height adjustable desk in particular provides more than enough room for creativity to flow. Better yet, its vast height range allows users to find a standing desk height that is the perfect fit, regardless of how tall they are.
5. Uplift V2
An issue that standing desks seem to have in common is the fact that some may appear to be wobbly, especially when extended to greater heights. A solution to this problem, however, is the Uplift V2. This desk prides itself on stability, all thanks to its built-in stability braces. 
Apart from being stable, the Uplift V2 is a top-notch build with some extras that are pretty nifty too, including a detachable under-desk hammock.
6. Vari Electric Standing Desk
This is one of the best standing desks in the market. Many working professionals are subject to the constraints of time and thus have very little of it to spend assembling an electric desk. The most impressive thing about the Electric Standing Desk from Vari is how quick its assembly process actually is. While many desks claim to have a quick and easy assembly, the Vari Electric Standing Desk guarantees one. Customers are only required to assemble the legs as the desk frame already comes pre-attached. 
In addition to the desk's two T-style legs, the Vari Electric Standing Desk is available in three widths and five different finishes that make for the perfect black standing desk, among other colors, such as white, and even different types of wood. 
7. Flexispot E7
If you are working on a tight budget but are still wanting a decent adjustable standing desk, the Flexispot E7 comes with a competitive price tag for what it has to offer. Be warned, however, even though the surface is scratch-resistant, it is also very heavy and can make for quite a challenge when it comes to assembling this standing desk, but when the desk is all set up, it meets all the expectations that one would have with regards to the best sit-stand desk. 
In terms of price, you are getting value for your money, even if you are missing out on drawer space and proper cable management. 
8. Branch Standing Desk
There is so much to like about the Branch Standing Desk, as it is in many ways a versatile, ergonomic piece of furniture. If you are taller than six-foot, this desk can still provide you with a stable work surface and makes for another good option when considering the high-level desks in this round-up. 
While opting for any optional extras may cost you, such as USB ports and in-desk power outlets, the Branch Standing Desk still has a sensibly affordable asking price on top of a ten-year warranty that will easily be able to tempt all office workers in search of the best standing desks.  
9. Fully Jarvis Bamboo
Another best standing desk that rocks the standing desk ergonomics category is the Fully Jarvis Bamboo Standing Desk. If you are big on purchasing environmentally-friendly furniture, then you would be happy to know that this best adjustable desk is fashioned from bamboo that is sustainably grown. To put it into simpler terms, no pesticides are used whatsoever. Like any other high-end product, the Fully Jarvis Bamboo does not come cheap, and it is important to keep in mind that this stand-up desk, in particular, is more a desk of design and eco-friendly credentials than it is a desk of beauty. 
10. Ergotron WorkFit-D
If you are still not sold by now, then perhaps a manual standing desk will do the trick. If your workspace seems to be lacking the presence of power outlets, or you are wanting to minimize cable clutter, take a look at the Egotron WorkFit-D; all it takes is a single lever to raise or lower the desk. With that being said, due to the desks' brake cable system, it can actually be adjusted much faster than many of the electric standing desks that are available for sale today. 
Not only does the Ergotron WorkFit-D set itself apart from electric desks, but it also sets itself apart from other manual standing desks, using a mechanical lift system as opposed to a lever that raises or lowers a desk. Thus, the Ergotron WorkFit-D stand-up desk is a very simple and easy way to move away from the sedentary lifestyle that many of you are hoping to avoid. 
11. Allcam ED20
If you are living in an apartment or simply just have a smaller space to work with, the Allcam ED20 is the perfect fit for those who have small offices. With a single click, this stand-up desk is able to change from a sitting height to a standing one in just a moment. 
Many tend to think that less desktop space means fewer features, but this electric standing desk not only has integrated USB charging ports but has a built-in storage drawer as well. Any important documents, flash drives, and other business accessories can easily be kept at arm's-length. 
What's even more impressive is the fact that this best adjustable desk has been designed with the safety of your kids in mind. By taking into account that many working professionals are also parents, the Allcam ED20 features an anti-collision detection system and a child-proof lock.
12. Steelcase Solo
This is another best standing desk option for you. In combination with a very easy assembly, a single-button operation, and an affordable price tag, the Steelcase Solo standing desk was also created with remote workers in mind, especially those with ergonomic preferences. 
However, as picture-perfect as the Steelcase Solo stand-up desk sounds, there is a distinct lack of certain features that may leave them to be desired – such as certain aesthetics and customizable height presets.  
Nevertheless, if you are after a simple and uncomplicated stand-up desk, then the Steelcase Solo will definitely tick all your boxes. In all aspects, simplicity has been prioritized by Steelcase, leaving very little that could go wrong with this desk. 
13. EZ Air Standing Desk
If you are a worker that requires a desk that not only has the space for but can also carry the weight of multiple monitors and laptops, all while keeping cable management at bay, the EZ Air Standing Desk is the desk for you. It even delegates a space for your drinking cup. 
In order to bear any hefty hardware and work materials, its sturdy construction requires many screws, which makes for a slightly lengthier assembly. Nevertheless, the EZ Air Standing Desk is a presentably executed electric desk when compared to other market-leading adjustable desktops that are available for similar prices. 
14. SOHO Electric Desk by Kallevig
Another clear entry to the best standing desks is the SOHO Electric Desk by Kallevig, a functional piece that is as beneficial for your health as it is for your interior. It is very rare to find a desk that caters to both quality as well as aesthetics, which is why this desk can take any office space to the next level, exceeding all expectations of what is considered premium quality and standing the test of time. 
Appeasing to both sight and smell, the SOHO Electric Desk is able to line your modern office with class and the scent of wood that comes straight out of the Norwegian forest, all while providing a long-term solution to any back and neck pain, along with many other health benefits. 
15. Bontec Mobile Workstation
If you are still not sold on the idea of the best standing desk, and none of the ones mentioned above have convinced you otherwise, then hopefully the Bontec Mobile Workstation will change your mind. Being the most affordable option in this round-up, it is a compact workstation that provides a solution for those who would prefer a trial before they spend all their money on the real deal. 
In case you fancy getting out of your chair throughout your workday and are primarily using just a laptop, the Bontec height adjustable desk is something that will do exactly that without dominating your workspace. 
Conclusion
If you know exactly what you are looking for, then you shouldn't struggle to wade through the sea of standing desks available in the market for ergonomic furniture today. Even if you are yet to discover what it is that you are wanting out of an adjustable desk, this list has narrowed your options down to 15 of the very best, all of which are exceptional in their own way.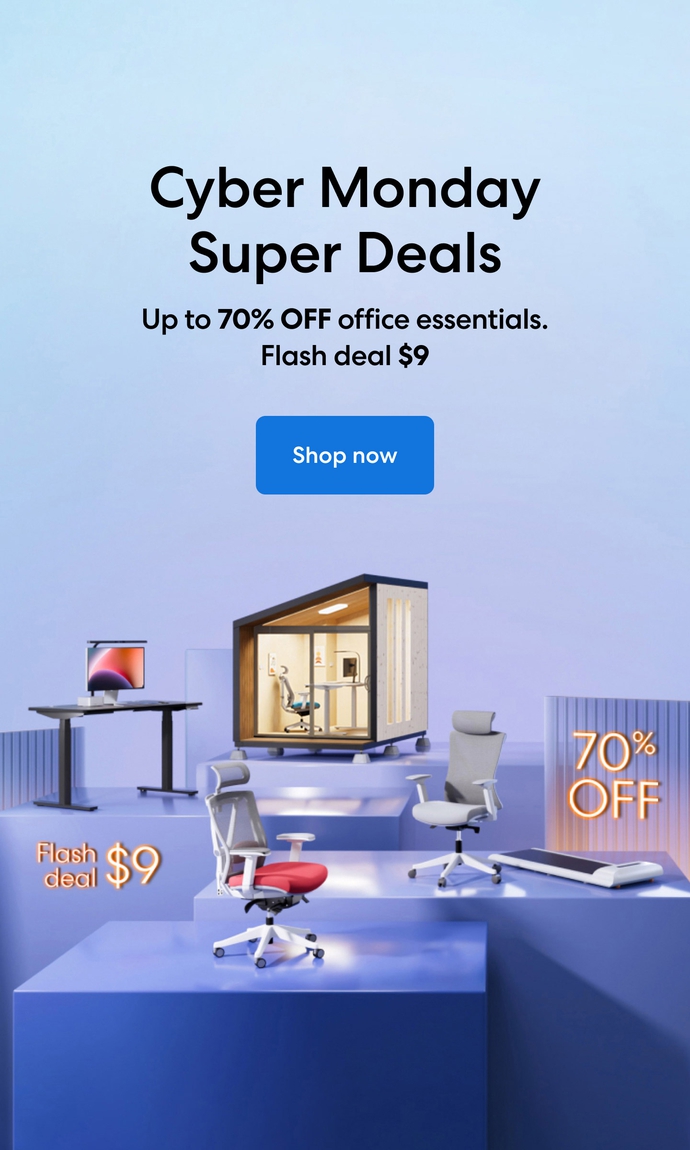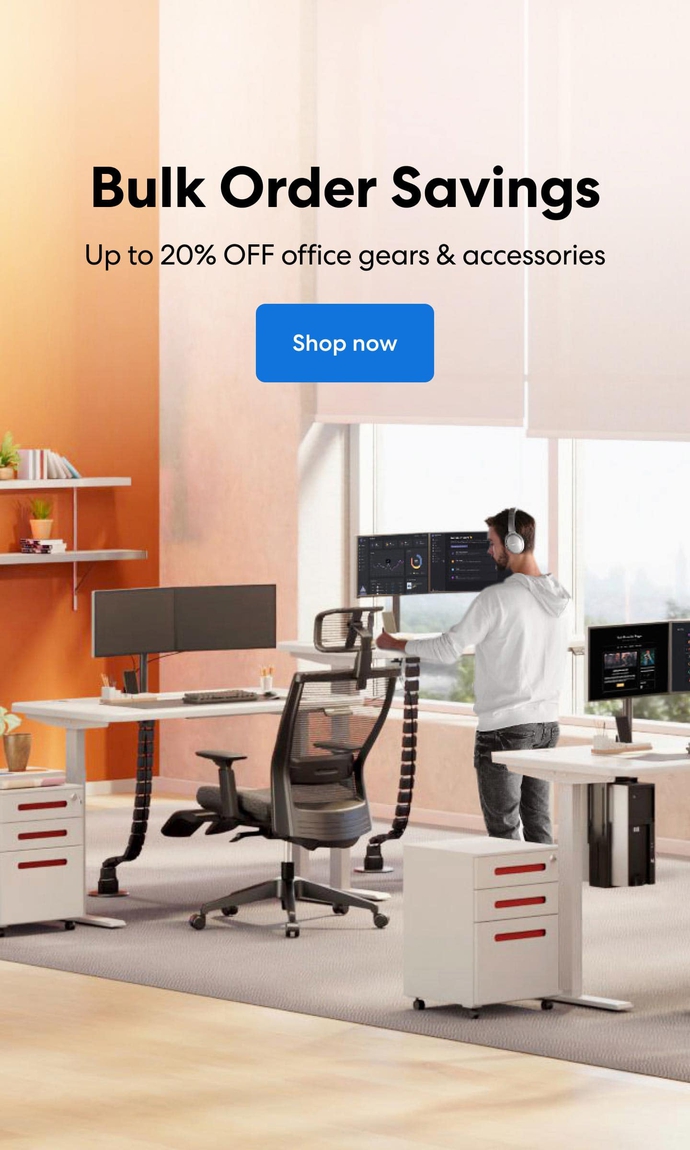 Subcribe newsletter and get $100 OFF.
Receive product updates, special offers, ergo tips, and inspiration form our team.