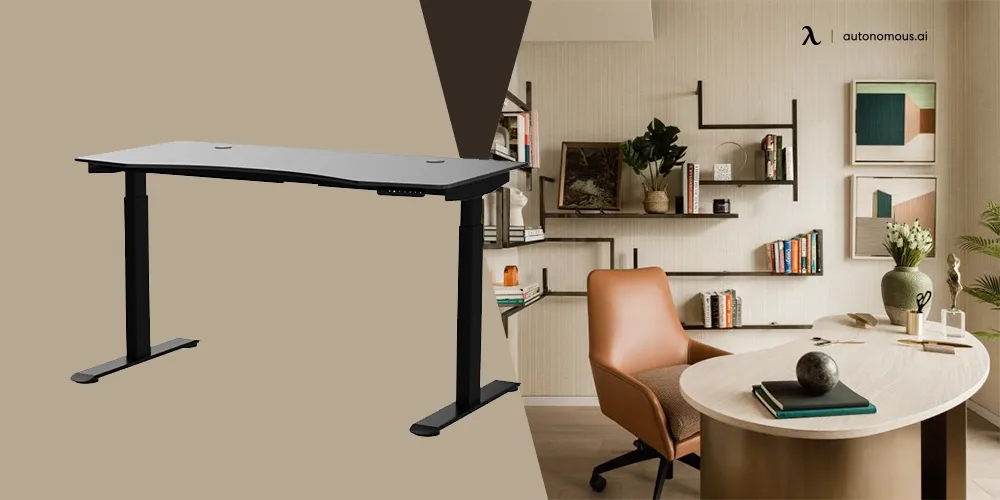 Smart Products
15 Curved Desks to Make an Elegant Home Office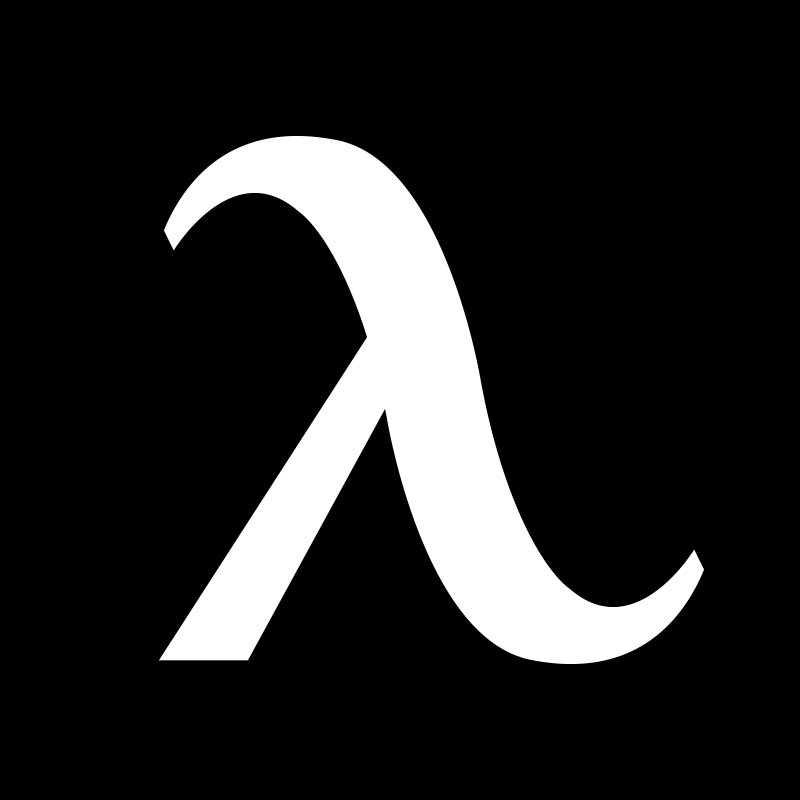 Autonomous
 | 
Jun 28, 2022
Different types of features influence how people select a new desk for work. Height, cost, surface finish, and load capacity are some common considerations.
The shape is the most necessary feature when users are more concerned about style and comfort.
Curved desks are the best type of office furniture you can use based on these reasons. They also have ergonomic benefits, especially for workers who sit for long hours.
This article examines 15 curved desks that help create an elegant home office.
Why Is It Important to Choose the Right Office Desk?
The appropriate desk at your workstation determines how comfortable you can be while being productive.
Your workload also influences the type of office furniture you need. One that is too small means that you will face challenges accessing some documents you use frequently.
A computer screen, keyboard, printer, and other efficiency promotion tools on your desk leave no space for paperwork you might also need. The perfect office desk has space for these, alongside drawers that increase their storage capacity.
Research has revealed that people who sit for long hours at work develop health issues due to this practice.
Having an appropriate desk means you can make your workstation taller to alternate between sitting and standing while you are on the job. It helps to minimize the health risks associated with sitting for too long.
Invest in the right equipment to transform work efforts into results with high efficiency. This is why you should have the correct desk at your workstation.
The Different Types of Curved Desks
Curved office desks may be grouped according to the material used to make them. You can also categorize them using details of the shape and adjustability.
Below are some of the types of curved desks you may encounter in offices:
Metallic Curved Desks
Desks made from metal are light but very stable. They also offer users more customization options. These types of desks easily enable DIY and allow a wide variety of surface finishes.
Wooden Curved Desks
A curved corner desk made from wood is solid and stable. They have homogenous finishing, making it easy to integrate them into any office space without disrupting aesthetics.
Hybrids
Some curved top desks take advantage of the pros of both wood and metal. This makes them easier to design and balances out the weight for transport.
Standing Curved Desks
These allow users to customize their height to fit whatever chair they sit on. They also promote standing in the office to eliminate health risks associated with sitting for too long.
Why You Should Choose Curved Desks
Many benefits come with using a curved office desk.
Pros
Reduced sharp angles on the curved top desk minimize the risk of injury in case users crash into it.

Curved desks have grooves to make room for your wrists. This increases comfort while you work.

They add some style and modernity to the

desk decor of your workspace.

These working desks have enough space to host many of your office equipment and documents without hassle.
Cons
The amount of space required for curved office desks makes it a difficult choice when you have a small working area.

Curved desks cost more on average due to their stylish designs.
15 of the Best Curved Desks for 2022
The following products are some of the best curved desks available on the office furniture market.
1. FinerCrafts Standing Desk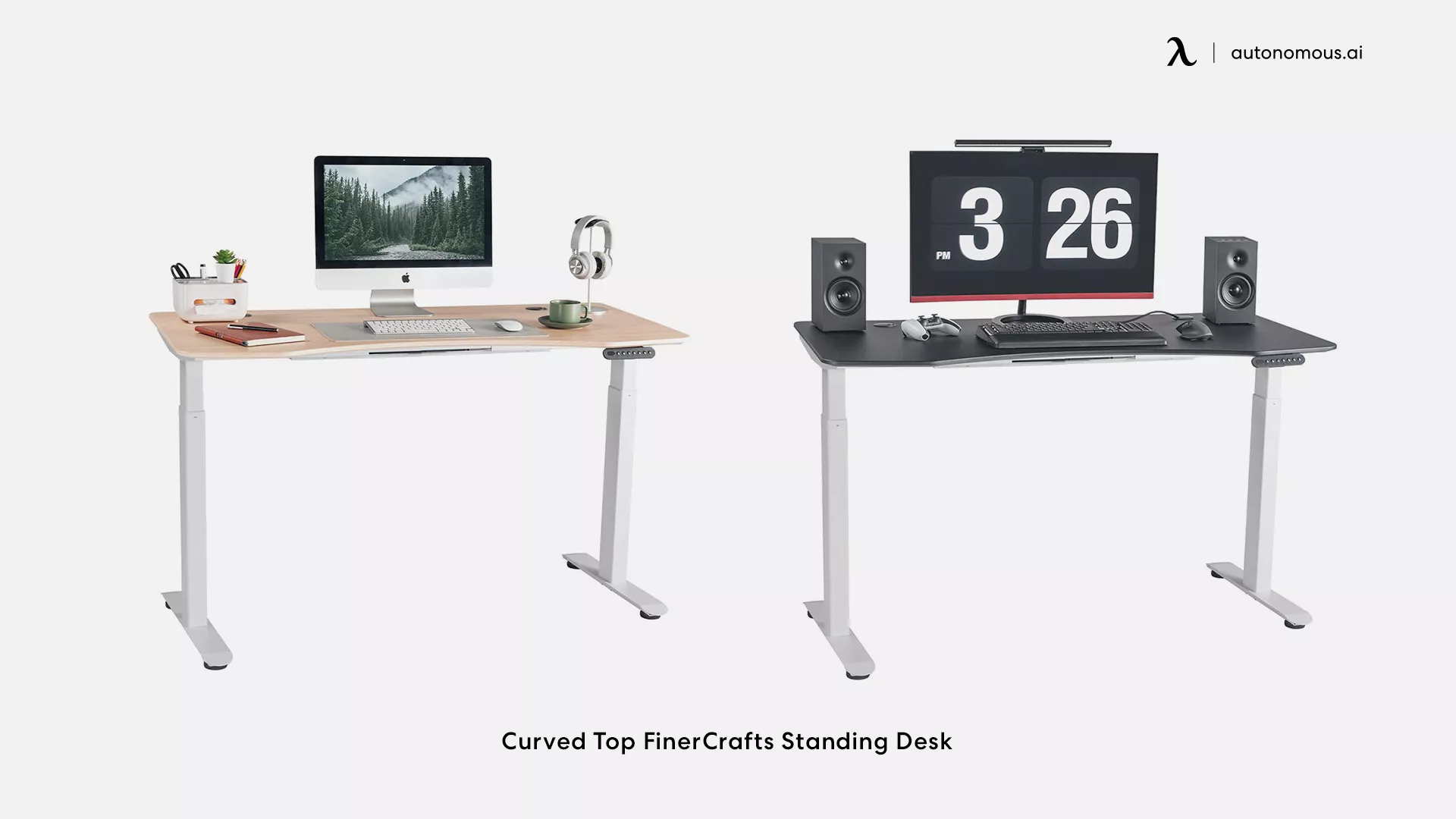 FinerCrafts standing desk is equipped with a powerful motor that adjusts its height in seconds. This process is quiet, making it suitable for shared offices.
It also uses a four-height preset control to store preferred levels for multiple users.
2. Pigalle Height Adjustable Curved Standing Desk
Pigalle's curved standing desk is designed to help you touch everything on your desktop. It keeps your keyboard, mouse, and other things curved around your chair. This puts them within your reach and prevents you from ruining your posture.
You can use the electric adjustment settings to transform the desk from a sitting height to a standing height in a matter of seconds.
The rollers under the curved computer desk make it easy to move around. There are optional locking casters to control mobility.
3. Curved Desk by Latitude Run
Latitude Run's curved desk features a simple design that uses a one-piece artificial wood with a stainless steel frame to support a high-quality working area. It gives your office a modern and stylish design.
4. Inbox Zero Height Adjustable Curved Desk
This curved computer desk has an oval-leg design that adds a lot of style to your workstation.
You can adjust the height using a dual motor lifting system. The structure is designed to increase its loading capacity and stability.
It has gone through a drying process to eliminate the possibility of mold growing from the wood.
5. Sigma White Executive Desk
The color of the Sigma White Executive Desk makes it stand out wherever it is. Together with its curvy desktop design of the product, it will definitely leave a stunning first impression on you.
6. Leoba Height Adjustable Curved Desk
Leoba's desk allows users to automatically adjust its height using a powerful electric lift system. This curved corner desk uses a programmable memory controller to preset four preferred levels for multiple users.
It uses a double-beam metal frame to keep the structure steady in supporting weights up to 180 pounds. There are pads on the feet to keep them balanced on any floor.
The castors and rollers also make it easy to move around and keep it locked in a preferred position.
7. Eureka Ergonomic
The immersive curved-edge design of the Eureka Ergonomic desk has a large area for up to three monitors. It is suitable for working and gaming.
Using this, you can manually adjust the height to four different levels. This is used to create more leg room below to increase comfort.
The black color and attractive curved edges give the product the look of a modern standing desk with elegance. There's also a scratch-resistant carbon fiber finish for the top.
8. Flexispot EN1
Flexispot EN1 uses bamboo instead of steel to create a strong working desk. The material has more tensile strength and flexibility, making it durable and eco-friendly.
Its top has a surface area that is large enough for two monitors and a laptop.
You can automatically adjust the height of this working desk with a motorized lift mechanism. There is a programmable memory control that has four different presets. This is so you can save a particular level that you can use later without stress.
9. Utureal Ergonomic Stand-up Desk
Utureal's ergonomic electric desk uses a simple design that makes it fit most spaces. This makes it perfect for a home office.
It is built from a heavy-duty steel frame that gives it incredible balance and weight support of up to 180 pounds. The desk can hold a computer, printer, books, lamp, and other office equipment.
You can adjust the height with a dual-motor system from Okin. This can move the curved corner desk from a sitting to a standing level.
10. Stand Steady Tranzendesk
Stand Steady Tranzendesk is extra tall and spacious. It has a surface large enough to support a two-monitor setup.
You also have a steel base and massive legs that keep the desk steady even at its tallest height. The product has optional wheels added and locking casters that allow controlled movement of your workstation.
It uses a pneumatic system to help you manually adjust the height to a point you prefer without much hassle.
11. Magari Electric Standing Desk
This curved working desk uses a one-piece wooden top to provide stability. The surface finishing makes it smooth and waterproof.
Magari adds four wheels that you can install underneath the legs to make your workstation mobile. This is great for moving it from one point to another. There are also castors to ensure that the wheels are locked where they are not required to roll.
It has an electric lift system to change the height of the adjustable standing desk from 27.6 inches to 45.3 inches. You can use an LCD display under the desktop to see the exact level of the desk.
12. Flexispot EF1L
The Flexispot EF1L has an L-shaped design with curves that give it a futuristic look. It has a 55-inch desktop with a smooth surface that supports up to 120 pounds.
Users can adjust the product from a sitting height to a standing position, making it suitable for all. You also get a control panel that offers four memory presets for two or more users to store their preferred heights when working.
Flexispot offers a five-year warranty for the motor and two years for the height controller for this curved corner desk.
13. ApexDesk Elite Series
The ApexDesk Elite Series has received a lot of reviews. CNN rated it the best overall working desk in 2021.
It has a wide work surface that is laminated for a smooth finish. There is a top preinstalled with metal anchors that enables easy installation.
You can adjust the height using a powerful dual motor lifting system with four programmable presets.
The legs are secured using levers that keep them locked. Its cable management tray is also large enough to hide most power outlets.
14. Smug Ergonomic Computer Desk
Smug uses a design that makes this ergonomic computer desk perfect for work or gaming. Its curves and grooves help your hands rest better to reduce fatigue.
The smooth desktop is made from eco-friendly materials that are also waterproof and wear-resistant.
An x-shaped base design of this curved writing desk creates a stable and durable structure that supports weights of up to 135 pounds. Fixed pads at the bottom of the desk ensure it is steady on any floor.
15. Uplift V2 Bamboo Curve Desktop
Uplift V2 Bamboo Desktop was chosen as the best curved top desk from 2019 to 2022 by Wirecutter. The curved cut-out in the edge places you in the middle of the desktop so that you get easy access to items on it.
Its desktop is made from high-quality bamboo that is sturdy and environmentally friendly. You get two covers for wire management and a keypad to adjust the height.
What You Should Look for When Buying a Standing Desk with Drawers
When deciding to get a curved computer desk for your home office, you should consider the following factors:
Comfort
The curved edges and grooves give these working desks an ergonomic advantage. Grooves in its edges make room for your wrists when relaxed on a keyboard to prevent strain.
They enable optimum reach for objects on their surface. This prevents frequent forward-leaning, helping improve your posture as you work.
You should ensure that your desk has all these features for comfort and efficiency while you work.
Space
Where you will be putting your curved writing desk is a necessary factor to consider before choosing one. It may be huge, but the curved edges create space for you to tuck your working chair in.
Aesthetics
Just because you want office furniture does not mean it should be blunt. An aesthetic desk setup adds more style to your working space.
Find a curved desk that has a futuristic look to keep your space fresh and exciting.
Cost
Cost cannot be ignored for any kind of purchase. The popularity and stylish look of curved desks make them expensive on average. Check your budget and find one that you can afford so that you enjoy the benefits.
Adjustability
Many office desks can now alternate heights to enable you to work in sitting and standing positions. It is more beneficial if your curved desk is adjustable. This is a way to avoid health problems that come with sitting for long periods. Ensure that the product you buy has this feature.
Autonomous EPP

Autonomous offers world-class furniture solutions for offices in Autonomous EPP. The products are top quality and include ergonomic benefits for users.
It has an employee purchase program that offers special discounts to companies and their employees, especially for bulk purchases.
You can access this by subscribing with your company credentials to take advantage of these benefits.
Conclusion
Your workstation is where you spend long hours working. Therefore, the least you can do about that is to include some style and comfort by adding a curved desk.
Hopefully, the selection of products reviewed in this article provides you with enough information to help you select the best on the market.
Hey, you have special pricing through your company.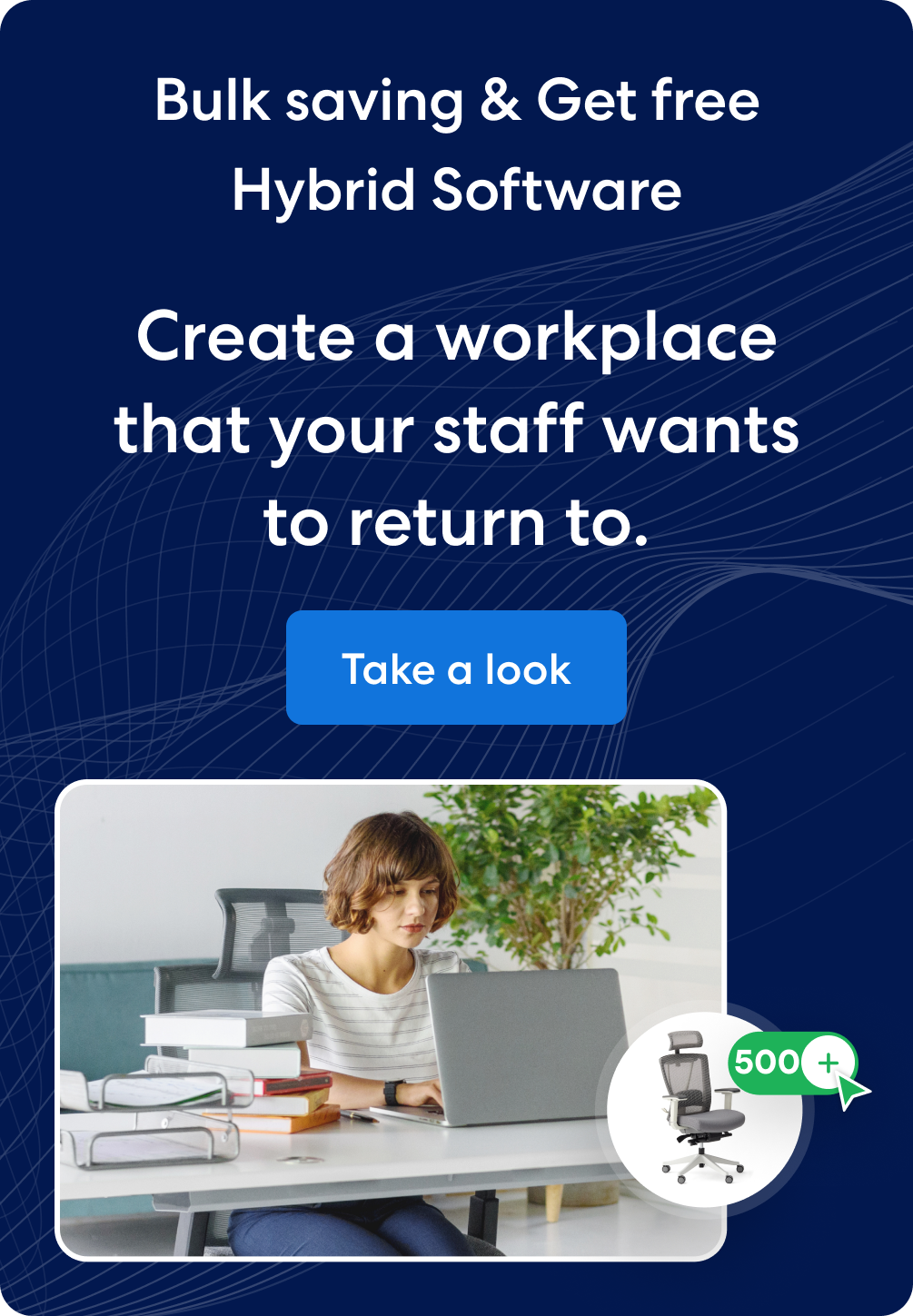 Get exclusive rewards
for your first Autonomous blog subscription.
WRITTEN BYAutonomous
We build office products to help you work smarter.
Coming at You Live from Autonomous' Social Media!