Smart Products
15 High Quality Leather Gaming Chairs in the Market
1,128 Views
One of the greatest leather gaming chairs is essential for every person who likes to play games. They're a definite must-have for any gaming enthusiast since, like the finest office furniture, you'll be spending plenty of time on your gaming furniture as well. Therefore, if you're not entirely comfy and quite well-cushioned, you won't be performing at your maximum.
A poor or improper chair can cause a variety of uncomfortable issues. And, if avoiding discomfort and guaranteeing relaxation is your top priority when it comes to updating your gamer sitting setup, we've got the best selection of ergonomic leather gaming chairs for back and neck pain specific suggestions, as well as top options for every player and game elements, listed below.
List of 15 Must-Have Leather Gaming Chairs
Selecting the most comfortable leather gaming desk chair can be difficult, but we're here to help. We showcase goods from a few of the greatest gaming chair manufacturers in our carefully studied post to assist you in finding the most suitable ergonomic gaming computer chair. So sit back and enjoy the list below.
1. Vertagear SL5000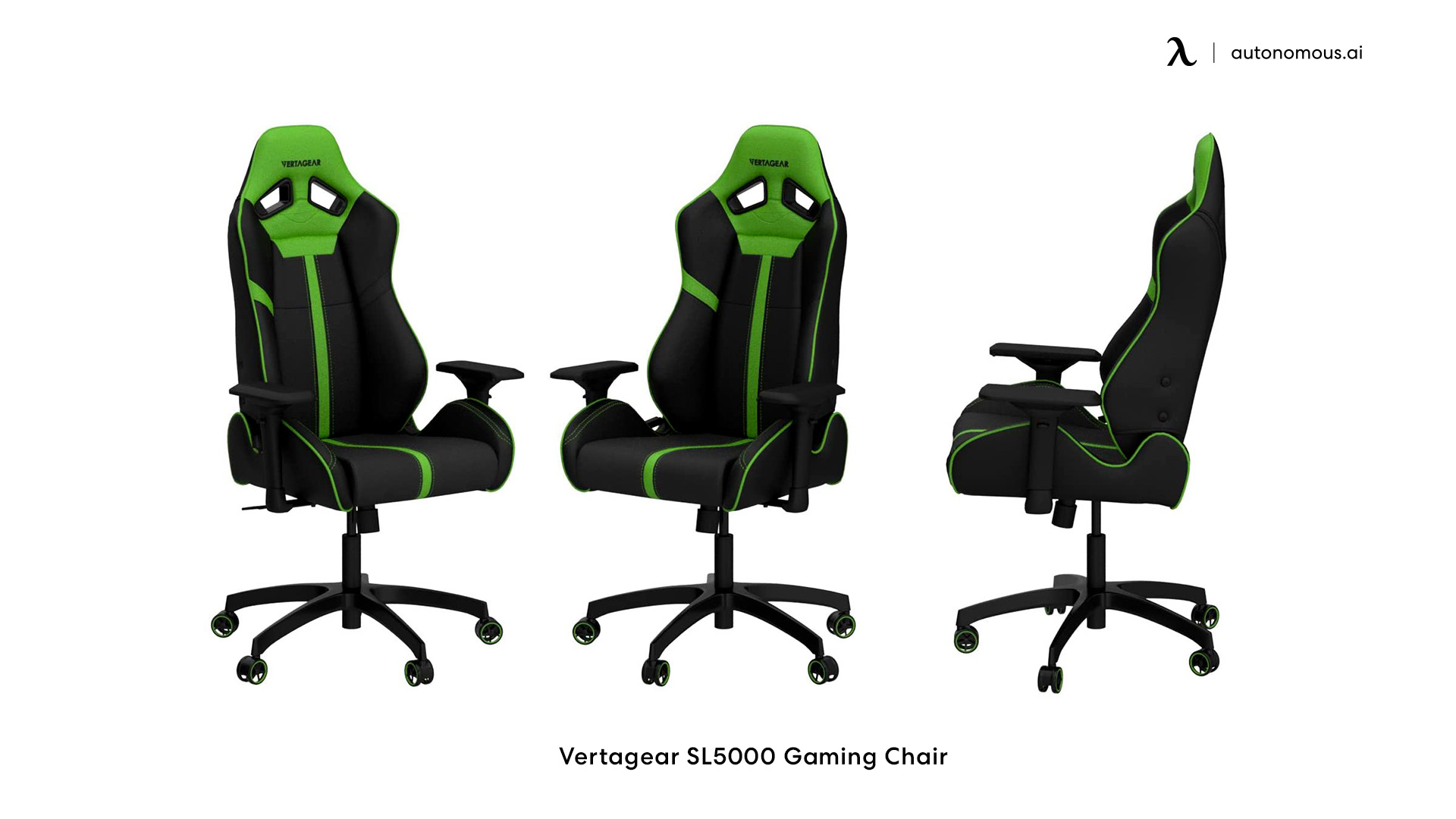 Because the chair's Ultra-Premium High Endurance Polyurethane filling is quite solid, you should think it would be possible to use this gaming chair armchair for many decades without abnormalities. A multi-year guarantee is included with a steel structure. The bucket chair and arched back that you'd anticipate from a gamer chair are present in this armchair. The liners of Vertagear SL5000 gaming chairs are sprayed with PU for effortless sliding on any solid floor.
2. Vertagear SL4000
The Vertagear SL4000 gives a steady, pleasurable experience for all those play sessions, thanks to a significantly more durable design than most of its competitors. Thanks to the numerous functions and personalization choices, you won't need to get another armchair for at minimum a few years.
3. The Secret-lab Titan Evolution
It is a high-end leather gaming chair with excellent quality and design, flexibility, luxury, various customization options, and different size alternatives.
4. DXRacer Chair
DXRacer is the original and most well-known esports chair company. They were among the first to bring the renowned motorsport chair style to the market. They were the very first gamer chair company to make an impact in e-Sports.
5. DXRacer Racing Series
One of the best gaming seat manufacturers is DXRacer. The features are customizable armrests, swivel capabilities, angular lumbar adjustment, and height modification. It is one of the durable gaming chairs in the market.
6. Anda Chair Fanatic Edition
This is a popular leather gaming computer chair for gamers of all sorts. The black-and-orange seat is anchored by an even more aluminum five-wheel foundation and is coated with scratch- and stain-resistant PVC leather over memory foam. To avoid damaging surfaces, the large roller tires are coated in PU.
7. Secretlab 2020 Titan XL
Selecting a comfy computer seat that is sturdy enough to withstand excess weight can be difficult for a big person. This leather gaming desk chair has the same configuration as any other computer desk, despite its size. It differs because every component is larger and heavier, requiring significantly more time and place to assemble.
8. Razer Iskur Seat
For example, if you like the Razer Company, it's a no-brainer. It is an armchair for Gamers, out of its luminous green sewing to its tri snake emblem to the croc pattern on the lumbar support.
9. Ergonomic chair Ergo-Centric t-Centric Hybrid
There are seats branded as ergonomic, and then there is the Ergo-Centric's t-Centric Combo. It's not yet another best chair, nor is it one that you purchase just based on size. 
10. Herman Miller and Logitech Personify Gaming Seat
This may seem absurd to invest that much on a leather chair as a mid-range laptop, but with most of us have spent even more time with family, it's not irrational for home-office-bound video game players to recognize making a significant funding in their convenience, no matter what is going on screen.
11. ATR Management Chair X-Chair X3
Although the chair doesn't look like a gamer's chair, it has all of the functionality you'd anticipate by one. X-Chair refers to several distinctive features as the Variable Dynamic Spinal Support, which adjusts with you to provide strong support.
12. Maingear Forma-R Nero
The  ergonomic design gaming chair is practical, versatile, and durable, making it a perfect middle option if you want a decent gaming chair with a soft foam cushioned pillow. Get this gaming chair and table for an optimal gaming experience.
13. Titan 2020 Series gamer chair by Secret-lab
This stylish and practical chair includes a broad backrest and a wide spinal pillow cushioning. This leather gaming chair is more than just a seat; it allows you to tilt practically completely, and the rising polyurethane head pillow is appropriately designed for a superior multiplayer experience. The arms and the interior lumbar cushioning are each movable. This PU leather gaming chair includes two extra comfort cushions, one for the backrest and neck support. 
14. E-WIN Championship Series Gaming Chair
It is built with a robust steel frame, extra comfort cushion, and high-quality leather seats, just like the rest of E-high-end WIN's office equipment. It prioritizes adaptability, and the seat includes four-dimensional rests.
15. Kaiser 2 Gaming Chair by Anda Seat
The Anda Seat Kaiser 2 leather gaming chair's spaciousness is the first thing you will notice. This leather gaming computer chair is designed for larger gamers, and some smaller gamers may feel as if they are disappearing into the chair. This ergonomic gaming chair has statistics that opponents simply can't beat, sustaining up to 400 pounds and reaching heights of 6.96 ft.
Conclusion
The perfect gaming chairs can make the difference between a relaxing gaming session and major discomfort in the neck and shoulder. So choosing the appropriate chair is basically about ensuring that your most valuable possession is well-protected. We are not referring to your new GPU; rather, we refer to your frail body. If you've been spending hundreds of thousands of dollars on a high-end gaming PC, it's only fair that you select your gaming chair with the same care.
Subcribe newsletter and get $100 OFF.
Receive product updates, special offers, ergo tips, and inspiration form our team.
WRITTEN BYAutonomous
We build office products to help you work smarter.