Workplace Inspiration
15 Homeschool Desk Ideas for Kids to College Students

Autonomous
|
Nov 9, 2021
1,569 Views
The world has advanced far beyond the notion that the traditional school system is the only viable one. Homeschooling continues to become more popular, but it requires adequate facilities to be as effective as its more traditional counterpart. That's why homeschool desk ideas should be one of your priority items. 
What you want to achieve is an environment that capitalizes on the strengths of being in a familiar environment while bringing in as many of the advantages as possible of a typical school. 
One of the most fundamental elements of the homeschool workspace is the desk that's going to be used. It must offer comfort and functionality, while blending into the immediate environment as best as possible. This is a principle that goes for homeschooling desks for kids, teens, and even college students. 
The layout of the information below is incredibly simple. First, there is the matter of what you should be considering as you choose the homeschool table that is going to be forming the centerpiece. After that, there are 15 thought starters to give you some inspiration as you work on a homeschool desk setup. 
Things to Consider When Choosing a Homeschool Desk
Home Space
School desk dimensions are incredibly important as you contemplate what the layout is going to look like. You must capitalize on the available space effectively. 
Not only does this mean you should not be purchasing a desk that is too large for the space you have, but it also means that you should not purchase a desk that is so small, it underutilized the space and prevents a student from having the desktop real estate that is necessary. 
While judging with your eyes is enough for most homeschool setup ideas, you may want to accurately measure the dimensions before you go searching for a desk. 
Budget
This one is a no-brainer. Establish your budget and stick with it if you don't want to end up with regret later. You can't purchase a unit that you can't afford, nor should you go way cheaper than you can afford, cutting necessary features to save a buck. 
Features
Depending on who the student desk setup is for, certain features may be needed to achieve the best possible experience. For example, a kids homeschool desk is likely to be drastically different from a college student standing desk. 
That's because the latter is taking on a more advanced course of study that may mean more paperwork, longer working hours, etc. It's recommended that you first understand what the typical and necessary features are before you start your journey. 
Aesthetic
One of the reasons that you are likely on the hunt for homeschool desk setup ideas is the visual you intend to create. Whether it's material choices, color, shape, etcThe unit you purchased can complement its space incredibly well, or it can contrast it so badly that it becomes an eyesore. 
There are modern and contemporary designs in various shapes, colors, and sizes. It may seem like second nature, but this is the area that you need to pay some serious attention to. 
Build Quality
One of the most proven ways to save is to acquire a good quality product from the beginning. If you are aiming to buy a home standing desk, for example, there are budget options that are poorly built and are going to save you money, while there are pricier options that have a sturdy composition. 
This is not to say that all low-budget desks are not viable, while only the higher-priced ones can be used effectively. Instead, the idea is to get you to evaluate the composition of the desk you'd like to purchase before doing so. 
Is the frame made of solid steel? What about the tabletop? Is high-quality MDF wood present? What if you want a glass surface? Is it tempered glass that offers some level of resistance? 
Ensuring you are asking and answering the right questions based on your needs is a key requirement here
15 Homeschool Setup Ideas
With the considerations out of the way, the only things left to tackle are the homeschool desk ideas that you can likely implement to great effect. This is a good time to reaffirm that these are simply thought starters.  
While you can choose to use them as-is for your own needs, they are best implemented when they are built on or form the basis for new ideas entirely. 
1. Walk-in Closet Classroom
You may want to skip this one if you don't have a walk-in closet in your home. If you do though, and the lower space is free from shelves, then you may find it convenient to have a small study desk present along with your chair. 
It's a very convenient way of using a typically empty space, which means you get a work area without having to compromise on space around the rest of the house. 
2. Attic Classroom
Many people use their attics as nothing more than storage spaces for old or rarely used items. However, what about setting up an area there that's dedicated to schoolwork? Of course, the big restriction here is that you must have an attic to pull this one off. 
If you do though, what more could you ask for than a dedicated and quiet space to handle school affairs when needed. 
3. Wall-mounted Homework Station for Kids
A standing desk for kids does not necessarily need to be the typical model with legs. Instead, you can have a wall-mounted desk affixed wherever may be convenient for schoolwork to be taken care of. 
Kids are unlikely to put so much pressure on a wall-mounted unit that it is going to either break or become detached from the wall. Additionally, by mounting it at standing height, you develop good health habits for when a child gets older. 
4. Multi-desk Setup for Kids
This homeschool desk idea is ideal for you if you have more than one child on your hands. In this instance, they both need to be given the same level of attention and a fair distribution of facilities. 
The only problem is that it may not be affordable if highly specialized units are selected. Instead, you can purchase multiple cost-effective desks and ergonomic chairs for the little ones. Put the desks right beside each other for the best results. 
5. Typical Corner Desk
Depending on your experience with corner desks, this may mean something different to you. What is being alluded to here is the typical trapezoidal or triangular shape. Such a homeschool table would make for an incredible space-saving measure, while giving a student enough desktop real estate to work with. 
The choice is yours if you would prefer to have it wall-mounted or pre-built and shipped. 
6. Chalkboard Desk
Such homeschooling desks are aimed at younger children since a chalkboard becomes quite inconvenient, especially when people get to the college level. This requires either a wall-mounted desk or one that is directly against the wall. 
The chalkboard may then be either mounted immediately above or affixed to the unit. It encourages creativity and exploration as kids get their schoolwork done. 
7. Complimentary Colors
Color is a big part of the planning phase as you explore various homeschool desk ideas. Apart from ensuring that the aesthetic you are creating matches the desk you get, you could make color the focus of the whole design. For example, you could choose a space and allow the kids to hand or finger paint the whole area including the desk. It makes for a fun learning area. 
8. IKEA Workspace
For those who may be on a budget, this may be the perfect option for you. If you know anything about the IKEA brand, you know that the idea is to bring functionality at a low price. Additionally, you may find that the allowance for creativity is greater than you had ever imagined. 
Why not take advantage of the lower prices and customization options present to create a space that is designed around the personality of the user? 
9. Wall Desk with Storage Shelf
This one is essentially an improvement on the earlier suggestion of having a wall-mounted desk. However, this time it's not a kids homeschool desk. By the time students are at the college level, they should already be getting familiarized with the idea of a standing desk. 
Not only does this wall-mounted homeschool desk idea make for a healthier habit, but it is paired with a storage shelf for important documents and electronics. 
10. Family Space
Many people think that when they are putting homeschool table ideas together for their children, they must be independent of the adult workspaces. However, it's not typically a bad idea to consider having everyone working in tandem. 
This is especially a useful tip if there are not enough spaces around the house for everyone to be assigned one. The whole family can have a dedicated room or area that consists of work furniture for the adults and homeschool furniture for the younger ones. 
11. Chart Center
This is one of those homeschool desk ideas that are less rooted in the desk and more based on the surrounding. Depending on the age range, the way how this is implemented may be a lot different. 
For younger children, the immediate environment can consist of pictures and charts that encourage learning. As the students get older, notes, research articles, and diagrams may be the order of the day instead. 
12. Wall-folding Space-saving Setup
If you opted for a wall-mounted desk, you may have already been conserving space. However, you can add one caveat to that design, which is going to contribute to even better conservation, as the homeschooling desk becomes a non-factor when no one is using it. 
What you want is for hinges or a comparable mechanism to be built into the wall-mounted unit. Whenever there is no one using it, it can simply be rotated along the hinge either vertically or horizontally to take on a flat appearance and be out of the way. 
13. Personally Decorated Kid-friendly Workspace
A previous entry suggested allowing the children to decorate what would become their eventual workspace, as there would be some endearment present from taking part. Alternatively, you could consider being the decorator of the workspace based on the things you know your child likes.  
For example, if your child is a fan of Disney movies, you may want to use soft blue or pink colors, with posters, emblems, and various alternative indicators of the princesses or other characters. 
14. The Great Outdoors
There is no doubt that this one is going to require some planning with the homeschool desk idea, and it would be recommended to do that at the same time you are running through the considerations above. Outdoor workspaces are not unheard of, and depending on the environment, they can be very distraction-free. 
Electronics are likely going to be used, meaning arrangements would need to be made to have electricity run outside. 
15. Active Lifestyle
While standing desks are very good at mitigating the dangers of sitting, the best bet is to have an adjustable unit that offers alternation between seated and standing positions. 
For this reason, an adjustable standing desk is the best bet for your homeschool desk idea. You want one with programmable memory settings, so that both heights can be stored and used at will. A non-disruptive alarm clock can be a part of this homeschool desk setup layout, and its purpose is to remind the student to sit and stand at regular intervals. 
Additionally, there can be various exercise reminder posters that prominently display the kind of light exercise movements that can be done as learning is taking place. This is one way to simultaneously address health and educational needs. 
Final Remarks
There is a seemingly limitless number of homeschool desk ideas that you can take advantage of to create the best and most efficient learning workspace possible. Not only did you learn some very important considerations to make before you even decide on a desk, but you got 15 different setup ideas that should help you greatly in your own home.
Video ads for product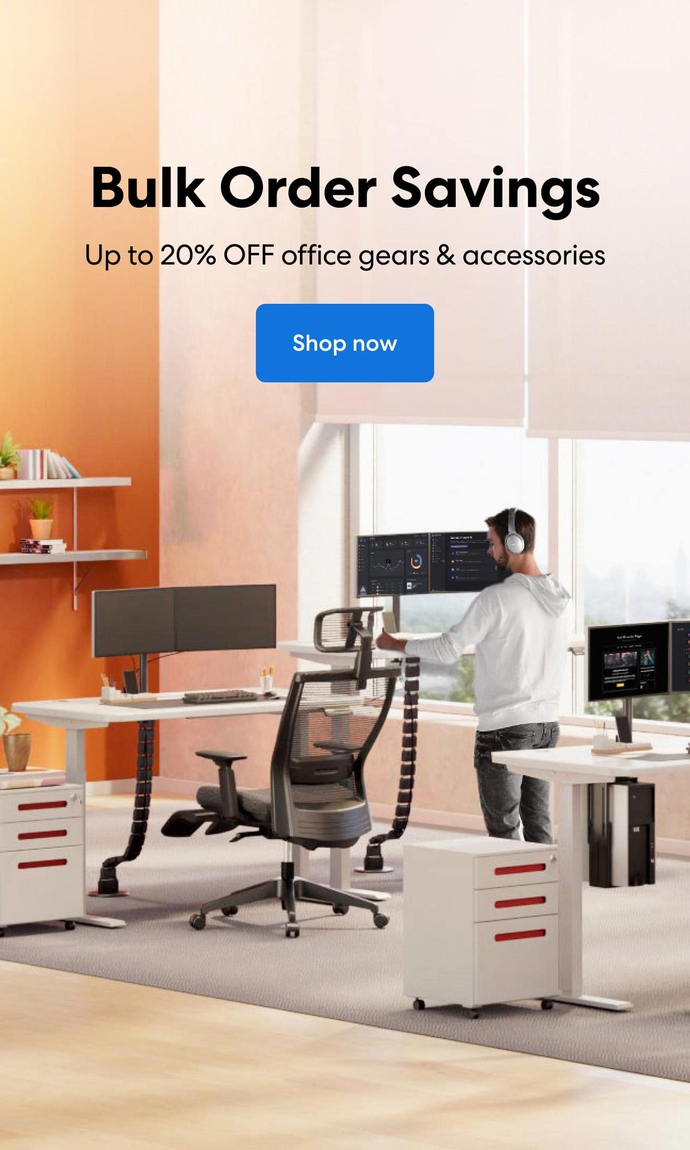 Subcribe newsletter and get $100 OFF.
Receive product updates, special offers, ergo tips, and inspiration form our team.