A studying light is one of the student essentials, especially when you're worried about preventing health issues. This article offers the best 15 alternatives you can get in 2022, so make sure you pick your favorite one. 
What Features Do You Need in a Light for Your Studies?
When you're a student, you need to make sure that you have the best lighting, especially when doing your homework or completing different tasks. 
If you don't have the best reading and studying light, you might risk suffering from eye strain as well as other issues, for example, chronic headaches. Thus, looking for different options can prevent health problems from appearing. 
Lamps for studying usually come in different shapes and sizes, but the best features must be present for you to consider some models in the first place. On the one hand, you need to guarantee that the option you're evaluating is bright enough to fulfill your needs.
A fantastic option would be to get a lamp or light bar with adjustable brightness. However, you don't necessarily need to go for that if you're looking for the best reading and studying light. Another feature you can look into is the product's wattage, particularly if you want to guarantee low consumption. 
Lastly, two essential features to consider are the product's price and its reviews. If you're looking for something affordable, you must check how much each lamp costs before buying. At the same time, to get the best alternative, make sure that you read a few reviews to see what customers say about the options you're considering. 
Cool vs. Warm Lights for Studying – Which One Is the Best?
One of the most crucial tasks you have to do when looking for the perfect lamp is to determine whether you should get a cool light or a warm one. At this point, you might be wondering what the difference is between them and which one is the best. 
Warm lights have become a part of people's lives because they simulate the setting sun. On many occasions, they remind you that it's time to wind down and relax. Thus, they're not often recommended for tasks that require continuous focus. 
Cool lights, on the other hand, are often the ideal alternative if you're looking for something that gives you the energy to keep going while you're studying. Therefore, go for this option if you want lighting that helps you stay focused, and if you want to relax and wind down after a long, tiring week full of exams and homework, go with a warm light instead. 
List of Best Studying Lights for Studying
Now that you understand the basics of getting warm or cool lights and know about the features you should keep in mind when buying the best light for your studies, it's time for you to examine different alternatives. Here are the top models you can get:  
1. Autonomous Light Bar
Illuminate every inch of your workstation with this table lamp for studying. Autonomous' bar offers four light temperatures and an expansive glow and it's a wide LED lamp, so it's a fantastic alternative if you want lighting across your whole desk. 
This model is a 31.5" LED light bar, and it stands out from other products on the market because it illuminates way more of your study desk.
2. LED Lamp by Autonomous
Less eye strain, a well-lit workspace, and more focus on your studies are some of the benefits you get if you buy the LED desk lamp by Autonomous. 
This table lamp for studying is very versatile and functional, particularly because it's fully adjustable. You can change its position any way you want and make sure that its angle works for you. 
Additionally, the LED lamp is one of the best reading and studying light options you can get. It not only has a beautiful and professional design but also different settings that you can change around to create the ambiance you want. 
3. Wireless Stella Lighting Desk Lamp
This studying light is another option you should keep in mind – it's portable, battery-powered, and doesn't require you to change the bulbs, so overall, it's very practical and offers different convenient features. 
Stella's lamp for your desk is just over five pounds, so you can move it around if you ever need to. Furthermore, it has a flexible arm, so it's immensely functional because you can change its angle and make sure that it lights your desk the way you want to.
4. LumiCharge LED Lamp
A professional-looking and sleek desk lamp might be just what you need for your adjustable sit-stand desk. The LumiCharge is the ideal option because it has no less than 10 levels of brightness, adjustable hues, and much more. 
This LED lamp with wireless charger is smart, so each time you turn it on, it will remember the settings you programmed the last time you used it. Lastly, since it has a motion detector, say goodbye to stumbling in the dark looking for a light – this lamp can help you out because it will turn the night light on by itself!
5. Logan LED Floor Lamp by Brightech
A luxurious black marble base and a sleek metal arm are what you get if you buy Brightech's LED floor lamp. The contemporary design is definitely one of this model's best features since an attractive studying light can completely change the feel of your workspace. 
The Logan LED floor lamp by Brightech offers you an adjustable arm, which you can change to match your study or work needs. Moreover, its bulb is energy-efficient and it has a foot pedal switch, so it's a very functional product. 
Autonomous offers this product at a fantastic price. If you're already a part of the employee purchase program, you might get some discounts, so make sure you check out what you have available.
6. LED Lamp for Eye Care by TaoTronics
With a minimal desk lamp, you can illuminate your desk while you're doing your schoolwork and guarantee that the best light for studying helps you avoid eye strain and other health issues. 
TaoTronics' option is one of the best alternatives for this because it's versatile and suitable for people looking for a simple yet efficient option. This model has seven brightness levels and five color modes, and you can quickly switch between different features with its touch control.  
7. Vont LED Clip-on Light with Flexible Gooseneck
Reduce eye strain and get one of the best reading and studying light alternatives by buying Vont's option. 
This product allows you to get a 360° rotation since its flexible gooseneck is ideal for your desk because you can turn it around and make sure it lights the parts of the table that you need. With three levels of intensity and a rechargeable battery, it might be the perfect product for you. 
8. Table Lamp with Wide Light Angles for E-readers and Computer Workers
BenQ's alternative is also one of the best reading and studying light options you can get, especially because it offers specific features for computer workers and readers. 
The company cares about giving its clients the best technology, so this lamp offers innovative features. You can, for example, enjoy the auto-dimming mode, which makes the light detect the lighting in your surroundings and adapt to it. 
9. Lastar LED Floor Lamp with Brightness Settings
If you're looking for something immensely functional and convenient, Lastar's option might be the right one to get. Its multifunctional design allows you to use it as either a floor or a desk lamp, and this feature is crucial when you want customizable features. 
Many people believe that this studying light is very convenient when you want something that meets multiple needs. In this case, the lamp has 1815 brightness lumens to deliver and five different settings to choose from. 
10. Original SmartLight LED Floor Lamp by Verilux
Maximize your productivity and reduce eye strain with the best light for studying – the floor lamp by Verilux might be the ideal alternative for you, especially if you're looking for something that mimics natural light. 
This fantastic product is one of the best ones on the market because it has adjustable brightness and color settings as well as a gooseneck that you can pivot up and down at leisure. It's a one-of-a-kind table lamp for studying, and this is why so many customers love it.  
11. Glocusent LED Neck Light with Bendable Arms
Regardless of whether you need a light to make sure you don't do your homework in the dark or simply want to create a different ambiance in your study space, Glocusent's alternative could be the one that meets your needs. 
This LED light has no less than six brightness levels and three color settings. Therefore, you have a lot to choose from when you're setting it up on your desk. 
Its narrow beam angle adopts a unique 90° design that you can't find anywhere else, which is yet another one of the lamp features that make it stand out from the competition.  
12. Rechargeable LED Neck Light for Reading and Studying by Vekkia
When you're getting the best light for studying, you must make sure that you buy a top-quality product that doesn't flicker. Otherwise, you might expose yourself to eye strain anyway. 
Vekkia has the ideal solution for your problems – the LED neck light, which is perfect for reading and completing all your study-related tasks. With no less than four bulbs, you get three settings to choose from and enhance your productivity. 
Each arm has its own independent switch, so you can adjust the settings of this lamp however you want. It's the ideal model to meet your needs, especially if you want something versatile and convenient. 
13. Globe's Electric Wall Lamp for Reading and Studying
Studying and reading can't be more enjoyable than when you do it with Globe's wall lamp by your side. This alternative is a two-in-one design, meaning that you can either mount it on your wall or use it as a plug-in lamp. 
The bulb looks beautiful inside its clear glass case, making its design have the pretty vintage style that many people love. Hardwire it into your productive study space to create a cordless and sleek look. 
Lastly, another fantastic feature about this studying light is that it's available in many different colors, so you can choose the one that suits your style the best. 
14. Lepower Clip-on Light for Studying and Reading
With two color temperatures, two brightness levels, and a wide clamp, Lepower's table lamp for studying is another strong option you should consider if you're looking for something both affordable and convenient. 
This lamp has a five-foot power cord, so you can use it in your study space without having to worry about the cord's reach. To guarantee comfort and reduce eye fatigue, this alternative offers non-flickering LEDs as well. 
Lepower's studying light is one of the best ones you can find, especially if you're looking for a straightforward, portable option. Take it with you and adjust its gooseneck so it adapts to what you want! 
15. Newhouse Lightning's Small Study Lamp with Strong Clamp
The last alternative on this list is just as fantastic as the previous ones. With this table lamp for studying, you can make sure that your eyes don't get tired and suffer the consequences of poor lighting. 
Lamps for studying usually have specific designs, but not this one. It steers away from the traditional alternatives, and instead, it gives you six rubber suction cups to attach the lamp to the surface you pick.  
At the same time, it emits a constant concentrated studying light on the table, making it one of the best options you can get.

Keynote Takeaways
Table lamps are essential if you want to reduce eye strain and prevent headaches. Since there are so many options, you should evaluate each one and pick the best one to fit your needs. Let there be light!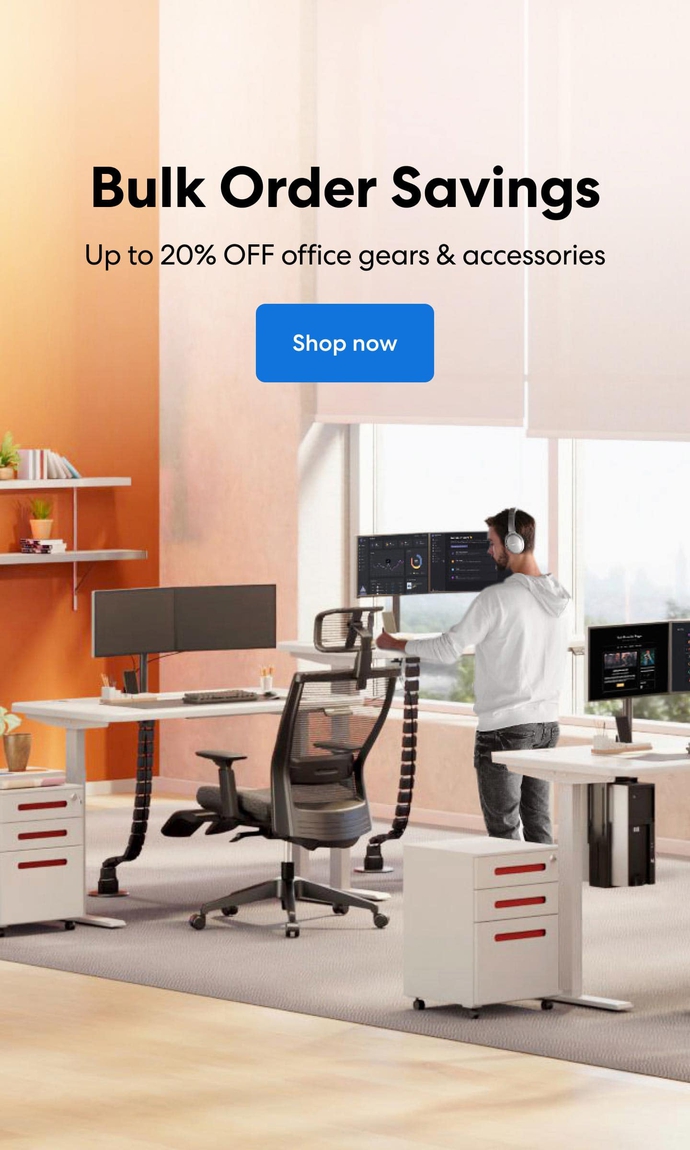 Subcribe newsletter and get $100 OFF.
Receive product updates, special offers, ergo tips, and inspiration form our team.