A chair and desk are vital elements in an office. You can set up operations anywhere with these pieces of ergonomic office furniture. 
Office chairs come in varying colors, sizes, and costs. The user's selection depends on their preference. Some people make comfort the top priority, while others consider factors such as aesthetics and ergonomics. 
This article will look at the mesh back office chair and review 15 of the best ones you can find on the market. 
What Is a Mesh Office Chair?
A mesh office chair uses a breathable membrane to support the body and improve posture.  
It has become a popular option for most offices. Users commend its ability to provide an excellent sitting experience regardless of how much they weigh.  
15 of the Best Mesh Back Chairs in 2022
1. ErgoChair Pro
The ErgoChair Pro has a design that promotes mobility while preventing back pain. Its recline tension adjusts into five positions for spine and lumbar support.  
Furthermore, the backrest, armrest, and seat combine to enable you to recline and stretch comfortably.
A cushion at the back of the chair cradles your back to protect your spine and prevent stiffness. To prevent hunching, users can change the height and angle of both the chair and headrest.  
The materials used to make the chair are environmentally sustainable. 
2. ErgoChair Recline
This reclining office chair provides users with comfort at any point. It uses an adjustable headrest to help correct your posture and improve relaxation. A leg rest enables users to stretch out comfortably when stressed.
You can safely recline according to your body weight and maintain stability. The mesh office chair lumbar support is good for the natural curve of your spine. 
3. ErgoChair Plus
The engineering of this mesh office chair enables a lot of mobility when seated. You can twist around, lean back, or stretch to any side.  
Its backrest uses responsive webbing to help it adapt to the shape of your spine. An adjustable tension mechanism allows you to recline and lock in 11 different positions. This feature helps you find the best posture for yourself.
ErgoChair Plus is certified by the Business and Institutional Furniture Manufacturer's Association (BIFMA) as meeting its standards for comfort, durability, and posture support. 
4. KERDOM Chair - Curved Mesh Seat
KERDOM's ergonomic mesh office chair uses wheels and casters to glide freely without damaging your floor.  
KERDOM Chair - Curved Mesh Seat has an adjustable seat height, headrest, and backrest alongside proper lumbar support to ensure that you work with the correct posture. The backrest adapts to your spine to relieve your pain and fatigue.
You can use the tilting lock system to adjust the angle between 90 and 130 degrees. 
5. Herman Miller Aeron
This Aeron mesh chair has three sizes to cater to all users regardless of their physique. It has a beautiful design that was stylish enough to get featured in the Museum of Modern Art. 
As one of the best quality materials on the market, the product has a soft feel. The elastic lumbar adjustment supports your lower back and helps you maintain good posture. You get many lock and tension options to control the chair's recline.  
This mesh desk chair has a set of well-angled arms that support users' elbows in every tilt position. The padding on the armrests provides comfort to users. 
6. Nightingale CXO
People looking for a solid mesh adjustable office chair should look no further than the Nightingale CXO. It is heavy when you compare it to others of the same type. It is rated as one of the best mesh chairs in the market.
The ergonomic chair has many options that allow users to adjust it to whatever position makes them most comfortable.
Manufacturers use ENERSORB foam for the lumbar support and seat. It is thick and allows users to sink into it when they relax. 
The mesh chair with headrest adjusts to support your head and neck while you work. There is also a coat hanger behind it as a bonus feature. 
7. Humanscale Diffrient World
This white mesh office chair is famous for its clean and futuristic design. It uses quality fabric that is elastic and comfortable.  
The back of the Humanscale Diffrient World adjusts to the natural curve of each user. It reclines based on each person's weight instead of a manual tension and lock mechanism. This feature makes it great for lumbar support.  
You can also adjust the chair's height, seat depth, and arm height.  
This mesh desk chair has an aesthetic appeal and is an excellent choice for people that prioritize how well the chair will fit in their interior decor. 
8. Raynor Ergohuman Mesh with Headrest
If you are looking for an affordable mesh chair with a headrest, then the Ergohuman Mesh or ME7ERG is one of your best options.  
The chair's design makes it comfortable and strong. No wonder it is still popular after a decade on the market.  
Its lumbar support has a special section that helps distribute weight evenly. This feature helps prevent lower back pain when you sit for extended hours.  
There are several adjustment options for users of all sizes to find comfort in all positions. 
9. BTOD Akir
Black mesh chairs don't come any better than the BTOD Akir. The all-black look makes it an excellent fit for any space.  
Its best feature is the comfort of the seat. Many office furniture critics consider the BTOD Akir as having one of the most comfortable seats on the market. Manufacturers use a unique padding material to ensure this.  
Although it comes without a headrest, you have the option of adding one to support your neck and head. 
10. Eurotech iOO
If you want to buy ergonomic chair pieces, then Eurotech iOO is an excellent option.  
Its design allows users to adjust the chair to any position for their comfort. You have a height, depth, and pivot adjustment for the arms alone.  
A lumbar adjustment system, tilt tension, and lock control, provide excellent support for your back. There is also the option of adding a headrest that is also adjustable.  
The mesh material is soft like the padded seat to help cushion your body against the chair frame.  
Looking at all the health benefits it provides to its users, the price of the Eurotech iOO mesh back office chair is considered affordable. 
11. Humanscale Diffrient Smart
This mesh office chair employs a simple design to help users attain the best comfort. Unlike the Diffrient World, the Diffrient Smart uses a padded seat instead of an open mesh one.  
It doesn't have much customization in functionality. An example is the automatic reclining ability that works with the user's weight instead of an adjustment mechanism.  
The backrest supports your back, especially in the lumbar section. You can also relax your elbows on the padded armrests for additional comfort. 
12. Humanscale Liberty
Humanscale's Liberty chair may be similar to the two models reviewed earlier but is more suited for meeting rooms.  
The furniture has a backrest that supports your spine while you work. It also combines a variety of mesh and seat colors, patterns, and upholstery materials to create elegant designs for most interior decorations. 
You can adjust the height and depth of the chair for your comfort. If you prefer using this mesh office chair with an armrest, you have to choose between the fixed or adjustable height options. 
13. Eurotech Vera
Users looking for a chair that provides the best back support should consider the Eurotech Vera.  
Its mesh material offers users good lumbar support even though the chair lacks many adjustment options. You only get a tilt lock and tension adjustment for the backrest. 
The seat has thick padding that makes it comfortable to sit on. It also has a slider positioned behind your knees. This prevents it from cutting off blood circulation to your legs.  
Furthermore, the product uses 4D arms to help your arms rest naturally and provides options to add a headrest. 
14. BTOD GO-99-3-GG
GO-99-3-GG is for big and tall people. Its mesh can bear weights up to 500 lbs and snap back into place.  
Though it is for large users, the chair still uses a variety of mechanisms to help people of all sizes customize it for their comfort. 
The swivel mechanism combines a tension adjustment and tilt-lock to enable users to sit in several positions without stress. You can also adjust the lumbar in several ways to support your back. 
15. BTOD 100MC
BTOD 100MC is an excellent mesh desk chair to consider if you are running a tight budget. Its low price, however, doesn't indicate a reduction in the chair's quality or functionality.  
The adjustable lumbar support and armrest help keep your posture right. You can modify the seat height using a pneumatic system at its base.  
It has a lock and tension modification mechanism that allows three tilting positions. 
Why Do You Need a Mesh Back Chair?
Below are some reasons why anyone should consider getting a mesh back office chair for their workstation: 
Ventilation
Ventilation is one of the leading factors why people prefer using these chairs.  
The mesh backs are breathable: they are made from interwoven fabric to create a net that allows easy airflow. 
This design reduces sweating by keeping your back cool and comfortable while you sit.
Low Maintenance
Compared to others, a mesh desk chair is easier to clean. The net structure does not get stained, reducing the effort required to wipe it down. 
It is common for chairs to give off an odor when their fabrics soak in sweat from users. Improved ventilation eliminates this problem in offices that share chairs.
Lightweight and Stylish
Mesh chairs with their molded frames have a futuristic look. They are also lightweight, making them easy to move around. 
These attributes make them perfect for users who want to improve the aesthetics of their workplace. It also gives the office a touch of elegance and style. 
Durability
The mesh distributes weight evenly to reduce the pressure you exert when sitting. This design prevents the fabric from tearing under stress. 
Ergonomic Support
These chairs easily take the shape of your back when you sit and maintain the natural curves in your spine. This ergonomic support helps you maintain a good posture.  
It also reduces back pain for people that work for long hours seated. 
Things You Must Consider Before Buying a Mesh Back Chair

There are different types of mesh back chairs. The one you decide to buy depends on your preference for certain features. 
Below are attributes you should look at when choosing a chair. 
Size
Size is an important feature to consider. This is easily assessed by how high the back of the chair is. There are two main categories when looking at this characteristic.  
First is the type that combines the back and headrests to support your back, head, and neck.  
The other type supports only your back and is usually shorter. Averagely, it measures 24 inches from the seat. 
It is best to choose the first type for support while you work. 
Comfort
You sit in your office chair for most of your working day. This makes it imperative that you get a chair that gives you the most relaxation on the job. 
The fabric and ergonomic design influence how comfortable your chair is just as the type of seat. You can have your chair's seat as an open mesh or padded upholstery.  
Moreover, the latter have foams covered with leather or vinyl. This makes them more comfortable than the open mesh types. 
Cost
Cost is a determining variable though mesh back office chairs are considered less expensive than other office chairs. The prices still vary according to the features available to users. 
Your budget determines which one you can purchase. It is best to make a priority list of the features to know which ones to give up per their cost.
Mesh Quality
The mesh material affects the quality of the chair. At best, you want a fabric that is soft so that it is comfortable on your skin. You also want it to be strong enough to improve your posture.
An elastic material also determines how well the back of the chair maintains its shape after use. 
Conclusion
Choosing a chair is always according to the preference of the user.  
If you want a mesh office chair for your desktop at work or home, you should already start making your priority list. The trick is to find the right balance between comfort, ergonomics, and price. 
You can use the products reviewed here as starting information to help you get the best deals on the market.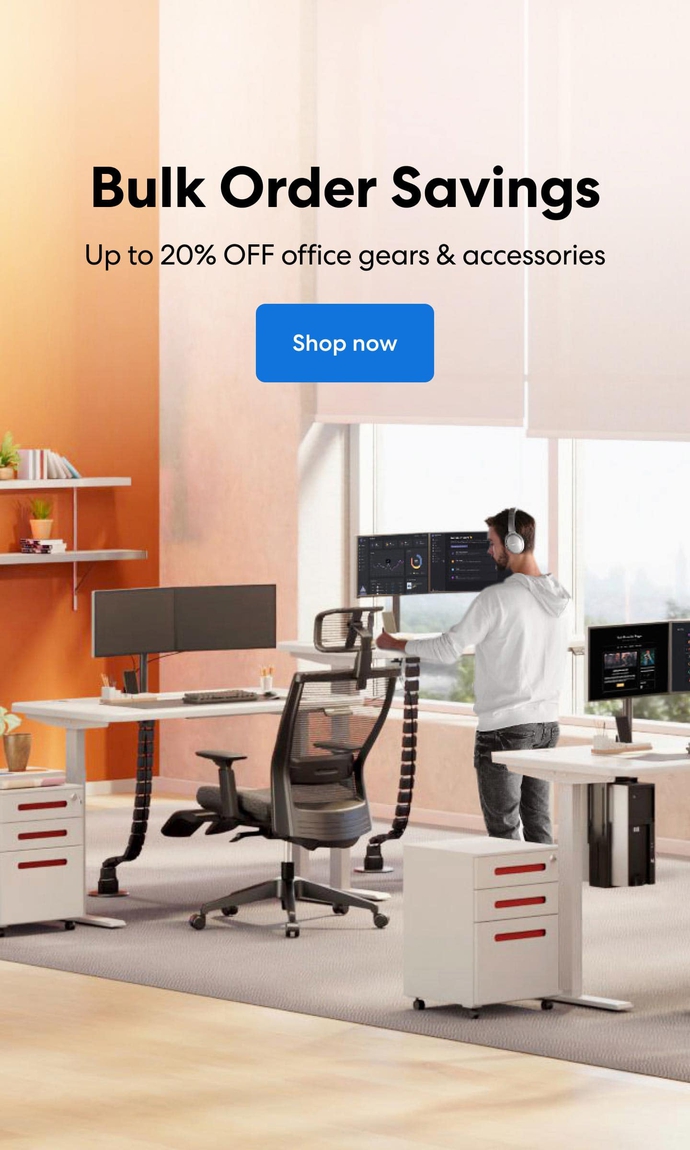 Subcribe newsletter and get $100 OFF.
Receive product updates, special offers, ergo tips, and inspiration form our team.