Smart Products
15 Mesh Office Chairs in the UK: Best Seat with Comfort

Autonomous
|
Dec 13, 2020
7,060 Views
It's essential to have a comfortable and breathable chair if you're sitting for long periods while working. A good chair can improve your mood and boost productivity, increasing your efficiency throughout your workday.
Even in the United Kingdom, there are many types of chairs you can choose from, but one type is currently becoming the norm. Mesh office chairs have grown in popularity over the last few years, becoming a desirable addition to any workspace. There isn't a better time than now if you want to purchase a comfortable mesh office desk chair in the UK.
What Are the Benefits of Purchasing a Mesh Office Chair?
These mesh office chairs in the UK provide many excellent benefits while almost being as comfortable as other leather upholstered office chairs. Many chairs with a mesh backrest provide great ergonomic features that encourage a proper sitting posture while working.
Most chairs include some crucial adjustable characteristics, such as lumbar support and armrests. These features can mitigate some common issues and injuries that plague desk workers due to sedentary work. You can reduce the stress your body goes under while working and improve your health by purchasing an ergonomic mesh chair in the UK.
Besides the benefits to your wellbeing, mesh chairs also let your body stay fresh throughout the day as their backrests allow for better ventilation. Ordinary office chairs that use leather backrests usually limit the airflow, making them hot and uncomfortable to use after a while.
The office chair fabric these chairs have makes them easier to clean. They also tend to be lighter than your regular leather office chairs, as the design of many mesh office chairs is generally smaller in size. Another thing to note is that as these chairs have risen in popularity, their availability has increased as well. Every passing year brings more mesh chair models to the market, and they bring with them various innovative technologies and designs.
Fortunately, these chairs are a great choice if you're on a budget. Most mesh office chairs are cheaper than their leather counterparts, making them an attractive pick for many office workers. If you're looking to get an office chair, you can't go wrong choosing an ergonomic mesh chair in the UK.
What Are the Best Mesh Office Chairs in the UK That You Can Get?
There is a wide range of ergonomic office chairs available in the UK market, so picking one can be overwhelming for some people. Focusing on the features that these chairs provide can be an acceptable way to choose, as there is more than one mesh chair out there that can fit your needs.
Regardless, we want to make the process of looking for the best mesh office chair or the best ergonomic mesh chair an easy and straightforward one. For that reason, we made a list of 15 excellent mesh office chairs in the UK that are incredibly fresh and have comfortable seats:
1. Autonomous ErgoChair Pro
The ErgoChair Pro is one of the best ergonomic chairs of all mesh office chairs in the UK. It uses first-rate ergonomic solutions and features an Italian-designed tilt tension mechanism that lets you adjust the backrest's resistance, allowing it to support you in any position properly. You can adapt several parts of the chair to your exact requirements, including the headrest, armrest, seat tilt, and height.
The chair uses premium materials, providing you with a comfortable and supportive foam seat that can retain its shape for an extended period. A breathable mesh fabric wraps the seat and the chair's backrest to give you the most comfortable and fresh experience. It is easy to clean a mesh office chair like ErgoChair Pro, so it can save your time. Most of the chair's components are made using environmentally-friendly and recyclable materials. If you want to get the best mesh office chair in the UK, the ErgoChair can fill the role exceptionally.
2. Autonomous ErgoChair Plus
The ErgoChair Plus uses an innovative fishbone design and advanced materials, providing you with one of the most comfortable sitting experiences. This mesh office chair in the UK has a high-quality spinal support that's designed using magnetic fields as a reference. It activates your body's core by encouraging a proper posture and improves your wellbeing more than other ergonomic chairs.
This mesh chair uses an environmentally-friendly and innovative material, the thermoplastic elastomer. It's an incredibly durable material that significantly increases the chair's lifespan compared to any other ergonomic mesh chair in the UK. It has many fully adjustable features such as the adjustable armrest, seat height, and back tilt angle and tension.
3. Autonomous ErgoChair Recline
The ErgoChair Recline is an ergonomic computer mesh chair that comes with an adjustable headrest and an extendable footrest. It lets you lean on the backrest and stretch out whenever you feel the need to relax for a bit. The tilt mechanism allows for adequate movement, making any position changes as seamlessly as possible.
It has a superb woven mesh that contours your back and allows it to breathe. The foam seat has the perfect amount of resistance, making it comfortable and letting you focus on your task at hand. You can find the ideal sitting position with this ergonomic mesh office chair in the UK by customizing its armrests, lumbar support, seat incline, and tilt.
4. Herman Miller Aeron
This mesh office chair is one of the most advanced models available on the market. It provides you with not only all the comfort you can expect from a mesh chair but also plenty of health benefits. The Herman Miller Aeron, apart from these benefits, offers an environmentally sensitive design.
This chair uses an innovative elastomeric material that provides a higher level of comfort and ergonomic support. It allows body heat, water vapor, and air to pass through it, maintaining a pleasant temperature. Thanks to the reclining mechanism, you can switch positions intuitively, helping you keep a dynamic sitting experience. It comes at a considerably high price, but it may be the best mesh office chair in the UK you can get if you can afford it.
5. Humanscale Liberty Task Chair
The Humanscale Liberty Task is a mesh chair that provides automatic lumbar support for whoever uses it. It also offers a simple and easy way to customize its features. The chair's minimal but appealing aesthetic makes it fit any modern office.
Its cushion uses a low-abrasive and non-stretch mesh to maximize your comfort. On the other hand, the chair's backrest combines three panels that use the same non-stretch mesh material to create a custom fit. This and the mechanism-free recline allow the chair to contour and support anybody sitting in the chair. It's an exceptional ergonomic mesh office chair in the UK, but it's more expensive than most other choices.
6. Herman Miller Sayl
If you want an exceptional ergonomic mesh chair in the UK with extraordinary value, sound design, and healthy support, the Sayl fits these characteristics. It has an unframed backrest that enables you to stretch and move. The backrest elastomer strands vary in thickness and tension to provide more generous support to your spine.
Like the Aeron chair, the Sayl has the PostureFit support technology in its backrest that lets your spine maintain its natural shape while sitting. It encourages a proper sitting posture without being too tiring. A downside to this chair is that the lumbar support is an optional feature. You need to add it before purchase, and it comes with some degree of adjustability.
7. NOBLEWELL Ergonomic Mesh Desk Chair
This chair's backrest mimics the human spine's shape, providing the perfect support to your back and neck. It lets you maintain a natural sitting posture with ease, reducing the pain and pressure of sitting and working every day.
The NOBLEWELL chair has a breathable mesh surface that doesn't trap your body heat. It gives you a cool feeling and provides you with a comfortable experience. The mesh backrest improves the airflow, gets rid of sweat and moisture, increases your focus, and lets you relax when necessary.
This ergonomic mesh chair in the UK is a great affordable choice that offers plenty of adjustable features. You can tailor the armrests, headrest, seat height, and back tilt to the point where it satisfies you.
8. Yaheetech Mesh Office Chair
This chair features a densely knitted mesh backrest. It allows for better ventilation, increasing the dissipation rate of heat and moisture. The lumbar support system pushes up your back and supports it. Its soft, high-density foam seat is considerably comfortable, and it's wrapped with a durable mesh fabric that allows it to breathe.
The Yaheetech chair doesn't have many adjustable features. In fact, it only has two, the seat height and the reclining angle. Regardless, it's the best ergonomic mesh chair in the UK you can get at its low price range.
9. Office Hippo Physio Executive Mesh Chair
The Physio Executive mesh chair is a highly adjustable ergonomic mesh office chair in the UK. It has an adjustable headrest, three-way adjustable armrests, a height-adjustable seat, and a tilt-lock mechanism. The chair provides a generous, thick seat that is significantly cozy when you pair it with its supportive headrest.
You can also either lock the tilt-mechanism in a position that you find comfortable or leave it unlocked, whichever suits you at the time.
10.  Mfavour Ergonomic Office Mesh Chair
This ergonomic mesh chair in the UK features a lumbar pillow that provides excellent support to your waist and keeps your spine aligned. It encourages a proper sitting posture while working. The chair's high-density sponge-filled seat ensures that you can sit comfortably for long periods without feeling any pain.
At the same time, the breathable backrest allows for better ventilation, keeping your back fresh. Some of the chair's features that you can adjust are its built-in lumbar support, armrest, headrest, and seat height.
11.  SIHOO Ergonomic Office Recliner Mesh Chair
The SIHOO recliner mesh chair provides you with a premium and flexible mesh backrest that keeps you cool and comfortable. It also has a well-padded seat that ensures you sit correctly on it due to its shape and its waterfall front edge. The chair comes with essential adjustable ergonomic features, including the lumbar support, headrest, armrests, seat height, and tilt. It's a great ergonomic mesh chair in the UK that provides vital features and comfort.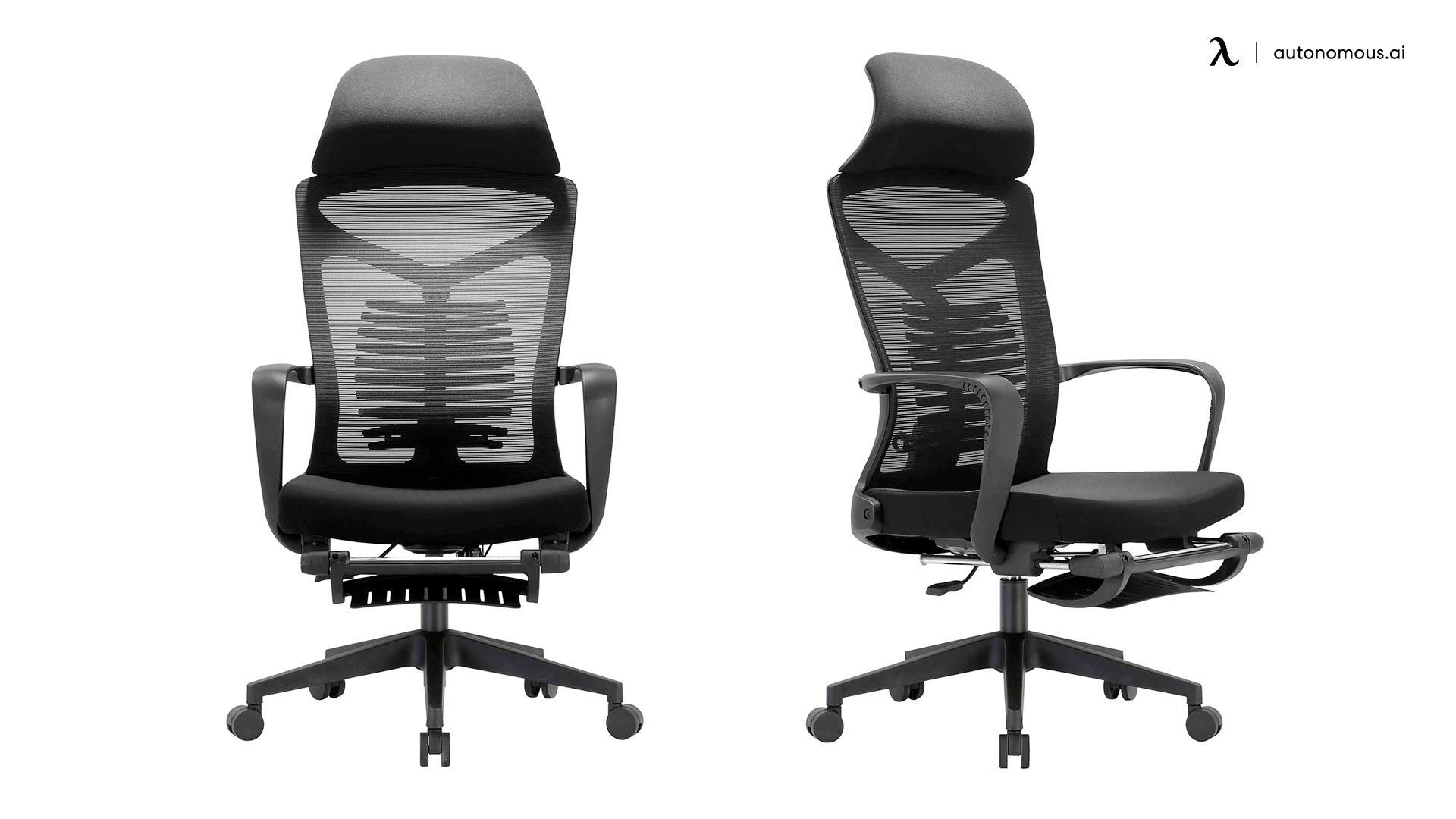 12.  Office Hippo Ergonomic Mesh Office Chair
This ergonomic mesh office chair in the UK comes with a robust yet elegant backrest made with heavy use in mind. It keeps you in a comfortable sitting position and prevents you from getting too warm during use. The chair's padded seat can keep you cozy for up to eight hours, but it can be stiff at first. After a while, it softens up and molds to the user.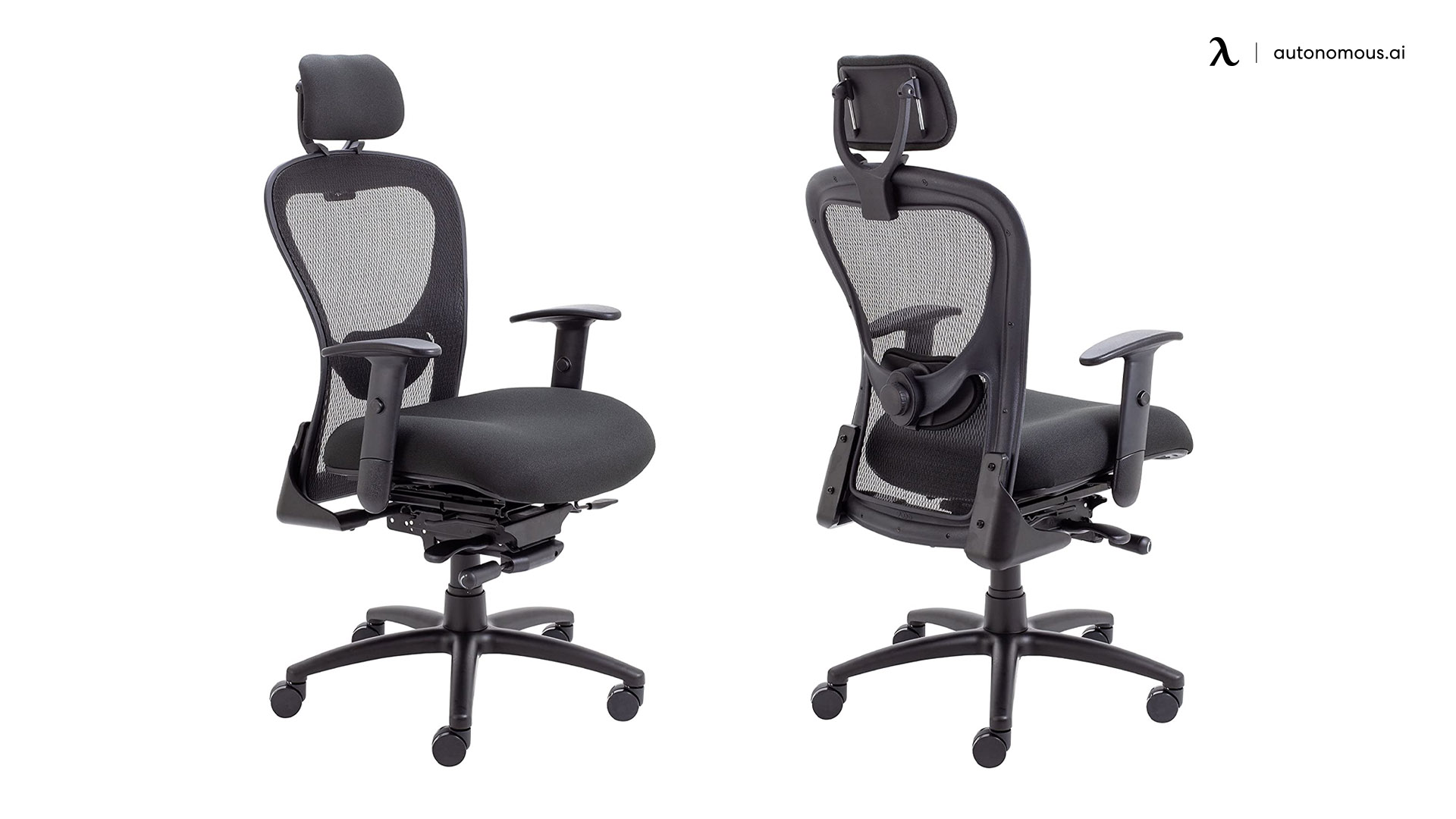 13.  Hbada Mesh Office Chair with Flip-up Armrests
This chair has a sleek design that fits many home office environments. The backrest easily conforms to your spine's natural curve, reducing some of the pressure on your back. Its flippable armrest lets you tuck away the chair somewhere it doesn't bother, allowing you to save space in your workspace. The chair has a flexible mesh backrest that supports your lower back and a thick flat seat cushion that provides tremendous comfort.
14.  IKEA Markus
The IKEA Markus has an airy mesh fabric that keeps you fresh during long work sessions and gives the chair a neat look. It's a suitable chair for taller people because of its high back, and its foam seat guarantees a comfortable sitting experience. The built-in lumbar support and the adjustable features allow you to adapt the chair to your measures, complementing the chair's overall coziness and your wellbeing.
15.  SONGMICS Mesh Office Chair
The SONGMICS mesh office chair features an ergonomic design that provides you with an adjustable and padded lumbar support. This chair's seat finds a middle spot between hardness and softness using high-density foam. It supports your body adequately while offering you a great deal of comfort.
The chair's mesh backrest complements the snug experience, keeping the air flowing through it efficiently. Unfortunately, you can't adjust the chair's armrests, only fold them. What you can customize is the lumbar support, seat height, and tilt function. It's a great mesh office chair in the UK with the second most accessible price, behind the Yaheetech chair.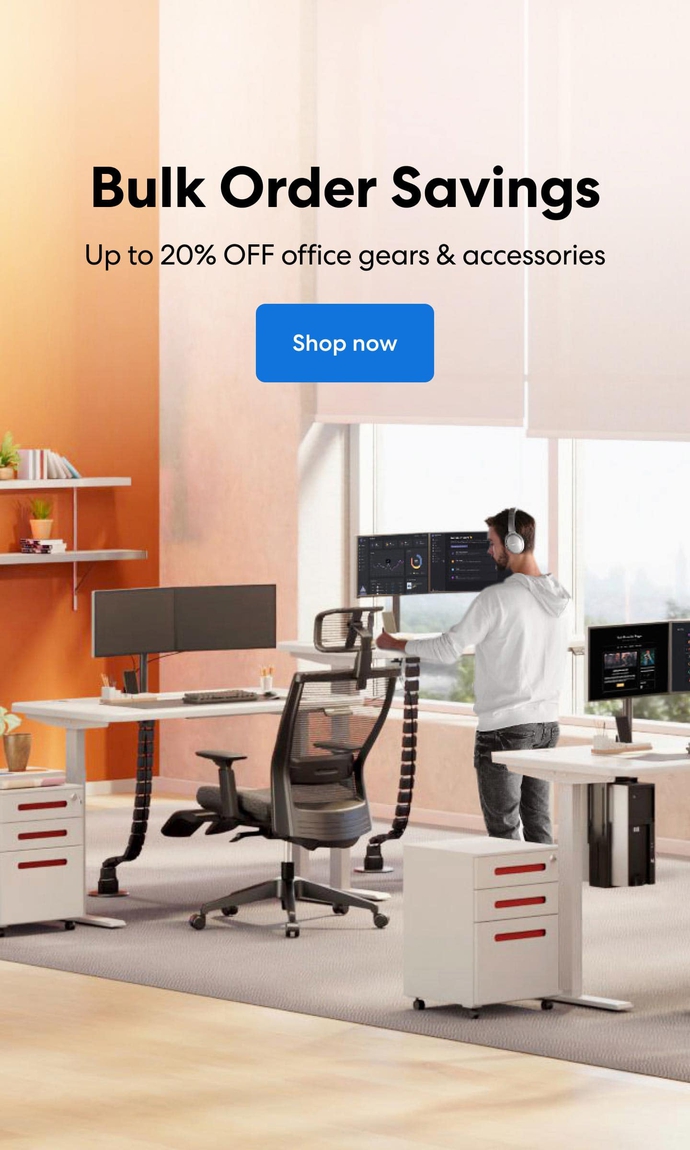 Subcribe newsletter and get $100 OFF.
Receive product updates, special offers, ergo tips, and inspiration form our team.