Should comfort always be boring? Is it really hard to incorporate aesthetics with a design aimed at providing comfort and resilience? A common misconception, or maybe a fact considering old practices, is that comfortable furniture cannot be aesthetic, or you cannot get comfortable with a piece of furniture that looks stylish. However, with the modern research done and attention given to workplace efficiency and wellness of employees, it is suggested that comfort and looks are integral for employee productivity.
A workplace that looks nice and stylish positively impacts the mind, and the same is the case with comfortable furniture, which makes employees productive and happy at work. Hence with years of research and design, you can now find the best modern comfort chair and desks for your office space. A modern comfortable desk chair is no longer a myth because office ergonomics combines efficiency and design for today's users. This article will cover some of the most comfortable modern chairs for your office.
1. ErgoChair Pro
A modern comfort office chair shouldn't have to be boring; this ergonomic chair proves that. ErgoChair Pro is a highly rated and admired chair with over 4.5-star ratings by all its customers. It is less likely for a chair to be loved and admired by everyone who has purchased it. Such is the beauty of this one of the most comfortable computer chairs because it allows various adjustable points, including from headrest to seat height, movement, and alignment. You can control and adjust the chair to your comfort at any point.
2. ErgoChair Recline
A reclining ergonomic chair fits well for people who complain about back pain and similar issues in the workplace. An ErgoChair Recline is a suitable solution for that. It has a meshed back with a wide back design. It also has footrests and a movable headrest to keep both the extremes of the body in a comfortable position. This modern comfort chair is fully adjustable, and it also allows 360 degrees of movement of armrests.
3. Logicfox Ergonomic Chair
This Logicfox ergonomic chair provides a great fit for your slouching posture and gives you more than 8 hours of comfortable work. The highly elastic and soft mesh back has excellent breathable and comfortable properties. The chair comes with a 3-year warranty and a 30 days trial period. When you purchase this, you can enjoy free shipping.
4. ErgoChair Plus
Not to brag, but this one is simply the best ergonomic chair for a modern home office or a professional office space that involves working for more than 8 hours or so. This modern comfort chair is designed with ultra-high comfort and gives you control over all working and sitting positions. It is fully adjustable and comes with multiple ergonomic features. Let's talk about the star feature of this product, which is the combination of a naked mesh TPE design and a cushioned back.
5. Task Chair Yoyomax
Although ergonomic chairs aren't often considered "style," this Yoyomax model comes close. It has a more sleek appearance than standard ergonomic office chairs and is available in a crisp gray and white color scheme. Compared to other versions, it is also a bargain for less than $100.
6. Northread Ergonomic Chair
Northread ergonomic swivel chairs are known for their affordable price and stylish, comfortable design. This modern comfort chair has a lumbar support pad at the back, and you will get a thick seat for high comfort. The chair also has adjustable armrests and moves with a simple pneumatic control height system.
7. ErgoChair Junior
A comfortable yet modern pick for juniors because we all know kids are picky about their choices. This ErgoChair Junior is ergonomic and fully adjustable to cater to the growing bodies in the most comfortable way. It has adjustable seat height and depth and moves freely due to the five-wheeled base.
8. Fully Desk Chair
This chair has a supportive feel because of the mesh back and the plush seat. You can relax in a chair as the curved back offers a reclining and locking backrest in addition to lumbar support. The seat and armrests may be adjusted to reach the perfect position for optimum comfort while working, and the chair is durable.
9. AvoChair
The AvoChair enjoys the perks of a modern comfort office chair due to its modern design but is also known for its compact shape, which makes it best for tiny spaces. It is equipped with ergonomic features which are not as advanced as the others on our list, but for a lower price, you get a good value. It has a thick seat cushion to prevent back pain and an oval-shaped back for maximum support.
10. ErgoChair Core
The ErgoChair Core is adjustable at most points and is a fully ergonomic chair. It has a wide mesh back, which gives it both looks and comfort. The chair has a contoured foam seat and a lumbar support pad that is adjustable. It has a weight capacity of 250 pounds, and though it is priced a bit higher, you can use the employee purchase program to get a decent discount.
11. Northread Conference Chair
The Northread conference chairs are ideal for bulk purchase because they can add a stylish vibe to your entire office. They are easy to assemble modern chairs with a year warranty. You can enjoy high air ventilation due to stylish, breathable mesh, and the smart design makes it suitable for both work and gaming setups.
12. Finercrafts Ergonomic Chair
Finercrafts ergonomic chair has a relatively easy assembly with a high level of comfort guaranteed. It has a five-year warranty and a wide and tall back to keep your spine and entire back muscles straight and comfortable. It also has a stylish design, and you can pick among the two universal colors.
13. Humanscale Freedom Task Chair
Finally, a chair that adapts to your body's movements. As you recline, the curved headrest will perfectly cradle your neck as you lean back and feel the armrests move with you. This chair also claimed to fit almost any size with its individually adjustable seat, backrest, and headrest.

14. Branch Daily Chair
This modern comfort chair features a curved nylon back, lumbar rest for breathable support, and over 70% recyclable materials in its construction. The bright beige mesh design makes it the star of your office space and adds a whole new definition to minimalism. The chair has a built-in contoured seat design along with adjustable armrests.
15. Aeron Chair by Herman Miller
The Aeron is Herman Miller's most recognizable office chair for a reason. The recognizable chair is incredibly supportive and allows you to adjust it to your liking. There is no requirement for building up time because it does not require assembly.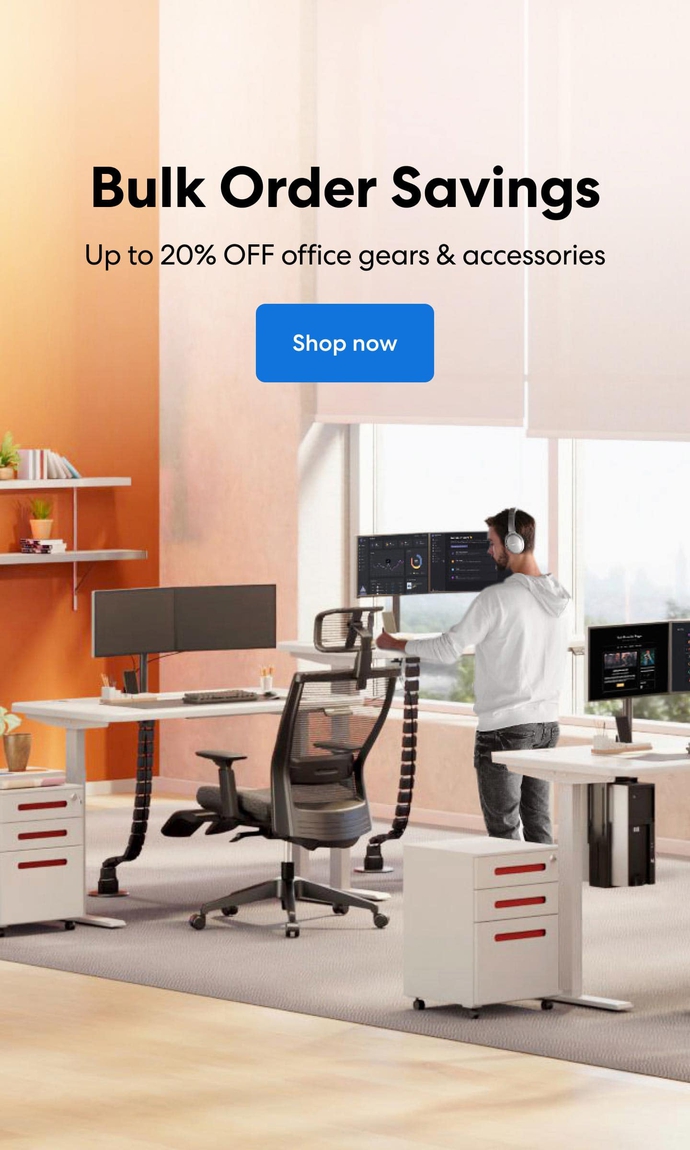 Subcribe newsletter and get $100 OFF.
Receive product updates, special offers, ergo tips, and inspiration form our team.