Smart Products
Top 15 Small Electric Desks for Saving Space You'll Love

Autonomous
|
Oct 30, 2022
983 Views
Despite 95% of standing desks having a depth of 30 inches, there are times when you just need a desk with a depth of 28 inches or even less. For users who don't plan on using many external monitors (for focal depth, users with multiple LCDs will likely need a small electric desk with a 30-inch depth in all likelihood) or for small Manhattan apartments, dorms, or "hot desk" areas, these smaller desks are ideal.
Small Electric Desks for Saving Space
1. Autonomous CompactDesk Core
As of right now, the small SmartDesk Core is our most cost-effective and performance-oriented standing desk. The whole day is devoted to improving productivity and well-being. It can be adjusted between 29.4" and 48" in height and has four programmable height settings.
Two motors on the steel frame enable the frame to lift 265 - 270 pounds effortlessly. Pre-drilled holes are included on the desktops, which are available in three sizes: 3"L x 23"W, 53"L x 29"W, and 70.5"L x 30". Currently, only two countries are offering the XL size desktop: the United States and Canada.
2. Autonomous CompactDesk Pro
Among all the standing desks available on the market, the small SmartDesk Pro is the most affordable. Powered by two motors, the desk is height-adjustable from 26.2" to 52", has four programmable settings, and is height-adjustable from 26.2" to 52". With 310 lbs of load capacity, there are two sizes of desktops available. The tops of both sizes are available in natural wood and classic finishes. Besides the steel frame, all SmartDesks feature a steel frame.
3. Northread Standing Desk with Drawers
This modern white desk has a very standard design and is very beautiful. There are four adjustable program settings and a height adjustment range of 27.2" to 44.9". A console on one side has an LED display to indicate which setting you are on, up/down buttons, four preset heights, a USB charging port, and a Type C port. With a smooth glossy finish and rounded edges, this desktop is perfect for smaller spaces. The good news is that there is a pull-out tray with compartments you can use to store your keyboard and other items.
4. ApexDesk CompactDesk: Touchscreen Control & USB Charging Port
A small electric standing desk with a well-designed work surface (tempered glass) is the perfect addition to any office or room. You are given plenty of space on the desktop for your devices and your workspace. It measures 47 inches long by 23 inches wide. Your smartphone can be charged via a type C charging point located on the edge of the desktop. As with other desks, the Apex Desk has a noiseless motor lift design that allows it to move between 30 inches and 47.7 inches tall at an 18mm/sec speed. A smooth powder-coat (white) finish even covers the frame. 
The LCD screen displays multiple desired L-shaped standing desk heights determined by three memory presets (customizable) and five programmable buttons with the elegant touch screen. It is essential to keep this area of the desk clear to access the touch panel. Instead, you'll find a press-lock compartment/ drawer for keeping office supplies and files and a USB port (2.4 amp) on its side for charging your phone.
5. FENGE Ultralong CompactDesk + Free Monitor Stand
In order to relieve low back pain and nerve compression caused by prolonged sitting, this compact desk has been designed. The desk has an oblong shape and rounded edges, with a smaller console with only two buttons: up and down. You do get a hook to hang your headsets, bags, and jackets so that your smaller desktop remains clutter-free. 
There is also a drawer under the desk that not only moves up and down with the desk but is quite deep, which makes clearing the desktop easier. In addition, it also has an oblong groove that you can use to hold your devices, pens, or even cable management.
6. LifeDesk SmartLegs 1 ER with Top
There are plenty of conveniences that you get in having such a small desk for smaller workstations. You can work more healthily by setting reminders to sit or stand with the LifeDesk and StanData apps. Despite its triangular shape, the desktop fits into nearly any corner and even has a console on the left. The desktop can accommodate multiple monitors and PCs with its large powder-coating finish. This powder-coating finish and glossy laminate finish is available on rectangular and triangular desktops.    
7. Seville Classics Airlift Electric Sit-Stand Desk
You don't have to untangle cords or search for multiple outlets because it has multiple charging ports built in. The sleek desktop comes with dry-erase markers for jotting down notes or collaborating with colleagues. There isn't a lot of storage on the desk, so you may have to purchase a second cabinet if you need a lot of storage. You can adjust the standing desk without clearing your workspace, which is an advantage. 
8. SHW Memory Preset Electric Height Adjustable Standing Desk
From 28 to 45 inches can be adjusted by the electric motor on this small adjustable standing desk. Among its features is that it allows you to create four presets. The desk can be adjusted to the user's perfect setup with the touch of a button. Sharing a desk can make everything easier and faster if you have to share one. 
9. Vari Essential Electric Standing Desk
Standing desks from Vari are well-regarded, and this standing desk offers all the steadfast aspects without taking up lots of space. You can adjust it with the touch of a button. The unit can also be programmed to perform four presets. 
10. Siducal Mobile Stand-up Desk
To make writing, drawing, or drafting easier, you can adjust the angles of the two workspaces independently. Keep the two desktops level and spread them out if you require a bigger workspace. It has caster wheels to make the desk easier to move. Then again they might affect firmness, particularly if you place a desk on the carpet. 
11. Noskatu Electric Height Adjustable Standing Desk
Standing desks can be adjusted between 27" and -45" in height, depending on your needs. An ultra-quiet motor is used in the uplift desk, resulting in a noise level of less than 50dB. A sturdy, double-beam metal frame supports the pneumatic standing desk, which can hold up to 178 pounds. A single-beam desk is less stable and lasts a shorter time than a desk with multiple beams. 
12. Yo-Yo standing desk 90
A riser like this will sit on top of your desk if you're happy with it but would like the option to sit-stand. It elevates the keyboard 35cm from the base while the desktop itself rises 50cm, so you can easily determine what height is best for you to work at. 
13. ApexDesk Elite
Another high-quality desk that has some serious desktop space, the ApexDesk Elite is an excellent choice - and it's a great value at the same time. There are two sizes of the Elite, 60 inches, and 71 inches. If you want maximum desk space, select the latter, which also has a 33-inch depth - more than most. 
Standing desks like this are beautifully constructed and feature dual-motor lifting systems (as well as a controller where four preset heights can be set). This desk has a lifting capacity of just over 100 kg, so you can certainly attach some heavy hardware to it. 
14. Seiffen Laminated Standing Desk
With the desk, you can pick your desk's exact size and finish: options include white, black, mahogany, special walnut, walnut, marble, and graphite. 3 frame colors are also available (white, black, and gray). Additionally, there are two keypads available for lowering and raising the desk. It's completely customizable, as we said! 
15. Hipso Height-Adjustable Desk
Another compact electric standing desk that is designed for small spaces is this low-profile model. This desk is great for small spaces because it can be tucked away in a corner. A black or white table top can be combined with any of the following table bases: oak, walnut, white, or black. Desks from Knoll ship within three days of ordering, and shipping is free!
What To Look For When Buying A Small Adjustable Height Desk
When shopping for a shallow, small electric standing desk, there are fewer options available compared to standard-sized desks, other than the average standing desk converter, but there are some unique considerations to keep in mind.
Adjustability and height
When you're standing, your computer monitor must be at eye level, and your desktop should have the mouse and keyboard at or slightly below elbow height, with your arms at a 90-degree angle. You will also experience less wrist pain if your small adjustable standing desk has a rounded front.
Weight and adjustability
The weight that the compact electric standing desk holds while maintaining its balance is also important when considering its adjustability and weight.
Arm supports
Arm support is attached to your standing desk and is made of soft padding. By designing it this way, users will be able to reduce discomfort in their arm joints and minimize pressure on their wrists. Additionally, finger cramps are prevented, and arm flexibility is maintained.
Cost-effectiveness
The price of a compact desk will reflect its quality and durability. Certain items for which you get what you pay, such as standing desks. This is worth it because it pays off in the long run.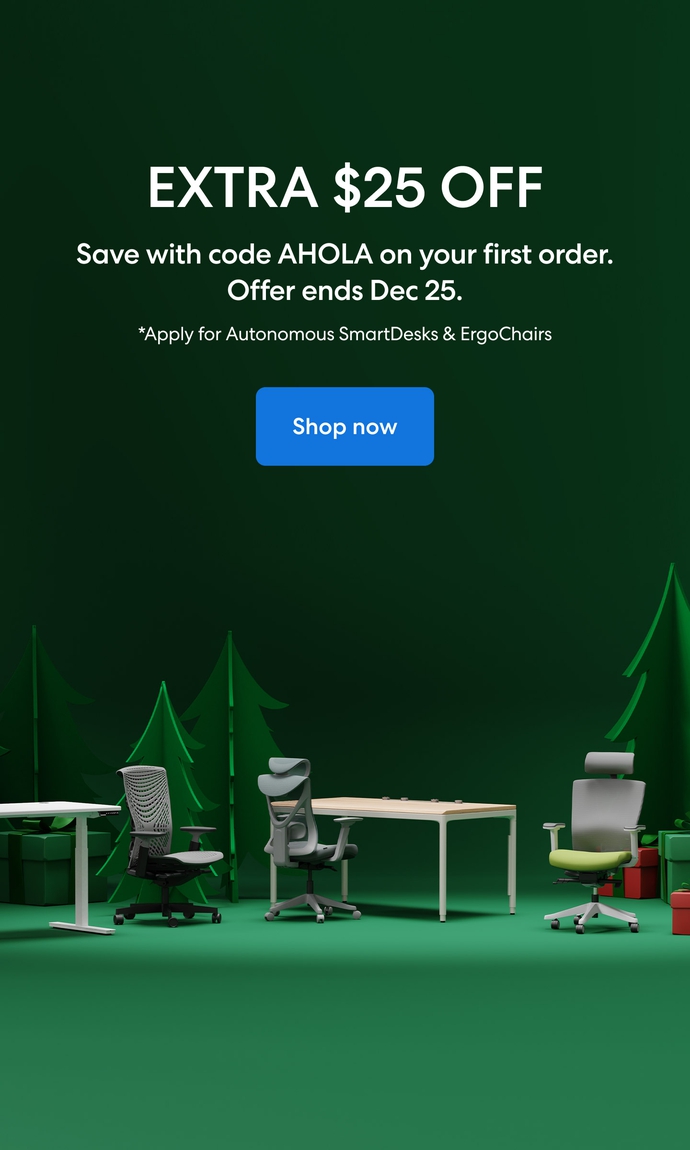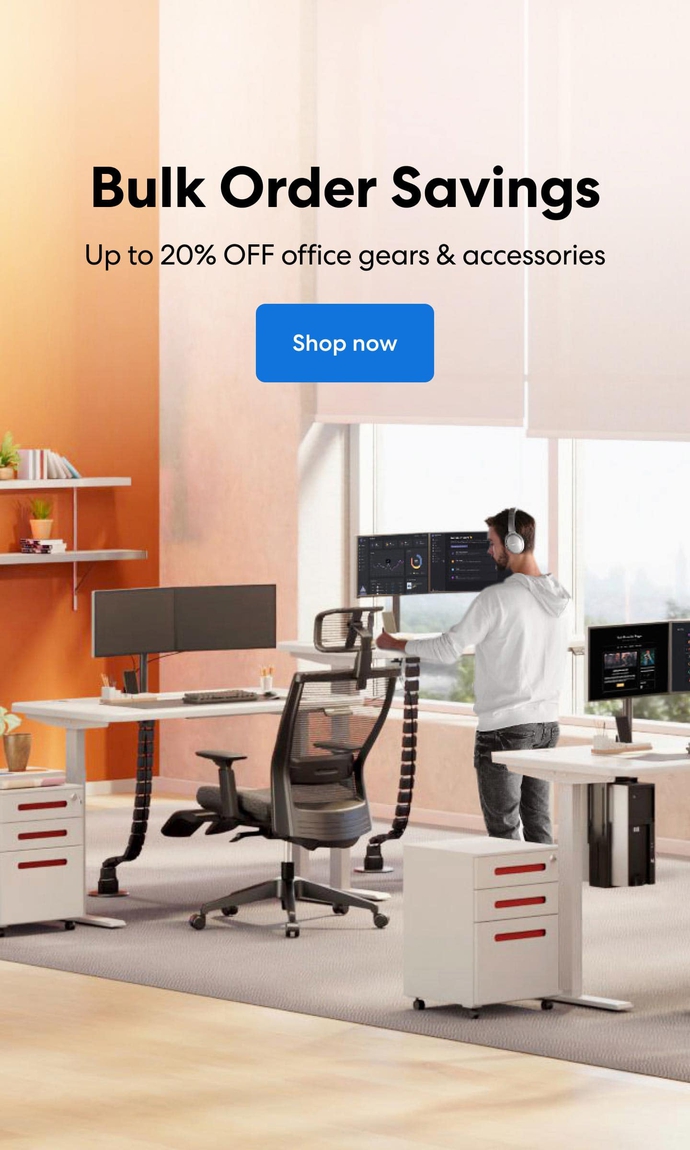 Subcribe newsletter and get $100 OFF.
Receive product updates, special offers, ergo tips, and inspiration form our team.