The chair market has evolved greatly over the past few years, and it's interesting to see how each company adapts to newer trends and creates new products for office workers. In the case of office chairs, one of the most popular types is mesh chairs.  
Recently, several companies have been working with an upgraded version of the mesh chair, which is the mesh chair with headrest. While it may look like a simple addition to the executive mesh office chair, it can provide many benefits for the user, including health benefits. 
However, there are dozens of different mesh chairs with headrest, making it challenging for some users to know which one is good for them. To solve this problem, we compiled the 15 best mesh chairs with headrests and put them on this list. If you're planning on buying an office chair with a headrest, this is the right place to start! 
What Is a Mesh Chair?
The main difference between a mesh chair and a regular chair is its styling. Overall, these chairs have mesh fabric stretched all over the back, allowing for more breathability, ventilation, and temperature regulation. 
Mesh chairs are especially efficient in hot office environments. The mesh fabric promotes better airflow, making the user's body feel more comfortable and lighter. Additionally, mesh chairs are often easier to clean and maintain than other chair types due to their fabric. 
You can find mesh chairs in several different stores worldwide, and you may choose one that feels appropriate for your body. However, keep in mind that not all mesh chairs have the same features, which is why it would be best to do your research first. 
Overall, mesh chairs can be a great addition to your office, especially if you're looking for more comfort while you work. 
What Can an Office Chair Headrest Attachment Do for You?
Office chair attachments can make your seating experience even more comfortable than before, as long as you choose them correctly. Some of these attachments already come with the chair, which is more convenient; others may be bought separately and added to your chair, although not many people go for this option. 
One of the most popular combinations today is the mesh chair with headrest. An office chair headrest attachment is a small piece placed on the top of your chair to support your head. Depending on the model you choose, a headrest attachment may only support your head or both your head and neck. 
When it comes to working for long hours, it's essential to have an ergonomic chair headrest. Our body's muscles tend to get tired and strained as the hours pass. If we don't assess this problem with time, you could be exposed to long-term physical pain. 
In case you don't have anything to support your head or neck, you may experience some pain while working, decreasing your energy levels and productivity rate. On the contrary, having an ergonomic chair headrest attachment can help you be much more comfortable while working and enjoy a painless working experience throughout the day. 
Chairs with Headrest vs. Chairs with No Headrest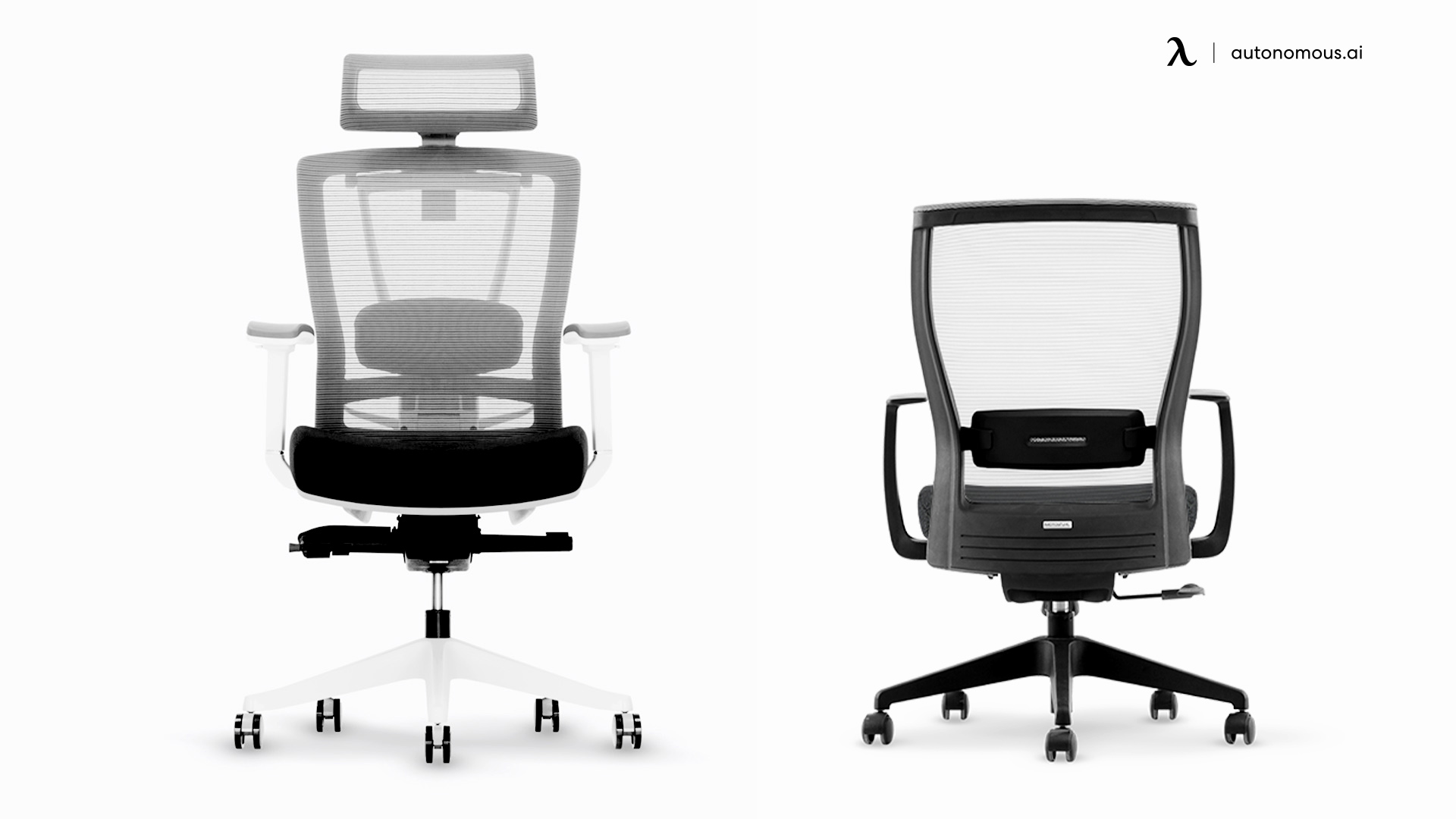 Chairs without headrests don't necessarily mean they're bad for you. However, if they're not a right fit for your body, you may have a hard time finding a comfortable position to work in. Keep in mind that not having any support for your head can cause it to get too tense after hours of working.
A quick way to solve this issue is to stretch your neck from time to time to avoid straining and pain. However, this may not be a permanent solution if you tend to work for many hours a day. In these cases, the best thing you can do is to get a mesh chair with a headrest. 
When it comes to general comfort, chairs with ergonomic chair headrests do a much better job than those that don't have them. Additionally, you can avoid head and neck pain in their entirety as long as you sit with the right and good posture at work.  
An office chair headrest attachment can add up a bit to the total cost of your chair but considering it's something that can help your body in the future, it's safe to say it's an excellent investment.  
Pros and Cons of a Mesh Chair with Headrest
Pros and Cons of a Mesh Chair with Headrest
They add more comfort to your body.
They promote productivity and better energy while working.
They're not as expensive as other chair types.
They may not be as versatile as other chairs.
The mesh fabric may not feel comfortable for everyone.
Should You Purchase an Office Chair with Headrest?
If you're someone who's currently struggling with neck and head pain while working, an office chair with a headrest may be the best option for you. Thanks to the mesh fabric of these chairs, you're going to allow your back to breathe much better and not feel so hot after prolonged hours of working. Additionally, the integrated headrest allows you to support your neck and head continually, avoiding physical pain. 
Overall, you must go for the product that fits your body and working conditions the best. Remember that not all models offer the same benefits, durability, or materials. It's not recommended to go with the first chair you find since it could cause some problems for your body in case you chose the wrong chair type for your body. 
You must also choose a chair that promotes a better posture while working. In these cases, ergonomic chairs do a great job at promoting comfort, better sitting position, and many other benefits. Engaging in an ergonomic lifestyle has been a lifesaver for many office workers, so if you're struggling with discomfort while working, these products are for you. 
Finally, consider the budget you're working with before making a purchase on an ergonomic chair headrest. While it's important to spend your money wisely on something that works for you, that doesn't mean you have to go for the most expensive product on the list.  
Making a smart purchase allows you to get the product you need while saving some money that you can either save or spend on other smart office accessories that make your working life easier. 
Best 15 Mesh Chairs with Headrest for 2022
Now that you know everything about the office chair headrest attachment, it's time to show you our top 15 picks for the mesh chair with headrest for 2022. Keep in mind all the chairs in this list were reviewed based on their durability, materials, comfort, and accessories. 
1. ErgoChair Pro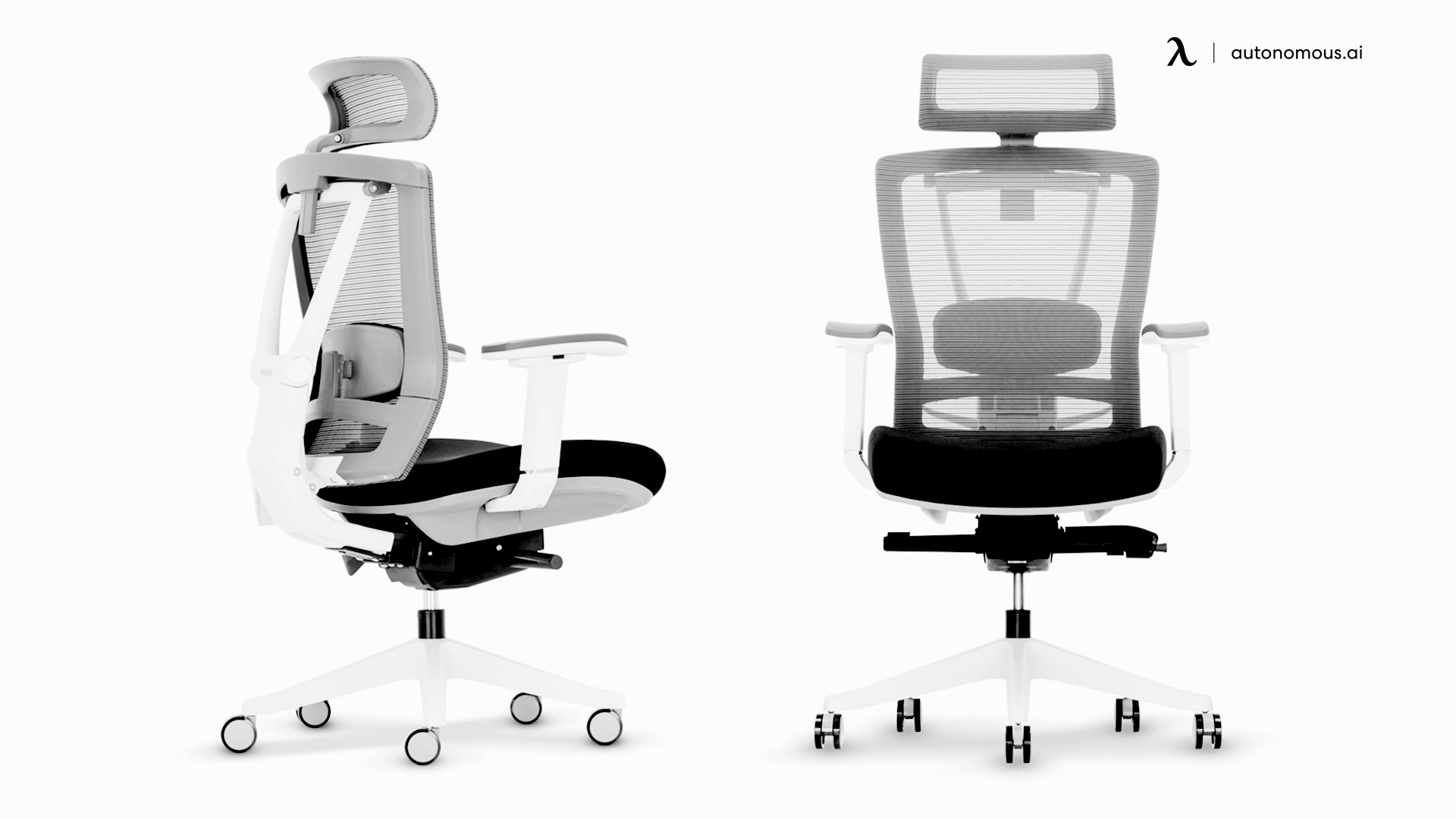 Our first pick for this list is the fully adjustable ErgoChair Pro. If you're looking to buy an ergonomic chair, the ErgoChair Pro has every accessory you need to achieve the best seating position your body needs. 
Aside from having woven mesh back for optimum airflow, it also features an adjustable armrest you can use to support your head and neck without any problems. To enhance the ergonomic experience, you may also adjust the armrest, backrest, seat tilt, and height if you want. 
2. ErgoChair Plus
The ErgoChair Plus takes the seating experience one step further with its breathable mesh fabric. Overall, this chair encourages natural mobility, and it allows you to adjust everything you may need to reach your desired seating position without feeling pain. 
Autonomous' ErgoChair Plus is one of the best seating solutions on the market today. While it has a slightly higher price tag than other chairs, it makes up for it with its high comfort grade and adjustability features. If you're looking for a mesh computer chair, this is the one. 
3. ErgoChair Recline
In case you're looking for something with a lower price tag, this ergonomic computer chair can be a great option to consider. The ErgoChair Recline has all the necessary features for your body to feel comfortable while working, including an adjustable headrest. 
If you're on a budget, this mesh chair with headrest does a great job for the price. 
4. Nightingale CXO
This is one of the most solid products you can get if you're looking to get all the chairs with headrest benefits at work. In essence, this office chair with a headrest features the company's memory foam, allowing your head to sink into the headrest comfortably. 
Additionally, you may adjust the headrest or tilt it to your liking. The best feature of this chair is the headrest, but the product, in general, is one of the sturdiest and stylish ones on this list.
5. Ergohuman Chair
If your focus isn't on the chair's style, the Ergohuman chair may be the right one for you. While this office chair with headrest doesn't have the best design, it makes up for it with an excellent backrest and headrest (which are entirely adjustable).  
Keep in mind the headrest on this chair isn't padded, so it may not feel as comfortable as other products on this list.
6. SIHOO M18 Mesh Chair
In case your goal is to buy an affordable chair without losing the benefits, the Sihoo M18 may be a good option to consider. As opposed to the previous chair, the SIHOO chair features an entirely padded headrest where you can rest your head without any problems. 
However, keep in mind that this is a budget chair, so it may not be as durable as other products.  
7. SUNNOW Ergonomic Office Chair
The SUNNOW office chair with headrest features an interesting, larger headrest designed to cover your entire head more comfortably. While the headrest itself isn't padded, it does a great job of supporting your head. 
8. SAMOFU Ergonomic Chair
SAMOFU's chair is similar to SUNNOW's. The main difference between the two is that the former features a 3D backrest and 5D armrest and footrest. In essence, this mesh chair with headrest does its best to adapt to your body posture and make you feel comfortable at any point of your working session.
9. DXRacer AIR Gaming Chair
This is one of the few mesh gaming chairs on the market. While this is an uncommon combination, it does a great job at dissipating heat while you're working. On the headrest, you're going to find a neck pillow, making the seating experience much more comfortable.
10. Sidiz T50 Chair
The Sidiz T50 has an interesting and modern design that makes it stand out from other products. In essence, this mesh ergonomic chair features an S-Curve design that supports the spine correctly. Additionally, you may adjust it in many ways.
11. Gabrylly Ergonomic Chair
Gabrylly's chair has always been one of the best choices for comfort. Overall, this product features four supporting points, including the head and neck. 
12. Ticova Ergonomic Chair
This mesh chair with headrest helps maintain the body's natural posture after prolonged hours of working, and thanks to the customizable headrest, you can ensure a more effective seating experience for an affordable price.
13. Flash Furniture Mesh Chair
The Flash Furniture chair is one of the most affordable options on this list, and it features an entirely adjustable headrest, allowing for more breathability and versatility while you work.
14. X-Chair X1 Task Chair
If you're looking for the best breathability, the X1 chair may be one of the most affordable and friendly mesh chairs with headrest choices. Aside from being made from sturdy materials, this chair also allows you to adjust everything from it, including the headrest.  
This chair isn't too aggressive with its lumbar or head support, making it more comfortable for many users. 
15. STAPLES Hyken Chair
The STAPLES Hyken chair features a similar design to many other products on this list. Overall, it allows you to work comfortably for as many hours as you need without needing to adjust your posture.  
If you want an affordable product that allows you to adjust your headrest without much effort, consider giving this mesh chair with a headrest a thorough look. 
Bottom Line
Finding the best mesh office chair may not be an easy task, but with the right guidance, you're likely to find something that works for you. Overall, a mesh ergonomic chair can be a game-changer for you, especially if you're one of those who tend to work all day long.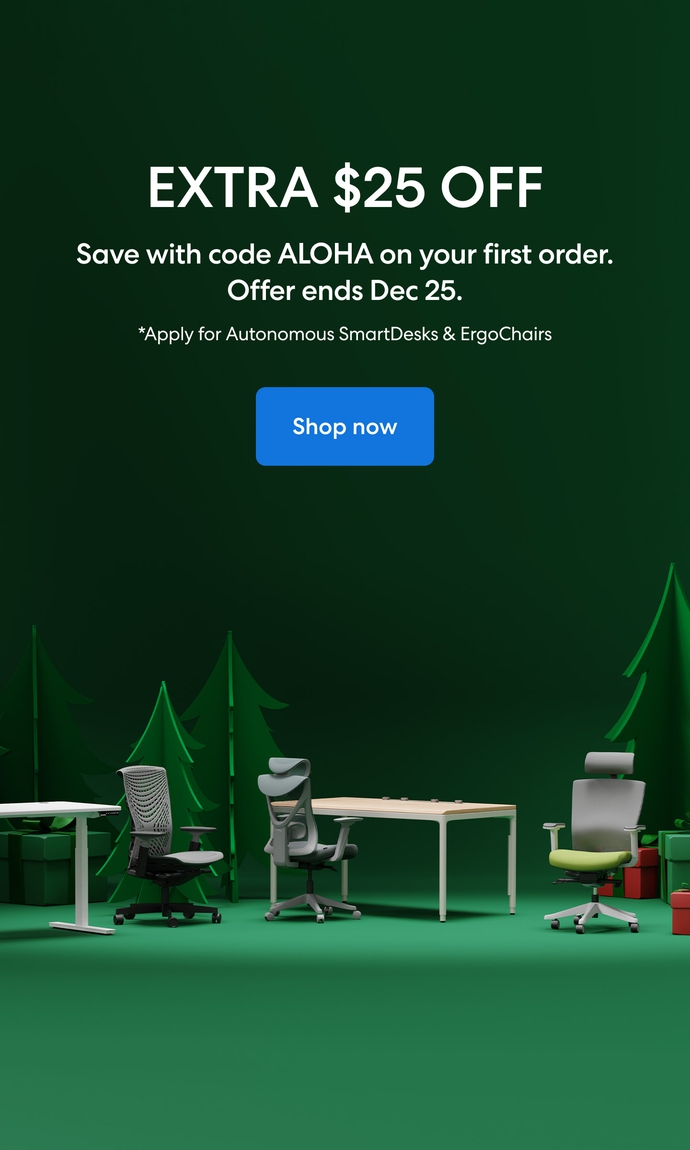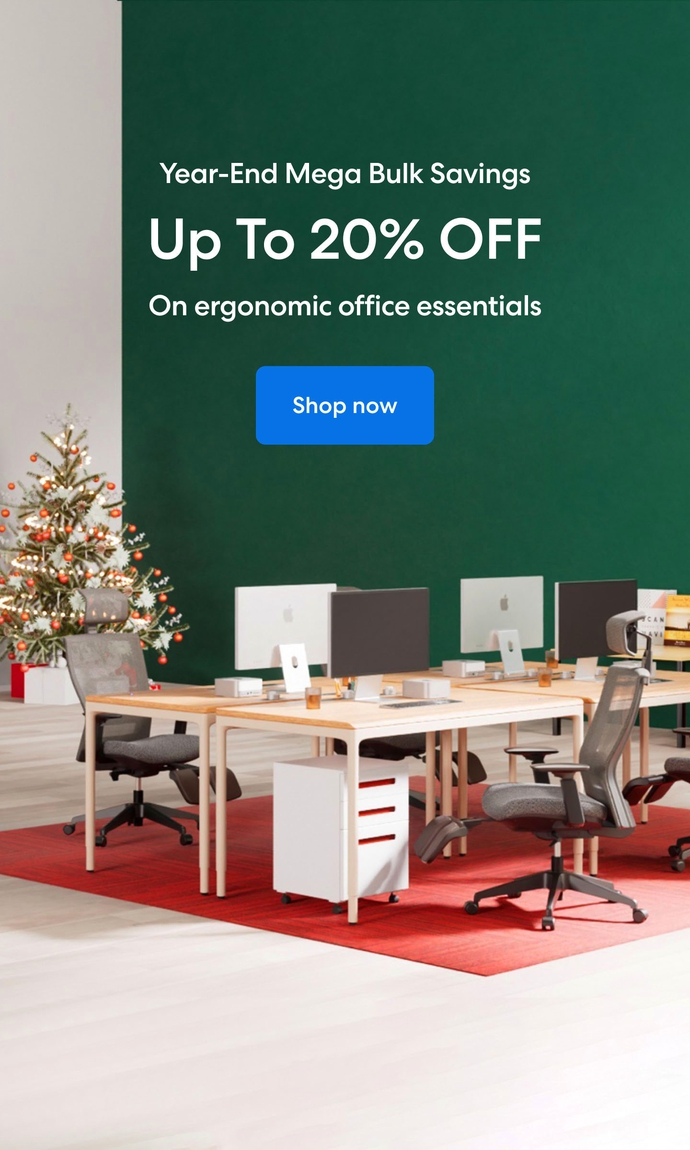 Subcribe newsletter and get $100 OFF.
Receive product updates, special offers, ergo tips, and inspiration form our team.