Don't the teachers already have a lot of stress to deal with? Having an untidy, messy desk shouldn't be one of those. Also, as proven by research, a messy desk is a huge contributor to stress and kills creativity. This is why the case of finally cleaning your desk holds so much importance, whether it is a study place, gaming setup, or office setup.
Cleaning your desk doesn't sound like a tough chore until you find it hard managing the loads of desk accessories that are too essential to throw away. Hence it would help if you had proper organization ideas or, in this case, a desk organizer for teachers. In this article, we will cover various teacher table organization ideas and our top picks for teacher desk organizers.
1. Autonomous Filing Cabinet
Teachers and the huge bundle of papers. Tell us a better love story. For a teacher, the pile of paper is the biggest cause of stress but not anymore, as you get the best storage solution. The Autonomous filing cabinet is an ergonomic compact cabinet that slides right under your desk. It has three spacious drawers which can be locked so no one can peek a hint at upcoming exam papers.
2. Aothia Metal Desk Organizer
The Aothia metal desk organizer is designed for people with luxurious tastes. The desk organizer stands on the side of your desk with multiple pegboard options for all your accessories. It is compact, stylish, and an easy solution to finally solving the case of clutter on your desk.
3. Mindspace Triangle Folder
Do you often find yourself in search of aesthetic desk storage options? If yes, then check out the triangle file folder from Mindspace. This rose gold file folder is all class and looks but does not compromise on functionality either. The equally spaced dividers offer more than enough (similar to a cabinet) file storage solutions, and the easy access also ensures you have everything right beside you.
4. The Office Oasis Desk Organizer
The magnetic desk organizer from office oasis is a straightforward solution to desk clutter. Although it does not have enough settings for your files and folders, all your stationery items will be in place. It comes in three colors, black, natural, and brown, to match your desk theme. The bamboo base adds durability and enhances the aesthetic of your desk.
5. Mindspace Multi Step File Organizer
The benefit of this multi-step file organizer is that it improves visibility. You can arrange the files in alphabetical or priority order and find the right paper with just a lance. This file organizer comes in black, which is universally compatible with all desk setups. The thick wires ensure all the files are aligned despite the load, and the structure is made to stand the test of time.
6. Metal Desk Monitor Stand
This desk organizer can help you make the most of your monitor stand if you have a small desk. This option in black metal raises your screen 5.8 inches above the ground. It has storage space on both sides for loose items like notepads and pens and an organizer slot underneath.
7. Lexon Pen Cup
Sometimes you need a simple solution to losing your precious stationery. And this inexpensive stylish Lexon City pen cup gives you just that. A silky smooth surface looks great on your desk and keeps your pen and pencils in place.
8. Mindspace Desk Organizer
Get your hands on this rose gold wire office desk organizer from Mindspace. This desk organizer has enough storage options for your pen, pencils, sticky notes, paper pins, and even larger files and documents. The design is simple yet pretty, and the mesh structure makes it durable for the years to come.
9. Bigso Essential Desk Organizer
Not a fan of basic storage and organization ideas? Get your hands on these classy leather handles by Bigso. The set of three covers all your needs. It is available in a leather blue and green color and has plenty of storage options while being compact in size itself.
10. Mindspace File Rack
One of the most desired teacher desk organizer ideas is to have a proper file storage solution. Hence here we are with the Mindspace office desk organizer. The meshed file organizer is a professional-looking file organizer that is simplistic in design. The desk organizer for teachers has spacious compartments with a wire mesh incline sorter. You can arrange tiny documents into large-sized files. It's ideal for usage in your home or workplace. The Mindspace black mesh organizer has sorted and divided file holders for all of your documents.
11. Unionbasic Desk Organizer
This six-slot accessories organizer should work for keeping anything from thumb pins to lose cash available if your organizational needs are straightforward. We like the sky-blue color of this one since it contrasts with the typical workplace decor of white, black, and gray, but it is also offered in a wide range of 19 colors.
12. Aothia Magnetic Desk Organizer
Get on the Aothia magnetic desk organizer if you want an environmentally friendly workspace. This desk organizer comprises toxin-free materials and a non-irritating color finish. The flat and smooth surface looks pretty and has plenty of space for all your storage needs. The desk organizer has a natural wood base to make it durable and heavy, so it doesn't move on your desk. This teacher desktop organizer efficiently saves you space while providing the rightful storage solutions.
13. Maydear Bamboo Desktop Bookshelf
If you need an all-in-one elaborate desk organization solution, turn to the Maydear bamboo desktop. It has plenty of storage options, sufficient space for some of your books, a top platform for your pens and papers, and mini drawers for tiny accessories. It looks great and is also reasonably priced.
14. Amazon Mesh Organizer
This black mesh desk organizer for teachers essentially has everything. It features open letter slots immediately underneath, file organizers up top to keep documents, folders, and notebooks where you need them, and a pull-out drawer with three compartments underneath that.
This versatile organizer is a favorite among students and remote workers since it keeps an otherwise chaotic collection of items neatly in its corner.
15. Mount-It! Under Desk Drawer
As a teacher, you will need lots of work with pens, paper clips, sticky notes, and colorful highlighters. Hence the Mount-It! slide-out desk drawer provides the right solution. It keeps all the stationery items nearby, and the compartments within the drawer ensure no accessories get mixed up.
Video ads for product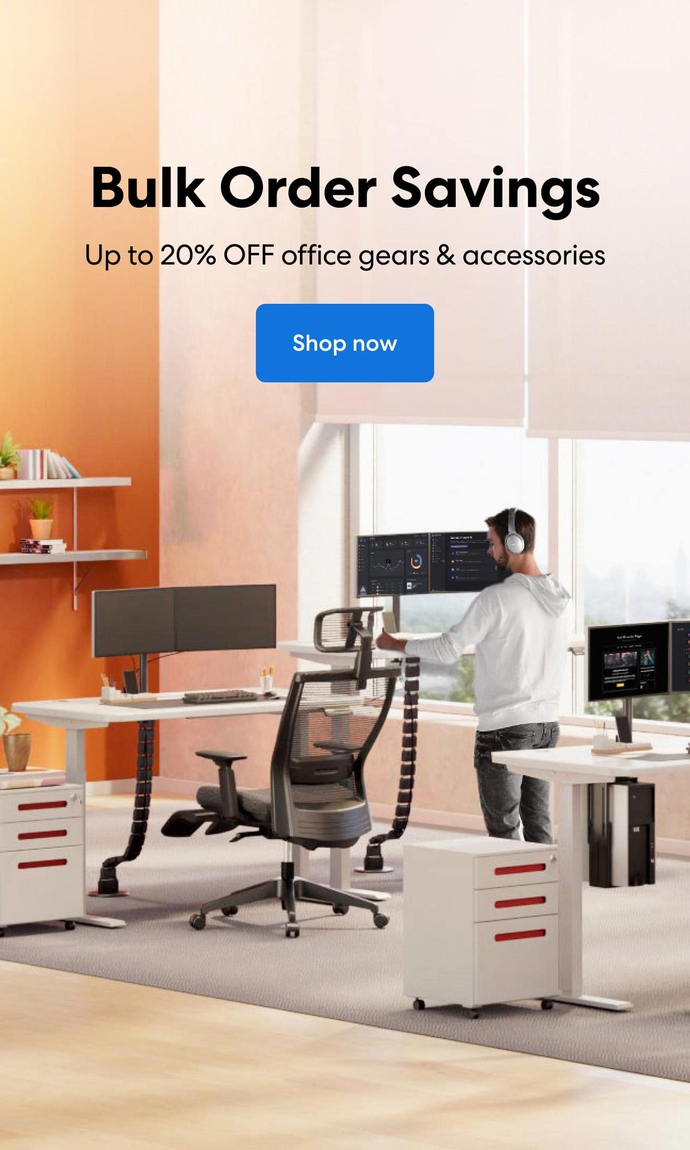 Subcribe newsletter and get $100 OFF.
Receive product updates, special offers, ergo tips, and inspiration form our team.