Smart Products
18 Best Modern L-shaped Desks for Contemporary Office

Autonomous
|
Jul 30, 2021
3,677 Views
Since the pandemic began, many employees were forced to continue work from home. However, comfort may not have been the first word or even the best to describe the experience. Managers from multiple businesses have had to contemplate the best way to ensure customers remain energetic and productive. Enter the modern L-shaped desk. 
Creating a contemporary office work space is ideal for those who want to successfully steer clear of clutter and chaos. This type of office is also good for those who are in the position to telecommute. By organizing a space to become contemporary, office workers must keep in mind the minimalistic qualities that define the area. 
Studies have shown that contemporary office spaces increase the productivity of employees. With sit to stand desks available, employees have more room for mobility. This, in turn, decreases the negative effects that a completely sedentary job position can have on the lower back, shoulders, and neck of each individual. 
You are probably wondering what sort of home office you should have set up. First, you must assess your needs. How much space are you trying to work with? Is it going to be a traditional office setup or is your home office going to reflect how you work most? What exactly is your budget to set up your home office?
Modern L-shaped desks are quite popular among the office worker community due to their convenience and sustainability. These alternatives to traditional desks allow you to take advantage of as much as possible of your space, regardless of its size. Also, there are tons of ways of accommodating them in your room based on the room's layout and your preferences.
If you'd like to learn how to arrange your contemporary L-shaped desk, here we have some ideas that you can incorporate easily at your home office.
These are the kinds of questions that must be answered first. Otherwise, you risk winging the project altogether and running into unforeseen obstacles that could have been avoided. Following up, you can use some ideas to decorate your desk to make your workstation as aesthetically pleasing as possible.
Throughout this article, you can discover 18 of the best modern L-shaped office desks to use in your home. Each of these contemporary L-shaped desks is built to provide users with the ability to set desk preferences and such.
Best L-shaped Office Desks for Home Office
1. SmartDesk Corner
The SmartDesk Corner offers individuals twice as much work space as the average corner desk. It is probably the best home office desk to use because of its versatility. It comes with a triple-motor system designed for lifting heavier objects such as monitors and games systems. Its max weight is no more than 400 lbs. 
Individuals have the advantage of setting and using the presets for the height adjustment of the corner desk. This L-shaped standing desk is modular, meaning that it can be assembled according to the needs of the individual. Its mobility allows it to be relocated throughout the home if need be. 
One can expect to utilize this desk for at least 10 years before problems ensue. Users can also choose between walnut, black, and white finishes. 
2. Tribesigns Modern L-shaped Desk
The Tribesign is one of a handful of contemporary L-shaped desks that has rotation capabilities. This feature allows users to relocate the desk to a different part of a home. It offers ample amounts of space for work. 
Durability and support contribute to this desk's high-quality makeup. The L-shaped desk setup is sturdy enough to hold up to 900 lbs which happens to be the largest weight capacity over all other L-shaped desks. 
3. Nifty XDesk Custom L Series Corner Standing Computer Desk
The Xdesk is a modern L-shaped desk that provides roughly 250% more space than the average standing desk. It has a motor that allows for quick height adjustments. This desk also comes with a digital memory controller that can be used to set desired heights automatically. 
This desk maxes out at a weight of 470 lbs. If you are looking to stay within a certain price range, you should note that this corner standing desk fairs more on the expensive side. 
4. UpLift L-shaped Custom Sit & Stand Corner Desk
The UpLift L-shaped Desk is a modern L-shaped office desk that can endure a whopping 530 pounds. The company definitely had durability in mind when manufacturing this custom sit to stand desk. It reaches a height of about 50 feet and its triple-motor system whirs indistinctly. 
The UpLift Desk has cable management pods to prevent cord entanglement. One can choose their color preference from black, white, grey, or industrial. 
5. Fully Jarvis L-shaped Standing Computer Desk
This L-shaped standing desk is great for anyone needing a durable desk that can support quite a bit of heavier equipment. The Fully Jarvis supports no more than 530 lbs of weight. It does have a triple-motor that operates the height adjustment. It also comes complete with a handset that is programmable to preset specific heights. 
6. iMovR Cascade L-shaped Standing Desk
Anyone looking to purchase this modern L-shaped desk would be making a great investment. This modern L-shaped office desk is 100% customizable and made to order. There are eight different desktop sizes that an individual can choose from and three different height ranges as well. 
Its versatility is the reason this contemporary L-shaped desk would be perfect for a cool home office setup. 
7. Mr. Ironstone L-shaped Gaming Desk
To all the gamers out there, if you are looking for a minimalistic style gaming desk that does not break the bank then go for the Mr. Ironstone L-shaped Gaming Desk. At just under $100, gamers can have access to a high-quality L-shaped gaming desk that allows them to use up to three computer monitors at the same time. The desk is durable and has a few built-in accessories to keep the desk organized such as a monitor stand and a headphone jack. 
8. Multifaceted CubiCubi L-shaped Desk
The CubiCubi is most known for the different add-ons one can use when creating a contemporary home office. Some of these modern L-shaped desks have bookshelves, drawers, storage bags, and even removable storage dressers. This desk can hold up to 176 lbs and is available in four unique colors. 
9. iMovR Lander L Desk
The iMovR Lander L Desk is probably one of the most advanced L-shaped desks and stands out from the rest of them. This adjustable standing desk already comes prepared to be 98% pre-assembled. This is a magnificent change over from other desks that can take up to 90 minutes to assemble. 
There is a hand controller that actually syncs to smartphones making this desk gawk-worthy. Individuals can choose from different size and shape combinations as well as color combinations. The modern L-shaped desk is designed to support 540 lbs. The iMovR Lander L Desk is not a cheap buy, so consider how financially well off you are before purchasing this modern L-shaped computer desk. 
10. Bestier LED L-shaped Gaming Desk
The Bestier desk comes complete with built-in LED lights whereas the lights must be installed for other desks. There is cable management here, and users are able to place all cords away in the cable grommets to avoid tangling. This desk offers more than enough space to game and work, making it versatile in its use. Two to three monitors can be utilized with this particular L-shaped desk setup.
11. Howzone Motorized Corner Desk
This modern L-shaped computer desk is actually the first of its kind to contain a built-in motor for height adjusting. Plenteous space is available with this desk. The Howzone is compact enough to fit into small spaces as well making mobility easy. The modern L-shaped office desk is limited in size and it costs a pretty penny to add to your home office. 
12. Bush Furniture Cabot Desk
The Bush Furniture Cabot Desk is one of many luxurious desks that can be utilized in a home office. There is more than enough space to work when being productive. This desk has storage cabinets and trays for additional storage of miscellaneous items. 
A four-port hub can be found and used for cable management. This contemporary L desk is currently available in two finishes: harvest cherry and espresso oak. It leans more towards the expensive side of costs but one may find that the layout and design of the desk make it worth the purchase. 
13. UpDesk Pro Squared Up Adjustable Corner Desk
One major difference between this desk and other modern L-shaped computer desks is that it has to be manually adjusted by hand versus with the electronic motors. There are ample amounts of space for work productivity. Unfortunately, the UpDesk Pro is only available in one size. This modern L-shaped desk happens to also be expensive.  
14. GreenForest Corner Desk
The aspect of durability is no question with the GreenForest Corner Desk. It is capable of supporting at most two computer monitors and any additional office equipment. The desk is uniquely crafted with economically friendly materials and is also water resistant. This makes for an easy cleaning session when needed. The desk is spacious and users have complete control over the foot cups that help to make sure the desk is level. 
15. Eureka Ergonomic L-shaped Standing Desk
These modern L-shaped computer desks are typically ideal for gaming. Since gaming requires so many different cables, the manufacturers thought it best to include grommets on the desk for cable management. This modern L-shaped desk is also durable and spacious but may be on the pricier end of things. 
16. YOLENY L-shaped Desk
Interestingly enough, this is the only known gaming desk that includes a shelf. This makes the YOLENY that much more spacious for its users. Its durability supports two computer monitors. Game system placement can be utilized on the shelf or even headphone placement. It is unclear whether this modern L-shaped desk has grommets for cable management.
17. MultiTable L-shaped Corner Standing Desk
If you are looking for a minimalist and affordable contemporary L desk, then this might be the one for you! The MultiTable L-shaped Corner Standing Desk has standard ergonomic functions and is made with average materials. 
That's because this product is an entry-level desk, so it's affordable for people who are just starting to work and need items for their offices.  
18. XDesk Custom L Series
What makes contemporary L desks so good is that they give you all the space you need to work comfortably without needing to store your working gear in another place. The XDesk developers understood that and made a desk that offers you a modern design and a spacious tabletop to work.
Best Layout Designs for a Modern L-shaped Desk
Here we'll include a few ideas you can use to arrange your home office as you please. This way, you can maximize the space in your room while also keeping everything looking as good as possible.
If you haven't gotten your desk yet, you can also take a look at the best L-shaped desks available in the market. This way, you'll be able to start arranging your home office as you please while maximizing the space usage as much as possible.
1. Corner Office
The first option is the traditional corner office that appeals to people with reduced spaces. You can place your desk pointing to any of the room's corners. This way, you can use as much space as possible in your home office while also designating a specific area for your workstation.
You shouldn't have any problems while trying to create a boho desk aesthetic in your home office.
A corner office is also an excellent way of utilizing a modern L-shaped office desk if you don't have a whole room dedicated to your home office. You can place your desk pretty much anywhere without it consuming a considerable amount of space in that room. In addition, you can try to recreate the office cubicle décor whenever you place it.
Also, please note that you have two options:
You can decide to place the desk pointing directly to the wall, but be sure to decorate the walls in order to keep the atmosphere as enhanced as possible. This way, you can eliminate distractions and improve your focus.

On the other hand, you can choose to do the opposite: place the desk in a corner, but if you place the frame, it points to the exterior instead of the wall. This way, you'll have a clearer field of vision. But, unfortunately, although it is a bit more comfortable, it will make you more prone to distractions.
2. "V" Office
You can create a "V" office by placing your desk in the same way the letter shows. It looks best, for instance, if you locate your desk in the middle of the room, which creates a U-shaped workstation.
V offices still allow you to take advantage of as much space as possible, although you'll have to be creative and arrange the furniture in a way you can reach and utilize each piece conveniently.
Tips to Make the Most of Your Contemporary L-desk Setup
Once you've decided the layout for your home office, it's time to accustom it to assure your comfort and productivity throughout the workday.
Try to keep your space as clean and organized as possible. Minimalism is a good option for a modern L-shaped computer desk. Still, there are also other options you can choose to assure your comfort and productivity throughout the whole workday.

Consider keeping

only what you need in your workstation. Make a checklist, and dispose of everything that doesn't have a purpose.

This is not an option for everyone, but if it's possible, try to allow the entrance of natural light as much as possible. It has been demonstrated that natural light improves productivity.

If you don't have natural light, try to include as much illumination as possible in the room. You can also try to

bring nature to your home office, at least a small desk plant. Plants in the workplace have been linked to focusing and productivity improvements.
FAQ
Is an L-shaped desk the same as a corner desk?
L-shaped desks and corner desks are similar but are not the same object. Most people confuse both terms and use them interchangeably, but the truth is that they're misusing a word as these are two different items.
L-shaped desks provide you with twice the space you'd have if you were using a traditional desk.

Corner desks provide you with a single surface. As a result, they share more similarities with traditional desks, except that they're meant to be placed in corners.
Both L-shaped desks and corner desks can be used in corners, but L-shaped desks are better for people that want to have as much space available as possible or would like to have a two-monitor desk setup. Conversely, corner desks are better for people with very reduced spaces.
Are L-shaped desks good for gaming?
L-shaped desks are an excellent option for gaming!  As they provide you with twice the space, you will be able to set up two or three extra monitors if you'd like, for instance. These desks are excellent for those that need to use as much space as possible.
Can you put an L-shaped desk in the middle of a room?
Yes, you can place it in the middle of a room, as explained above. You can try placing it in a "V" shape so that you can create a specific work area while also leaving some free space for movement and other furniture.
Is an L-shaped desk ergonomic?
Some modern L-shaped desks are ergonomic, and some are not.  All the products you find at the Autonomous store are optimized to provide the user with the optimal ergonomic settings. This way, you will be able to sit comfortably throughout your whole workday without feeling pain or rigidness in the articulations or spine.
Do L-shaped desks save space?
It depends on how you place them. For example, using a modern L-shaped desk in a corner allows you to save as much space as possible in a room, but you also have to take into account that not all modern L-shaped desks have the same measurements. Thus, before you complete your purchase, we recommend finding out how much space you have available and the dimensions of your preferred desk, comparing them, and then figuring out whether it is viable to have it in that room or not.
Conclusion
Keep in mind that a home office desk setup takes time and planning. If you are on a budget, consider the cost of the main items as well as any additional items you might need to set up your home office. Do not forget to add your personal style to your home office setup. Most of all the modern L-shaped desks can be used for at least 10 years before one can expect to see an issue. Most telecommuters that do so find that they work a bit more confidently than if their space looked traditional.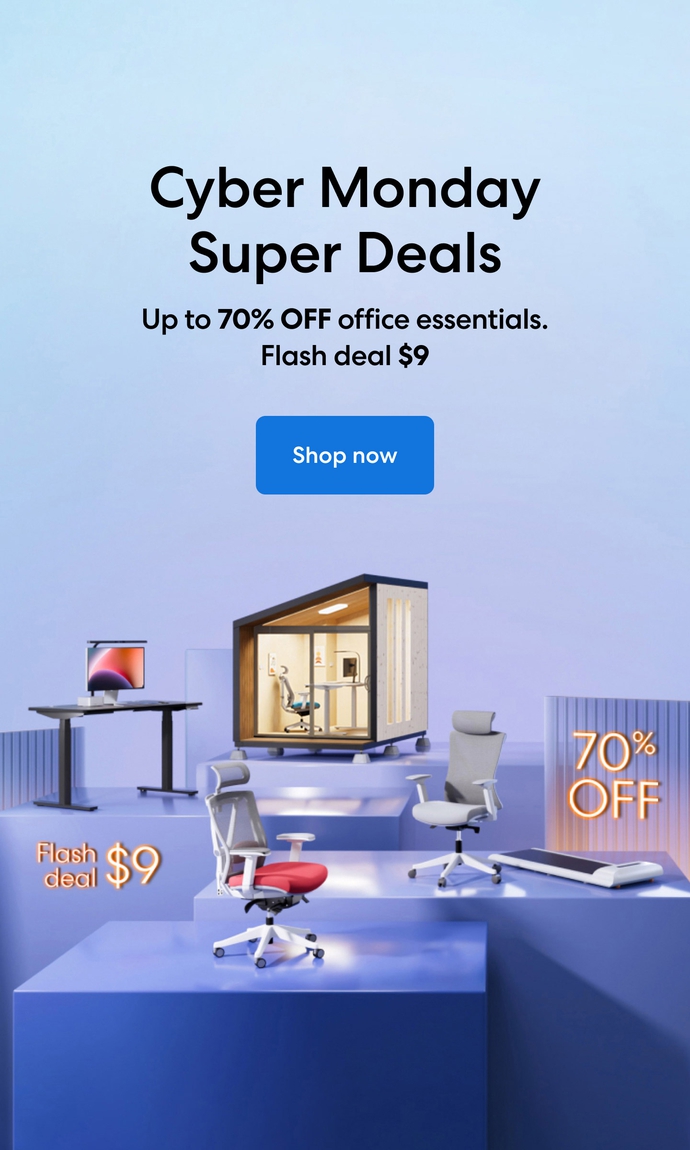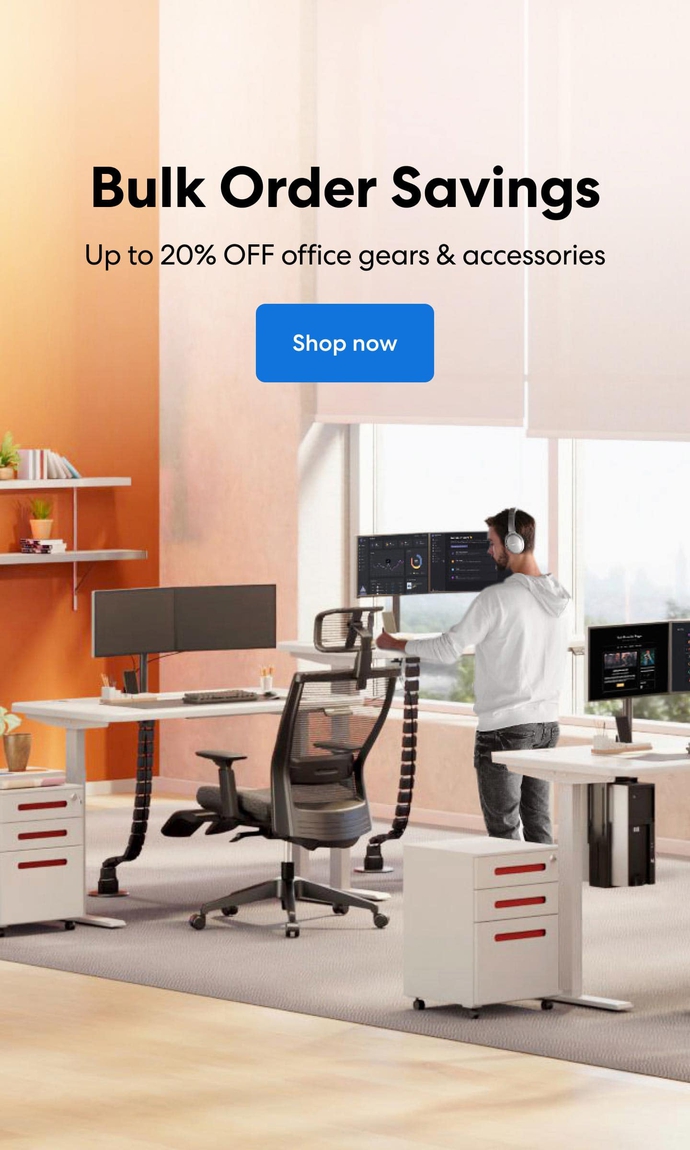 Subcribe newsletter and get $100 OFF.
Receive product updates, special offers, ergo tips, and inspiration form our team.