Having the correct laptop stand for couch may make life easier, even if you're returning to the workplace or working remotely full-time. It's past time to update from that pile of old books, and also, it's certainly past time to quit tilting your spine while working. The finest laptop table for a couch brings your computer's display nearer to eye level, which would be healthier for your body's stance. It can even squeeze into a bag for simple transport or switch between sitting and standing positions. The following are the ones we like best.
List of the Best Portable Laptop Desks for Couches
If you don't already have a suitable WFH arrangement, now is the time to get one. We recognize that not everybody has room for a workstation. Many people assume that working from the sofa can be a practical alternative in small spaces, where a laptop table for couch or a sofa laptop stand could make a massive difference. We've compiled a list of options for all of you to consider to find the best desk for you.
1. Mount-It! Bamboo Laptop Tray Bed Stand
When you say comfort, we say Mount-It's bamboo laptop tray bed stand. This laptop table for couch is the perfect aid for prolonged Netflix sessions and breezy and convenient work hours if you're tackling a remote computer job. This laptop table for the couch is ideal for spending the day in bed while practicing productivity. Therefore, have breakfast while watching your favorite movie in bed or on your couch. This is the ultimate sofa laptop stand and can adapt to your preferences due to its various tilting positions.
Moreover, it also has ample height adjustability which helps you find the ideal position, whether for working or eating. It also has steady legs which fold out and remove any chances of wobbling or folding over.
It doesn't end there! This laptop stand for the couch also features air vents which aid in providing your laptop with more airflow, preventing it from overheating and ensuring that it remains cool. You will also have access to a cup holder for your caffeine needs as you work towards taking on the world.
2. Rain Design iLap Laptop Stand
This laptop stand is unlike any others that we've mentioned above. This laptop stand is immensely handy and aids in keeping you and your laptop cool as you work or watch a movie while relaxing on your couch or bed.
It features a hinged cushion which aids in ample flexibility allowing you to use the laptop in various positions without compromising comfort. The iLap laptop stand also works for your desk perfectly.
Additionally, this highly functional and flexible design allows you to remove the cushion for further portability per your wishes. It has a base made of aluminum which cools the laptop by aiding as a heat diffuser.
Moreover, its cable outlet allows your desk for couches to remain organized. Therefore, head to the Rain Design store and make the purchase! This unique laptop stand will cater to all your work and play needs while ensuring optimal comfort.
3. Mount-It! Mobile Standing Desk: Lockable Casters
This laptop stand is one of the most flexible and versatile. Its adjustable height features make it accessible for people of all heights. Additionally, if you get tired of sitting in the same position, it also allows you to increase its height so that you're working on it while standing up straight.
This mobile height adjustable desk is ideal as a portable office desk for your computer. Additionally, you can even fit your speakers into it. It is highly functional because it has separate sections to store your laptop, monitor, printer, keyboard, speakers, and PC tower.
Its features don't end there. Beyond having ample storage, portability, and height adjustability, it is also heavy-duty with a high weight capacity. Each shelf can carry up to 33 lbs, and the upper platforms can be adjusted to a height of approximately 17 inches. Additionally, it also features up to 11 intervals for locking.
4. Mount-It! Mobile Cart With Monitor Mount & CPU Holder
Here's one of the best mobile laptop carts in the market. This computer cart is 70 inches tall and is the ideal option if you wish to mount your keyboard, monitor, and CPU. This compact stand has a CPU holder and allows you to adjust your PC perfectly on this rolling stand. This holder is also adjustable for width and height, which allows it to fit almost all desktop computers.
Moreover, this stand can be adjusted for its height and tilt upwards and downwards up to 15 degrees. Additionally, it has ample weight capacity and can support up to 17.6 lbs. The best part is that this cart fully rotates and offers optimal viewing. Therefore, head to the Mount-It! store, make your purchase, and enjoy complete convenience.
5. Modernsolid Mobile Computing Cart with CPU Holder
This moving laptop stand is so versatile in its capabilities that it caters to various types of posture. Therefore, whether you're standing, sitting, slouching, or bending, this laptop stand caters to all. Its function for height adjustability aids users in transitioning from a squat sitting position to standing upright.
You can also use it as a desk or couch because of its height adjustability. Therefore, sit comfortably in your lounge and freely operate on your PC or laptop without having to sit properly for sitting at a desk. We understand how that can make your back feel stiff and counterproductive if your ultimate goal is comfort and ease.
6. Modernsolid Mobile Laptop Cart
This moving laptop cart can also be posed as a sofa laptop stand. Its height adjustability is one of its best features which aids in ensuring that you're in the most comfortable position. Beyond being one of the most flexible laptops on the market, it is also immensely easy to install. Moreover, it is multi-functional, which means you can use it for various purposes.
For example, if you're a clinician and want to cater to your patient at their point of care, this mobile laptop cart is one of the best. Additionally, the best part is that its tabletop is foldable which aids in saving space when you're not using it. Therefore, your room, office, or lounge doesn't need much space.
7. Modernsolid Rolling Computer Cart: Height Adjustable
While discussing the range of useful laptop stands, this sofa laptop table has to make it to the list. This rolling cart for your computer can be easily adjusted for its height and comes in a burglar-proof design. It includes extra storage space and baskets for decorations, stationary, and anything your workspace may require.
Moreover, it also has a slide-inside and outward keyboard tray to cater to your computer system. The best part is that this rolling computer cart's efficiency is exceptional because it carries a support handle that aids in moving it around. You can also be perfectly sure of this purchase because it has a warranty of 3 years. Therefore, it is one of the most reliable computer carts in the market.
8. Mount-It! Height Adjustable Rolling Stand-up Desk
It is one of the best mounting brackets out there. With this electric mobile standing desk, you can save the space but still create a stylish working corner in your home office.
9. Mount-It! Height-Adjustable Laptop Tray
This laptop tray for a couch is feasible for those who prefer a functional laptop desk stand on their workstations. This product will help you build up a productive rolling computer workstation.
10. Sofia + Sam Computer Bed Tray (Multi-Tasking)
The tablespace of this desk may be adjusted to provide the ideal writing angle of inclination. A pull-out cabinet and collapsible legs are also included on this desk.
11. TBL-03540 Honey-Can-Do Compact Laptop Lap Desk
This padded couch computer table features a convenient MDF construction with a handlebar that fits comfortably in your lap.
12. Laptop Stand by Nnewvante
It's an excellent portable laptop desk for couch for lazy days. You can't change the height of the stand, so you can elevate the bottom to a comfortable angle for anything that you do.
13. Movable Folding Laptop Table by Lifetime
It can be folded up like ironing boards, but this is still big enough to contain the user's notebook and trackpad, plus it provides you with enough room to layout documents and keep a drink.
14. Designer Lap Desk from LapGear
It is available in various colorful styles; however, the upper side smartphone sets it apart. It also features a strong strip of content that can hold any little thing that you wouldn't want to move from place to place.
Pros and Cons of a Laptop Desk
Laptop desks for couches have a lot of benefits, the most important of which is that they can enhance your body alignment right away, even when you're on a tight budget. Although, they have several downsides that may limit your capability of working or utilizing the laptop trays. On average, the benefits exceed the drawbacks.
Pros of a Laptop Desk
Laptop desks promote better body position: The laptop is far more probably much closer to head level once you're working at a desk or even on the couch or the ground.

Laptop desks are more comfortable because they maintain the load of the laptop rather than your knees.  

Lap desks can help prevent having toasted leg syndrome: It is a disease where your skin turns its color due to rashes or burns.

Laptop tables allow users to work without interruption: When you lay your laptop against your body or on a bed, certain fabrics may restrict the airflow. The fans may become clogged, and the laptop may overheat as a result.
Cons of a Laptop Desk
Laptop stand for couches usability capabilities are sparse: Laptop tables with cushioning have few ergonomic characteristics, making it very difficult to position the laptop in a balanced position.

Laptop tables may not even be suitable for left-handed people: A mouse mat or a constructed mouse trackpad is included with most laptop tables. In rare circumstances, you could use only the right area of the touchpad or trackpad.

Laptop desk usability capabilities are sparse: Laptop tables with cushioning have few ergonomic characteristics, making it very difficult to position the laptop in a balanced position.
There's no doubt that laptop tables for couches can significantly improve your convenience and alignment. However, the benefits of a laptop table outnumber the drawbacks. While they do not offer a similar level of ergonomic versatility or spaciousness as a ergonomic computer workstation, they are a much more portable, inexpensive, and accessible solution that you'll undoubtedly use frequently.
Video ads for product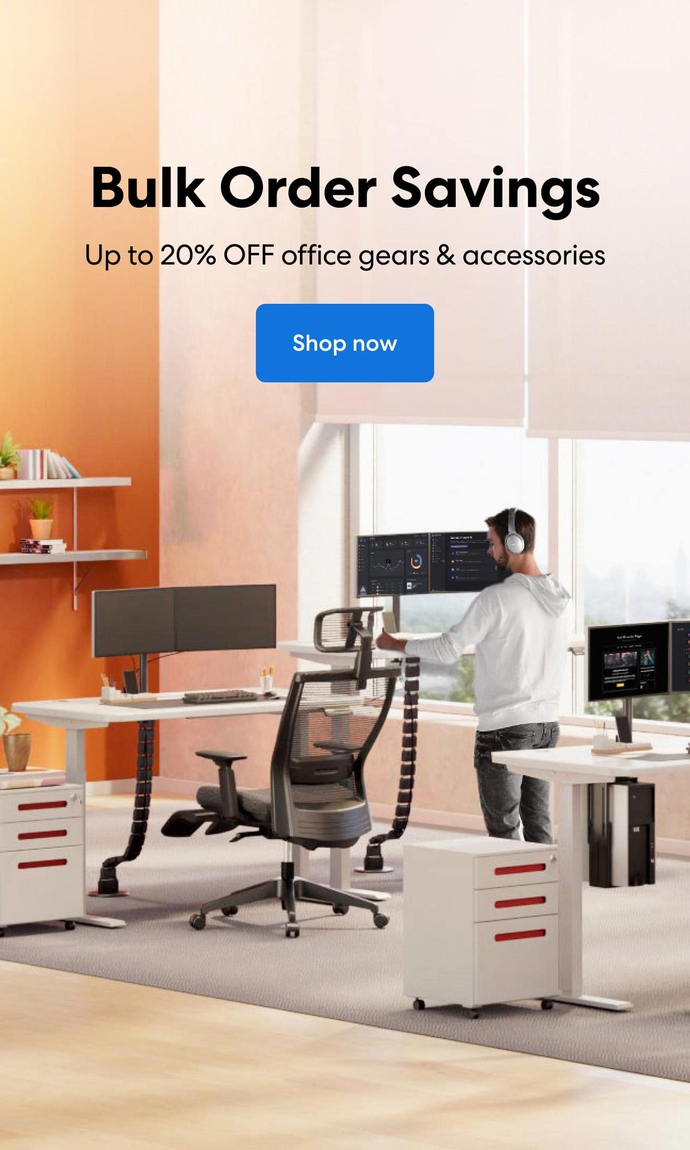 Subcribe newsletter and get $100 OFF.
Receive product updates, special offers, ergo tips, and inspiration form our team.