Workplace Inspiration
18 Inspiring Home Office Ideas to Boost Your Work Productivity

Autonomous
|
Oct 9, 2021
2,058 Views
Even though some people focus on finding the perfect desk and chair, home office ideas also include the decorations you add since that can help you be more productive while you're getting through your daily tasks. Read on, and find out more about the top styles you could go for!
18 Inspiring Home Office Ideas for You
1. A Quiet Artistic Space
Your home office room should be a place where you can quietly sit down and complete all your to-do's. Additionally, you might need a lot of space to do your job. 
If that's the case, you might want to set up your home office decor so it resembles a quiet artistic space. All you need is to find the right work-from-home equipment, a sturdy, high-quality l-shaped desk, a chair, and the right mindset to organize it all. 
To get a quiet artistic space in your home office room, you need to ensure everything is predominantly white. Add some touches of color to make certain details pop out, and you're good to go. 
2. Go Natural
Some people want their home office to look as natural as possible. You may love wooden furniture and feeling like you're in a cabin. 
Fortunately, you can make your workspace a natural haven for your long and stressful work days. Furthermore, you don't need to have a big home to do this – any corner works! 
Place shelves and your desk across the small space you have. If you want a natural look, your furniture should be made of wood. Then, put some plants on the shelves to add some greenery and make everything look homier. 
3. Color-FULL!
You might not want something simple or natural. Instead, you may wish for a workspace that wakes you up and keeps you focused. 
With a colorful workspace, you can have fun picking bold colors for the walls. Moreover, you could pick simple, black-and-white artwork to make everything come together beautifully. 
Not all home office 2021 trends are completely minimalistic. In the end, you have to choose what works best for you – and that might be getting a fun, colorful workstation! 
4. Open Spaces
Everyone hates clutter. It distracts you from your to-do's, and in many cases, it could even hinder your productivity or make you feel anxious. 
You could go for an open space workstation to reduce the clutter and boost your productivity. Many people say a clean space is equal to a clean mind, and that could be true for you as well, so why not give it a try? 
Instead of having different pieces of furniture, try to find a single one that takes up most of the wall. It's a minimalist home office setup you should try. Lastly, don't fret if you feel like you need more storage space – make your surroundings work for you! 
5. Luxurious Workspace
Having almost-white walls, elegant carpets and natural light can be the perfect combination to help your home office setup ideas come together.  
Furthermore, you could add some plush chairs (preferably white) and a sleek desk. If you find a good way to organize all your items, this workspace could even be the ideal place for you to have a cup of tea during your breaks! 
In many cases, people also add beautiful designs to their ceilings. It can make your room look bigger, even if you don't have much space.  
6. Whimsical and Wild
Finding the best home office ideas is not easy, especially if you're surrounded by minimalistic workspaces. It doesn't have to be like that for you – you need to find something that inspires you to work, and that makes you feel comfortable! 
To get a whimsical and wild workspace, you should paint your home office room. Choose a navy blue or any other similar dark color. Then, add touches of bright colors wherever you want! 
You could, for example, choose colored artwork to hang on the walls or even a fun chair. Home office décor ideas don't need to be boring – you can have fun while you're decorating your workspace. 
7. Exotic Vibes
Another great way to embellish your work surroundings is to go for an exotic style. Add some shelves, preferably white ones, and paint the insides a rich green color. 
Moreover, your chairs are also very important to make the whole room look coherent. Make sure they match the colors you chose.  
Lastly, you could find incredible carpets to ensure it gives off exotic vibes, for example, a zebra-patterned one. 
8. Sleek Space
Keep in mind not everyone has a big space to use as an ergonomic workstation. If that's your case, you should take advantage of it and start trying out unique home office décor ideas. 
Your home office room might look amazing if you get a huge desk to take up the whole wall. Furthermore, include some cupboards to keep all your items neatly organized, and use specific colors to paint your space and ensure it doesn't look messy. 
Home office ideas should boost your productivity and make you feel inspired each time you sit down. Therefore, add some artwork to your sleek space – something that reminds you of the things that make you happy, and that can help you work efficiently. 
9. Rustic Style
Remote workers sometimes don't want to feel like they're working from home. Instead, you may want to experience something different. You might want surroundings that help you think you're in a completely different place. 
Thus, having a rustic-style home office room could be a great idea. Use a brick and wood motif to embellish your walls, and you may feel like the owner of a ranch! 
Additionally, look for some home office wall decorations that perfectly match the rest of the things in your workspace. A great idea would be to hang inspirational artwork on your wall – a piece that's immensely encouraging and motivating. 
10. Art Wall
If you don't usually need much space for different office items, you may want something simple but fun. In that case, a simple desk and an art wall might do the trick. 
Your desk should have enough space for you to work efficiently and store all your items. However, the most important part is the art wall. Hang pictures of different sizes and colors, preferably over a white wall to make the details pop out. 
11.  Combine Everything
Just because you want a beautiful home office doesn't mean that you have to spend thousands of dollars decorating it. In some cases, you might not have that money to begin with, and that shouldn't discourage you. 
People who are on a budget can also decorate their office workspace, make it functional, and ensure that it's a beautiful workstation to be in every day. 
Thus, a great idea you could try is to combine everything. Make a mess! Add a cart for your laptop, use your desk for something else entirely, include a cabinet, and check out some home office shelving ideas that might work as well. 
It may sound a bit chaotic at first, but this type of workspace is ideal for people who need their surroundings to work for different purposes. Therefore, if you need some office space, but also a desk for other things, and cabinets to store various items, this might work for you! 
12.  Old Fashion
Maybe you're the next Hemmingway. If you're not, you could still get an inspiring, old-fashioned home office room to motivate you and help you finish your daily tasks. 
The key to using old-fashioned home office ideas is to use a room that gets plenty of natural light but also add some drapes. Thus, once it's nighttime, you can close them and get some privacy. 
At the same time, you should use old pieces of furniture for your office, which can make everything look as if it belongs to a different time period. If you add several big plants, the touch of greenery might help you feel calm and at peace. 
Lastly, you could also include several old-fashioned items to make your home office room look incredibly unique, for example, a typewriter. 
13.  Stylish and Small
This is another home office idea for your consideration. Sometimes, you might need to invite clients to your workspace or have certain meetings. However, the lack of space around you may make you think you can't have people coming over. 
Just because you have a small home office room, doesn't mean you can't organize your space and turn it into the perfect workstation. 
Using the right home office decor ideas lets you customize your surroundings and make them the ideal place – a spot that fits your work needs. Therefore, place your desk in the right way, add a couple of ergonomic chairs, and ensure the rest of your surroundings make you feel cozy, and help you work productively. 
14.  Use Cork Boards
You can make your workstation the perfect place for you, even if all you have is a little nook in the corner of a room in your home. Forget about a huge space – it's great if you have it, but don't worry if that's not your case. There are many other ideas you could try. 
Once you get the perfect desk and chair, all you need to do is place them in the right spot. Then, cover your wall with cork boards. It's a great strategy if you want to have inspiring things around you, but you don't have much space for it. 
As your dreams and motivations change, you can change the messages and pictures you pin on your corkboards. Surround yourself with the things you want most in life, and that might help you boost your productivity while you're working! 
15.  Say Hello to Wood Paneling
Some people believe wood paneling is an old practice because it was very popular in the 60s and 70s. However, you could adapt it to modern times, and use it to make your home office room look different and beautiful. 
Paneling on the walls makes your office stand out, and if you add some sturdy, comfortable office chairs into the mix, you may have a great workstation to get your daily tasks done quickly. 
16.  Contrasting Study
Minimalism is a very popular trend, and it makes a lot of sense – it's beautiful, functional, and easy to achieve. If you want a contrasting study, you only need to choose two specific colors and make sure all your items match. 
Black and white are the most common choices. Paint your walls and match all your items – even your pens and pencils! Once you're done, you might think you chose one of the best home office ideas! 
17.  Geometric Look
Here is one of the interesting home office ideas for you to try. Another great way to embellish your home office room is to use geometry to make your workstation look cohesive and organized. Instead of picking two colors, simply go for different geometric patterns that work well together. 
Furthermore, you could try to find lamps or other objects that make everything look even more beautiful. If you guarantee that all the items you pick look great together, then you don't need to worry about anything else. 
18.  Window Seat
Some home office setup ideas might sound too complicated, or impossible for you. It's completely normal since everyone has different homes, and you have to choose something that works for your surroundings. 
You may feel like you have no space for your workstation, except for a lonely window seat. That's great! You don't need to feel bad or worried – it's more than enough to make a productive workspace. 
An unused window seat can become a perfect home office room. Add a chair and a desk and take advantage of the sunlight you could get during the day.  
Moreover, you could include several bookshelves and cupboards to take advantage of the available space. It's one of the best home office décor ideas you could try! 
Keynote Takeaways
Working from home is not as easy as some people think. You need to adapt to your surroundings and make sure they help you be more productive, not hinder your performance. 
Now you have several home office ideas you could try. Evaluate your space and find one that you love and works for you!
Video ads for product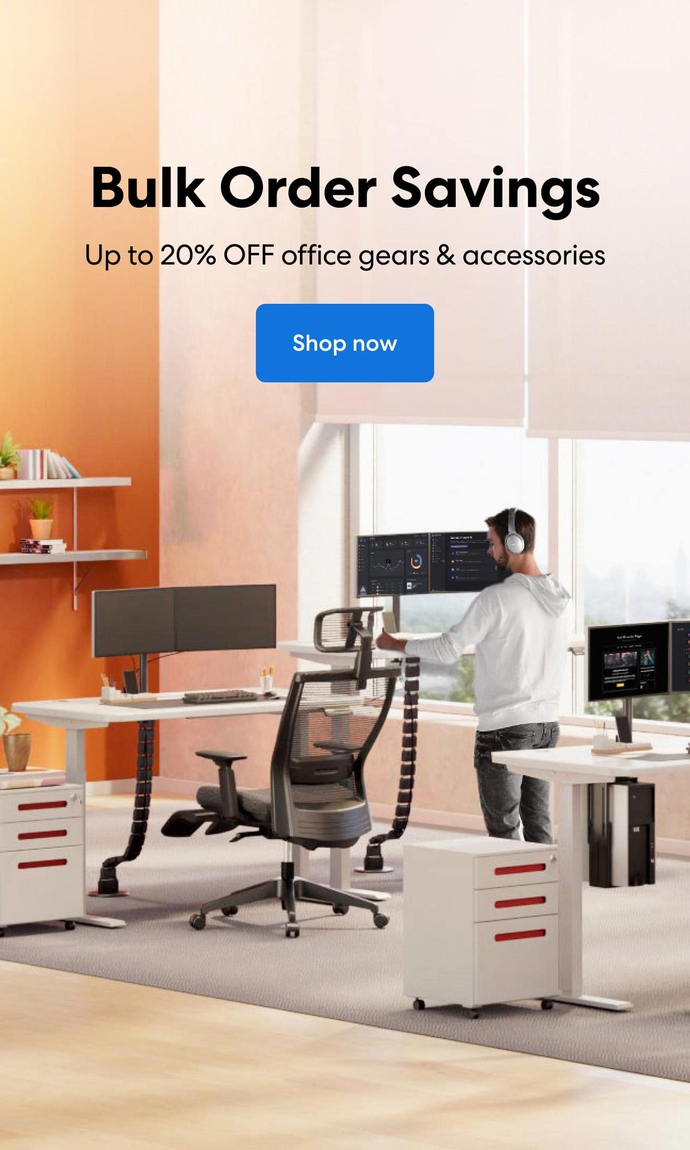 Subcribe newsletter and get $100 OFF.
Receive product updates, special offers, ergo tips, and inspiration form our team.