Choosing the right desk for your home office is important for several reasons, above improving the room's aesthetic. It also makes you feel more comfortable while working and can improve your productivity. With the vast amount of available options, why not consider a bamboo standing desk. These desks are eco-friendly, are generally inexpensive, and also have a unique aesthetic about them. With all this going for them, they offer you much more than a traditional wooden standing desk. Listed in this article are some of the best bamboo desks for your home office, assisting you in making the right choice for your needs.
Pros and Cons of Having a Bamboo Standing Desk
Improves productivity
Is better for physical health
Can be costly for some people
Some desks can be bulky.
Best Bamboo Desk Options
A bamboo desk is an excellent option for any home office. Desktops made from real bamboo are visually pleasing, extremely durable, and also strong. The look of bamboo can also break the monotony of black and white that seems to be incredibly prevalent in modern workspaces. Bamboo desktops are also extremely efficient at withstanding the everyday wear and tear that is experienced by desks. Here are some of the best bamboo office desks that you should consider adding to your home office in 2021.
1. SmartDesk 2 - Premium
The SmartDesk 2 - Premium is one of the best bamboo standing desks available on the market. It is one of the most advanced standing desks that incorporates a wide top design. Upon purchasing this desk, assembly is required; however, the assembly process should only take you about 30 minutes to complete. The desk is available in various colors and materials, with dark and natural bamboo being two of the available options. Incorporated into the desk design is a dual-motor system that seamlessly adjusts the desk's height and has a lifting capacity of 300 lbs. You can also select from a variety of colors for the desk frame.
2. SmartDesk 2 - Home Office
This bamboo adjustable desk is among the best standing desk options available. SmartDesk 2 - Home Office allows you to customize the bamboo top with different frame colors. The frame is manufactured from heavy-duty steel, meaning that it is incredibly durable. Four programmable height settings are available to users of this desk, allowing for complete customizability. The frame uses a dual-motor system with height adjustment at the press of a button silently. Incorporated into the design is a classic or XL top design, and the desk has a 5-year warranty period.
3. Rise UP Dual Motor Electric Bamboo Standing Desk
Height adjustability is one of the key factors of any desk, and this one is no exception. The frame of this desk can change its frame height to any setting between 26" and 51.6" through the use of a dual-motor system, which has a weight capacity of 250 lbs. The frame of the desk is only available in white. Durable bamboo is used to manufacture the desktop rather than veneer wood. A 5-year warranty is also included with the purchase of this desk.
4. The Crank Adjustable Height Standing Desk
This bamboo top standing desk comes in 48" and 60" variations. It makes use of a crank mechanism to adjust its height rather than an electric motor system. Electric motor versions are now available; however, the manual adjustability is a pretty novel feature. This desk's height can range between 32" and 48.5", giving you a pretty wide range of adjustability.
5. The Stand Up Desk Store Electric Flat Top Desk
This bamboo office desk is available with a black frame and bamboo top. The desk's lifting capacity is 154 lbs., giving you more than enough weight to work with. A key feature of this desk is that it incorporates a programmable keypad that is able to recall your most used height settings. The design of this desk accommodates a wide range of users as it has three-stage telescopic legs. These legs allow the desk to drastically change the height, whether you need it to go higher or lower.
6. The ZHU CHUANG Electric Standing Desk
100 percent natural and renewable and great to look at, what more could you be looking for in a desk? This desk uses a dual-motor system to allow it to adjust its height settings seamlessly. The desktop is available in a standard rectangular shape as well as a contoured shape to allow for a more comfortable working position. There are also a multitude of sizing options available, meaning that it caters to however much space you may require. The steel frame can adjust between heights of 27.6" and 47.2". There are also four preset memory options available for you to choose from. With a 7-year warranty, it is most certainly one of the best available bamboo desks that you can get.
7. The FEZIBO Electric Height Adjustable Standing Desk
An excellent bamboo desk that comes with the handy addition of a drawer, this desk is great for anyone who needs a bit of extra storage space. The desk's electric lift system is entirely motorized and has a height range between 28 and 46 inches. Adjustments to the desk are made easy thanks to four preset memory options. The heavy-duty frame is available in black and has a weight capacity of up to 176 lbs. Also included with this desk are desk hooks for your headset as well as a cable management tray to keep your workspace neat.
8. The Jarvis Standing Desk Bamboo Top
This electric bamboo standing desk has three adjustable height stages, ranging from 24.5" to 50", making it possible to sit or stand while using the desk. Included with this desk is also a memory preset handset controller made by Fully, making it even easier to automatically adjust the height of the desk. The motors of the desk are silent, and it takes about 1.5 seconds to adjust to a new height completely. The desk's frame is black steel and can support a weight load of up to 350 lbs. Also included with the purchase of this desk is a 7-year warranty.
9. The Split Top Electric Stand Up Desk
A fantastic ergonomic option due to the split top, this desk is great for anyone who needs additional working space. The desk has a black frame and bamboo top that adheres to the standard measurements. The split top allows for more space as well as a more ergonomic design. By pushing a button, you can adjust the desk's height between 28 and 53 inches. The addition of the split top provides you with an additional 5 to 7 inches of height for any accessories you may wish to add. The desk is also on wheels, making it much easier to move around than many other options.
10. The UPLIFT Bamboo Standing Desk
Available in 2 versions, namely the V2 and V2 Commercial, this electric standing desk is one of the best bamboo desk options available. With exquisite style and features, this desk is available in a variety of sizes, meaning that you can find the perfect sized desk for your home office. The desktops are manufactured from carbonized bamboo, and you can make a choice between a rectangular or curved top. The desk is inclusive of a 10-year warranty.
11. Standing Desk by Frasch
Frasch is a well-known furniture brand internationally and is known for manufacturing some of the most elegant and high-quality furniture available. This standing desk is no exception to the furniture they are known to make. The desk has a silent motor with a weight capacity of 275 lbs. It is a great option for anyone looking for a bamboo desk with a great design that could fit into any office. Every desktop is treated with UV coding, accentuating the grain, and natural details of the bamboo.
12. Electric Height Adjustable Standing Desk by Flexispot
If you are looking for an affordable option that still offers great functionality, this is the perfect option for you. A simple design is incorporated into the desk, with the frame being available in black, white, and grey. Should you be in the market for a simple option that is not going to hurt your wallet, this is one to consider.
13. Height Adjustable Standing Desk by OFM
If you are after a standing desk that takes the minimalist approach to design, then you're in luck. This desk allows you to pre-program height settings to allow for a more straightforward experience. What this means is that you can save your preferred height settings to quickly change between them at just the click of a button.
14. Belpre Dual Motor Adjustable Solid Wood Standing Desk by Symple Stuff
The dual-motor system incorporated into this standing desk's design has two motors that allow for quieter and faster height adjustments. The desktop has been treated for the purpose of easy cleaning as well as the prevention of scratches. The bamboo finish that this desk offers is also available in black for a more sophisticated and sleek design. A handy feature that has been added to this desk is an anti-collision feature that prevents you from adjusting the desk too low.
15. Ascent Hi-Lo Height Adjustable Standing Desk by Inbox Zero
Should you be a tall individual, this may be the perfect desk for you, as it is one of the highest adjustable bamboo desks on this list. The desk can be operated with a single hand and can easily accommodate individuals of almost any height. The bamboo that is used to craft the desktop is harder than even red oak, which is considered to be one of the most durable woods available. The desk's design accentuates the grain and details of the bamboo used to make it.
16. Automatic Height Adjustable Standing Desk by StandDesk
By offering one of the largest desktops available, this desk appeals to anyone who needs a large working area. It is a great option for anyone who is after a standard standing desk. This is one of the best bamboo standing desks with a range of features. The desk is available in a variety of colors and sizes and also allows you to program your favorite height settings to allow for quick and easy height adjustments.
17. Sit Stand Electric Portable Presentation Standing Desk by Frasch
Another entry by one of the leading furniture companies, this standing desk is designed to be used for giving talks but can be adjusted to a sitting position should that be deemed necessary. If you need something portable, small, and flexible, this is an excellent option as it incorporates all of these factors into a compact standing desk. The desk is on wheels so that it can be easily moved around should the need arise. The grain of the desktop is also extremely appealing.
18. Juliet Rise Up Standing Desk
A solid bamboo desktop and a 5-year warranty are the selling points of this minimalist office desk. The elegant desk has a highly customizable control panel that allows you to program your favorite height settings for easy adjustments. The sleek and elegant design means that it can seamlessly fit into any office without looking out of place. The quality of this desk is phenomenal, and the motors used by the desk are quiet and efficient. It is a great overall option for anyone looking for an elegant bamboo desk.
19. Rise Up Height Adjustable Standing Gaming Desk
Gaming can result in one being seated for long periods of time, and as a result, can have many adverse effects. This gaming standing desk can assist you with your back health while you game. The sleek design has more than enough space for your gaming setup, and the motors used can support its weight as well. If you are after a desk to really liven up your gaming set up, then this is the best option for you.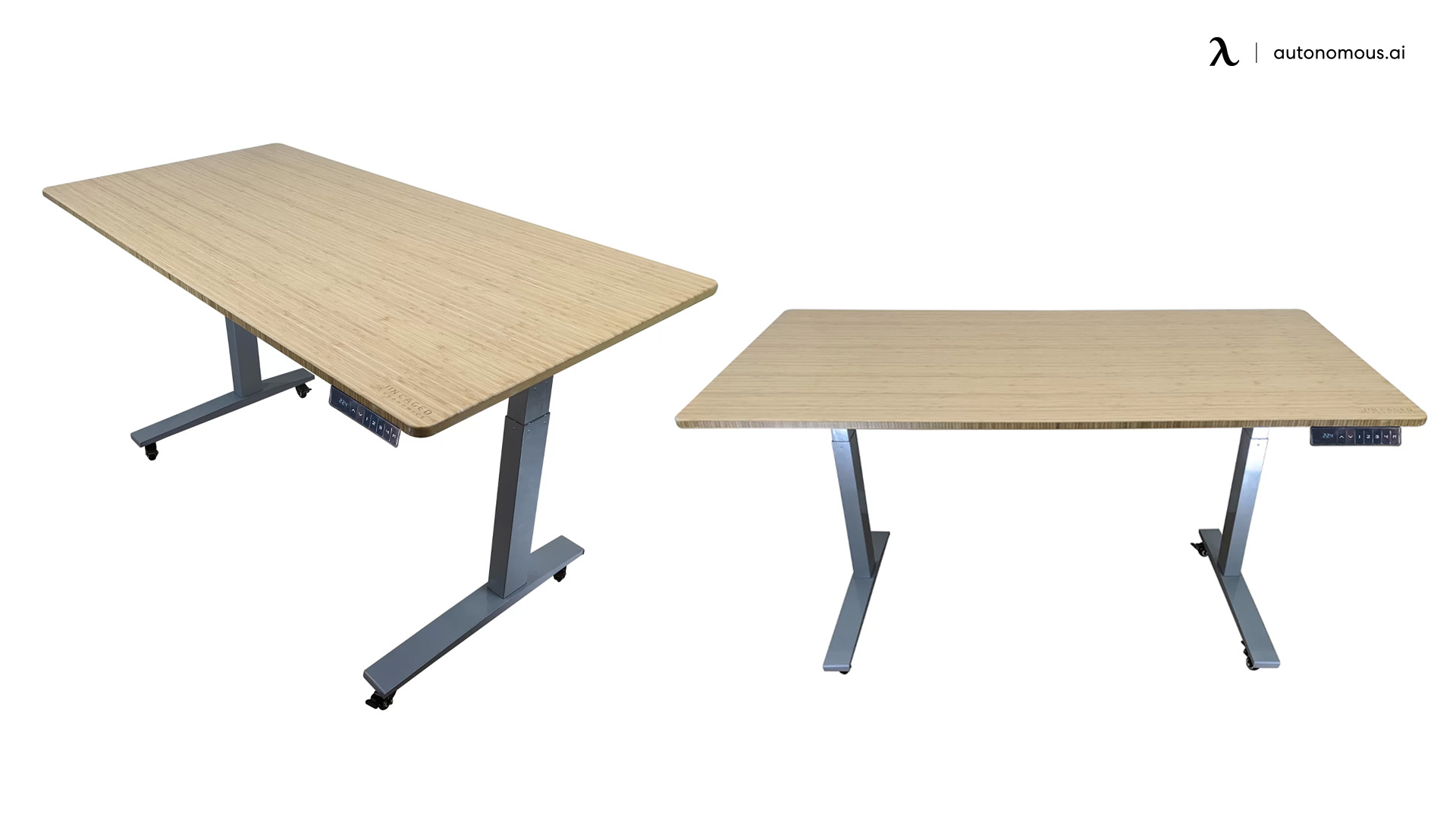 The Bottom Line
Finding the right office standing desk can be difficult, but should you consider any of the options on this list, there is no doubt that the desk you choose is capable of meeting your needs. So, get your best bamboo standing desk today and enjoy the benefits it offers.
Get exclusive rewards
for your first Autonomous blog subscription.

WRITTEN BYAutonomous
We build office products to help you work smarter.
Coming at You Live from Autonomous' Social Media!
Please fill the information below.
Thank you!