Minimal Workspaces involve straightforward and functional designs. Neutral colors such as black, white, and grey are very prominent in minimalist designs. If you are a fan of minimalist workspaces, you may be interested in acquiring a desk for yours. Finding the right desk for you can be difficult; there are so many options to choose from that the thought of choosing just one can be overwhelming. Should you have a minimalist workspace, it is likely that you are looking for an all-black office desk. Listed below are the 20 best black office desks for your workspace.
All Black Office Desk with The Best Choices
Although there are many options to choose from, there are some that stand out above the rest. All of these desks are available in black so that they can effortlessly fit into your minimalistic working space. The best desks have been chosen after considering a few factors such as price, functionality, and durability. A few different desks are incorporated into the list, such as all-black standing desks and even smart desks. This ensures that there are enough options for you to consider before you make the final decision. However, first, let's go over the pros and cons of a minimal workspace.
Pros and cons of a minimal workspace
You can focus better because there are not a ton of distractions
Can improve your creativity and time management
Some may find it too bland and can actually find it distracting if you wanted to make changes to your workspace
1. SmartDesk 2 Black Standing Desk
For anyone who is interested in a sleek and sophisticated desk to complement their workspace, this is the option for you. It has a futuristic aesthetic that is very pleasing to the eye and could easily fit into any minimalistic workspace. SmartDesk 2 is made of high-quality materials, so it is durable and is an investment. On top of all this, the desk is a standing desk, and as such, it has the ability to change its height level, which has a lot of benefits to your productivity and health.
2. SmartDesk 2 Premium Standing Desk
This version of the SmartDesk 2 is suitable for use in both homes and offices with a kind of all black office desk. Incorporated into its design are some powerful motorized foundations. These allow the desk to change its height in seconds seamlessly. SmartDesk 2 Premium is very stable and sturdy; as such, it provides users with enhanced focus and productivity levels. Durable materials have been used to manufacture this desk, and because of this, it is extremely durable and won't give you problems anytime soon.
3. L-Shaped SmartDesk
Design concepts were definitely considered when producing L-Shaped SmartDesk. The desk is beautiful, yet also extremely practical in its design. This desk could inspire you to work every day with its simplistic layout. Incorporated into the desk is a triple motor system that is capable of carrying up to 330 lbs. The motors also allow the desk to move up and down without making a noise. Features such as this allow for seamless transitions between different positions for the desk.
Advantages of this desk include a large work area and a sleek design. The disadvantage is that it does require a lot of space.
4. SmartDesk Art Desk
Creative individuals love this option. Its sleek and artsy design can fit perfectly into a minimalist workspace while still looking great. The desk offers ample amounts of space so that the user has all the space to work that they may need. This SmartDesk Art Desk's base is very sturdy, and the top is made of high-quality MDF wood. Its fantastic design, great quality, and smart desk capabilities make it one of the best desks available. If you are a designer or artist, this desk is a must get for your workspace.
5. SmartDesk Double Desk
Collaboration and privacy are two principles that were kept in mind by the designers of this desk. This double standing desk is perfect for any minimalist modern offices. The desks are connected but can be independently adjusted to one another. This allows users to adjust their desk how they would like it without affecting the other person.  The frame of this standing desk is equipped with wire management tools to keep the workplace clean and organized.
6. SmartDesk DIY Kit
If you are a fan of DIY, then SmartDesk DIY Kit has been specifically designed for you. The DIY kit gives the user the freedom to customize their desk as they see fit with the all black office desk style. Whether you are after an all-black desk setup or something different, this is a great option. The device's base is extremely sturdy and has been manufactured so that it is capable of lasting a long time. Get your creative juices flowing with the acquisition of this DIY kit.
7. Black Jason Desk
We are in love with the design of this desk. Its design incorporates a variety of materials and also has a space-conscious footprint. The desk can easily fit into any workspace with its sophisticated and minimalistic design. Two desks have been added to this desk so that you have some space to store anything you choose and keeping the desktop itself neat and tidy. Designed to fit perfectly into any corner or against a wall, it is perfect for anyone looking for a black office desk.
8. Clarke Height Adjustable Standing Desk
Minimalists love this desk for its simple yet functional design. On top of being a standing desk, it has built-in charging ports, programmable height settings and is also sold with a two-year warranty. The inclusion of these features makes it extremely functional and definitely makes working much more comfortable. The desk is made from metal with a glass top. These materials are extremely durable, meaning that you won't have to worry about any wood becoming chipped or damaged. Drawers have also been incorporated into the desk's design for some additional storage space.
9. Black Bradshaw Three Drawer Desk
A perfect fit for minimalist or modern offices, the desk has a sleek design with a wonderful silhouette. The desk has been manufactured from engineered wood and is supported by open sled-like legs. Three desks have been added to this desk for storage purposes. These drawers fit perfectly into the desk's design allowing for a great minimalist look that can no doubt make your workspace look all the more sophisticated.
10. Black Transit Desk
Durability, simplicity, and versatility are the key components of this desk. The desk has a smooth and strong surface to work from. It has a shallow depth so that it can be used for a multitude of reasons. Wheels have been added to this desk so that it can be easily moved around and is perfect for anyone who likes to reorganize their home office often. Its sleek design means that it fits into any workplace seamlessly.
11. Black Derisha Desk
Clean lines and a minimalist design are the order of the day with this desk. Its focus is to create a functional workspace for you so that you can boost your productivity and get as much done while making use of it. Manufactured from engineered wood, it has a rectangular shape and is supported by two pedestal legs. Two drawers have been added to the front of the desk for some storage space. The desk is also pretty large, and as such, proved the user with more than enough desk space to work with.
12. Black Stash Reversible Desk
This desk is the epitome of minimalist design. An effortless wood desk, it can fit into any workspace easily. It is manufactured from engineered wood and is very well put together. A drawer has been added to the sleek design should you need some additional space for the storage of your work equipment. Great for any minimalist workspace and small enough not to require a large room, it is an excellent option for anyone.
13. Black Serena Modern Desk
An extremely stylish and practical desk design is the most prominent feature of this model. This black desk has some gold accents to add a hint of classiness to its already sophisticated design. The desktop is exceptionally spacious and is made from a black oak veneer. Along with having style, the desk also has some substance. A large drawer and two open compartments are incorporated into the desk's design for more storage space than you could hope for with some other desks. This desk is an excellent addition to any workplace.
14. Black Desroches Standing Desk
If a standing desk is what you are after, then this an option that you should consider. This desk stands 42" tall, but unfortunately, it is not adjustable. Manufactured from metal, the desk has three open shelves that can be used to store office supplies or any other things that you may need on hand while working. Standing desks are great for increasing productivity and focus, so should you be interested in that, this may be perfect for you.
15. Black Ithaca Desk
Drawing inspiration from mid-century designs, this modern desk manages to perfectly blend old fashioned design concepts with a modern, minimalist approach. The desk is crafted from solid engineered wood, meaning that it is extremely durable and is not easily damaged. Two drawers have been added to the front of the desk for storage purposes so that the desktop can be kept free of any clutter, thus optimizing the working space that you have available to you.
16. Black Barry Floating Desk
Is space an issue for you? If so, this may just be the perfect desk for you. The floating desk is mounted straight onto the wall, eliminating the need for it to be on the floor. This desk is made from solid pine wood and is available in various finishes. As such, you can choose the finish that best suits the layout of your home office. Incorporated into the design are two drop-down shelves and a central storage compartment. It is an excellent option for anyone who needs some extra space in their workspace.
17. Black Axess Computer Desk with Hutch
A stylish and modern design has been kept in mind while designing this desk. The desk has a lot of components that have been added for storage purposes. Maximizing the space that it offers, it has a couple of shelves, a drawer and a storage component all built into the desk. The desk's hutch also has a hole in the back that has been added for the purpose of you running wires through it. This keeps the desk organized and free of any unwanted clutter. A five-year limited guarantee is also included with the purchase of this desk, giving you one more reason to consider it.
18. Black Tedford Height Adjustable Standing Desk
High-end features have been included in this desk's design to make it one of the best standing desks available to you. The desk has an LED corner display that includes simple buttons to set the height of the desk and reminders for when to stand up. There are also three integrated USB ports so that you can keep all your devices charged and ready to go. There is also a single drawer for storage purposes. Made from engineered wood with a black glass top, it is a very sophisticated choice.
19. Black Donovan Reversible Desk
No matter what kind of work you need to get done, this desk is a great option. It has a very simplistic and contemporary design that allows it to fit into any working environment easily. Once again, this desk is made from engineered wood, and the wood finish has a solid hue. The shelves can be added to any side of the desk, depending on your preference.
20. Black Bowie Desk
If a sleek and minimalist design is what you are after, then this is perfect for you. This desk has clean lines and a chrome base that gives off a very professional aesthetic. Designed to fit into any minimalist environment seamlessly, its beautiful design choices are what set it apart from some other sophisticated desks. If you like uber simplistic designs, then this is a desk that you should consider adding to your office.
The Bottom Line
These are the 20 best black office desks that you can find in 2021. They all have their own unique appeals and characteristics; however, they all have their minimalistic designs in common. Any of these desks can really improve the look of your home office.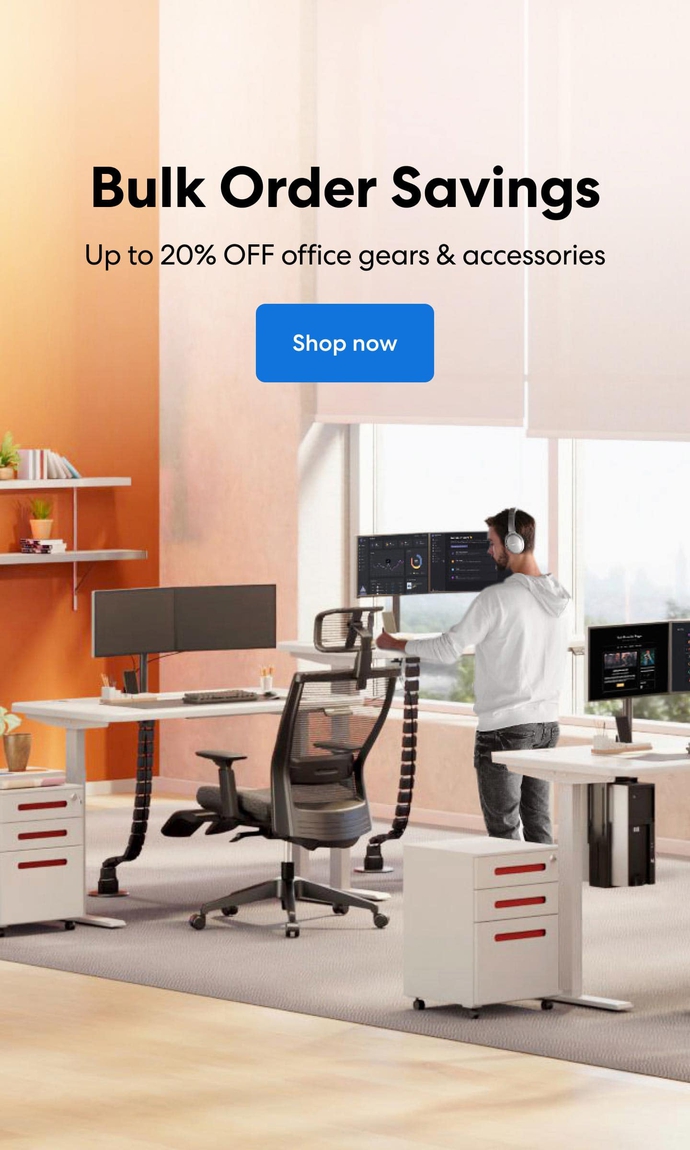 Subcribe newsletter and get $100 OFF.
Receive product updates, special offers, ergo tips, and inspiration form our team.