Smart Products
20+ Best Affordable Office Chairs for Upgrading Workspace
1,063 Views
What makes an office chair affordable? Is it how much it costs or the amount of comfort and relaxation it can bring despite the price? Some affordable office chairs offer the best lumbar support, great ergonomic features, and back support. What's more, you don't even have to break the bank to buy them. These chairs can be nicely paired with the best affordable standing desks to make sure you don't exceed your budget for a workspace upgrade. 
Top 20 Cheap Office Chairs for a Workspace Upgrade
The following inexpensive desk chairs have the best build quality available today. 
1. Autonomous ErgoChair Pro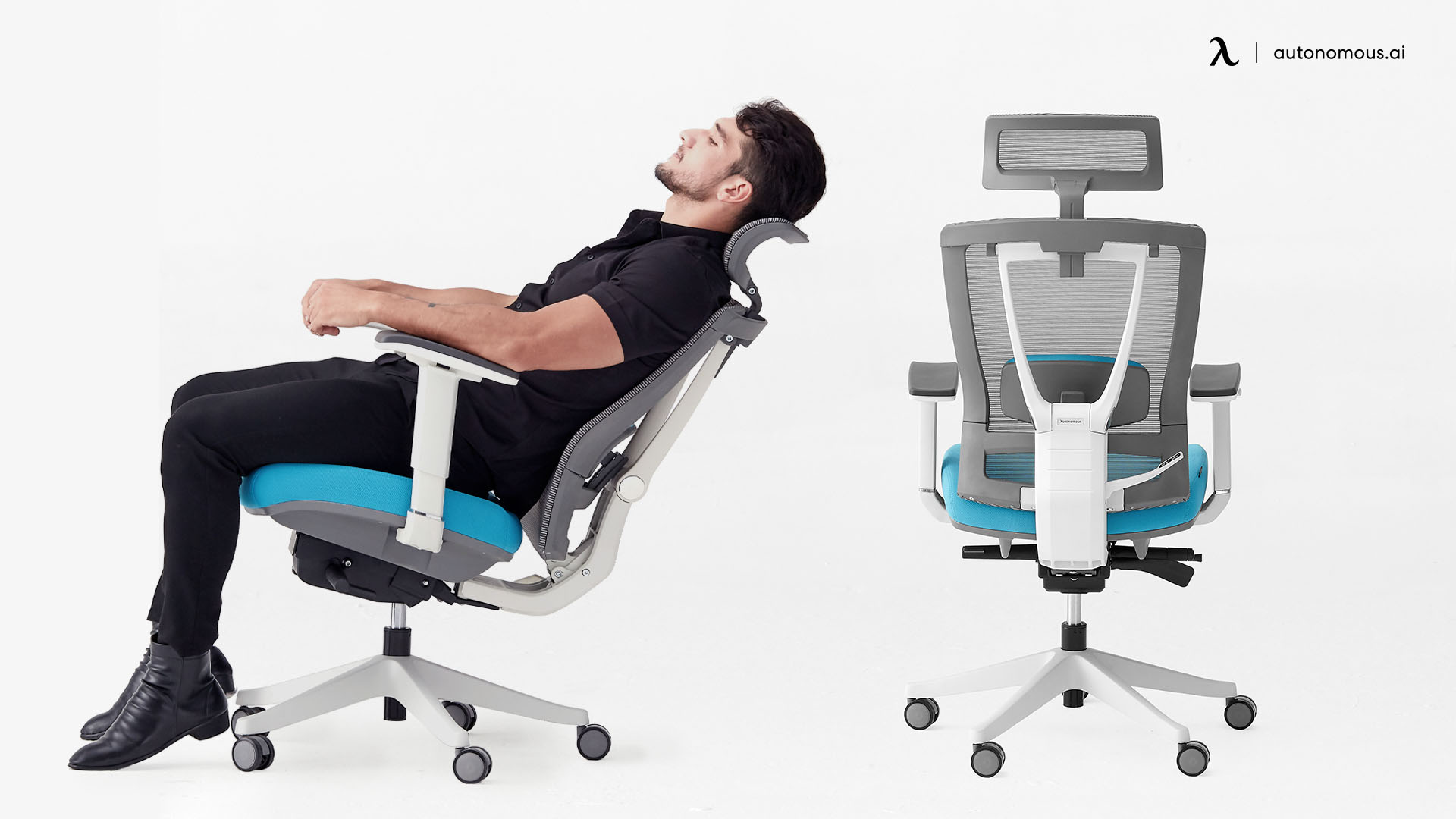 At $499, this affordable ergonomic chair is a steal because it's completely supportive, fully adjustable, and super breathable. That's all the best chair qualities in one chair. The ErgoChair Pro has a smooth recline with five lockable positions, flexible lumbar support for any sitting position and a woven mesh back for optimal airflow. Its seat tilt feature, backrest, armrest, and headrest are adjustable and can fully support 300 lbs. This ergonomic office chair is made with 100% earth-friendly materials and a two-year warranty. 
2. Autonomous ErgoChair Recline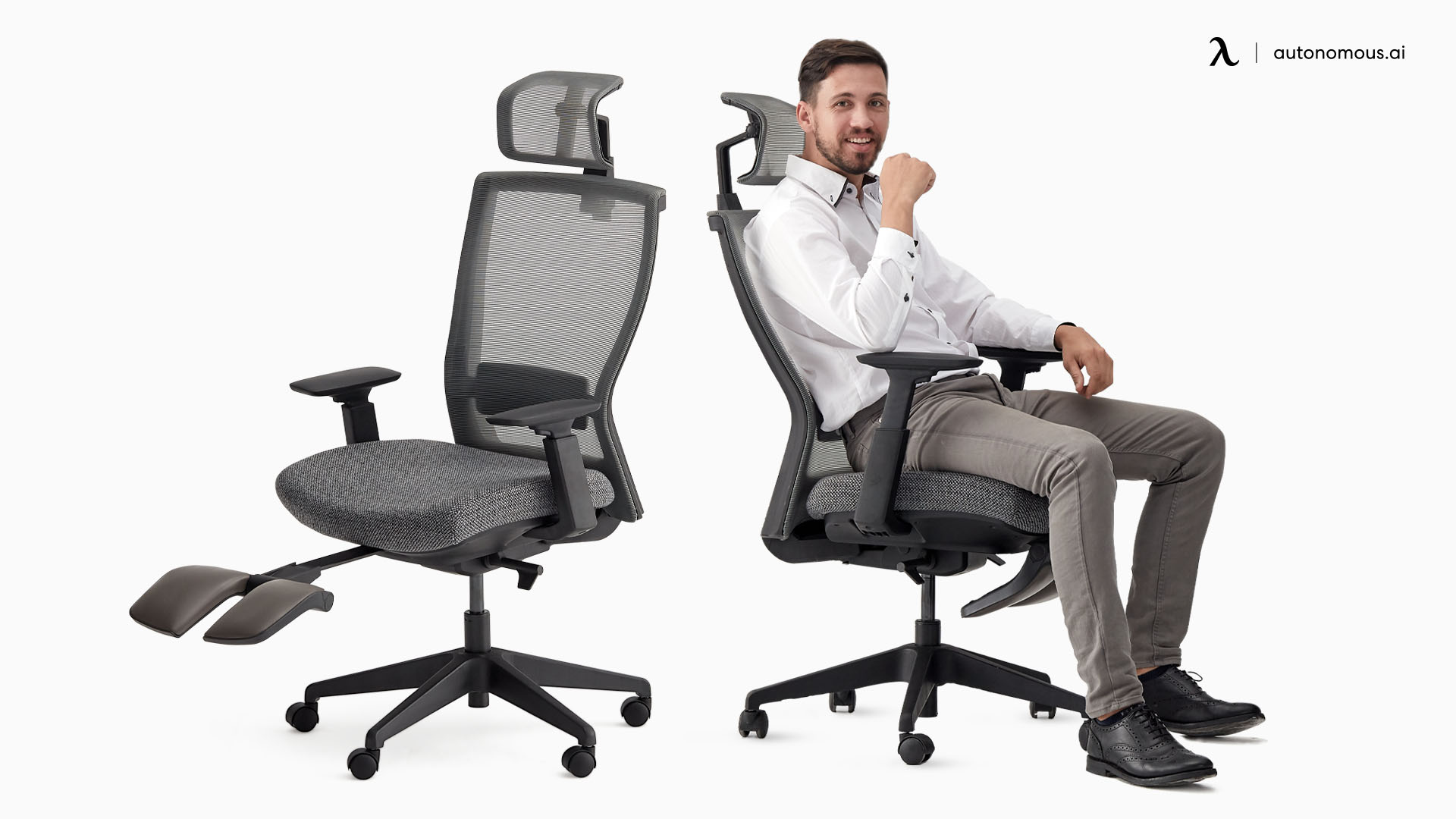 The ErgoChair Recline is one of the best budget office chairs you can find. It has adjustable height features, a reliable lumbar support system, armrests, and recline. This ergonomic reclining chair also has adjustable leg rest and headrest options. It has a super comfortable and supportive foam seat and a reclinable mesh back that supports up to 250 lbs. This cheap ergonomic chair comes with a one-year warranty. 
3. Duramont Ergonomic Adjustable Office Chair
The Duramont Ergonomic chair is comfortable and has an executive design. This makes it feel worth a lot more than the price. It is a lot more adjustable than other chairs in this price range. With this chair, it's easy to find the perfect comfy sitting position. It has an adjustable height, lumbar support, an adjustable armrest, backrest tilt, and tilt tension. 
Much like other ergonomic reclining chairs mentioned above, this chair has a breathable mesh back. The mesh keeps the chairs cool and comfortable by allowing cool air to circulate to keep you sweat-free. This chair also has a fully adjustable back support. 
Anyone that's experiencing back issues may enjoy using these affordable office chairs because of their fully adjustable back support. You can move this back support up, down, in, and out to any position you like. It also has an amazing recline feature that lets you tilt the backrest or raise it when you need to. 
This inexpensive desk chair comes in parts but you can set it up in a few simple steps. Once assembled, it's easy to adjust this chair to your favorite position. Its in-built pneumatic control allows you to lower, raise, tilt and straighten it up at any time. These ergonomic features let you take the comfiest positions when working. 
The Duramont ergonomic chair is sturdy and built to last. It can carry up to 330 lbs of weight and has a comfy cushioned seat. It also has some rollerblade caster wheels that let one slide across a smooth floor easily. Overall, this chair boosts work comfort and overall productivity. 
4. The Cobi Chair
The Cobi Chair has a simple design that lets you change positions as many times as you'd wish, without getting any joint aches. It has a small structure and is very lightweight. You can always find this cheap office in conference rooms and home offices where there's a need to maximize space. The chair's smallness and lack of bulky features make it perfect for small spaces. Despite its small size, it offers similar comfort to other affordable cross-legged chairs on our list. 
5. Steelcase Amia
What we find good about the Steelcase Amia is the excellent combination of ergonomic features.  These affordable office chairs have exceptional build quality. Its minimally designed seat comes with a flexible waterfall edge seat. It's one of the cheap office chairs with 4D armrests and height that can be adjusted five inches. On the downside, this affordable ergonomic chair has a seat that's not too well-padded. That means one cannot use it for prolonged hours without taking some occasional breaks. However, it's a durable office chair that offers comfort for short hours at a time. 
6. Nouhaus Ergo3D Ergonomic Office Chair
This inexpensive office chair is easily one of the best budget office chairs available. It's the perfect combination of aesthetic and comfort. It is simple and compact yet manages to have several useful built-in controls. 
The Nouhaus Ergo3d has a firm back, lined with a breathable mesh that keeps the chair user cool while they work. It's fitted with a super flexible and supportive 3D lumbar support system.
There are available adjustments for every feature; this includes seat height, tilt control, lumber height, and seat depth. 
The chair completely embraces your back pain when you sit on it, decreasing your chances of feeling back pains or compressions while aligning your spine at the same time. The distinctive seat design balances your body to eliminate stress and fatigue while working. 
The Nouhaus Ergo3D is also designed to be delicate on your hardwood floors. It comes with two sets of wheels that can glide smoothly around your space. There's also an extra set of castors in the package. 
These affordable office chairs have a strong iron base that lends to their stability and strength. This five-durable point base makes the chair extra heavy. You can tilt this inexpensive desk chair up to 135 degrees for maximum comfort. It's one of the best cheap desk chairs in the market. 
7. Techni Mobili Chair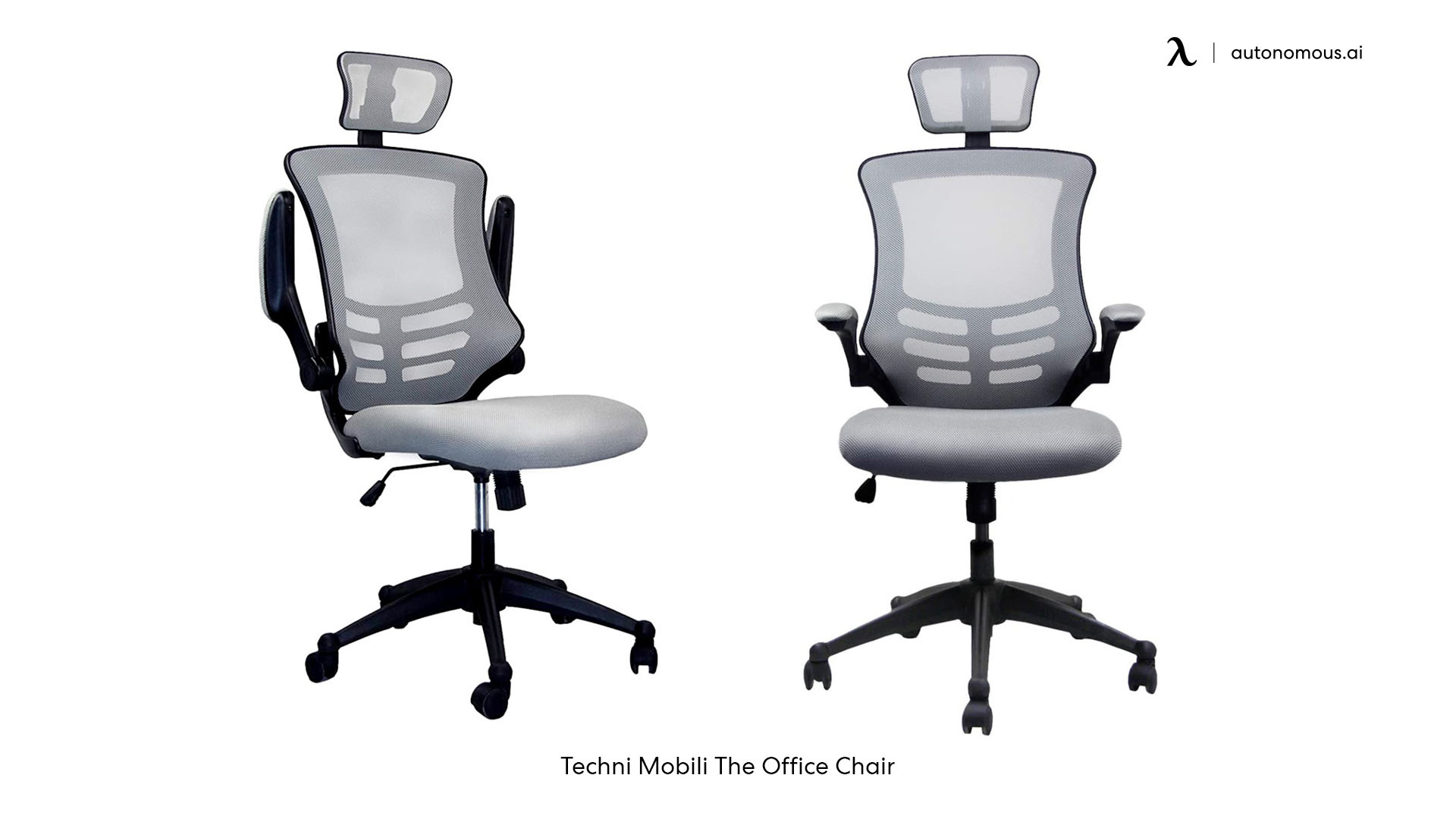 One of the best budget office chairs you can find is the Techni Mobili High Back. It has a breathable backrest that aligns your spine and supports your back while you work. It also has a headrest that provides nice and firm support for the neck. This cheap office chair allows you to work for longer hours and be more productive with the level of comfort it offers. It comes with a contoured fabric that gives a nice grip when you sit or lean backward and forwards. The seat's edge is shaped like a waterfall so that you can rest your knees while seated. It also has armrests that can be flipped up and down.
8. Reficcer High Back Executive Office Chair
This is another affordable ergonomic chair that's extremely comfy. It adds a luxurious touch to any room thanks to its leather seat lining. This high-back chair is one of the sturdiest ones available at its price; however, it's also extremely heavy. Notwithstanding its weight, The Reficcer high back is one of the best budget office chairs available. It's specially designed for heavy-duty use, having a massive seat, comfortable armrests, and backrests. It can also carry an enormous 300 lbs of weight without sagging. 
9. Caper Multipurpose Chair by Herman Miller
This multipurpose chair has a tilt, swivel, and height-adjustable feature of which makes it very easily adjustable. It's comfortable to work in, easy to glide in and one can recline when they need to take a break on this desk. These affordable office chairs are known for their adjustability and comfort. That means that several people can share this chair, with each person just having to adjust the office chair to their preferred comfort level when needed. 
10.  Alera Etros Series Chair
This petite meshed back chair has a breathable mesh back that keeps you cool and comfy while working. One can also adjust this chair in several ways to suit their comfort level. It comes unassembled but is easy to assemble. Once assembled, this chair is easy on the muscles. The only downside to owning this cheap office chair is the fact that it creaks a lot and is better suited for smaller-size people. 
11. AmazonBasics Big & Tall Executive Office Desk Chair
This BIFMA-certified chair, like other affordable office chairs on our list, is sturdy and made with high-quality materials. It's covered in faux leather and has a high back. The strength of this inexpensive desk chair cannot be argued as it has a 5-point base. 
12. Verve Chair by The Smarter Office
This affordable ergonomic chair, despite its ergonomic simplicity, is one of the best cheap desk chairs available. This chair has a simple design that's aimed at improving productivity. It's a great task office chair that offers exceptional lumbar support; superior tilt and tilts tension features and an adjustable height. This chair takes excellent care of your backs and legs while you work. 
13. AKRacing Office Series Onyx  Office Chair
This inexpensive desk chair offers great durability and wider dimensions than many others in its price range. It has an excellent weight capacity and 180-degree recline with a three to 18-degree lockable tilt feature. These affordable office chairs are tear and flame – resistant. They have a smooth 360 degrees swiveling feature and 4D armrests. This chair is a bit limited in its ergonomic features yet it offers long-term comfort, durability, and excellent value for its price. 
14. Smugdesk Ergonomic High Back Office Chair
This desk chair has armrests that can move in every direction, a headrest that holds and relaxes your neck while working and smooth wheels that let you go around without damaging your fragile hardwood floors. It has a breathability mesh back alongside a solid base. It's fully adjustable and has an adjustable recline feature. 
15. Serta 43506 Bonded Leather Chair
This chair is one of the best budget chairs available. It's lined with soft leather that gives it a luxurious, executive, and professional appearance. It also has a very high back which makes it suited for tall people. The body is lined with layered ergonomic pillows, arranged to give optimal support to the spine when necessary. This chair also has excellent adjustable lumbar support to prop up the back while one's working. On the downside, this chair is not breathable, because of its leather lining. Also, its armrests are unmovable.  However, its well-padded armrests are lined with soft bonded leather, and overall, all these features combined; make this Serta chair the best cheap desk chair available. 
16. Sihoo Ergonomic Office Chair
This desk chair has a modern ergonomic design that lends support to the neck, back, and tailbones while one works for several hours at a time. It has an adjustable backrest and headrest and a useful tilt feature. It is made with breathable mesh material for easy ventilation and has quiet wheels that allow you to move around while working. This chair is very durable and aesthetically pleasing. It comes with a 12-month warranty. 
17. Hon Ignition 2.0 Mesh Chair
The best thing about this set of affordable office chairs is their Ilira-stretch mesh lining which is a luxurious choice of chair lining material. The chair also comes with smooth wheels that allow the chair to roll effortlessly on the ground when needed. It has great design and aesthetics. The seats have a waterfall edge design to prevent pressure in the legs and it also has armrests to keep the arm comfortable when needed. The chair has a 300 lbs weight capacity which is pretty impressive for an inexpensive desk chair. 
18. Eurotech Vera Desk Chair
This cheap office chair offers optimal ergonomic features yet is averagely priced. Its overall design is elegant, and the seating is a lot more comfortable than one may find among similarly priced chairs. It has a backrest that provides comprehensive back support and a headrest to keep your neck comfortable. The height is also adjustable. For its price, it's one of the most affordable office chairs out there. The sole disadvantage to owning this chair is its abrasive lining. 
19. Steelcase Series 1
Some of the most admirable qualities of this affordable ergonomic chair are its lovely finishing and simplistic design. It has decent ergonomic features, and considering the price, one can easily say it's one of the most affordable office chairs around. It has a lightweight, slim profile that sets it apart. The only downsides to this chair are its slim armrest pads and limited adjustability options. 
20. Serta Smart Layers Executive Tranquility Office Chair
This Serta chair certainly belongs on the list of best budget office chairs available. Its seat is nicely cushioned to give it a cozy feel and it has a lovely design that makes it look good in any room. 
Its seat height can be adjusted from 19"-21", its arm height from 25"-27" and it has a 250 lbs weight capacity. It also has both recline and tilt-tension features. This affordable ergonomic desk chair is perfect for both home and office use.
Keep up with Autonomous news
Stay informed, stay inspired with our new blogs.
WRITTEN BYAutonomous
We build office products to help you work smarter.