Smart Products
20 Best Cable Management & Cord Organizers for Desk 2023

Autonomous
|
Nov 26, 2021
3,545 Views
One of the most important things to keep in mind when you're an office worker is desk cable management. Some people think they shouldn't care, but it's actually essential to ensure your cords are safe and organized.  
Read on and find out the best products you should consider when you're looking for an ideal way to organize your cables, keep your desk clutter-free, and make your surroundings look neat.
How Can You Organize Desk Cables?
Cord management for desks is an essential part of being an office worker. Overall, you probably spend several hours working per day, and your job might include using several technological devices such as a laptop or computer, tablet or iPad, phones, and much more. 
Even though using tech is a practical way to solve different problems, organizing your workspace might be an issue if you don't have the best desk cable organization strategies. You need to know all you can to ensure your office and home workstation setup always has the ideal conditions for you to do your job. 
Cable & Cord Organizers List
The best cable organization for a desk is only possible if you have the right tools and strategies. Take a look at the following list of options you should check out: 
1. Autonomous' Under Desk Cable Tray
Autonomous is definitely one of the best brands when it comes to office products, especially chairs and desks. This wonderful tray is the perfect addition to your Smart Desk, and it's the ideal solution if you have a disorganized workspace. 
The under desk cable tray by Autonomous is sturdy, convenient, and easy to assemble. You don't need to drill anything, which is convenient if you have a wonderful adjustable standing desk and smart office accessories. 
2. Cable Clips by OHill
Many office workers have issues because they constantly need to disentangle cords or crawl under their desks to get the cables they want. Fortunately, with a desk cord organizer like OHill's Cable Clips, you can make sure everything changes. 
The cable clips are immensely sturdy items you can place around your desk to guarantee all your cords are neatly organized. Some clients believe the clips might be wobbly, but they're completely sturdy and trustworthy, so you should definitely add them to your list of possible solutions for your workspace issues. 
3. Velcro Thin Tie
In some cases, workers prefer classic and simple ways to organize their cables instead of buying complicated organizing kits. Both strategies are allowed as long as you pick the one that works for you. 
Getting Velcro thin ties is an easy way to wrap cords after you use them or to organize the extra cable you might have lying around.  
4. Magnetic Silicon Ties by Smart & Cool
Although many clients enjoy the Velcro thin ties to organize their cables, others believe Smart & Cool has a better option: the magnetic silicon ties. The main difference between the two is that you can hang the latter alternative from different metal surfaces, which might be very convenient, especially if you want to save space. 
Smart & Cool's silicon ties are also very sturdy and can handle a lot of weight, which is not something all products can offer you. 
5. Cord Protector by Alex Tech
Alex Tech offers a one-of-a-kind cable sleeve that not only protects your cords, but also allows you to quickly organize your surroundings to guarantee your workspace is always neat. 
On some occasions, desk cable organization tools might be difficult to install, especially if you have to attach them to your desk, or if they have different parts for you to put together. However, that's never a problem with this cord protector – its usage is very straightforward, and it's considered a simple (yet effective) item. 
6. Cable Management Sleeve by Joto
Joto's sleeve for your desk might be the product you've been looking for to guarantee your work days are not filled with time-wasting, particularly while trying to disentangle specific cables or find some cords. 
Getting the cable sleeve by Joto means you're using a simple desk cord organizer, but it's completely effective, so you never need to worry about wanting more features.  
The best part about Joto's cable sleeves is that you can categorize your cords depending on whatever you want, which is a great idea if you wish to separate them and bring your organization methods to the next level. 
7. ProMaster's Cable Management Sleeve with Velcro
Another cable sleeve option for your desk cable management is ProMaster's product, which is famous for the materials it's made of. Since it's a high-quality item, customers always have positive comments, which are an example of its usefulness when it comes to workspace organization. 
ProMaster's cable sleeve is similar to Joto's one, but it's Velcro composition makes it unique. At the same time, this desk cord organizer is available in two different colors, which means you have various alternatives to choose from if you want your workspace to look fantastic. 
8. Five-pack Desk Cable Organizer by J Channel
With J Channel, you can forget about messy cables lying around forever. Say goodbye to cords hanging down your desk because once you install the five-pack organizer, you can work all the hours you need without ever worrying about your electronics. 
Most desks require a few organizers, which is why J Channel offers five in just one box. Thus, it's a very convenient option if you want to neatly organize your surroundings without spending much money, and that's important, particularly if you're on a budget. 
9. Self-adhesive Strip by Soulwit
You might want an option to keep all your cables in one place, and it might be hard to find if you don't know where to look. However, Soulwit's alternative offers just what you've been looking for. 
The self-adhesive on Soulwit's organizing strip is a wonderful feature since it allows you to attach it to your desk and ensure that all your cables are always in the same place. It's a cable management kit that's simple to use, but still immensely effective. 
10. Pasow Cable Organizer
Velcro ties are always a good idea to organize your cables, especially if you don't want a fancy or eccentric desk cord organizer. You need something to do the job, and ties are a great alternative. 
Pasow's organizer Velcro ties are tough and endure a lot, so you can use them without worrying about their quality. Additionally, they're a highly convenient option for you to ensure you organize a work desk. 
11. DMoose's Cable Management Box
Another top option to keep your cables organized is DMoose's box, which is an ideal alternative if you want to keep your cords hidden. 
When you look for how to organize wires under a desk, you might wonder if there are ways to keep them completely concealed. Fortunately, DMoose has a beautiful box that helps you with that.  
This box may look small to some, but it's spacious enough for you to organize many cords. Thus, it's one of the best desk cable management products you could choose. 
12. Cable and Cord Management System by Bluelounge
Bluelounge also has a wonderful alternative that's one of the best cable management for a desk. It's a sturdy and big box for you to put all your wires inside and keep them neat and safe. 
In many cases, people believe a cord management system only works to ensure your workstation is organized. Nonetheless, that's not the case. If you buy one of these boxes, you also ensure your cables are always safe. 
13. Avantree Reusable Organizers
Simple cord organizers are still on top of the list when it comes to the best desk cable management products. Overall, they're immensely easy to use, they're versatile, and in this case, they come in different colors. 
Avantree organizers are made of a strong material, which means they can hold your cables and cords without any issue. The pack includes ties of different sizes, so you can choose the one you're using depending on the cables you have to keep near you.
14. Under-desk Cable Tray by Monoprice
If you're looking for a sturdy desk cord organizer to put under your piece of modern office furniture, the under-desk try by Monoprice might be an ideal option.  
An under-desk cable tray such as Monoprice's alternative is immensely convenient for many clients, especially if you want to keep all your cords out of the way. This model is not only useful but beautiful as well – it has a sleek and elegant design. 
15. Cable Management Tray by IKEA Signum
Some people need a cable management kit that's sturdy and trustworthy enough for them to put all their cords in. If that's your case, you might want to take a look at IKEA Signum's alternative.  
IKEA Signum offers a cable management tray, but it's different from other desk cable management options. On this occasion, it can hold up to 22 pounds of weight, which means it's ideal if you have multiple heavy cords. 
Furthermore, IKEA Signum's offer has a sleek and classic look, so once you organize your wires, you might notice that your desk looks clutter-free and beautiful. 
16. Baskiss' Cable Management Tray
People who prefer more fun options could try the desk cord organizer by Baskiss, which is also a tray, but it looks more like a basket.  
When you buy the cable management kit by Baskiss, you should keep in mind that it's not meant for heavy cords like the IKEA option. Even so, you can still use it to put all your wires and give your desk a more organized, clean, and nice look. 
17. Cable Box by Point & Edge
Another famous brand in the world of desk organization is Point & Edge. This incredible store offers a cable box to all its customers, and it's a unique solution for small spaces. 
Although any office worker would love to have a big desk, that might not be your case. Point & Edge's alternative is perfect if you work in a smaller space, and it still provides you with all the features you're looking for in a cord organizer.
18. Cable Management Tray by Vari
Vari offers a fantastic tray to manage your cables as well, and it's one of the most famous ones among customers who are looking for easy ways to organize their cords.  
Aiming for standing desk cable management can sometimes be challenging, especially if you don't have a proper organizer to add. However, Vari's pick is an excellent choice for these types of desks, which is why you should keep it in mind if you have one. 
19. Under-desk Cable Management Tray by S Stand Up
The last option on this amazing list is S Stand Up's cable management tray, and it's one of the best alternatives you could go for if you're already looking for the best essential desk accessories. 
Furthermore, the cable tray by S Stand Up is sleek, elegant, and looks good with almost any table. It's useful and simple! 
20. Blue Key World Organizers
These handy organizers can be a great addition if you want to guarantee your cables are neat around you. You can use the clips to separate your cables and ensure they're not tangled with each other. 
Finding the ideal desk cable management to organize your cords and ensure your surroundings don't look cluttered is not easy, but the option by Blue Key World is easy to install, versatile, and blends in with your desk. 
Final Thoughts
There are many desk cable management product options available on the market and all of them offer different features – you could choose anything from Velcro ties to trays and boxes, so make sure you evaluate all alternatives before deciding.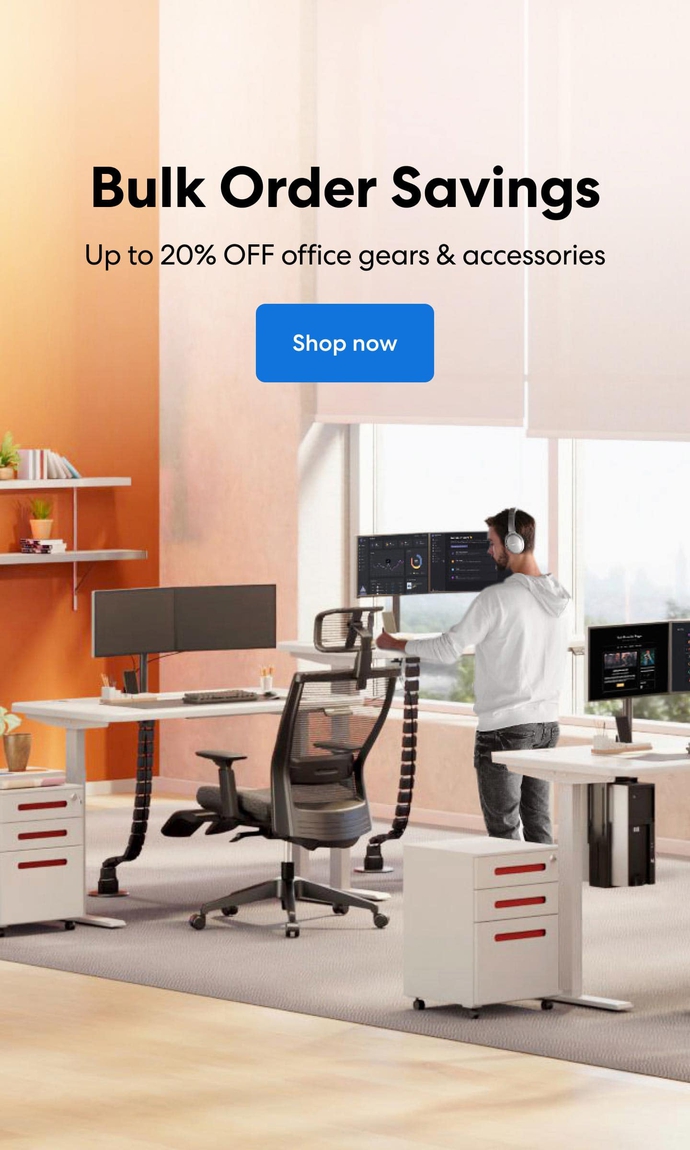 Subcribe newsletter and get $100 OFF.
Receive product updates, special offers, ergo tips, and inspiration form our team.