Smart Products
20 Best Homeschool Desks for Children & Students
985 Views
Homeschooling isn't a new concept, and the passage of time has seen more parents decide to explore and embrace going this route. Whether you buy a standing desk or a solid ergonomic chair, your child deserves to have one of the most comfortable workstations that money can buy. How would you know which homeschool desk is best, though? 
You cannot expect these tiny humans to work well with a traditional student desk setup for adults. Instead, you may want to consider smaller furniture items, such as kid school chairs or a special adjustable desk for kids. 
When they grow up and are off to college, then a different set of considerations come to the forefront. At this point, standing desks tend to be the order of the day, which means your choices are completely different. 
Why not check out this definitive list of the best homeschooling desks on the market? 
Top 20 Homeschool Desks for Students at All Ages
1. Autonomous SmartDesk Core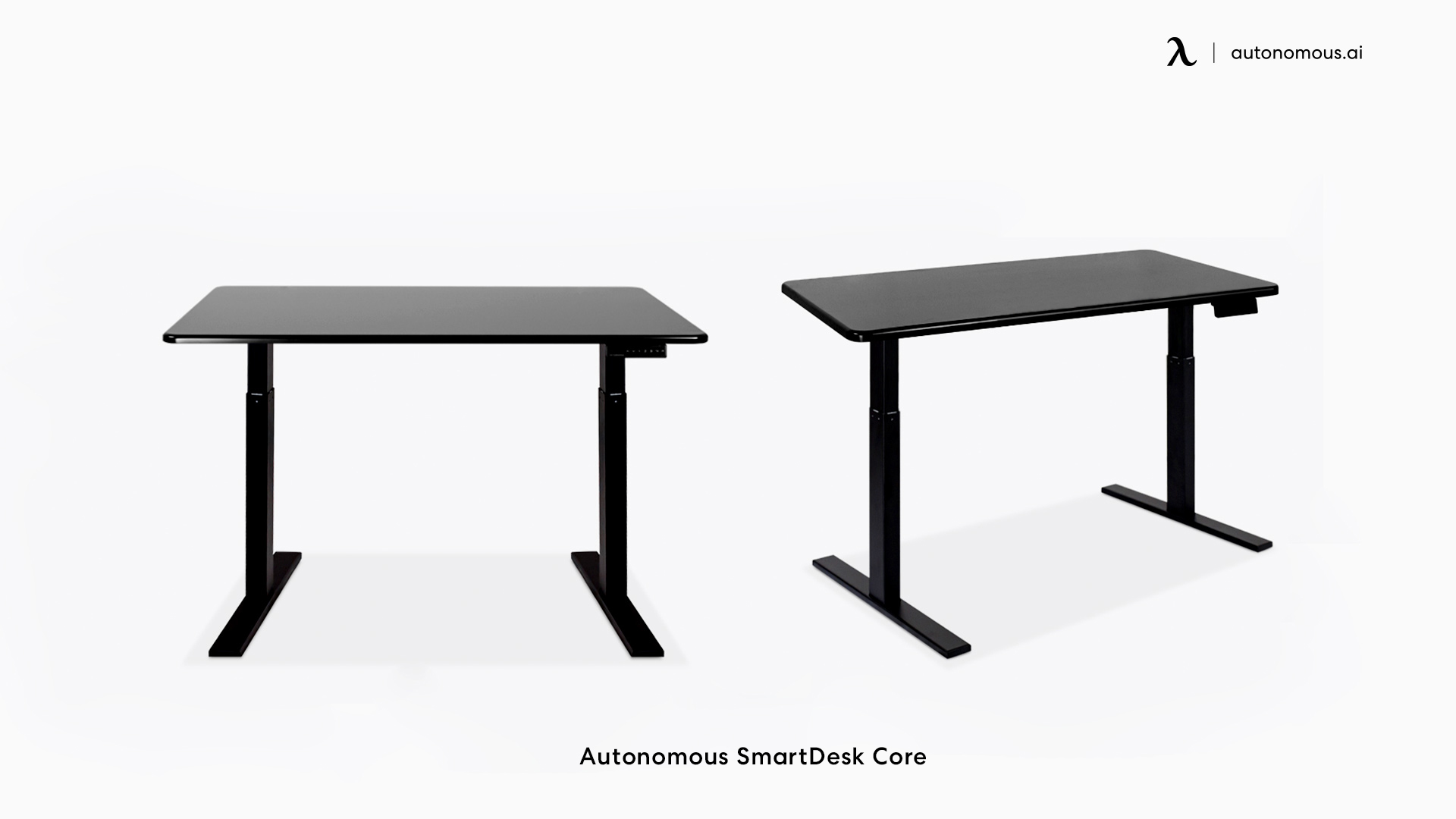 You should know that the runner-up on the list has the better and more comprehensive feature set. The number one pick wins because of its access ability to small children, which is perfect for the focus of this list. 
The SmartDesk Core provides the definitive standing desk experience for those who may have a lot of work to do from home. College students can enjoy over 10 different tabletop designs. Imagine an electric dual motor, solid steel frame, up to 265 pounds of weight support, and a five-year warranty. 
The programmable memory settings form the icing on a very functional cake. 
2. Autonomous SmartDesk Junior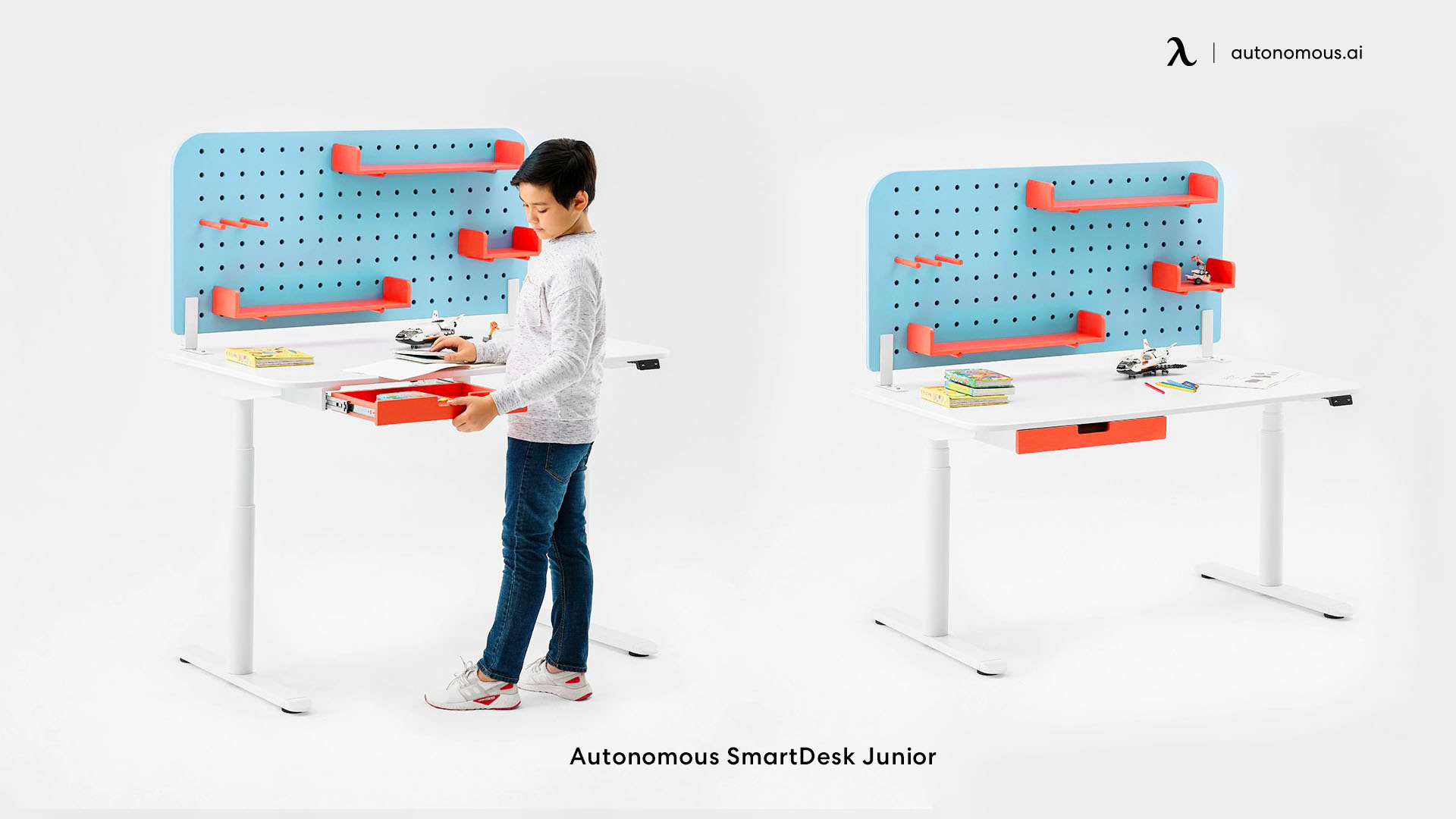 The SmartDesk Junior provides the perfect foundation to form healthy habits early. Its height range is very dynamic, and it even goes high enough to accommodate most college students. Still, you can tell that it was designed with children in mind. 
There's a built-in pegboard with movable dowels, two hooks, a cable tray, a very spacious drawer, and built-in anti-collision technology. 
3. Ikea Lätt Children's Table
The IKEA brand is famous for its signature combination of respectable value at affordable prices. For under $50, you can grab a homeschool table and two chairs for your child(ren). It's best suited to younger children and their hands-on activities, such as arts and crafts. 
You would think such a cheap homeschool desk would buckle under the pressure of a playing child. Somehow, IKEA managed to get this one to be incredibly durable, so there is nothing to worry about in that regard. 
You cannot get much simpler and more cost-effective than this option, which makes it the perfect desk to open this list with. 
4. Lifetime 5" Essential Fold-in-half Table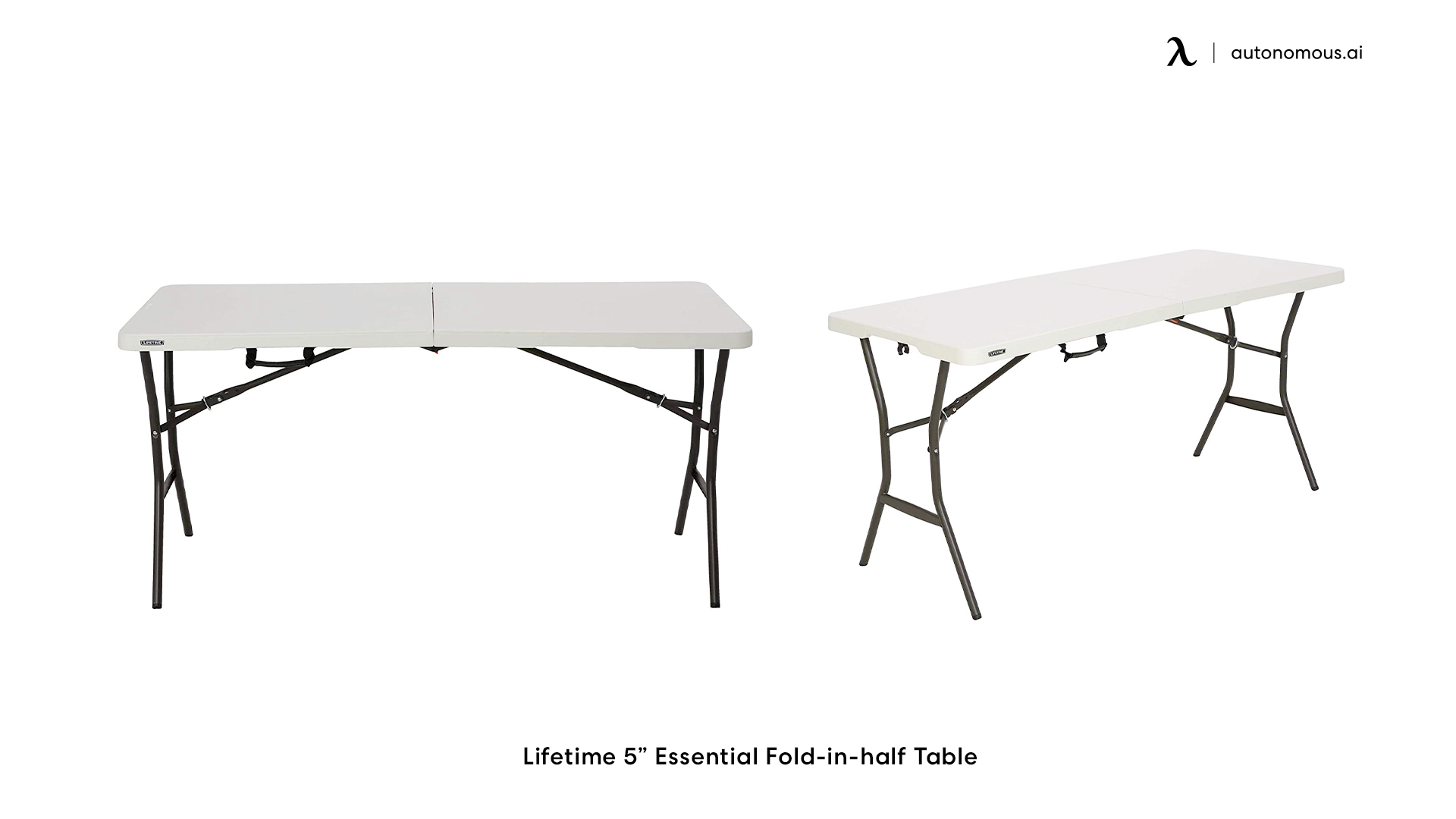 Yet another simple option makes it on the list. It looks a lot like the traditional folding table you would see at events, but its size makes it especially suited to your little ones.  
If you live in a small space, you likely don't have much room for an extremely large kids' homeschool desk. Anyone in that situation would appreciate this kind of design. 
While being used, it has a small form factor, and it folds away incredibly easily when the children are done. 
5. Ebern Designs Payakumbuh Desk
Don't let the name scare you, as this is a stylish and unique build for your child. If you are the kind of parent who enjoys eccentric homeschool desk ideas, this unit should fit right in with whatever aesthetic you opt for. 
The L-shaped design means you can use it in corners, and the open shelf spaces yield the perfect storage space for books, stationery, etc.  
The icing on the cake is the water and scratch proof material, which means the homeschool desk can stand up to children incredibly well. 
6. Flash Furniture Student Desk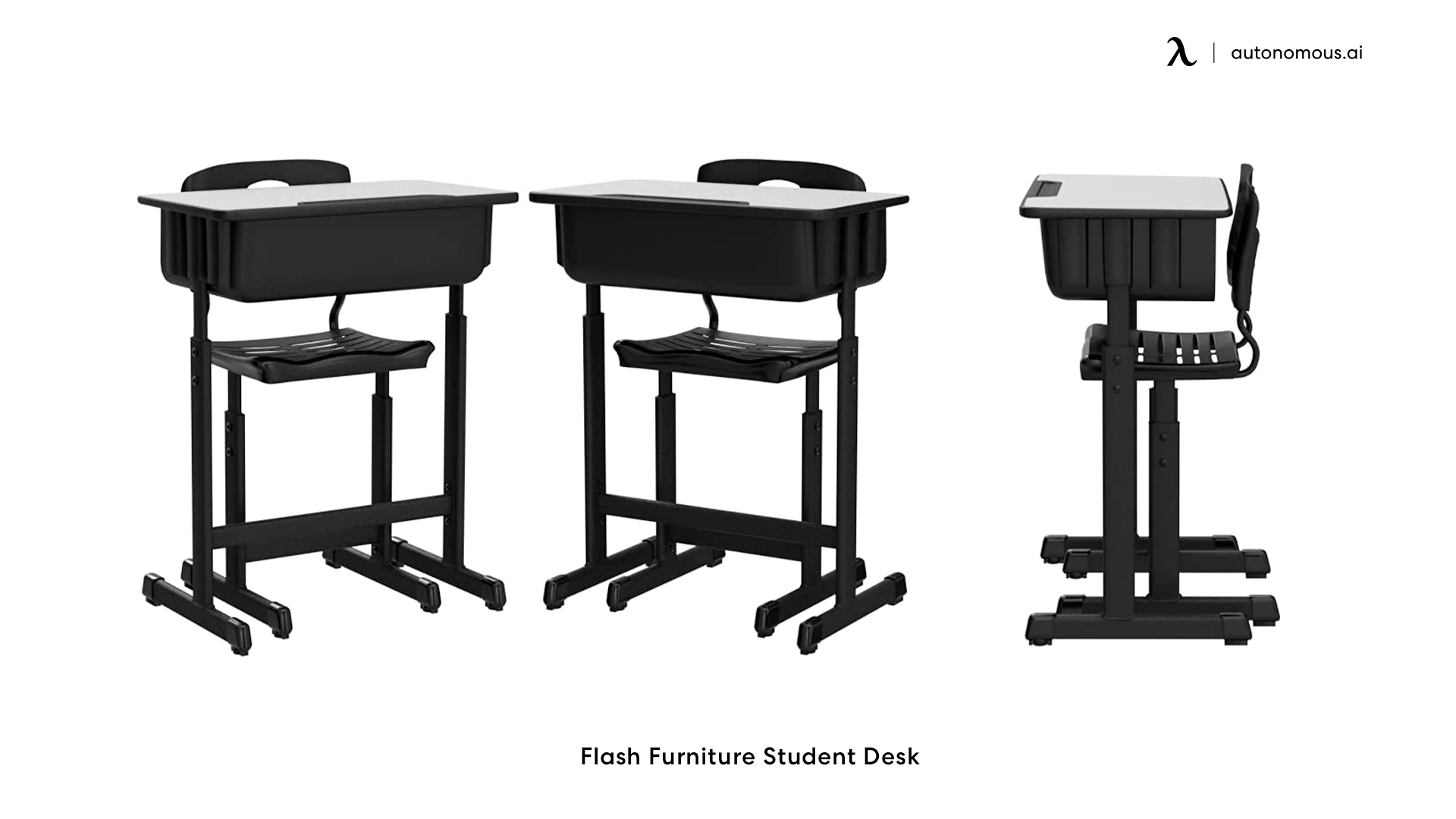 As soon as you see the design of this homeschool table, you are immediately going to feel like it's made for children. You wouldn't be wrong, as there isn't much value in a design such as this one for adults. 
However, it has all the space in the world that a child could want to work with. The design of this kids' homeschool desk is very reminiscent of the school desk dimensions children would work within traditional classrooms. 
You find that creating such an image brings an air of seriousness to any task that needs to be done. 
7. SHW Electric Height Adjustable Standing Desk
You probably weren't expecting to find a traditional homeschooling desk on this list. While that would normally be the case, the measurements here would indicate that you have a perfect unit on your hand for small children. 
Homeschool workstations for the little ones must be compact enough for them to move around effectively without feeling too small. The SHW electric desk strikes the balance incredibly delicately. 
Of course, thanks to an incredible height range, college students can benefit from the design too. 
8. UrbanBabe Einstein Kids Desk Set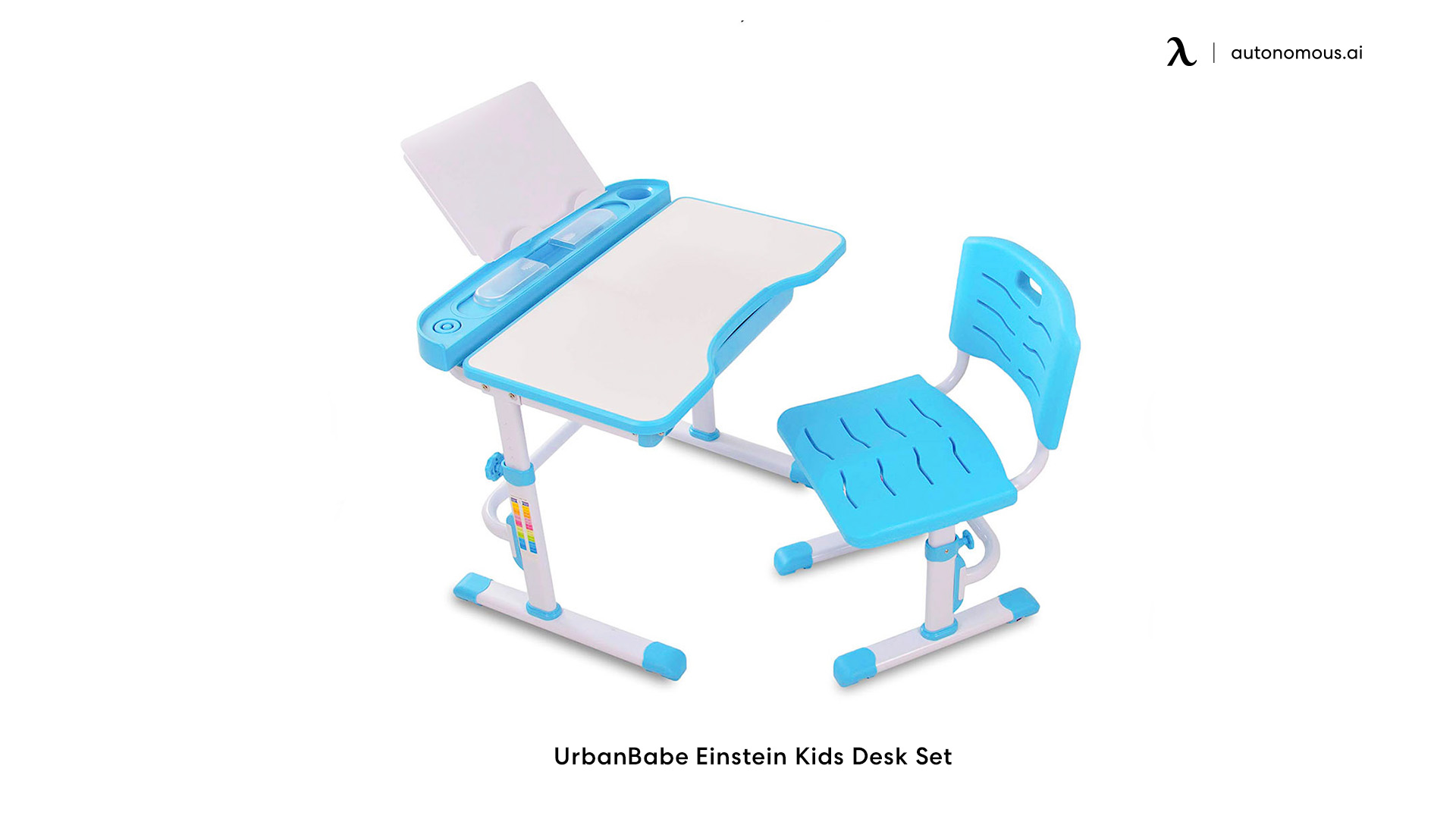 Here is yet another adjustable option for you to enjoy. You should find that your money is well spent here, as your child is not going to be growing out of this desk anytime soon. 
The period of childhood is characterized by rapid growth, and the last thing you would want is to buy a desk today and have it be useless in a couple of months. 
You don't have to look twice to tell that the design of this kids' homeschool desk was intended for children, and the inclusion of a chair is a nice touch. 
9. Melissa & Doug Wooden Lift-top Desk and Chair
There is an unmistakably professional look to this design from Melissa and Doug. Though it is amazingly simple, it manages to carry an air of elegance effortlessly. 
Familiarity should be a plus here since the dark wood is reminiscent of the kind of furniture used in schools. The price tag is incredibly fair, and you should never find yourself worrying about durability challenges. 
You would be best served by choosing this homeschooling desk for younger children, as the older ones may have a harder time with the small size. 
10. Argos Home Locker Desk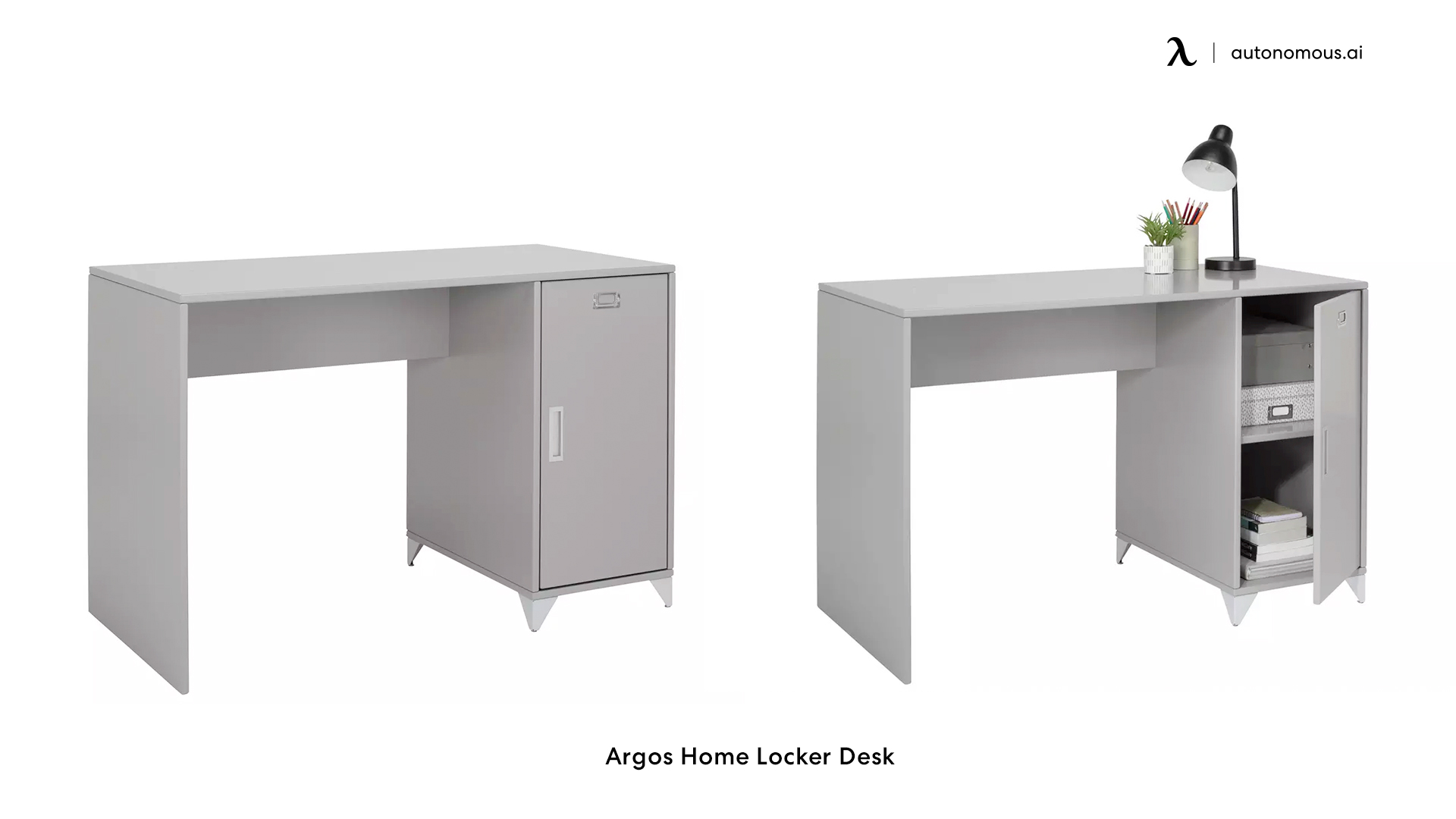 Some children enjoy feeling included in things that their parents do. For example, if you already have a professional desk at home, your child is likely to respond very positively to having one that appears to be a variation of yours. 
If seeing your child look like a professional makes you proud, then this desk should most certainly be on your shopping list. The included locker gives kids a great place to store their stuff too! 
11. Elfa Kids' White Coloring Table
You've probably already surmised that this desk is for smaller children. It's not very wide, which means it's likely not suited to kids over 7 years old. Remember that aging also means they need to fit more supplies on the tabletop. 
For those who can use this design by Elfa though, they're going to have an amazing time. With six mesh drawers, there is no worry about storing pencils, drawing paper, crayons, etc. 
The unit is also very child-friendly with its rounded edges that help prevent your child from getting hurt. Some parents affix a roll of craft paper to the top of the desk, which allows for a dedicated drawing and coloring surface. 
12. Glaser Kids Writing Desk and Chair Set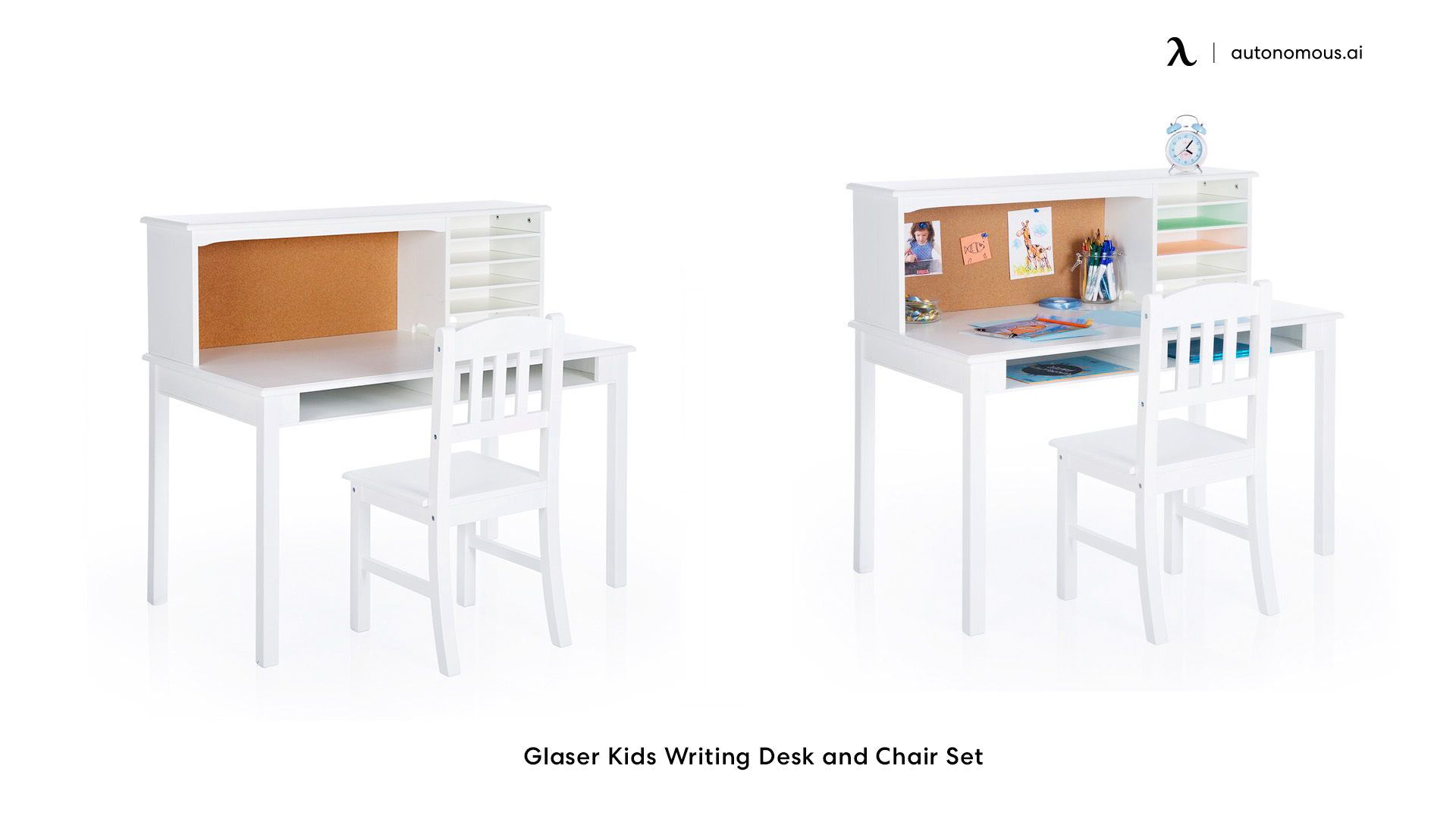 As the name implies, this kids' homeschool desk comes with seating for your child. It is suited to kids aged 5 to 12 years old. Multiple storage compartments are present, as well as a hutch that features a corkboard. 
The color options are also quite interesting as you have your choice of navy, lavender, white, grey, and teal. It looks like something right out of a playhouse, which is sure to appeal to your child. 
13. ECR4Kids The Surf Portable Lap Desk
This is the definition of a simple yet convenient design. As the name implies, it offers tremendous portability, which means your child can sit and work wherever may be convenient. 
Its design means it can be placed on the floor, outside, or on a chair. Regardless of what the choice may be, the sitting platform brings out tremendous possibilities for any homeschool workstations. The best part is you can grab one of these for less than $35. 
14. Costaway Kids Desk and Chair Set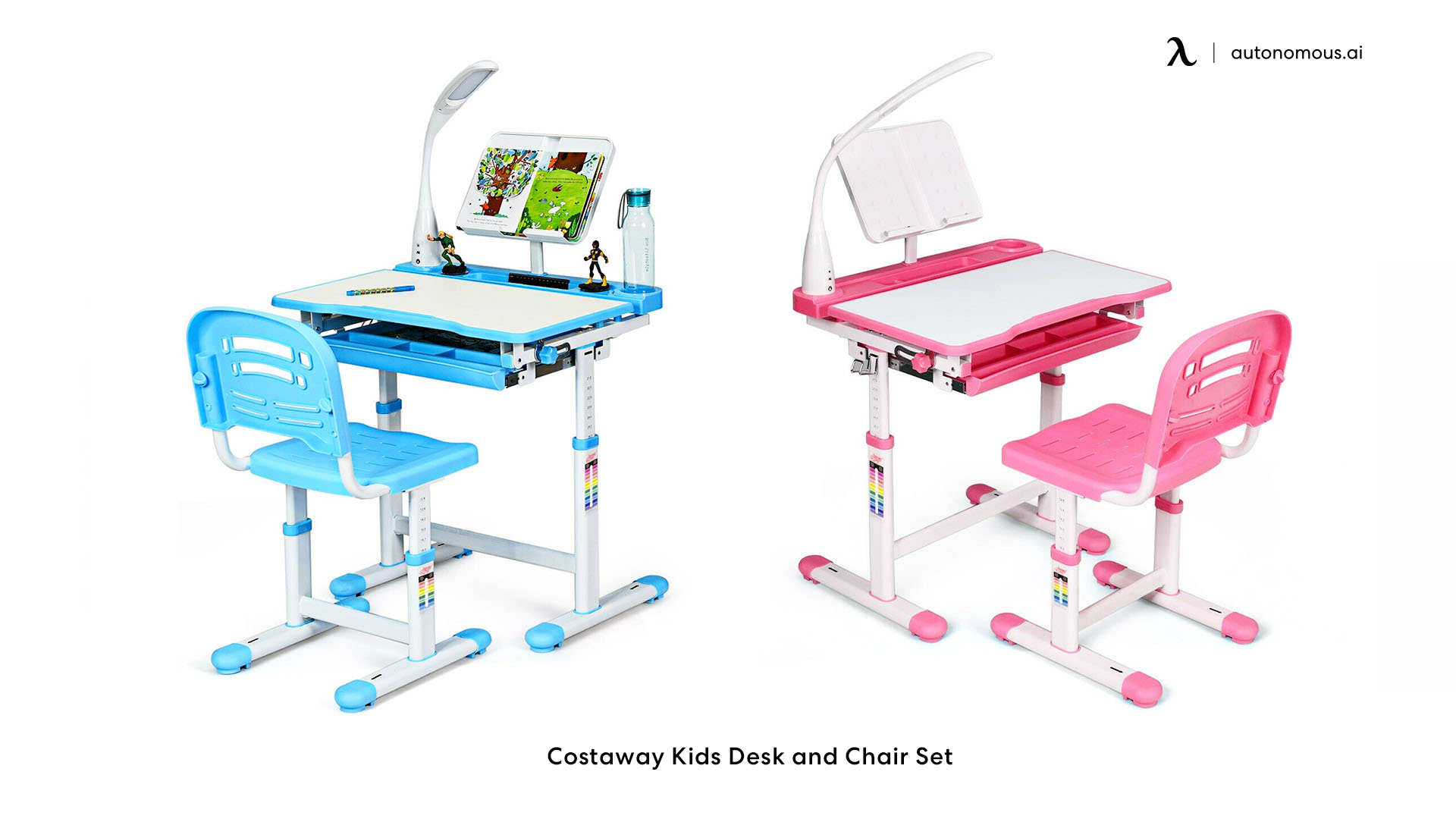 Here is one of the homeschool desk ideas for the parents. There is always value in desks that come with a chair included, and this option from Costaway is no different. The functionality it offers is combined with an incredibly stylish look that is guaranteed to make your child feel cool. 
High adjustability means getting used to the health benefits of sit-stand sessions from a young age. There's a tremendous amount of storage, and the desk surface can even be tilted when needed for the utmost convenience. Note that the chair included is also height adjustable, which makes for several positional possibilities. 
15. UTEX Corner Desk
It can be quite difficult to find a desk for your home when you're tight on space. The smaller form factors that don't require much space tend to be incredibly attractive here. That's why you are likely going to enjoy the design of the UTES corner desk. 
Though it's small, its corner-spanning design means having enough space to work. The storage and hutch areas are convenient for books and other stationery that may be required for whatever course of study is prescribed. 
16. Little Architect Kids' Desk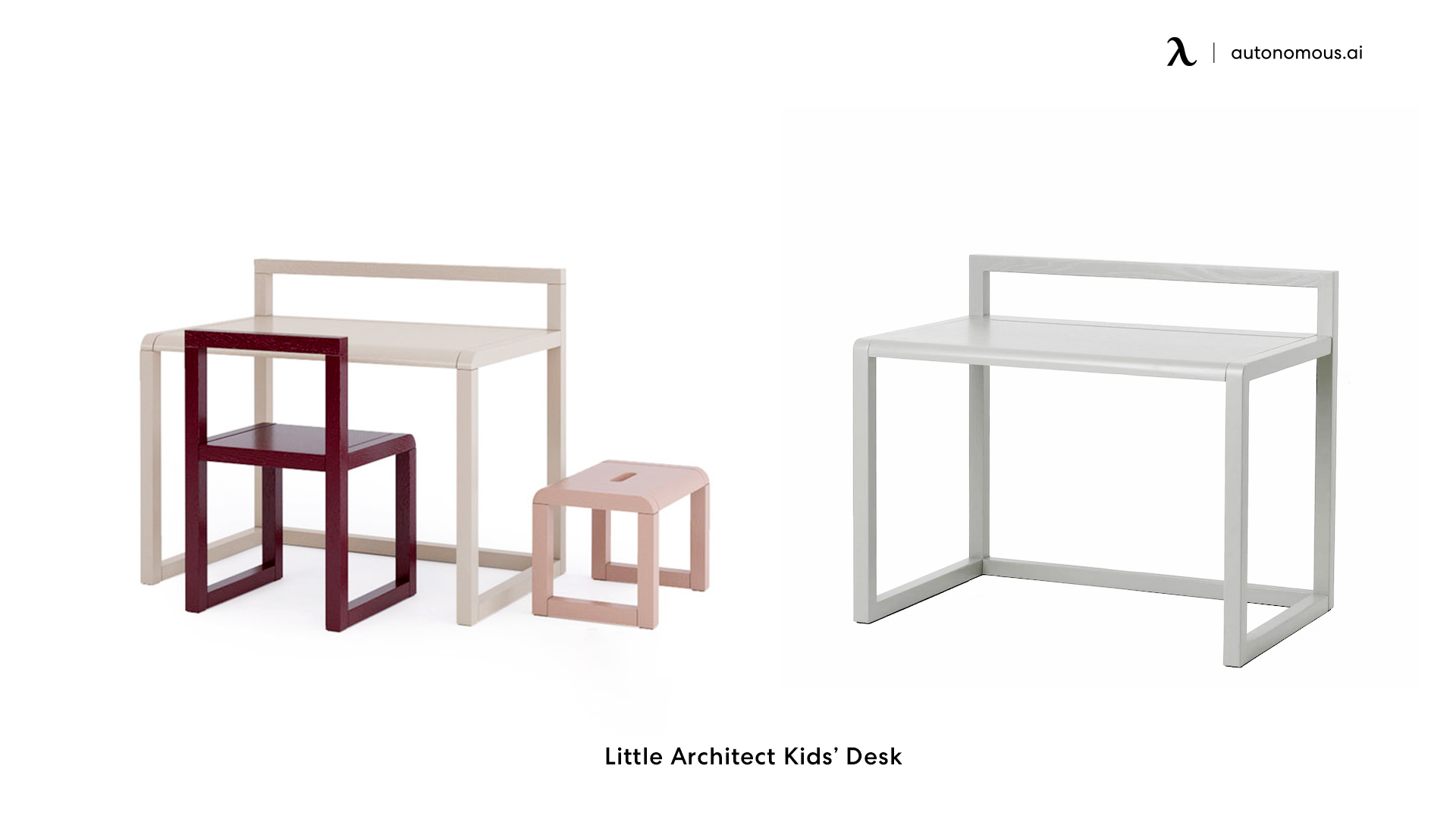 As the name implies, this is another model that's dedicated to smaller children, which allows them to capitalize on their creativity while providing ample space and a great design. It includes a chair, which means not worrying about seating options. 
The contemporary design is available in several beautiful colors, including tan, green, rose, dark red, grey, and blue. Compared to many of the other designs for young children, this one is a bit more expensive. Still, it's not hard to see and appreciate the kind of quality that you are paying for. 
17. Nubi 1 Pedestal Desk
While younger kids are not going to have the worst time in the world making this a part of their home school workstations, you find that the design is more suited to college students. It's the first step into the professional world, thanks to a wonderful industrial look. 
The build quality is very heavy-duty, and the top is expensive enough to fit quite a bit of equipment. The inclusion of a drawer and a cabinet area with a sliding door with the homeschool desk also translates to better organization. 
18. LumiSourcce Sigma Desk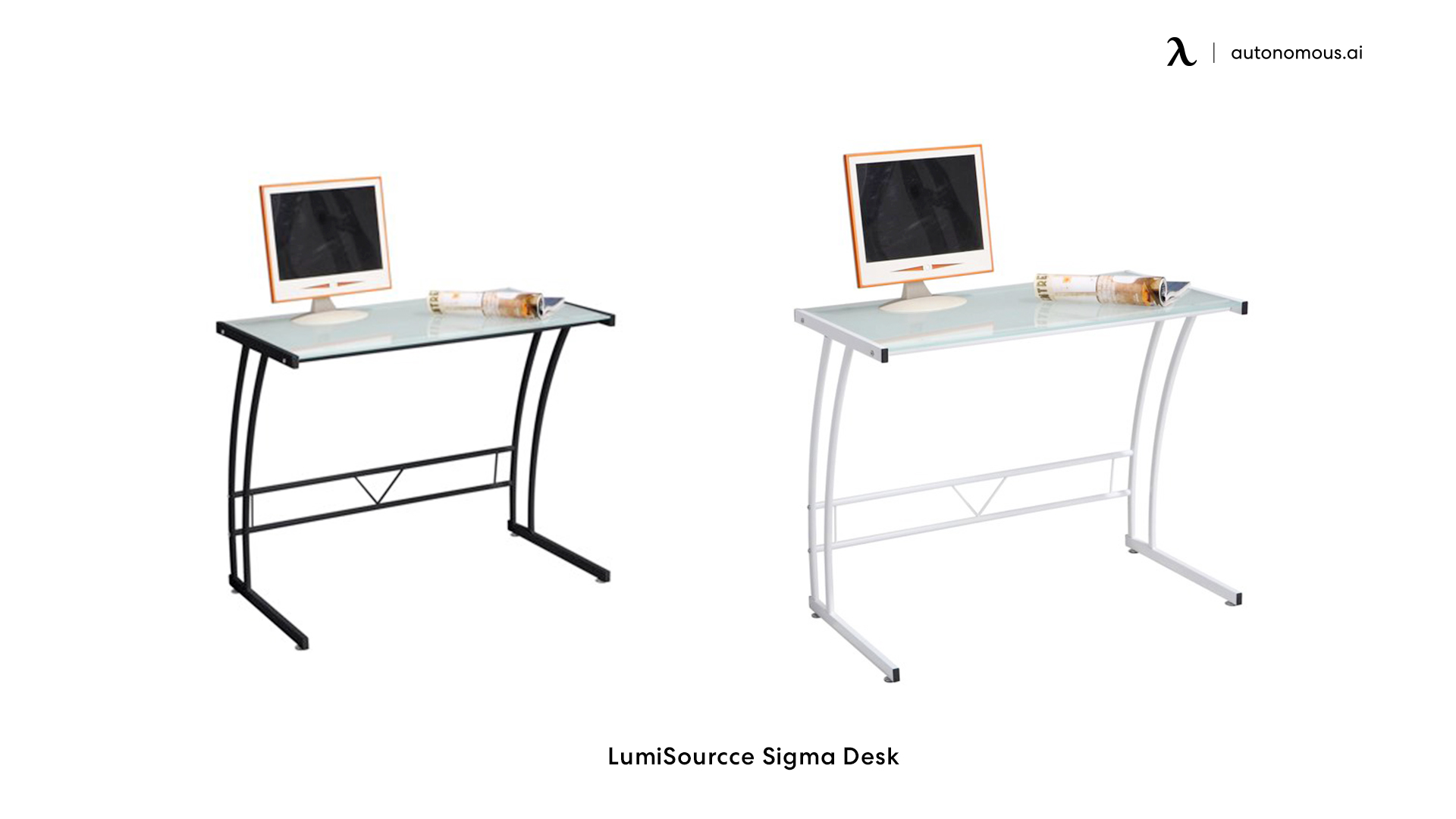 Here you have a modern design that can suit a variety of age ranges incredibly well. The home school desk features a glass tabletop with a contemporary frame that makes it very easy on the eyes.  
As tempered glass typically does, it gives a stylish aesthetic to a space that's dedicated to productivity. College students are going to enjoy such a great design that only costs about $70. 
19. Parsons Mini Desk and Hutch
This is yet another small desk for small children who live in a small space. If you have two children, you can comfortably fit a pair of these just about anywhere, so they can both have fun and work. 
The miniature design features a convenient drawer that can hold crafting equipment, homework, or any other pieces of work in progress. There's an optional hutch add-on which translates to better organization and storage. 
20. Filippus Height Adjustable Desk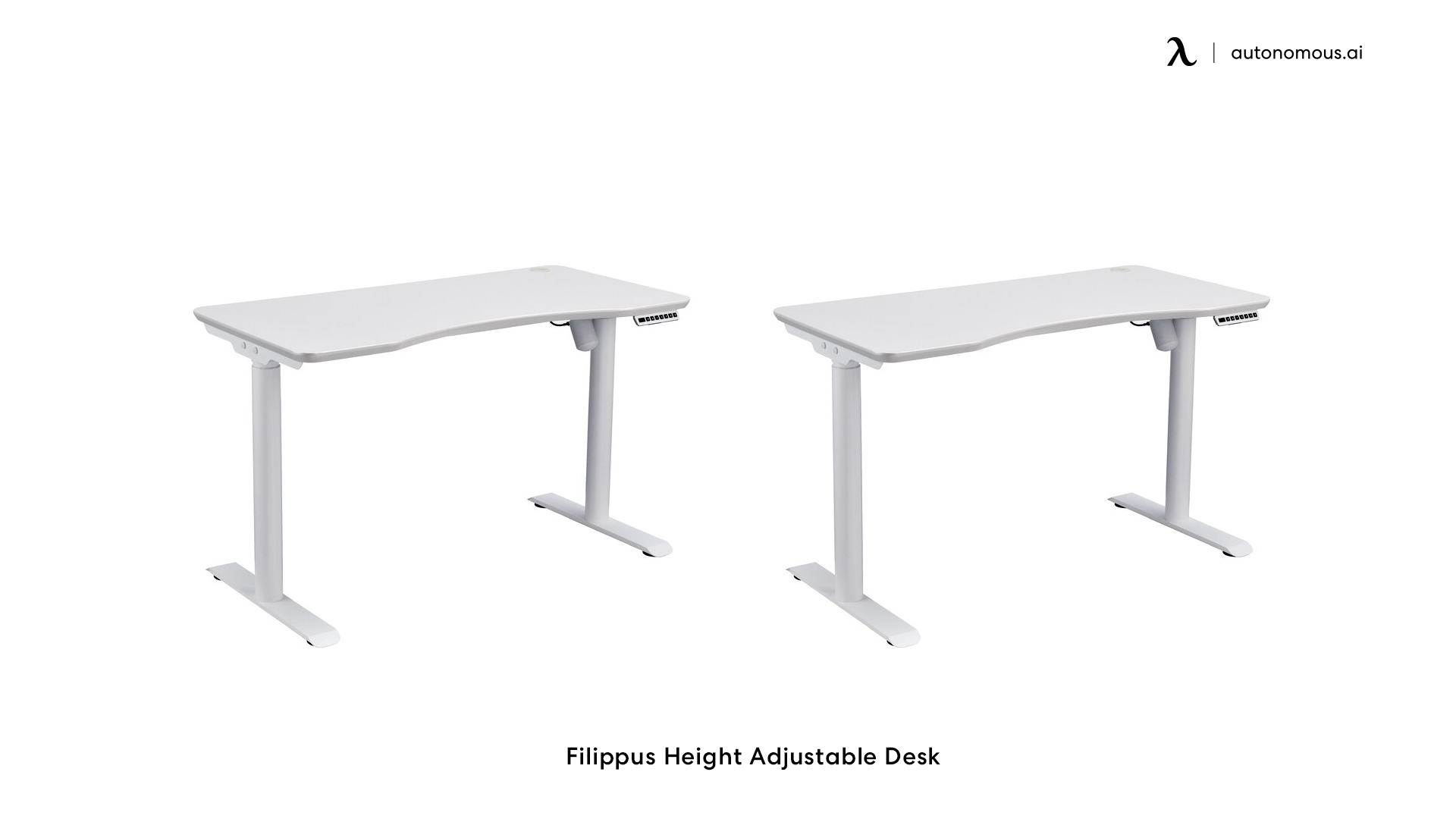 It's never a bad time to invest in a homeschool table that is conducive to longevity. If you have a very young child, then this desk can stick around for as long as it still has a useful life. 
For college students, the homeschool desk can serve throughout the school years and can eventually double as the centerpiece of a work from home station when it is time to enter the professional world. This is suitable for an elegant college desk setup at home.
The height-adjustable unit is fitted with USB ports on the right, which allows for device charging as work is taking place.
Final Remarks
Both young children and college students have their own important tasks that need to be supported. The collection of homeschool desks above accommodates one or both categories that can often be chosen for functionality. Hopefully, this definitive top-class list helps you to choose.
Keep up with Autonomous news
Stay informed, stay inspired with our new blogs.
WRITTEN BYAutonomous
We build office products to help you work smarter.