Smart Products
20 Best Massage Guns for Relieving Muscle Pain (2023 Updated)

Autonomous
|
Dec 6, 2021
1,992 Views
If you're a dedicated sportsman, exercise at home, or are merely inclined to experience chronic back pain, using a massage gun is a terrific approach to help you relax tense muscles. Even though nothing surpasses the effectiveness of a professional massage therapy session, a massage gun can still be an excellent option to help remove muscle knots at home. 
These devices use oscillating, fast pulses of pressure that when applied to muscle tissue. Massage guns help pinpoint specific pain locations. However, with so many alternatives, deciding on the best massage gun may be difficult. Here is a massage gun review of 20 of our favorites.
20 Best Massage Guns for Relieving Muscle Pain
1. Deep Tissue Massage Gun by OVICX
The OVICX Deep Tissue Massage Gun is an excellent choice for those looking for a portable and highly effective massage gun. It includes four massage heads that provide four different intensity levels to provide light to intense muscle stimulation. 
Additionally, this device charges very quickly, ensuring that it is always readily available when you need it. One charge gives you up to seven hours of usage, which is incredibly impressive and unheard of for a massage gun. It can easily become a part of your home gym equipment or form a part of your office workout equipment. 
The best massage gun device also comes with a one-year warranty, so you have the assurance that it can be repaired or replaced if anything goes wrong. You also get free shipping on this incredible product with a 30-day money-back guarantee. 
Overall, this is the ideal muscle massage gun for anyone, from the sore office worker to the professional athlete. The great part is that it is one of the more affordable massage guns, giving you outstanding value for money. 
2. Therabody Theragun Elite Massage Gun
With a silent motor and all the essential features, the Theragun Elite provides a personalized massage experience. This high-tech device works in conjunction with the Therabody app to provide you with tailored advice and control, so you can target specific areas. 
It also features Bluetooth, an OLED display, and three pre-programmed settings. The Elite has five different attachments and a maximum force of 40 pounds, providing excellent relief just where you need it. Unfortunately, it is an expensive option that sets you back several hundred dollars. 
3. Therabody Theragun Pro Massage Gun
This is another best massage gun for you. To get an even better massage experience, you can try the Therabody Theragun Pro. This professional-level tool can be used for deep muscle massages to help relieve muscle knots. 
Unlike the Elite, it has six attachments rather than five and a maximum force of 60 pounds. It delivers up to 60 pounds of force and 60 percent more speed and amplitude than any previous versions. 
The massage gun provides a more intense massage than cheaper massage guns, but truthfully, not by much, so it may not be worth the large investment. To adjust the speed and force, use the associated app and the massage gun's OLED display. 
4. Ekrin B37 Percussion Massager
The Ekrin B37 is extremely simple to set up and operate. It is, as they claim, super silent, and its ergonomic form makes it simple to carry and use. You may use it to massage most of your body yourself with five various attachments and speeds. 
A great thing about this massager is that pain relief you get is almost immediate, and it feels incredible. It comes with a convenient travel case, making it simple to transport wherever you go, and the great design is a plus. Furthermore, a lifetime warranty and a full 30-day money-back guarantee are other great advantages. 
5. Achedaway Vibration and Percussion Massager
This handheld massage gun from Achedaway has a battery life of up to five hours, making it great for anyone with persistent muscle aches who prefer not to have to charge a device every time they need to use it. 
It also has five-speed settings and four interchangeable heads to meet all your massage requirements. The Achedaway muscle massage gun is also lightweight, with a powerful motor that receives great consumer praise. Like the Ekrin, it too comes with a convenient and stylish carry pouch. 
6. Renpho Mini Massage Gun
This device is rated as one of the best massage guns in the market. Those who prefer a smaller device that can easily fit into their bag or backpack may be interested in the Renpho massage gun. This mini massage gun may be small in size, but dynamite comes in small packages, and this little tool packs a great deal of power. 
You can get powerful, targeted relief with this device, all while on the go, for an affordable price, making a value for money purchase. 
7. The Hydragun
There is nothing more embarrassing than the loud vibrating of the best massage gun when you are in public. Fortunately, there are quieter options. The Hydragun is among the quietest handheld massage guns on the market, with a decibel level between 30 to 50. 
An innovative technology known as SmoothDrive Technology drives it with a silent motor that moves at 3,200 strokes per minute. It has six interchangeable heads, each of which is intended to provide pain alleviation in different areas of the body. 
This massage gun also boasts a six-hour battery capacity, a comfortable silicone handle, and simple operation, so you never have to spend time with your nose in the instruction manual. 
8. Vybe Pro Massage Gun
The Vybe Pro is a versatile alternative, with an impressive number of intensity levels (nine) and attachment heads (eight). It also lets you target deeper muscle groups for effective pain relief. 
This best massage gun also has an adequate battery life of three hours, a quieter motor, and a handy carrying box. Unfortunately, some buyers complain that the workmanship of the attachable heads is poor, but considering the low price point, it might not be a deal-breaker. 
9. Hyperice Hypervolt Plus Bluetooth Massage Gun
The Hyperice Hypervolt Plus Bluetooth Massage Gun is ideal for newbies because it can be paired with a mobile application where users can receive instructions on how to warm up, recover from a workout, and maintain the device. 
It also features one of the quietest motors and finest percussive actions. However, it does have just three settings, which may not be sufficient for some. 
10. Legiral Le3 Massage Gun
On Amazon, this best massage gun has over 30,000 customer reviews, with 85 percent of them giving it a five-star rating, which is impressive. It is a good pick for around $200 for folks who aren't serious athletes but require support with muscle recovery after an exercise session. 
The Legiral is like some of the more expensive versions, with six changeable heads, a soft silicone grip, and a modest two-hour battery life. 
11. LifePro Sonic LX Professional Massage Gun
An advantage to choosing the LifePro Sonic LX Professional muscle massage gun is that it is among the most adaptable massage guns on this list, with seven massage attachments and nine different speed settings to let you customize your massage experience. 
Based on how stiff your muscle groups are, you can set the level of intensity from 1,800 to 3,400 rotations per minute for a more intense treatment. This massage gun is one of the best products for everyday use. 
12. Medcursor Heated Massage Gun
There is no denying the usefulness of heat when treating muscle stiffness and pain. With this thermal-infused massage treatment gun that can help to alleviate pain and discomfort, you can continue your workout regime thanks to its trustworthy massage treatments. 
The device's cordless design allows you to move from one muscle group to the next with ease, and it has a superior battery life of 12 hours, making it perfect for taking it with you when traveling or for use while on the go. 
13. Toloco Massage Gun
If you need several variable speeds and massage heads for unique massage therapy, give the Toloco mini massage gun a try. 
This device allows users to use up to 20 speeds and pressure settings and 15 various heads, making it incredibly simple to target particular muscle gorups. Silicone is also used on the grip, as with many other massage guns, to prevent slipping if your palms are sweaty. Its resilience, capacity to treat pain and impressive battery life have all been praised by users. 
14. Medcursor Percussion Massage Gun
You can get a deep tissue massage without help from anyone else with this handheld massage gun. It is a cordless, rechargeable device that can give you a treatment that rivals that of a professional therapist or chiropractor. 
Users can get relief from soft tissue pain without plugging the device in, thanks to a long battery life of up to 12 hours. Another bonus is that it can be yours at a fraction of the cost of other high-end massage guns. 
15. TimTam Power Massage Gun
TimTam is another leader in the market. Its mini massage guns were created with the help of therapists, trainers, and sportsmen, all of whom are experts in the field of muscle rehabilitation. The device is composed of antibacterial plastic, so it never smells bad, and the end is preheated for optimal pain alleviation. 
16. Sportneer Deep Tissue Muscle Massager
Although the Sportneer Deep Tissue massage gun is less expensive than its rivals, its great ratings show that you need not spend a great deal of money to have a good percussion massage. It has five settings that range from 1,200 to 3,200 strokes per minute, as well as six attachment heads for focused massage therapy where you truly need it. 
One of its greatest advantages is that it weighs just two pounds, making it ideal for traveling. Its lightweight design also ensures that you do not injure your arms while using your massage gun. 
17. LifePro Sonic Handheld Percussion Massage Gun
There are five degrees of vibration intensity on this noiseless massage gun. Just change the settings to suit your preferences and apply it to your sore spots to feel your soreness fade away. 
If you're suffering from persistent back problems, this is a terrific way to get some back pain relief. Select one of the five attachment heads included in the package and watch as your muscle knots dissipate. 
18. Mebak Deep Tissue Percussion Massager
Unlike many other guns on this list, the Mebak has an LED display screen, much like the high-end options. It also has seven different speed settings and comes in a sleek pouch, so that you can take it with you to your sports game for pain relief on the go. 
19. Flyby Deep Tissue Massage Gun
Another effective, yet lightweight device that targets pain areas without causing pain in your arms is the Flyby. It is also incredibly quiet and affordable, with a simplistic design that makes it incredibly easy to use. 
20. Exerscribe Vybe Massage Gun
This best massage gun may not disappoint you. If you are tired of most handheld massage guns' repetitive simplistic black design, you may just need the Exerscribe Vybe Massage Gun. This cool instrument comes complete with a stand. 
It is also visually appealing, with a unique blue, sporty design, because your massage gun can be as colorful as you want it to be. 
Final Thoughts
A massage gun may seem intimidating if you have never used one before. They are easier to use than you may think and provide excellent tools to relieve post-workout soreness. These devices are essentially handheld instruments that apply precise pressure to certain muscle groups in a way that is gentle on your body. 
Massage guns may also be used to break down scar tissue in muscles, which may accumulate after an accident and cause pain long after the injury has healed. We recommend the Ovix Deep Tissue Massage Gun because it is an all-rounder that offers incredible value for money when compared with other products in its range. 
Additionally, we also recommend pairing the OVICX massage gun with the GoBe3 Smart Band to help track your fitness progress. If you have sciatica, you can truly benefit from adding a seated stretch for sciatica routine to your daily schedule to ease your pain further.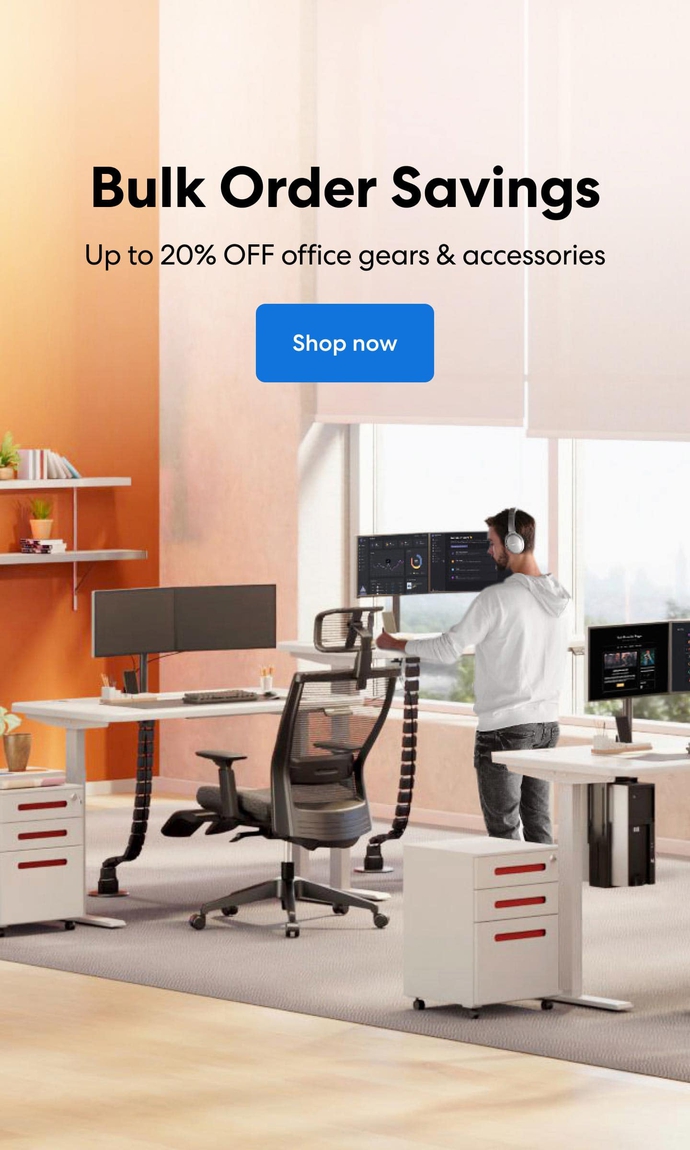 Subcribe newsletter and get $100 OFF.
Receive product updates, special offers, ergo tips, and inspiration form our team.