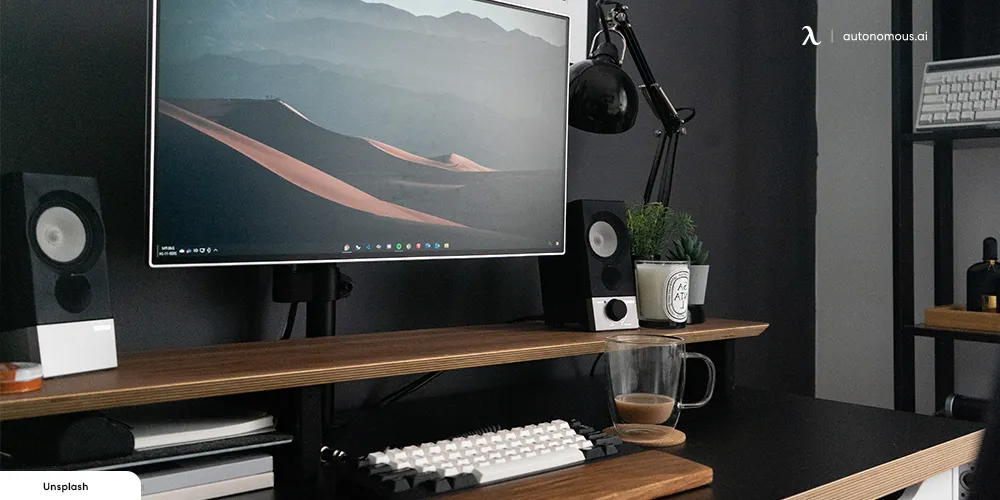 Smart Products
20 Best Monitor Risers for Desk with Drawers and More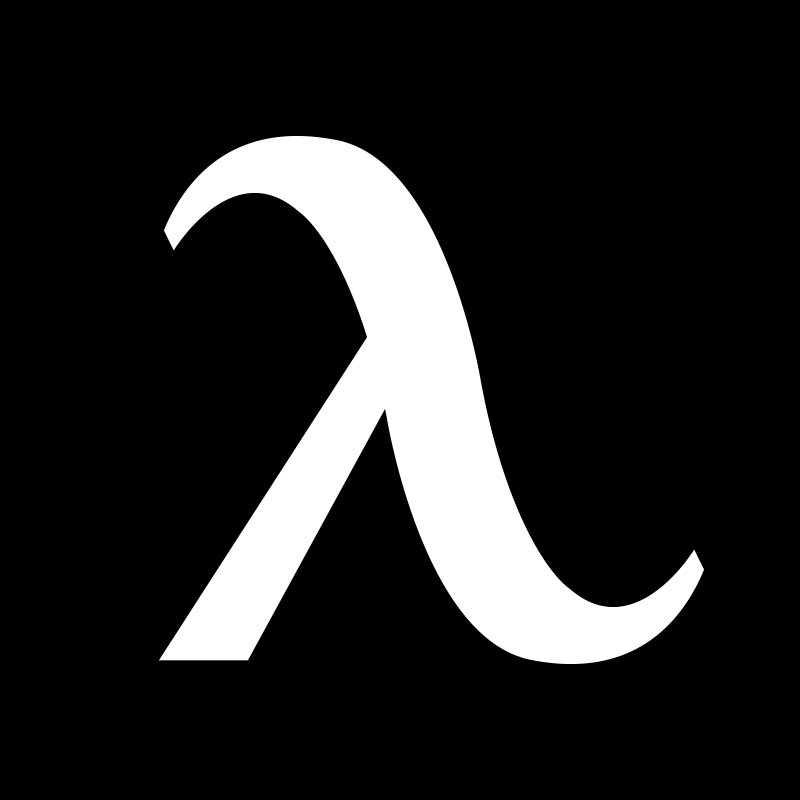 Autonomous
 | 
Jul 21, 2022
When you're an office worker, you must make sure that your screens are at the ideal angle to avoid neck strain and improve your productivity. A monitor riser can help with that, so this article focuses on the features you should consider and some of the best models on the market.
What You Should Look for in a Monitor Riser Stand
Even though there are numerous monitor stand riser alternatives out there, you must find the one that's best for you, but how can you know that? The ideal way to find out is to understand the features you must evaluate. Here are some of them:
Size
This is one of the most crucial features you should keep in mind when you're buying an adjustable monitor riser because you want to make sure that your screens fit and that the item itself has the right dimensions for the space you have available.
Height
In this matter, you have to consider how many inches off the desk you want the stand to be. Each model has its specific features, and some allow you to adjust them to fit your needs. Thus, you must pick the ideal one.
Storage Space
Some models provide you with storage space underneath the riser area. If this is something attractive to you, you should definitely choose a riser that gives you compartments, drawers, or space for your desktop essentials.
Style
Many workers want to make sure that the computer monitor riser they get is not only functional but also stylish. When you care about the aesthetics of your workstation, this is essential, so you should check out the different models' visual characteristics and try to imagine how they would look on top of your desk.
Ports
The last feature you should consider is the models' ports. In some cases, monitor risers have USB or audio ports that you can take advantage of, especially if you want to hide some cables. Therefore, give it some thought and decide if you want to plug devices through your screen stand.
20 Best Monitor Risers List
You now understand the essential features to consider before making your purchase. Thus, check out the following list of the best alternatives on the market:
1. Autonomous Monitor Arm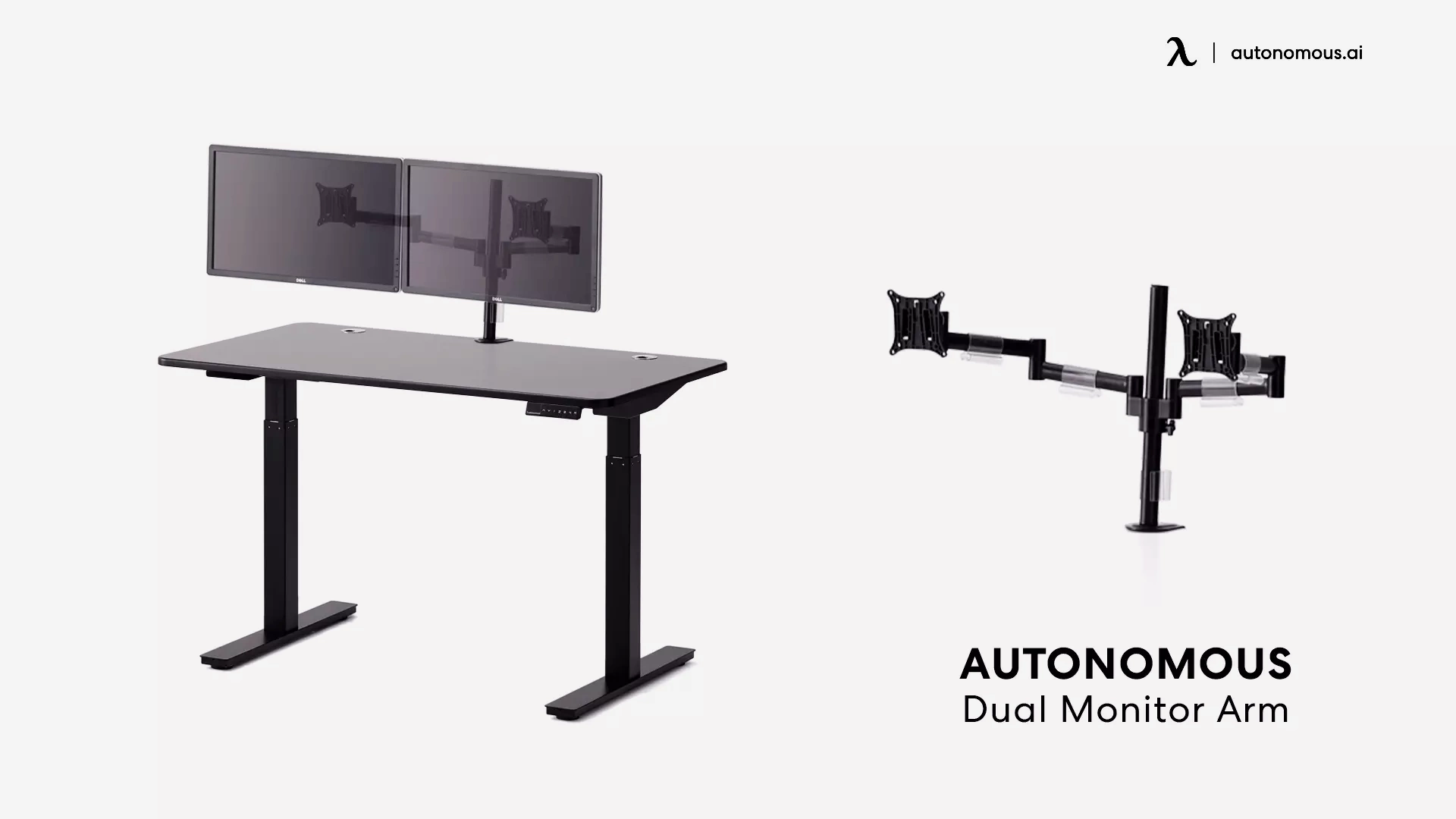 The monitor arm by Autonomous is one of the best options you can go for if you want to get top-notch features. With both duo and single alternatives, you get a lot to choose from if you want to adjust it to fit your needs.
At the same time, this monitor riser supports up to 26lbs per arm and you can quickly assemble it and use its frame to guarantee your cables are always tidy. It has numerous features that you'll love!
2. Mount-It! Monitor Desk Mount
Going through different monitor stand risers might be challenging until you find this option – the Laptop and Monitor Stand by Mount-It!
This alternative is a fantastic dual monitor riser because you can adjust it in any way you want to fit your needs, and elevate both your laptop and your monitor.
The forward-back tilt of this model moves up to 90 degrees, and you can adjust its monitor rotation to 360 degrees, which gives you a wide range of customizable options to choose from if you want to change the angle of your screens.
3. Aothia Large Dual Monitor Stand Riser – Walnut Black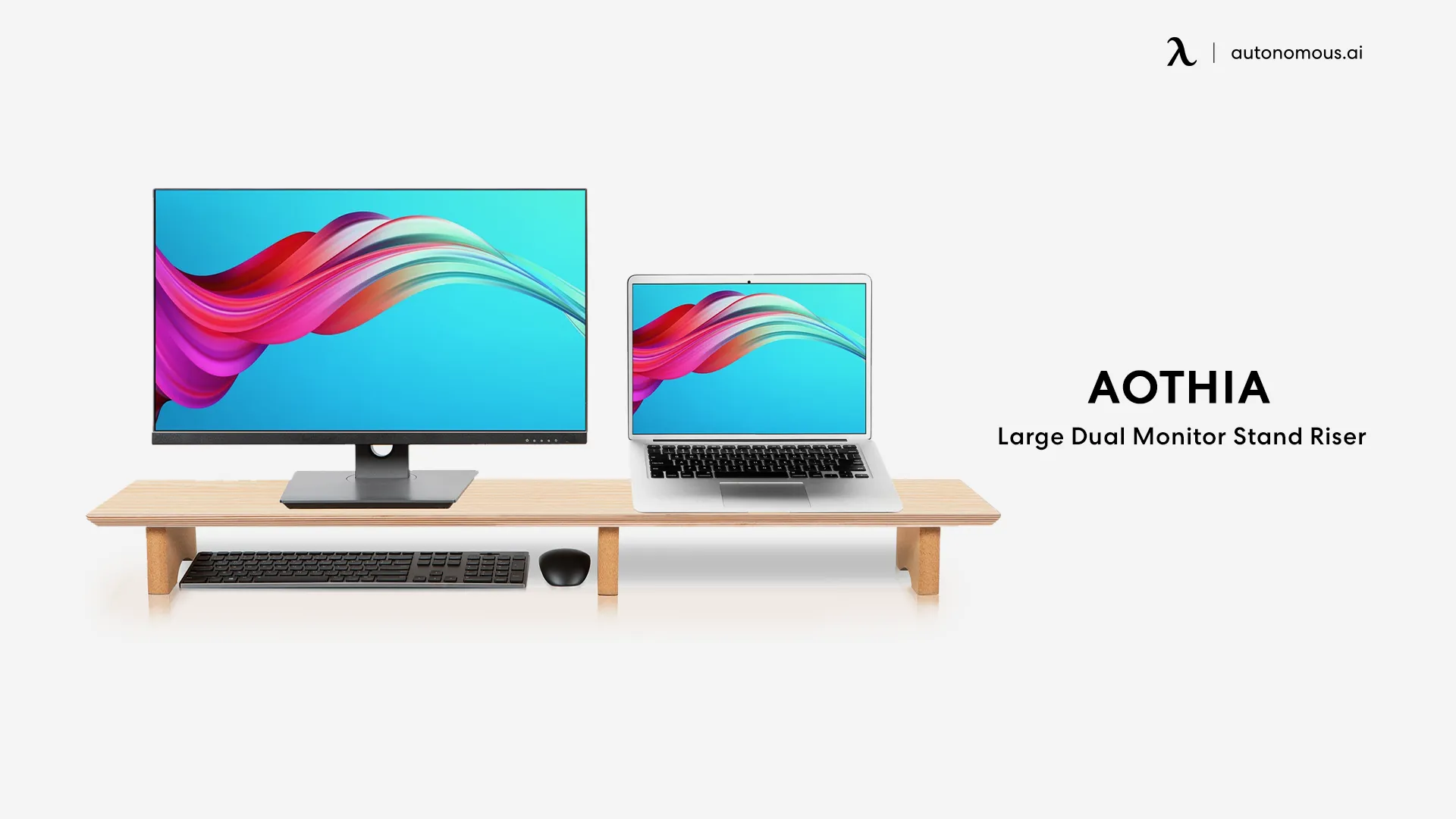 Another alternative you should look at is the Aothia Large Dual Monitor Stand Riser. Buying this model means you're getting a stylish, modern, sturdy, and durable item.
One of the best characteristics of this adjustable monitor riser is that its top shelf features composite wood from eucalyptus and poplar. Furthermore, since it offers a beautiful black walnut color, it can enhance the look of your office space.
4. Fenge Monitor Stand with Drawer: No Assembly
When you're looking for the ideal monitor riser for a PC, you must make sure that the one you buy is straightforward in terms of assembly, especially if you don't have much time to put things together and get the workstation you need.
Fortunately, the Fenge Monitor Stand with Drawer does not require assembly. Once you buy it, you only need to wait for it to arrive at your doorstep and start enjoying its MDF top, sturdy frame, and versatile features.
5. Enkel Studios Monitor Stand: Natural Birch Wood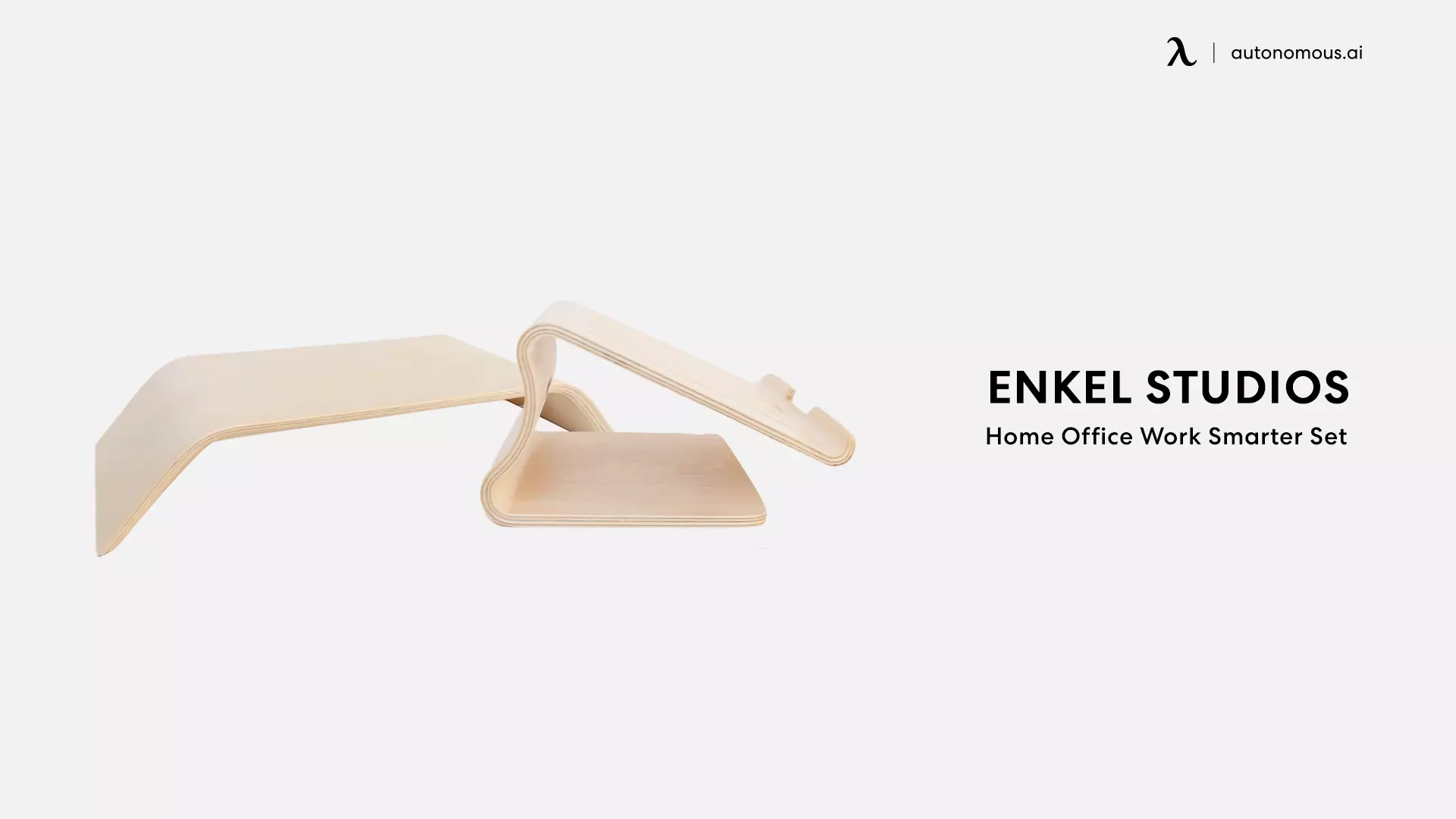 If you're looking for something that adds a natural, rustic look to your workstation, you might wonder which adjustable monitor riser is for you, especially considering that many models look modern and extravagant instead of classic and elegant.
However, the Enkel Studios Monitor Stand is different. With a birch wood coat that has protective, scent-free oils to last longer, this item can be the one that enhances the style of your surroundings, boosts your mood, and improves your productivity levels.
6. The Office Oasis Bamboo Computer Monitor Stand: Lasts a Lifetime
Some people just want something functional and straightforward, and they often look for a monitor riser that lasts years by their side. If this is something you want, you should check out the Bamboo Computer Monitor Stand by The Office Oasis.
Premium quality materials and a top-notch build are two things you get with this model. It can reduce your neck strain and offer storage space, which allows you to put away all your desktop essentials.
7. Two Tier Monitor Stand with Shelf
Another monitor stand riser that you should keep in mind is the Two-Tier, which is a one-of-a-kind model. It gives you the necessary space to support any laptop or device, and it features an extra shelf for you to put away your office supplies.
Since this model offers a unique design, many people love it because it allows them to change the look of their surroundings and guarantee that their office has a modern but elegant twist.
8. Adjustable Desktop Riser & Stand
Featuring three adjustable height levels and ready to support almost any laptop or screen on the market, this dual monitor riser is also one of the best options you can get.
With this alternative, you can simply raise your monitor off the desk and get extra storage space. Therefore, you don't need to worry about your office space looking cluttered anymore – rely on your brand-new riser stand and use it to your advantage!
9. Metal Monitor Riser Stand by Simple Houseware
If you want to get a one-of-a-kind, fantastic, high-quality monitor stand riser, you should consider the option by Simple Houseware. This model has plenty of storage, it's sturdy, and it's affordable.
Since its primary material is metal, it can support a lot of weight. At the same time, you can store papers, documents, books, and other home office essentials underneath it.
10. Adjustable Monitor Riser Stand by AmazonBasics
AmazonBasics often offers high-quality products, and its adjustable riser is one of them. Purchasing this option means you're getting a straightforward alternative that allows you to adjust it to the ideal size to fit your needs.
Furthermore, when you buy AmazonBasics' choice, you can adjust its height from time to time without going through too much hassle. However, keep in mind that it's not very big, so it can't fit two or three monitors. It's better for people with a laptop or just one screen.
11. Monitor Riser Stand by Huanuo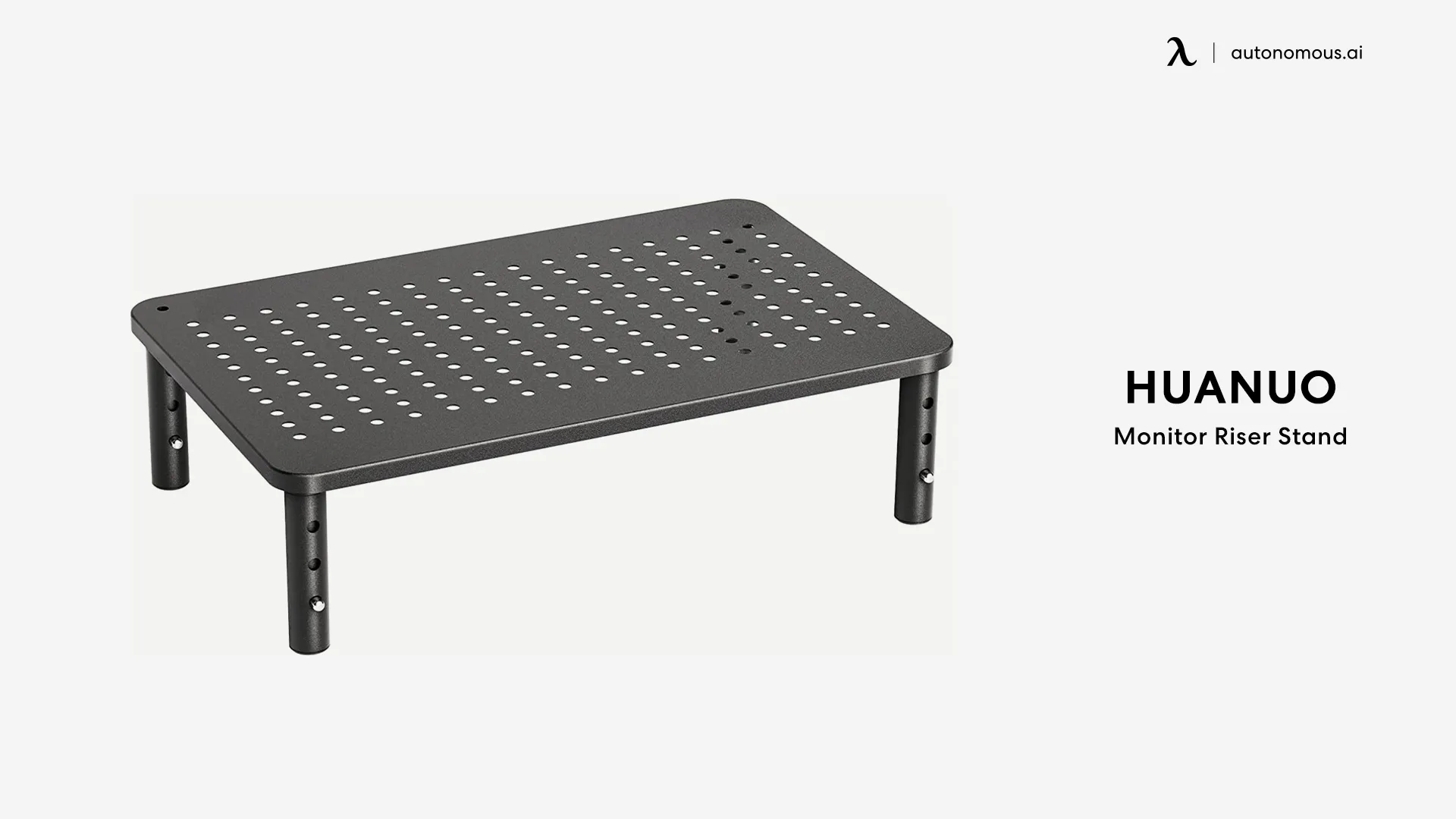 When you're looking for the ideal monitor riser, you might want something that raises your screen and helps you reduce neck pain. However, sometimes you don't have much money available, so you may need an affordable alternative.
Huanuo's choice is one of the best options you can get if you're on a budget because it has all the essential features and it's not too extravagant. It supports up to 22 pounds, and it definitely won't cost you much.
12. Wireless Charging Monitor Riser Stand by Vaydeer
If you want a monitor stand riser with extra features, Vaydeer's alternative is a fantastic alternative because it gives you storage space, but it also allows you to charge your technological devices via USB.
With four USB ports available and the possibility of charging your phone on top of it, this computer monitor riser is definitely a top-tier option.
13. Curved Monitor Riser Stand by Twelve South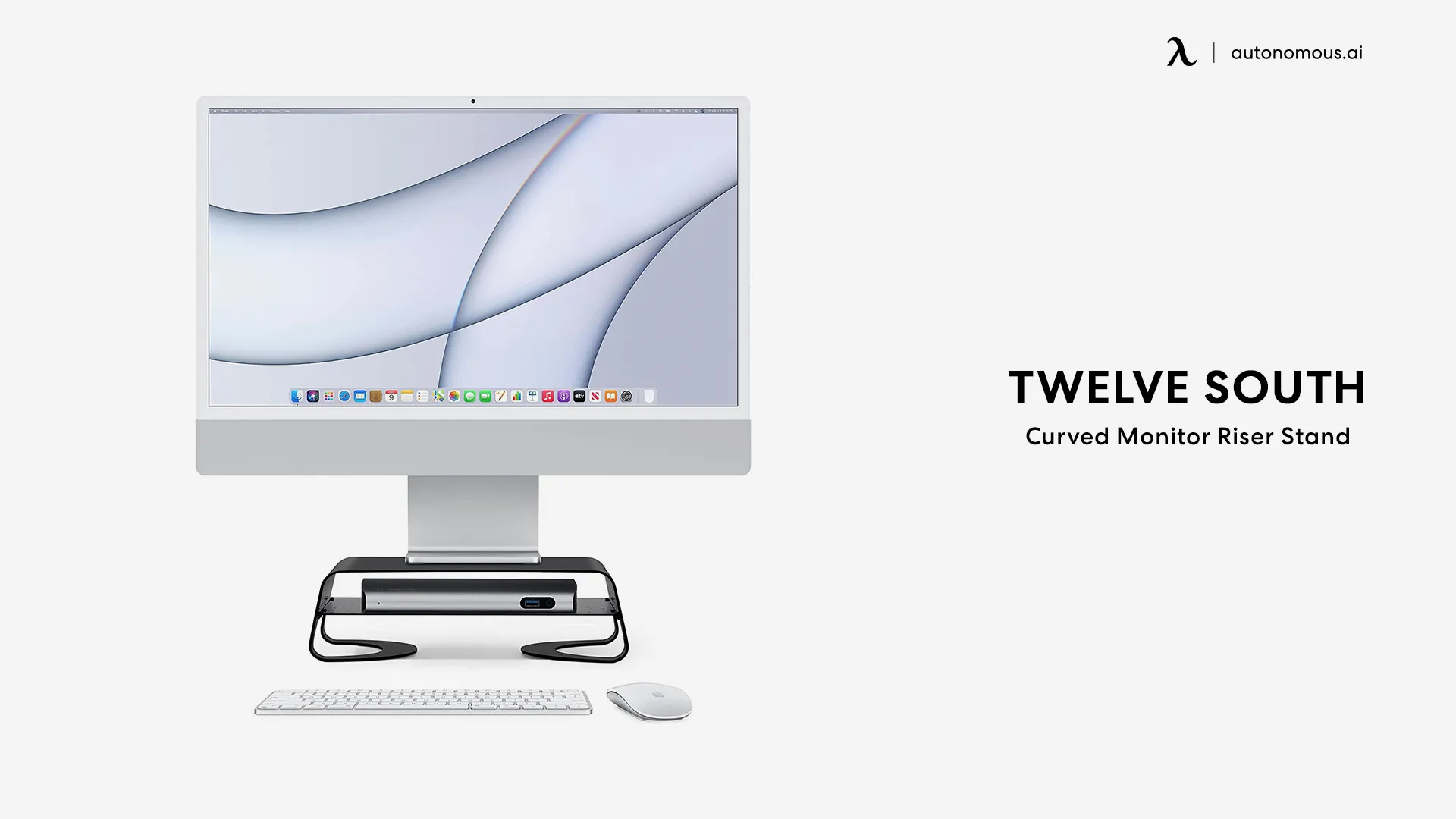 Some people need a single, compact stand instead of a dual monitor riser, and if you're one of them, Twelve South's option might work for you.
This alternative doesn't take much space in your desk, which is ideal if you don't need much storage and you're just looking to make your surroundings look neat and beautiful.
14. The Office Oasis' Monitor Riser
Even though numerous workers settle with straightforward, compact monitor risers like the previously mentioned option, not everyone is like that. Fortunately, Office Oasis has a very convenient option for you.
With this alternative, you get a lengthy riser stand that supports up to no less than 100 pounds. It has a lot of space underneath, and you can fit a full-sized keyboard along with multiple documents or books if you need to.
15. Eutuxia's Tempered Glass Monitor Stand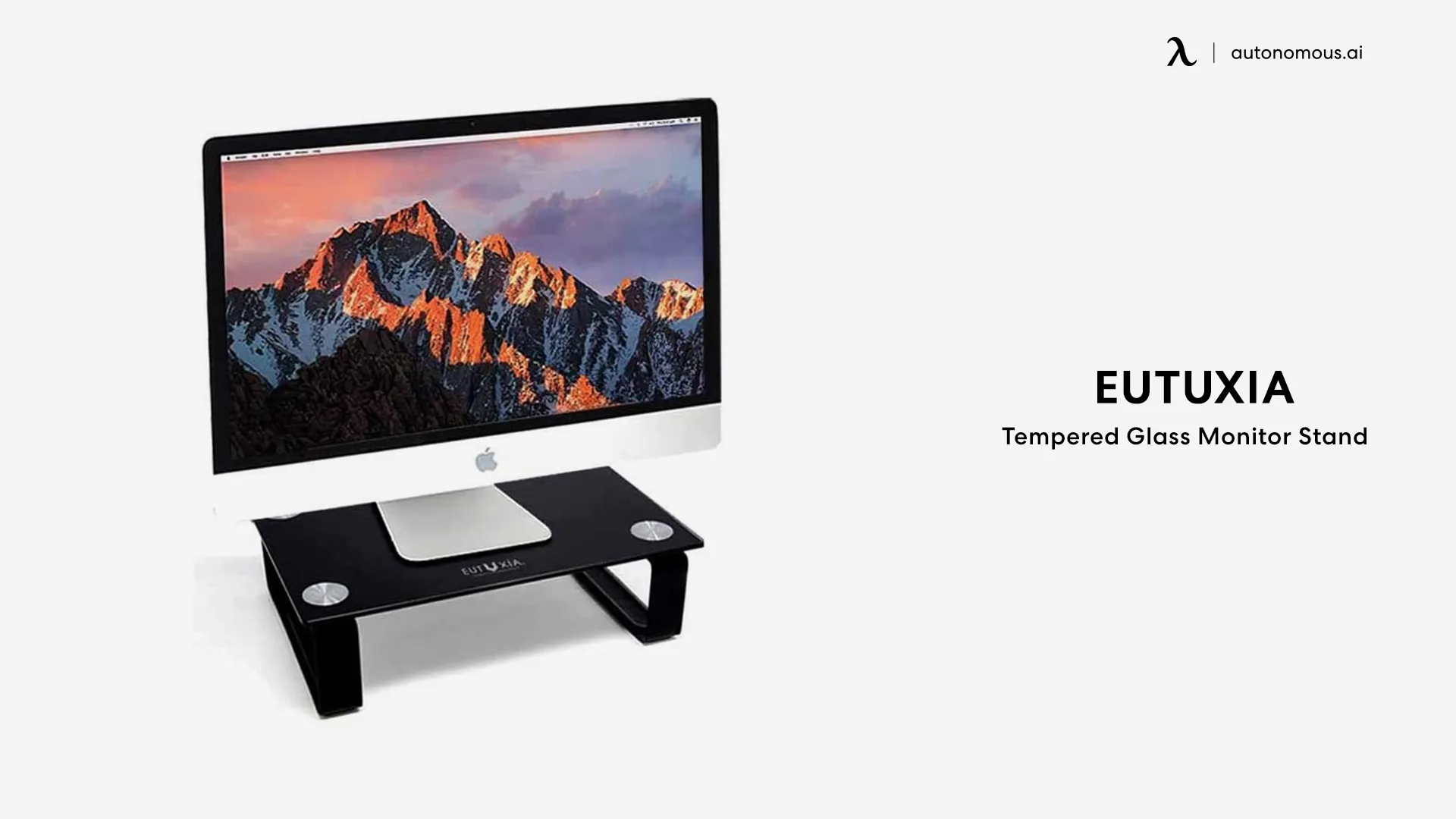 Finding the most beautiful monitor stand on the market might be a bit of a challenge for some, but Eutuxia has just the right model for you. This one-of-a-kind alternative offers a tempered glass surface, so it can change the whole look of your office space.
Buying this option means you get enough space for one large monitor, two small ones, or a small screen and a laptop. At the same time, it's the ideal alternative if you want to go for a more elegant and sleeker style.
16. Monitor Riser Stand by Marbrasse
If you need a lot of storage space, Marbrasse's alternative might be the ideal one you can buy. It has two drawers that you can use to store your desktop essentials, and since they offer a mesh design, you can quickly see what's inside.
With a durable black coating and a sturdy build, this monitor riser is bound to last for a long time. Thus, it might be the best choice for you if you want something compact but functional.
17. Ameriergo's Dual Monitor Riser
This brand is one of the best ones to offer versatility if you need something for two monitors. With its dual monitor riser, you can forget about needing storage space or wanting a new stand to change the height of your screens.
You can find storage under the three pieces of this computer monitor riser, so you might not need anything else to keep your office supplies.
18. StarTech's Monitor Riser
Five years of warranty by the manufacturer, three height adjustments, non-skid rubber feet, and a sturdy build are some of the features you get if you buy StarTech's alternative.
When you get this riser, you're buying an item that allows you to change the angle of your monitor and get the storage space you need to save your office supplies. Its design is straightforward, so it might be what you're looking for!
19. Kirigen's Monitor Riser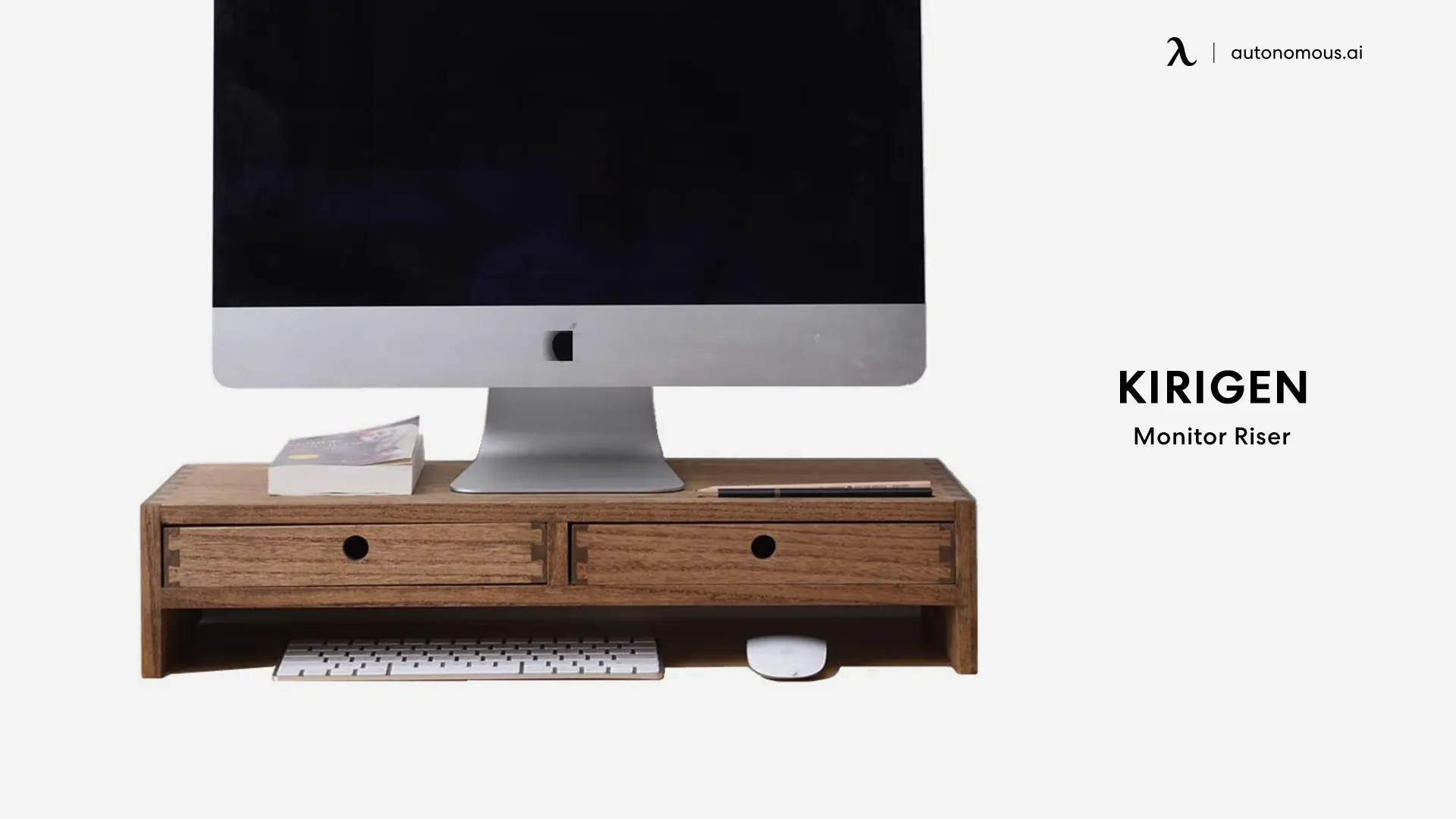 Unlike other brands, this one is Japanese and its designs are Chinese, so you get a unique item when you buy Kirigen's alternative.
Its primary material is high-quality wood with a texture that resembles base wood. Additionally, it has two drawers, which is convenient if you want extra storage space underneath your screen.
20. Vonhaus 05/081 Monitor Riser
The last item on this list is the riser by Vonhaus, which has a special feature because it comes in two different sizes. You can check the dimensions of each one and choose the one that works for you.
It's stylish but robust, and it offers enough storage space for you to be able to organize your supplies under it.
Keynote Takeaways

Finding the ideal riser for your monitor is often a challenging task, but by now, it should be easier for you since you know what you're looking for, and you have a list of the best alternatives on the market - you can use it as reference to pick the one you want. Choose your favorite and turn your workspace around!
Hey, you have special pricing through your company.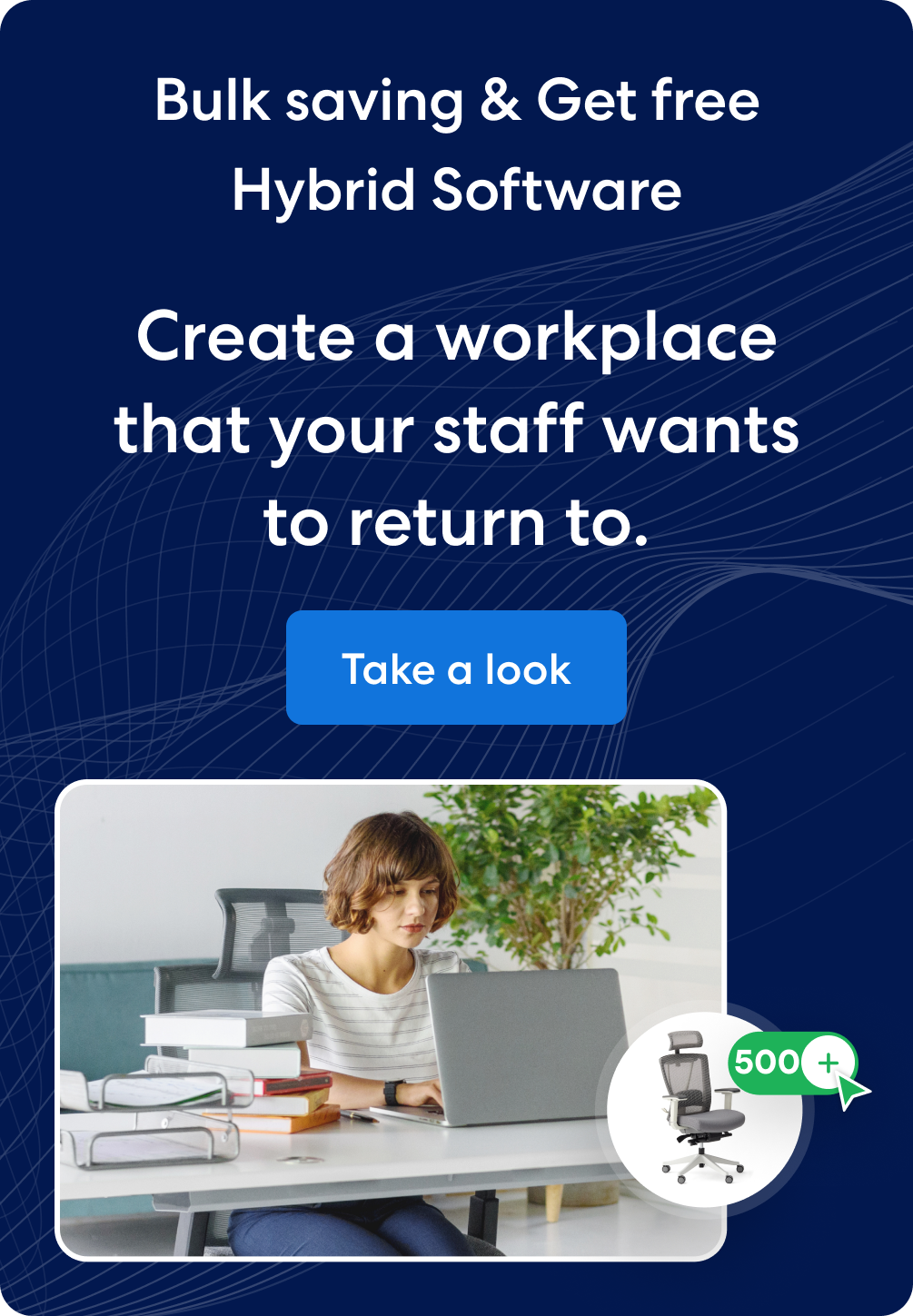 Get exclusive rewards
for your first Autonomous blog subscription.
WRITTEN BYAutonomous
We build office products to help you work smarter.
Coming at You Live from Autonomous' Social Media!