Smart Products
The 20 Best Portable Desks for Comfortable Work and Play

Autonomous
|
Sep 14, 2022
1,033 Views
Although you may have purchased a laptop to avoid working at a desk, this does not mean that you should simply place it on your lap. With a lap desk, you may work comfortably from your couch or outdoor furniture while using your laptop. 
There are many benefits to using a lap desk. Notably, you won't have to be concerned about your laptop overheating or your legs being uncomfortable from having the system rest on them for an extended period of time. Additionally, because your laptop is elevated and solid, working in this manner is often much more comfortable. 
Furthermore, a portable office desk offers additional room and additional slots for storing your phone or tablet. Here are some of our top picks along with an overview of each one's important features.
20 Best Portable Desks for Your Playing and Working Space
1. Mount-It! Standing Desk Converter
The Mount-It! Standing Desk Converter has a full-width keyboard tray, and the converter allows for limitless height and comfort adjustments. Additionally, this standing desk converter has an integrated yet detachable monitor arm that is compatible with Versa, allowing you to find the ideal ergonomics and free up desktop space.
2. Mount-It! Height-Adjustable Standing Keyboard Platform
In terms of ergonomically focused keyboard trays, the Mount-It! Standing Keyboard Platform is our top value choice and one of the best solutions overall. Mount-It has made numerous improvements to a tried-and-true design.
We were quite impressed by the mobile desk's solid structure, sizable mounting bracket, clever keyboard surface, and well-designed hinges and moving parts. At this price point and above, many alternative keyboard trays have clunky hinges, poor design, and even worse, wobbling (lateral and vertical). 
3. Mount-It! Height Adjustable Laptop Tray
Being a portable and lightweight desk, it would be ideal to use this at home, at work, or while traveling. This exceptional, portable, changeable laptop tray has two built in quiet cooling fans and an adjustable mouse tray. 
It is a lightweight laptop tray that can be used for a variety of things. You can use it as a food tray, a sitting or standing desk, or as a reading tray in bed or on the couch. This incredible laptop tray includes adjustable auto-locking joints that let you swivel the tray 360 degrees and move the legs up to 180 degrees to accommodate sitting or standing positions.
To prevent your tablet, laptop, or notebook from overheating, this durable, adjustable laptop tray is made of aluminum alloy. As for people who enjoy browsing the web while lying in bed or sitting on the couch without having to worry about their electrical gadget overheating, this Height Adjustable Laptop Tray is perfect. 
4. Northread Standing Desk Converter Riser
This portable standing desk converter lets you sit up whenever and wherever you choose, making it the ideal mobile standing desk option for laptop users. A spring-loaded lifting mechanism on the scissor lift enables smooth, continuous height adjustments between 2" and 16".
The lightweight, portable standing desk solves the issue of excess waist force during transportation when it is excessively heavy.
5. FinerCrafts Desk Convertor with Anti-slip Pads
Would you like to stand while using a huge monitor and possibly a laptop as well? The FinerCrafts standing desk converter is the ideal converter for you in that case. This has a large surface of 36 x 22 inches for all of your gear and can accommodate an amazing 15 kilograms (33 pounds) of gear.
6. FENGE Standing Desk Converter 30'' Height Adjustable Stand Up Desk
The FENGE 30-inch Standing Desk Converter is an affordable desktop riser solution with a roomy, simple-to-adjust workspace. Its surface is 25.7 by 15.9 inches, making it big enough to accommodate a monitor, keyboard, mouse, and other items but without taking up your entire desk.
Its gas-spring mechanism can handle up to 37.4 pounds, which should be enough for the typical setup, and it allows smooth vertical adjustments between 2.1 inches and 15.7 inches. This riser comes pre-assembled, allowing you to use it right away. 
7. LapGear Home Office Lap Desk
The LapGear Home Office portable desk is a sleek and roomy piece of furniture that is offered in two colors: Espresso Wood and Silver Carbon. Its microbead dual-bolster pillows ensure a comfortable fit for your lap and legs, molding snugly to you. Additionally, it has space for up to a 17-inch laptop. The channeled design helps in keeping the bottom of the desk cold even when soft cushions are molding to your legs. 
Due to the built-in mouse pad and phone cradle, it is quite a big size. These are excellent qualities if you only use the lap desk in one place, but if you need something to bring on a business trip, this type of lap desk won't travel well. 
8. Honey-Can-Do Portable Lap Desk
The Honey-Can-Do Portable Lap Desk is brightly colored and, unlike most lap desks, is aimed primarily at a more casual clientele. It is lightweight and built of laminated MDF, making maintenance and cleaning a breeze. A soft cushion in the shape of a wedge is tucked beneath the surface and fastened with Velcro, so it can be easily removed for washing. 
Although it doesn't have the same polished appearance as the other lap desks on this page, it is quite portable. It is lighter than most and may be used on your bed or in the car. However, unlike other choices in our roundup, it has a particularly slippery surface because of the laminate. 
Last but not least, if you don't care about color, the basic white option costs a little bit less than the more colorful options (like blue or bright pink). 
9. Portable 8-position Lap Desk from Mind Reader
Although the Mind Reader Portable 8 Position Lap Desk isn't the most fashionable, it is compact and has a wide range of movement. The portable desk can be adjusted to eight various angles, as the name would imply, giving you a wide range of options for optimal viewing and hands-free use. 
This portable desk is better suited for casual tasks like watching movies or reading a book than for intensive work. With so many options for customization, you can alter it to fit your sitting or lying position without sacrificing the view. It also comes with a dual-bolster pillow that offers support and reduces heat transfer to your legs. 
10.  LapGear Student Lap Desk
The LapGear Student is a low-cost substitute for the lap desk that keeps things simple. Although it has room for a 15-inch laptop and is comfy on both sides, there is no space for a phone or other accessories. However, it still retains your comfort, and there is an airflow channel to remove excess heat. 
A dual-bolster pillow is located beneath the desk to support your lap, and the top side is gently textured to prevent your laptop from sliding. Its simplicity makes it the ideal surface for both reading and writing. Although it's quite basic, it's ideal for people on a tight budget. 
11.  AboveTEK Portable Lap Desk
Even though the AboveTEK Portable Laptop Lap Desk is a pretty common lap desk, it has one distinctive feature that sets it apart from the competition: a retractable mouse pad tray. The tray should always be stored on the desk when you don't feel like using a mouse with your laptop. Additionally, it is ambidextrous, so people who are left-handed won't feel left out. 
In addition, a rubber surface with a textured pattern and a non-skid base always guarantees a strong grip. There is no cushion underneath, no phone slot, and only a thermal-resistive heat shield to prevent you from overheating. 
The retractable mouse pad keeps your work options open, and it is the perfect size for almost any laptop possible. Business travelers will love this option because it is suitcase-friendly and has a cushion-free design. 
12.  Sofia + Sam Mini Memory Foam Portable Desk
Things are kept simple with the Sofia + Sam Mini Memory Foam mobile desk. Its primary priority is comfort, and a memory foam-style cushion makes sure your legs and lap are as cozy as they would be if your laptop weren't lying on it. Although it won't fit a laptop larger than 15 inches because of its slightly smaller size than others, most customers should be satisfied. 
Even though it doesn't have a phone holder or a mouse port, it is considerably lightweight and convenient to store at home or put in a backpack. It is ergonomically built and has a fabric handle that can be easily tucked away when not in use. 
13.  Home Office Pro Lap Desk by LapGear
Want a wrist rest that is comfortable and spacious? The answer is the LapGear Home Office Pro Lap Desk. The desk's substantial size —21.1 x 14.1 x 2.6 inches— gives you plenty of space for a mouse pad and a shelf where your smartphone can stand upright. Even your mouse has a comfortable mat on the right side with plenty of room to move around. 
The wrist rest is well padded and will support your wrist all day long while keeping it dry and sweat-free. As for better ergonomics and airflow between them to keep you cool, two padded beams on the underside support the lap desk. 
You can choose a portable office desk design that best suits your particular taste from four finishes: gray wood grain, natural wood grain, black carbon, and white marble. 
14.  Levit8 Folding Standing Desk
An affordable option for a standing portable workstation is the Levit8 Folding Standing Desk. It is transportable and easy to store because of its lightweight folding construction. 
The only thing that can fit on it is a laptop; there isn't enough room for a mouse, keyboard, and speakers, let alone a double-monitor setup, even though its modest footprint doesn't take up much space on your desk. This is a wonderful purchase, though, if your laptop acts as your entire setup.
15.  VIVO DESK-V000V
The VIVO DESK-V000VS is a great choice if you're searching for a portable computer desk riser that is sturdier. Its larger size is ideal if you use two monitors, and its durable Z-frame construction keeps everything secure and compact on your desk, so you have room for lamps, notes, and other items. The split-level riser gives you a roomy workspace for your monitors and a smaller space for your keyboard and mouse. 
16.  Cooper Mega
This foldable lap desk's innovative design not only saves space but also enables you to set up everything you need for the day. You can lay in bed without having to prop the desk up on your legs thanks to the huge surface space and 11-inch leg height. 
In addition, a useful side drawer provides more room for your pens, pencils, and notebooks. This portable laptop desk can be used as a standing desk or it can be propped up on a countertop. You can set up your phone or tablet using the groove on the side. 
17.  Rainbean Portable Workstation
We love how compact this portable office desk is. It reduces your desk to its bare minimum and makes room for a mouse and laptop. You have complete control and flexibility with this small desk, allowing you to work in the most comfortable position. 
18.  SAIJI Portable Desk
With adjustable feet, a tilt, and even a pop-out drawer for flash drives, cables, and other office accessories, the SAIJI Portable Desk takes things to the next level. Even while you may use it to work from the couch, its sled legs make it portable, particularly on days when you want to work from the comfort of your bed. 
19.  Table Mate II
As for people on a tight budget who wish to work while sitting upright on their sofa, the Table-Mate II Pro folding desk is a perfect choice. Similar to the SAIJI Portable Desk, it has a slot for wires to flow through and a groove for your tablet or smartphone. There is also a built-in cup holder; however, it can only take on light paper cups. 
20.  Varidesk Essential
This portable computer desk has a maximum height of 17.5 inches and a weight capacity of 25 pounds and is designed to be used on top of a regular desk or table you currently own. As for better ergonomics, you can set your screen at eye level and your keyboard at elbow height thanks to the keyboard and mouse tray that is included. 
The company sells a 36-inch Pro model with a larger weight restriction that can support a dual-monitor setup as well as a 48-inch width if you like a roomier workstation. 
Conclusion
We hope that this article has helped you choose the best portable desk for your needs! If you're interested in other options, you can check our website. We have amazing products, such as a standing desk converter with a dual monitor mount, that you will absolutely love.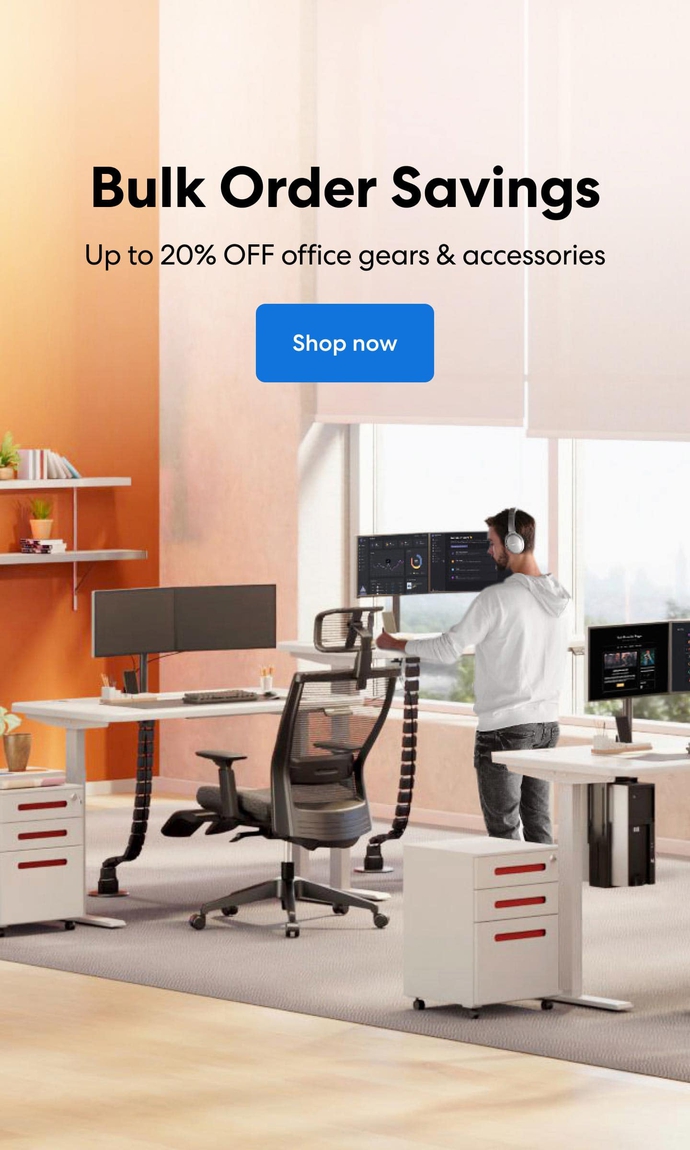 Subcribe newsletter and get $100 OFF.
Receive product updates, special offers, ergo tips, and inspiration form our team.