Everyone needs a good desk for their home, and although the most popular ones tend to be as big as possible to suit huge gaming sets, not everyone has the space required to fit these gigantic setups. Some people live in pretty small apartments, and they also need a place to work and study. 
In these cases, the best thing to do is find a small desk suitable for corners and reduced surfaces. That's why we created this handy list of some great small standing desks we could find. Keep reading and learn about the best small desk options with fantastic features for your home office.
20 Best Small Desks for Space Saving Office
1. Autonomous SmartDesk Core
If you're interested in upgrading your productivity and well-being, the small top SmartDesk core has several great features that can help you. You can get this high-tech small computer desk in plenty of colors and textures, and it is sure to hold as many things as you want to place on top of it, as it endures up to 270 pounds of weight. 
Its adjustable height makes this desk suitable for all types of workers, and it even allows them to switch from a sitting to a standing position at any time during their working sessions. Moreover, they can easily switch to these positions by simply pressing a button and setting up a customized height preset.
2. Rolling Computer Workstation with Monitor Mount by Mount-It!
This Mount-It! rolling computer workstation is sure to maximize your space as much as possible, as it features a sleek design with several surfaces to place as many office accessories as you want. It is extremely durable, as it is made of high-quality steel that can stand up to 132 pounds of weight, around 30 pounds per shelf. 
Moreover, this small computer desk is available in two colors, which makes it suitable for most offices and aesthetics you may place it in. In addition, you can enjoy a 10-year warranty, which ensures this desk is an excellent long-term investment. 
3. Compact Desk by Wistopht: Wireless Charge Pad
Wistopht also has a great variety of desks for your home office, and this Wistopht compact desk with a wireless charge pad is the perfect example of a small desk for studio apartments and tiny rooms. Its smart glass tabletop allows you to control your setup by simply touching its screen keys. 
This fantastic home office small desk can stand up to 176 pounds of weight. Its minimalist and sleek design makes it an excellent option for a comfortable and aesthetically appealing experience. In addition, it effortlessly changes height to allow you to switch from a standing to a sitting position rather quickly.
4. Compact Desk by Mount-It! - Sit-Stand Reminder
The best way to fight fatigue and enhance your well-being is by getting this great compact desk by Mount-It!. It is an incredible ergonomic experience that helps you forget muscle pain and strained joints. This desk provides active working sessions by memorizing your preferred positions and setting up a timer for you to remember when it's time to switch your position. 
Moreover, you can do this without making any noise, as this small computer desk features a powerful electric motor that drowns out all the noises the adjustment may cause. It can even help you burn calories, and you don't have to worry about it being unstable or wobbly, as its legs adjust nicely to any possible floor surface. 
5. Christopher Knight Computer Desk
You can buy this classy small desk setup in oak and white finishes, which blends in perfectly with its sleek and minimalist design. Therefore, if you're looking to have a clean and organized aesthetic in your home office, the Christopher Knight desk is ideal. 
It is made of melamine and iron, making it extremely sturdy and perfect for storing all your paperwork and important office tools. 
6. Frama Shelf Desk
If you're looking for a more alternative design, this shelf library that can also be used as a small home office desk is an excellent option for you. You can display decorative items or store your favorite books, but you can also use it as a small desk for studying or working. 
It is highly adjustable for your highest comfort, and it comes in a beautiful wooden finish, which makes it suitable for all types of classy and minimalist aesthetics. 
7. 2-Tier Folding Desk
If we had to describe this folding desk in one word, it would be versatile, as it can be easily used and folded away once you're done with it. It is made of a wooden desktop and slim steel legs that can endure up to 100 pounds of weight. 
Moreover, it features an extra top shelf on which you can place any office tool you wish or your favorite ornamental elements to spark your creativity. However, keep in mind that you're going to need to assemble this desk, so make sure to read its instructions thoroughly. 
8. Mid-century Art Mini Desk
Delicate desks are a fantastic and chic way of having an aesthetically pleasing home office without compromising its ergonomic functionality. The Mid-century Art Display Mini Desk features a beautiful glass tabletop and an engineered wood shelf that gives you enough space to store all your favorite gadgets or books. 
Moreover, it features a sturdy steel frame that's sure to endure your entire setup. However, please make sure to clean it properly by not using any harsh chemicals and checking its connections to make any necessary adjustments. 
9. Xochitl Desk
The Xochitl Desk features a large surface that's meant to expand any small area you place it in so that you can use it for holding your entire computer setup and all the extra office accessories you wish to add. Moreover, it also has two drawers for extra space, so nothing goes missing during your working sessions. This ensures a tidy workspace that enhances productivity and gets rid of as much clutter as possible. 
In addition, this small home office desk is made of sturdy and uniform fiberboard, which is sure to prevent deformation and dehydration, so you don't have to worry about the growth of moss or the passing of time corroding your table. 
10. Linon Coy Desk
A small wooden desk is always a fantastic addition to any home office, and the Linin Coy Folding Desk adds a sense of coziness to any room, which is fantastic if you're aiming for a rustic aesthetic. Moreover, it features a small drawer at the center of the desk for you to keep all your important tools and office equipment.
It is also pretty easy to move around, so you don't have to commit to a single position, as you can keep it stored away when you're not using it and place it wherever you want when it is time to work. 
11. Björkåsen Laptop Stand
The Björkåsen Laptop Stand is an extremely versatile desk, perfect for all kinds of activities, as it is highly adjustable to suit virtually anyone who uses it. Moreover, it is super lightweight, which makes it perfect for easy transportation around your house. In addition, it features a handy cup holder for you to stay hydrated throughout your working sessions. 
You can get this small space desk in a dark gray and beige color, and it is one of the most affordable desks on this narrow desk list, which is ideal if you're on a budget. 
12. Tilden Small Space Desk
The Tilden Small Space Desk is a fantastic and multifunctional option for those looking for a perfect small space desk where to place their laptop or any other office items. It features four sturdy legs made of engineered wood and MDF for extra support and a handy drawer that is deep enough to store as many accessories as you wish. 
You can get this small space desk in two colors, which allows you to choose the best fit for your desired home office aesthetic. 
13. Prepac Floating Desk
A quick and stylish solution for a small space is this compact tall floating desk from Prepac, as it can simply be hung on the wall and leaves you with free space on your floor. Moreover, you can choose its height and adjust it depending on your desires, so you can have a standing desk for a small place by simply hanging it differently. 
It features four storage compartments specially designed to have a modern aesthetic while giving you enough space to store books, speakers, or other office supplies. 
14. Mateo Rustic Desk
Sometimes, the best thing is to opt for a simple design, and the Mateo Rustic small desk is perfect for those cases. It is a simple wooden desk that comes in three different colors for you to choose from, and it is sure to be one of the sturdiest desks on this list due to being made of solid pine and poplar veneer. 
Moreover, it features a wide drawer right at the center of its tabletop, in which you can store all your office tools after you're done using them so you can always enjoy a clean and decluttered office. 
15. Industrial Mini Desk
This Industrial Mini Desk is made from sustainable sources, as its creators make sure to only use mango trees that can't produce fruit anymore and sturdy metal legs that are sure to last for years before having to replace them. It is the perfect centerpiece for any small home office, as it allows you to have enough space for your daily working sessions, even in the smallest of rooms. Moreover, it features two handy drawers.
Still, keep in mind that every desk is going to be slightly different and unique due to the variations in the wood of each tree, but all of them have the same high-quality finish.
16. Mounted Drop Table
The Mounted Drop isn't as small as the others on this list, but its most exciting feature is that you can fold its tabletop in half, so you don't take up as much space. This is ideal if you live in a studio apartment, as you can use this small desk for both working and having dinner. You can find it in black or white, which is excellent for modern and tidy aesthetics. 
17. Mid-century Mini Secretary
This compact desk is one of our favorites due to its minimalist and cozy design. It is made of eucalyptus wood and sturdy metal hardware. Moreover, it is kiln-dried for extra strength, and its design is inspired by the 50s and 60s decades, which allows you to achieve that vintage look that many homeowners love. 
18. ODK Corner Computer Desk
Many people love corner compact desks due to its fantastic characteristic of being able to fit almost anywhere you place them in, and the ODK Computer Desk isn't an exception to this rule. You can get this small classic desk in white, black, and brown, and its simple design is perfect if you're looking for a small desk that isn't going to look too out of place when you put it in your living room. 
19. Buylateral Corner Desk
Sometimes, when searching for a small desk, we may find several options with little to no storage. However, this isn't the case with this corner desk, as it makes sure to give you enough surface area and a shelf and a drawer where to keep all your stuff safe. 
20. Compact™ Pneumatic Standing Desk
This handy adjustable narrow desk is ideal for those workers who wish to be healthier and experience less joint and muscle pain throughout their day. It allows you to adjust your position and focus on your work. Moreover, it features cable management holes and sturdy materials that are sure to last for a pretty long time. 
Bottom Line
After going through this list of great small desks for your home office, you should have a pretty good understanding of the best options for you. However, if you're unsure of which one to get, please check out the rest of our catalog and find out about all the incredible deals we have for you.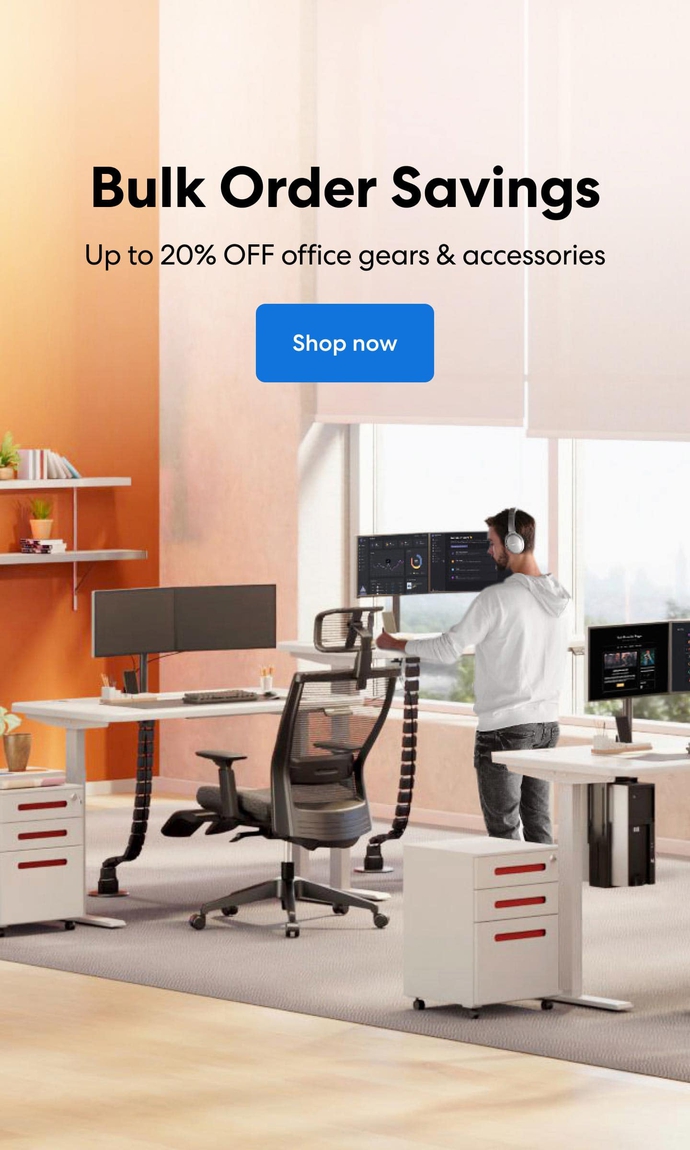 Subcribe newsletter and get $100 OFF.
Receive product updates, special offers, ergo tips, and inspiration form our team.