Smart Products
19 Best Standing Desk for Tall People You Should Buy

Autonomous
|
Sep 28, 2020
34,932 Views
While it helps to sit in a comfortable office chair, the healthiest thing you can do for yourself in the office is the alternate between seated and standing positions. Many people in traditional and home offices realize this, so standing desks are becoming so immensely popular. However, getting your hands on a tall standing desk may not be the easiest thing.
Persons who stand at an average height don't usually have much trouble finding one, but people on the taller side of the spectrum may experience a bit more difficulty. Many average desks have a maximum height that may cause tall people to incline their bodies forward to get some work done.
If you're going to stand and have improper posture, it defeats the purpose of the health benefits you are trying to promote by investing in a tall standing desk.
What to Look for in a Standing Desk?
Once you find yourself above the norm in the height department, you should be looking in the realm of tall desks for standing. Of course, you are not necessarily going to be standing for the whole day, so you need an office chair for a tall person that supports your height well too.
However, the focus here is on finding yourself a standing desk for a tall person, and these are some considerations you should have in mind as you look for one that suits you. 
Depth:

The desk you choose should have a depth to facilitate you even if you are spreading out your work. You must be able to maintain proper posture and positioning based on the position of the items on it.
Height range: Your desk should have a minimum height of 22 inches and at least a maximum height of at least 45 inches.

Speed:

The speed refers to how quickly you can adjust the desk from a standing to a seated position. 

Power:

If you choose a tall stand up desk that runs on electricity, be sure that it can access power easily enough from the location you are planning to put it in.
Noise level: Some standing desks for a tall person are loud in transition, while others are quieter. You always want one that doesn't cause a disturbance during adjustment. 

Maximum weight:

Consider the weight of the equipment you plan to put on the desk. Naturally, your desk needs to support everything without compromising its structural integrity.
Types of Standing Desks
Before making a change to pick a standing desk for a tall person instead of sitting desk. One should keep in mind that there are many kinds of standing desks too. These desks offer special features according to their price, material, engineering etc. Go through different kinds of tall standing desks to know their pros and possible cons as well.
1. Static Height Standing-Desk
Static Standing Desks are one of those desks which are often seen in households and offices. These desks are made of wooden material and fixed up to a standard height. The height of these static standing desks cannot be changed. A chair is used to work with these desks.
Whenever needed, chairs can be easily removed and work can be continued. The only thing that attracts people towards it is that Static height standing desks are economical and cheaper than other kinds of standing desks for a tall person.
Pros of Static Height Standing Desks
Fixed height desks are the cheapest and most economical option available in the market.

Best for household and short-term use.

Static height desks can be made in order according to a person's requirement.

Adjust and forget the rule is applied here.
Cons of Static Height Standing Desks
The oldest form of the desks, nothing creative in this.

Once set, cannot be displaced easily.

Tall people find it difficult to work with the static desk as they cannot sit properly in front of these desks due to their inappropriate height.

Continuous sitting in front of static standing desks lowers the heart rate, resulting in increasing fat.
2. Manual Adjustable-Height Standing Desk
Adjustable height Desks are those which gives the freedom to move the entire surface up and down manually. "Adjustable height Desks for tall people" comes in a variety of sizes and styles. One thing to keep in mind if the entire surface is full up with things, they must be removed before adjusting the height without damaging something.
Pros of Adjustable Height Desks
It provides the special feature of adjusting the height as required by the tall person.

The price of adjustable heights desks is economical.

Adjustable desks provide more comfort than static height desks.

Changes the work environment and body posture rapidly.
Possible Cons of Adjustable Height Desks
If the surface is full of things, they must be removed before adjusting the height.

The desk height has to adjust manually.

The process of changing the height is time and energy consuming.
3. Electric adjustable-Height Standing Desks
Adjustable electric Height Desks are the newest technology in the furniture world as compared to static and manual adjustable-height desks. These desks are created to save your time and energy. It comes with motors in it and connected with a wire to get electricity. Adjusting the height of this electric desk is quite simple. It comes with different buttons on it by which height of the desk can be adjusted.
Pros of Adjustable Electric Height Desks
No need to manually push the entire surface up and down, just click a button and the smart intelligence of these desks will do it for you.

Adjustable electric desks provide extra features of the reminder about how long you sit and warn you.

Adjustable electric desks provide the most comfortable environment to work in.
Cons of Adjustable Electric Height Desks
Due to advanced features of time management, schedule management, activity warning systems, and personal assistance, it costs a few more bucks than other

tall stand-up desks.

Very few color varieties are available in the market, mainly black and white colors in abundance. So, it could be difficult to match this color with the room decoration.
4. Adjustable Converter Desks
Adjustable converters are like a mini table. These converters work with the existing table. Just fit the converter of the desk and it will automatically increase the height and give you an opportunity to work in a standing position. These converters perform better for short-term work on the desk. But if the work has to be continued for hours long, then it's going to be a really energy consuming and fatigued idea.
Pros of Adjustable Converter Desks
Economical and short in size

Does not occupy much space of table.

It makes the non-adjustable table adjustable.

Height can be increased and decreased according to one's need.
Cons of Adjustable Converter Desks
It takes too much time to fit on the table.

The adjustable converter takes a lot of effort to set up the entire monitor and wires to work conveniently.
Top 20 Standing Desks for a Tall Peerson
While there are numerous options for a standing desk for tall people, some stand a cut above the rest. Look below the top 20 alternatives to consider as you take the inevitable journey down the road to promoting your health while getting your work done.
1. Autonomous SmartDesk Core
The Autonomous SmartDesk Core (Home Office) features a heavy-duty steel frame and a high-quality wooden top. It features a dual-motor design, which means you can adjust your stand desk height faster than you can imagine. Additionally, the motion happens smoothly and quietly with a single click. 
You benefit from four programmable height settings for your various needs and support for up to 300 pounds of weight. It's effortless to assemble on your own, and you can even get access to a free trial for up to 30 days.
Depending on your work needs, you can get the classic or extra-large version. The classic version gives you a 53 inch by 29-inch workspace, while the extra-large version gives you a 70.5 by 30-inch workspace. Both versions offer tremendous space, and the height adjustment runs between 28 inches and 47 inches. 
2. Autonomous SmartDesk Pro
The Autonomous SmartDesk Pro (Business) is another excellent tall stand-up desk. It's a step up from the Home Office version, making it suitable for traditional office and home spaces. It also features an immensely powerful dual-motor functionality, which allows you to adjust the desk height quickly and quietly. 
The desk has a sturdy design, and it also features four programmable height settings for easy adjustment. Of course, it also supports up to 300 pounds of weight, so you can confidently place your equipment on it. While it offers the same tabletop dimensions in its classic and extra-large versions as the Home Office alternative, it stands out in height support. The desk can alternate between heights of 25.4 inches and 51 inches, lending support to some of the tallest workers.  
It is just as easy to assemble as the Home Office alternative too, and you can also get a 30-day trial to test the waters.
3. Autonomous SmartDesk Corner
The final option on this list is the Autonomous SmartDesk Corner (L-Shaped Desk). It features an incredibly practical design for those who need a spacious area for their work. The design also has a triple motor system, which lends itself to incredible adjustment speeds that still take place in silence. Additionally, the desk provides support for up to 330 pounds.
With cable trays included, the desk makes an allowance for efficient cable management. Even with the L-shaped form, the Autonomous design is still one that fosters easy assembly. The best part is that you can freely adjust your desk to decide where you want the long and short pieces based on the most suitable placement corner.
The height range lies between 28.5 inches and 47.5 inches. Additionally, there are three options that you can choose from where the top of this standing desk for a tall person is concerned. First, there is the small top with a 29 inch by 35-inch workspace. Second, you could choose to go with a large top that has 77 by 29-inch dimensions. Finally, the full-size option has a workspace of 77 inches by 64 inches.
4. Autonomous SmartDesk Core Duo
The SmartDesk Core Duo is the ultimate tall standing desk to derive a standing desk's health benefits while facilitating a collaborative workspace. It can support up to 300 pounds with the strength of its sturdy steel frame. The design features four programmable height settings, which are more than enough for two office workers' seating and standing needs. 
The efficient dual-motor system moves in a smooth and quiet motion, which minimizes the level of disturbance that this desk can cause in the office. You would be hard-pressed to find the best height adjustable desk that is more suited to the modernized workspace of 2022. 
5. Uplift E7 Electric Standing Desk Converter
This one may be cheating, as it's not a standing desk for a tall person in the traditional sense. Be that as it may, if you already have an optimal regular desk, you may want to consider this converter if you want the benefit of a standing desk without replacing your current equipment.
The converter sits atop your office desk, allowing you to take advantage of the standing alternative. Note that it still features an adjustable height that runs from zero to 21 inches. Of course, that figure would be added to the height of your office desk since it is going to be on top of it. Furthermore, with a range that starts from zero, you can get back to your comfortable seated height without removing the converter.
The desktop dimensions are 30 inches by 21.5 inches, which can handle a moderate amount of equipment. It also comes with a cool keyboard tray, for those who don't want everything to be on one level. 
It uses an integrated keypad for height adjustment that gives you access to a convenient one-touch system. Additionally, its memory feature allows you to save a height configuration for future use.
6. Stir Kinetic M1 Standing Desk
If you want a smart office desk for a tall person and cost is not an essential factor for you, you can think about checking out the Stir kinetic M1 standing desk. It has a modern look and feel, collects data on how to use standing desks for greater efficiency, and is cloud-connected to allow for adequate adaptation to your working needs. 
It has a nifty feature called whisper breath that reminds you when you should alternate between seated and standing positions. Controlling the desk is done through a touch screen on its surface that uses a login system. Therefore, it can be used in a shared context. It supports integration features with Fitbit, making it much easier to adjust to each person's preferences.
This motorized tall standing desk has an impressive height range that runs between 25 inches and 50.5 inches. Additionally, its desktop surface has dimensions of 59.5 inches by 29.5 inches, which means that it can support your equipment effortlessly. 
7. Fezibo Adjustable Electric Standing Desk
Fezibo offers another great option if you need an office desk for a tall person. One of this offering's standard features is the cloth drawer that allows for a bit of convenient storage. Additionally, the desk comes with a built-in cable management system and side hooks, for those who value being organized while they work. It also comes equipped with swivel hooks, which are perfect for multiple monitor placement.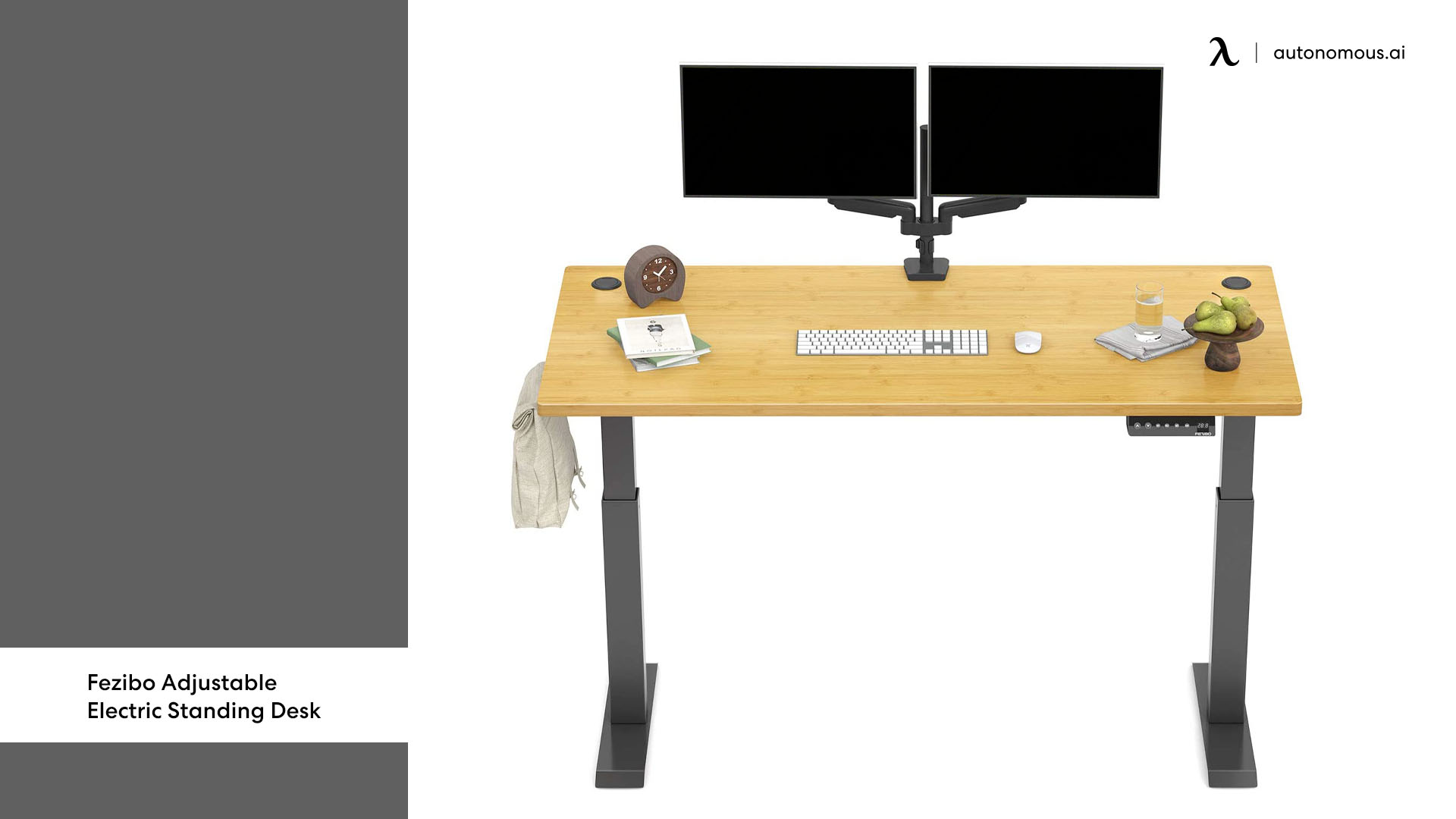 The desk is motorized, and it provides four memory areas, which are used to significant effect to return to your preferred configuration. 
The height options range from 26 inches to 46 inches, and the desktop dimensions are 48 inches by 24 inches. This standing desk for a tall person also supports a load of up to 176 pounds, which means you get a moderate workspace.
8. SHW Electric L-shaped Standing Desk 
Here is another motorized office desk for a tall person, and it comes to you, courtesy of SHW. L-shaped desks provide greater workspaces for those who need to fit a little more at their workstation. For example, persons may wish to have a dual monitor setup, a laptop, a small printer, and some paperwork on the desk.
While it's not impossible to fit all of that on a standard standing desk, you may experience a bit of clutter if you try. On the other hand, with an L-shaped desk, you can fit several items on the desk while keeping a spacious and organized look.
This tall stand-up desk features a digital display handset that stores four different memory presets to make your favorite adjustments that much easier. The electric lift system offers heights from 28 inches to 45 inches. Additionally, the desktop has dimensions of 55 inches by 28 inches, which means there is ample room for your workload. The base features high-grade industrial steel, which is complemented by an oak-based wooden top. 
9. Uplift V2 Standing Desk
Some standing desks don't feel very secure when they are extended to their highest levels. However, that's not the case here as it maintains its stability, regardless of the height that you choose to use. It gains this advantage, thanks to stability braces being a part of the design. 
This desk is a very quiet one, and it uses a dual-motor system, which means that its motorized adjustments happen very quickly. Additionally, an anti-collision feature prevents the desk from continuing any further if it hits something during motion.
There are various colors for the top and frame, and Uplift provides both a standard and commercial version, depending on which suits your needs. The height range runs between 25.5 inches and 51 inches for the standard version, while the commercial version runs between 22.6 inches and 48.7 inches. You get a desktop workspace of 42 inches by 30 inches, though there are alternate sizes that can go as high as 80 inches by 30 inches.  
10. Varidesk Electric Standing Desk
This tall stand-up desk from Varidesk is another stable option since it features a crossbar between the legs to support its sturdiness. According to the manufacturers, users up to 6-foot 6-inches tall can comfortably use the desk.  
One of the best things about this offering is that it's designed to be super easy to assemble. Therefore, while you may need professional help to put some other options together, you can do this one yourself very reliably. It's so easy that it is doable in as little as five minutes.
This tall standing desk features a control panel with three different height options, which can be committed to memory. Additionally, you get decent support for cable management to make things a bit tidier. The height range runs from 25.5 inches to 50.5 inches, and you get a desktop size of 48 inches by 30 inches. There is also a 60-inch version for those who want a bit more space to work with.
11. Flomotion Standing Desk
Flomotion offers a motorized office desk for a tall person option with a variety of handmade and locally sourced wooden tops. Additionally, you get a high-quality frame to support the structural integrity of the desk. Incredibly, the company allows its customers to buy the frame only. The wooden finishes are aesthetically pleasing and structurally sound. It should go well with whatever other wooden furniture you may work with, such as your desk cabinet. 
With desktop dimensions of 47 inches by 31.5 inches and a height range of 24.8 inches to 50.4 inches, this Flomotion offering can simultaneously support your workload and height. There's no need to worry about everything tumbling down, as the frame supports up to 300 pounds. Additionally, the design lends itself to quiet operation, which means there is no disturbing anyone around you if the desk is going into a shared space.
In the past, people who have purchased this tall stand up desk have left good reviews about Flomotion's customer service. The desk should make a great tag team with a high-quality ergonomic chair at its side. Those who need a tall standing desk to support their height can find a stellar option here.
12. ApexDesk Elite Series
This beautiful standing desk for a tall person is available in two different sizes to suit your needs. Whether you choose the smaller or larger size, it can easily facilitate multiple monitors and other items that you may wish to put on it. The front features a prominent curve, which is conducive to efficient positioning on your part. 
Its flexible nature makes sit-stand sessions a breeze, which is good news for your health.
13. Flexispot Standing Desk
Most tall desks for standing that are worth a second look cost above $500. The Flexispot standing desk is proof that there are incredible standing desk for a tall person options that you can snag for the best standing desk under $500 . The white, black, and mahogany options all have a premium look and feel to give your workspace a stylish touch. 
The desk comes in two different editions, One of which allows you to take advantage of a digital LED keypad that controls its memory presets. 
14. Fully Jarvis EcoTop Standing Desk
The Fully Jarvis EcoTop standing desk proves that using eco-friendly materials does not compromise the standing desk's quality. While the brand is famous for its environmentally conscious designs, this is by far their most eco-friendly of them all. It has a wide range of heights to choose from, which facilitate your sit-stand needs effectively. Additionally, it has a sturdy build and can accommodate up to 350 pounds. 
15. Walnew Electric Standing Desk
Walnew offers another superb budget option in the form of its electric standing desk. As is the case with some of the best standing desks for a tall person on the market, it uses a sturdy metal frame to eliminate the potential wobble factor that standing desks can have at higher heights. It includes presets for different height levels, and its electric motor makes adjusting the desk a breeze.  
16. Branch Standing Desk
This stand-up desk for a tall person was designed for people who are as tall as six foot eight inches. The impact and stain-resistant design provide a durability level to the desk that makes it well suited for different office environments, especially if potential spills are a factor. The three-stage column guarantees stability at any height, and its dual motor makes raising and lowering it a smooth motion. In-desk power outlets and USB ports are also included, along with four memory presets.
17. EvoDesk Gaming Desk
Though this tall stand up desk is described as a gaming desk, its design also makes it very well suited to the office environment. The desktop is very large, which is conducive to dual monitor setups while leaving space for accessories and other equipment that may be atop the disk's surface. The Evoguard finish is like the feel of a mouse pad, making the entire surface usable and convenient for your mouse. 
There are over 250 different height positions that you can lock the standing desk in, and the expected memory presets are present. 
18. Seville Classics Airlift Tempered Glass Desk
It's hard to describe this stand-up desk for a tall person without saying that it is simply a marvel to look at. The color choice and the tempered glass top create an aesthetic that fits in the most stylish offices. Additionally, there is a lot of desktop space for you to take advantage of, and the built-in USB port makes charging your mobile device an easy task. The desk is highly adjustable, it has a touchscreen controller, and it allows for three different memory presets.  
19. NewHeights XT Standing Desk
One of the standout design choices of this office desk for a tall person is the custom extruded aluminum columns. It has a wide range of heights for adjustment, and it can accommodate equipment weighing up to 325 pounds. A 12-year warranty indicates the kind of confidence that the manufacturer has in the standing desk. The design is very sturdy, and it uses premium German engineering for the motor present.
Must Follow Tips for Tall Persons Other Than Just Purchasing a Tall Stand-Up Desk
Anti-fatigue Mats
Anti-fatigue mats are designed in such a way to reduce stress from muscles and joints of the legs. It increases the blood flow in legs. Users often report greater comfort while using an anti-fatigue mat with the stand-up desk for a tall person, so it may be a wise idea to get an anti-fatigue mat for the workplace.
Take Breaks
Working for hours without taking a minute break kills your consciousness and health. Keep the habit of taking breaks. While working on the computer 5 minutes of break is needed after 30 minutes of work. Change the mouse and keyboard position, when feeling robotic. Walk around the hall or room to relax the mind.
Beware of Poor Posture
All the benefits of a Standing desk will go in vain if someone does not improve his posture of sitting and standing. Keep the spine in a straight posture but don't stiff it, while using a stand up desk for tall person. Move legs and hands often to increase the blood flow level. Place the monitor at a height that gives comfort to your eyes.
FAQs
Which Type of Standing Desk is the Most Suitable for Tall People?
There are 4 main kinds of standing desks including Static Height Standing-Desk, Manual Adjustable-Height Standing Desk, Electric adjustable-Height Standing Desks and Adjustable Converter Desks. Each of them has both pros and cons for you to consider. However, they all share the same function of a chair for tall people. 
Can I Use a Standing Desk for Tall People with Other Accessories?
Yes, you can combine a standing desk with many different ergonomic accessories such as Monitor Arm, Cable Tray and Filing Cabinet.
Conclusion
With the increasing burden of work, typical sitting desks do not do well in offices nowadays. Adjustable standing desks are a better solution to get rid of the laziness of the work. Working in the same environment kills creativity. Adjustable standing desks provide a new way to work without getting tired, stiffed on the chair, hurting joints under the desk and not even getting full space to stretch. All these headaches of tall people can be solved out by the Adjustable standing desks.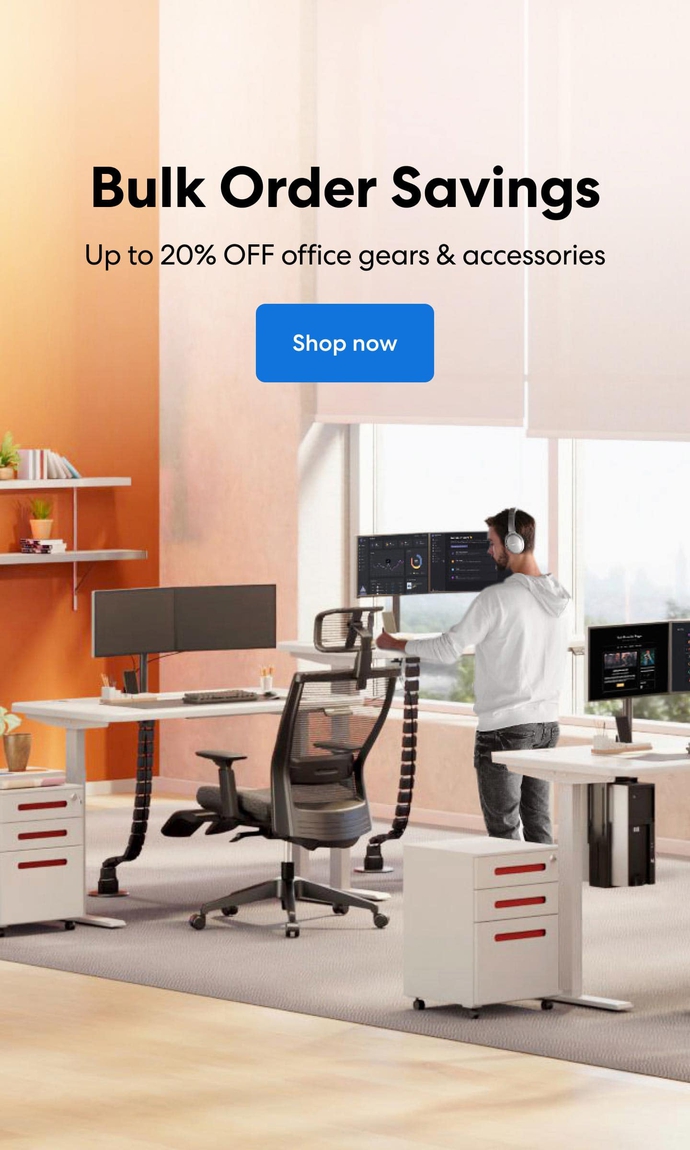 Subcribe newsletter and get $100 OFF.
Receive product updates, special offers, ergo tips, and inspiration form our team.