Office desks have become all the rave lately, and for a good reason. This has led to many options being released on the market. It becomes incredibly challenging when looking for a standing desk to purchase because of all the options available on the market today. That's why we have designed this list.
We have searched far and wide to help you find the best height adjustable desk for your workspace in 2022. Continue reading to find our top 20 list of the best electric standing desk options for 2022.
Why Should You Purchase the Best Electric Standing Desk in 2022?
Standing desks are known to be a pretty hefty investment into your office workspace. Due to this, not many people believe that these standing desks are worthwhile, which is why many individuals question why they should purchase an electric standing desk. We have provided a pros and cons list to help readers identify the advantages of owning one against the disadvantages.
Purchase the Best Electric Standing Desk in 2022
Electric standing desks offer quick adjustments to be made when moving from a sitting to a standing position
Pre-set adjustments allow you to sit or stand in a position that's most comfortable for you
It helps to increase the amount of time you spend standing, which helps to combat back pain
Standing desks aid in boosting productivity
Standing desks are known to come with a pretty high price tag
The setting up of these standing desks is generally long and requires two people
What Are the Best Standing Desk Options for 2022?
We have found the top 20 best standing desk 2022 to help make your purchasing easier. In addition to this, we also recognize that each buyer has their own budget. Due to this, we have split this list into three pricing categories: affordable, middle-priced, and premium. This is done to help you find the best standing desk that fits into your budget.
The Best Affordable Standing Desk Options for 2022
1. SmartDesk 2 Home Office
The best standing desk for home office as SmartDesk 2 Home Office is equipped with a robust dual-motor, which makes transitioning from a standing to a sitting position effortless and quiet, with the motor only creating 45 decibels of sound. Its durable design features a heavy-duty steel frame that supports the transitioning process to be resilient and smooth. Not to mention, this steel frame can also hold up to 300 lbs. You're also able to pre-set your height preferences to make this transitioning more accurate and quicker.
2. DIY SmartDesk
The Autonomous DIY SmartDesk is one of the most affordable and high-quality standing desks on the market. In addition to this, you're also provided with the full freedom to create your own height adjustments workspace that perfectly fits into your work area. This DIY SmartDesk is also the best standing desk for home office designed with a motorized desk frame that's incredibly durable, robust, rock-solid, and can hold up to 330 lbs of equipment.  Much like the SmartDesk 2 Home Office, you have the ability to pre-set your preferred height adjustments to make the process of transitioning easier, more accurate, and comfortable.
3. Ikea Bekank
This Ikea standing desk is a sample in most college dorm rooms and budget-friendly homes. Ikea offers these incredibly low-cost standing desks to promote the use of ergonomics without having to break the bank. It allows users to adjust their desks and work in both a standing and sitting position. However, these mechanisms are incredibly basic to accommodate the price. It also only supports a weight capacity of 154 lbs and has a maximum height of 48 inches. Thus, it isn't an ideal option for tall office workers.
4. Ikea Standing Desk
This Ikea Standing Desk is equipped with an up-down height controlling paddle that offers a cleaner and more professional look than buttons' inclusion. The desk also syncs to your smartphone through the use of Bluetooth to make these transitions easier. Not to mention, additional stability is also catered for with the help of a metal crossbar and leg-to-foot connection. However, this standing desk comes with a very limited color and size range.
5. StandDesk
The StandDesk electric standing desk is a simple ergonomic product but still offers a wide range of features. Its restricted desktop color and size range may be a problem for some who are looking to match their ergonomic standing desk with existing space or décor in their workspace. In addition to this, the crossbar design doesn't offer great stability when placing large desktops on the structure. This is especially the case for taller users when adjusting to a standing position.
6. Eureka i1 Standing Desk
This Eureka electric standing desk offers similar features to other standing desks in this category. However, the standing desk's design does provide improved features, durability, reliability, and an easy assembly process to standing desks that cost the same. The height adjustment range is pretty impressive and can offer comfortable adjustments for taller individuals. Nonetheless, the device only comes in one size and two different desktop colors, which may not fit the décor of many workspaces.
The Best Middle-Priced Electric Standing Desk Options for 2022
7. SmartDesk 2 Premium
The SmartDesk 2 Premium adds to the SmartDesk 2 Home Office's mechanisms by improving the height range. This makes it the best electric standing desk option for both office and home uses. It's equipped with a robust motorized foundation that allows you to raise to a standing position quietly and in mere seconds. When choosing the SmartDesk 2 Premium, you're guaranteed to experience a sturdy and stable standing desk that's designed around providing maximum productivity and focus. 
8. Autonomous Art Desk
The Autonomous Art Desk is the best electric standing desk option for those who are looking to beautifully highlight their creative workspace. The Art Desk has been designed as a long-lasting piece of the art equipped with a high-quality MDF wood top and sturdy base. It features a robust steel frame that has the ability to raise quietly and quickly. It's the best electric standing desk option for designers and anyone else who wants a wide working space.
9. GeekDesk v3
The GeekDesk v3 is equipped with a simpler design compared to the GeekDesk Max but offers a more affordable price to customers. Although its design is more basic, the features included decent specs. This desk is also available in three desktop sizes to accommodate the workload of the individual. However, it lacks in its lift capacity as it can only hold 275 lbs, which is less than some of the most affordable options on this list. In addition to this, the transitioning process is slower than other models.
10. MultiTable Mod-E
This Mod-E is known as the fastest and the best electric standing desk. This standing desk's design offers users the ability to transition from a sitting to a standing position with a motor that has a transit speed of 2-inches-per-second.
However, this fast speed means that the desk is a louder model to other electric standing desks on this list, as it produces a sound level of 75 decibels. In addition to this, the height adjustment range also may be too short for taller individuals. The stability of this desk also deteriorates as the height increases because of the ineffective crossbar. 
11. Uplift V2
This Uplift standing desk offers a basic design that's ergonomically beneficial to users and affordable for those who are on a budget. The structure of the desk is robust and can raise to the desired height of the office workers. Not to mention, the transitioning process has been made more effortless with the inclusion of a digital controller to the design. This controller provides users with the ability to pre-set four different height adjustments for easy transitioning. However, these transitions become more unstable as the height is increased.
12. Jarvis Standing Desk
This Jarvis adjustable standing desk is a low-cost option for office workers who are on a budget but still want a high-quality ergonomic device. It comes with a decent warranty and customized components that offer enhanced stability. However, the desktop offered is a high-pressure laminate, which lacks durability when compared to 3D lamination. In addition to this, the motor's speed is slower than most of its competitors, with a rate of only 1.25 inches-per-second. 
13. Uprise Electric Standing Desk
The Ergoprise Uprise offers a design that's stronger and quieter than most of its competitors. When transitioning, the desk's motor only produces 42 decibels of noise. In addition to this, the robust frame also has the ability to hold and lift a weight of 360 lbs. Not to mention, the base of the electric standing desk adjusts at a rate of 1.7 inches-per-second.
14. ZipDesk 'Desk in a Box' Standing Desk
This electric standing desk is designed and manufactured in the USA. It's equipped with top-quality technology and offers a unique design as the first 'desk in a box' to ever hit the market. This standing desk is almost entirely pre-assembled and only takes users around eight minutes to properly set up (without any additional tools). Its design offers enhanced durability, stability, and usability. However, it comes in a limited range of base and desktop colors.
15. Energize Sit-Stand Desk
The Energize standing desk offers all of the benefits of the Cascade except for the keyword tray. In addition to all of these features, it also comes in more customized desktop sizes. This helps to accommodate the different workspaces that are required from individuals. However, the height adjustability may be a problem for individuals who are taller than 5'11''. In addition to this, the ergonomic benefit of having a keyboard tray isn't offered.
The Best Premium Standing Desk Options for 2022
16. Autonomous Double Desk
The Autonomous Double Desk is built to provide users with collaboration and privacy and is the best standing desk option for all modern offices. The Double Desk is designed as a connected frame that features independent controlled functions. Its wire management functionality also empowers you to keep your office tidy and aids in offering efficiency. Not to mention, its high-tech lifting system provides users with a professional mechanism that aids in boosting productivity.
17. Autonomous L-Shaped Desk
The Autonomous L-Shaped Desk features a professional and sleek design while still being exceptionally practical. This L-shaped desk is equipped with a robust triple motor system that's stable, sturdy, and has the ability to hold up to 330 lbs. Not to mention, this robust motorized system is equipped to transition from a sitting to a standing position effortlessly and in virtual silence. More than this, the L-Shaped SmartDesk allows users to make the most out of their workspace. The design is exceptionally versatile and can fit perfectly in a corner configuration.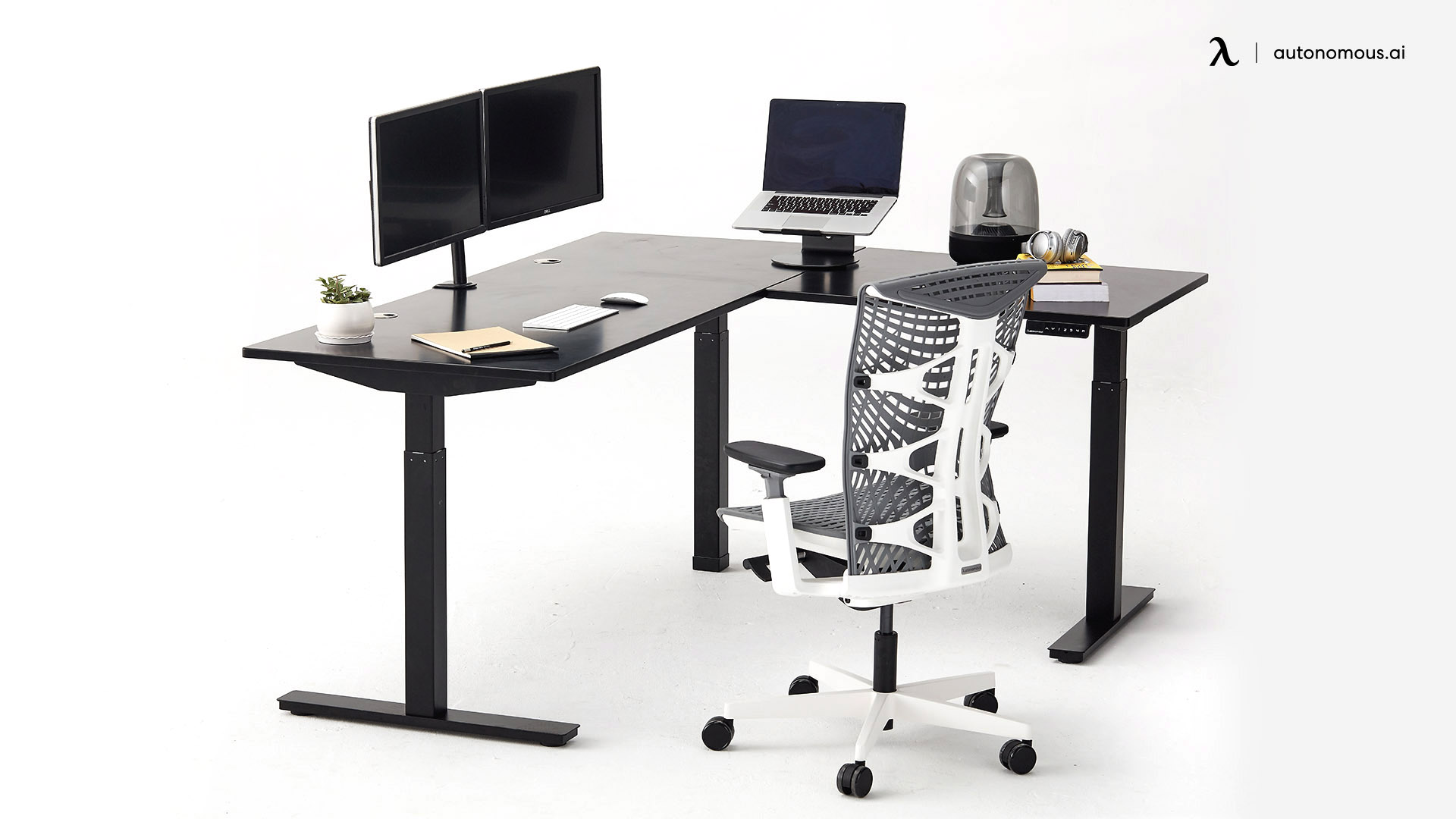 18. iMovR Lander Desk
The iMovR Lander is easily seen as one of the best electric standing desk options for 2022. This is because of its revolutionary design. Two primary features set this standing desk apart from its competitors. The one feature comes almost completely pre-assembled and can be put together in mere seconds without any tools. The second feature is the intuitively-controlled hand paddle that effortlessly adjusts the desk to the user's optimal height.
19. Eureka E60
This Eureka electric standing desk offers high-tech, state-of-the-art features with a durable, robust, and high-quality base. All of these components make an incredibly desirable standing desk for office workers. It also comes with a five-year warranty. However, it does cost a large amount of money to acquire this standing desk, which might not be possible for all buyers.  
20. VariDesk ProDesk 60 Electric Standing Desk
This VariDesk standing desk offers exceptional ergonomic benefits. It comes as almost completely-pre assembled, which provides convenience to users. However, it is a costly investment that some people may not be able to make. It also includes an outdated 'knee crushing' crossbar while lacking customization options. This may be a problem for users who wish to have their desk fit perfectly into a certain workspace.
Video ads for product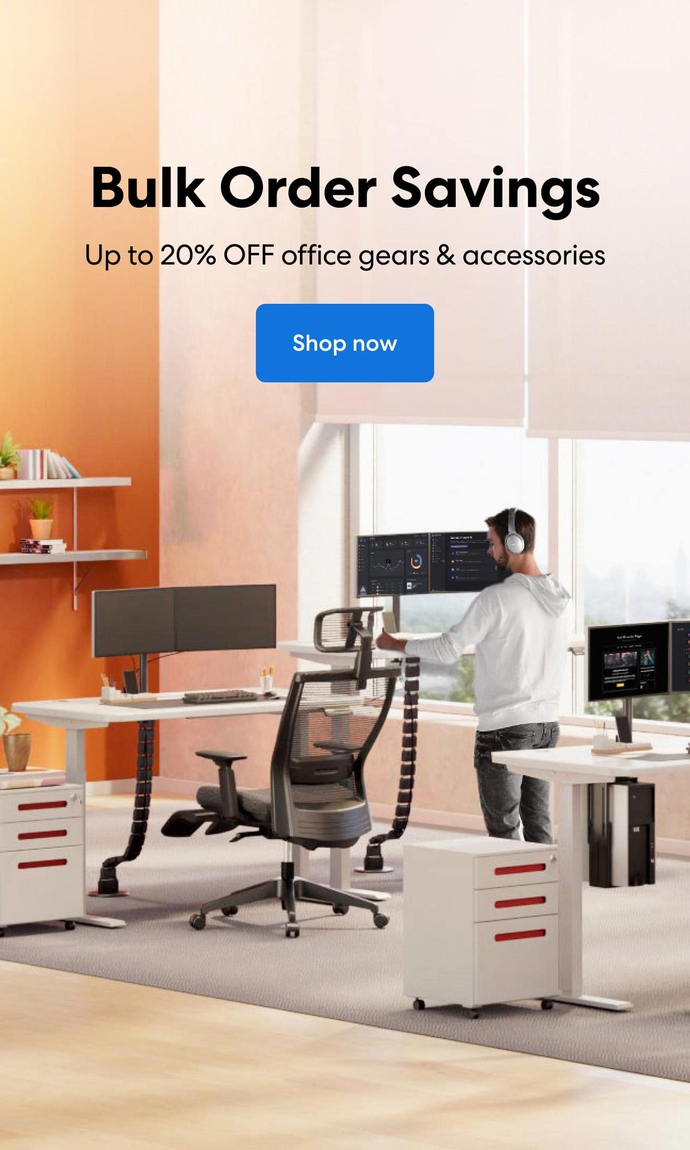 Subcribe newsletter and get $100 OFF.
Receive product updates, special offers, ergo tips, and inspiration form our team.