Spending hours on end seated at an office desk can have grave consequences. Experts recommend adopting a sit-stand method of work to improve blood flow, engage muscles, and improve posture. 
If you are searching for the perfect standing desk in Singapore to pair with your ergonomic office chair, look no further. Here are our top 20 standing desks  in Singapore of 2022.
Top 20 Standing Desks in Singapore for You
1. Autonomous SmartDesk Core
The SmartDesk Core is a height-adjustable desk in Singapore that allows you to work while standing or sitting. With four programmable settings and a weight capacity of 290 pounds, this home office standing desk strongly supports an ergonomic sit-stand work method. 
It is also highly durable and has a sturdy frame that is made of steel, a warp-resistant wooden desktop, and an electric dual motor that helps you move the desk up and down with ease. 
This standing desk  in Singapore includes a five-year warranty and can be purchased in 16 different desktop designs. You also get to choose between three different colors for the desk's frame. It is the ideal choice of smart desk in Singapore. 
2. SmartDesk Pro by Autonomous
Autonomous' SmartDesk Pro has more adjustability than the brand's SmartDesk Core. This may just be the ideal height-adjustable desk in Singapore for you if you are taller than the average person. 
The SmartDesk Pro comes with a seven-year warranty, and an upgraded twin motor that can hoist 350 pounds easily. It is also much quieter than most standing desks in Singapore, emitting a mere 40 decibels of sound, which is advantageous if you are easily distracted by sound while working. 
This incredible smart desk is available in a variety of colors and designs and has a modern appearance sure to give your workspace a contemporary appeal. 
3. OmniDesk Pro
If you have been looking for a standing desk in Singapore for a while, you may have come across Omnidesk, a local Singapore brand that is popular among those who work from home.  
This curved height-adjustable desk in Singapore option allows you to position your arms more naturally without striking the edges or corners of the desk. It has a surface that has a micro-textured coat, designed for easy mouse tracking, making the entire table a mousepad. Another advantage is its easy assembly. 
With cable management trays, you can keep all your cables in one place for a more organized setup. Enhance your setting with the brand's computer holders and monitor arms. A drawback to buying this desk is that it is expensive.
4. ErgoEdge EverDesk Max+
ErgoEdge is a Singaporean brand that has been in the spotlight for producing ergonomic adjustable height desks in Singapore. The EverDesk+ Max has a dual motor, a weight capacity of 120 kilograms, and a height adjustability range of 60 to 124 centimeters. 
It also has memory controls, allowing you to select any of the four available heights easily. Furthermore, it has a built-in Health Coach that reminds you to sit or stand regularly. 
5. Xiaomi Squirrey Smart Desk
Xiaomi is a popular smart brand in Singapore. The Xiaomi Squirrey is one of Singapore's most affordable electric desks. It has four height memory configurations, and a large 60 by 120-centimeter desktop surface. 
Its anti-collision system prevents it from going up or down when there is an obstacle present, making it a great standing desk in Singapore for families with kids. 
6. ORION Basic Standing Desk
This is one of the better-looking standing desks manufactured in Singapore. The ORION Basic comes in two sleek wooden designs, including iconic black and white, to complement your home office decor. 
However, keep in mind that the worktop can only endure a maximum load of 50 kilograms, so it is not ideal for storing heavy monitors and other heavy tech gadgets. This height-adjustable desk in Singapore is a great choice if you prefer a minimalist desk setup. 
7. Flight Pro Motorized Table
The sturdy construction of this motorized desk is impressive. It has good quality spindles that allow for smooth adjustment, a 65-centimeter-long footplate, and water and scratch-resistant tabletop with a thickness of 2.5 centimeters. 
This desk's height modification functions emit less than 50 decibels of sound, and comes with preset controllers, so you can preset your preferred height settings. 
Furthermore, the desk has chamfered edges, which means that it has a 45-degree slope on all sides. If you have children who spend time in your study, this is a great sit-stand desk in Singapore to use. 
8. VariDesk Pro Plus 36
If you are tired of working long hours that leave your body sore, the VariDesk Pro Plus 36 standing desk in Singapore could be right for you. The desk's large base area enables users with multiple tasks to complete their tasks without difficulty. 
It is made of high-quality material and has a thick steel frame that can support up to two monitors at the same time. 
You can be confident in the quality because the desktop's surface has a scratch-resistant, laminate finish. The desk also has double the amount of space available, allowing for more items to be stored on it. 
9. Solos Advanced Standing Desk
This standing desk in Singapore is well-known for its twin-turbo motors, an advanced feature that allows for easy adjustment without disturbing coworkers. It adjusts smoothly to your preferred height, which can be anywhere between 20 and 123 centimeters. 
The desk's premium finish gives it a smart and stylish appearance, making it particularly popular among users looking for an office sit-stand desk in Singapore. Regardless of the working level, it is an all-around performer, and can also improve the aesthetics of your working environment. 
10. Motorized Sit Stand Desk From Décor Viz
When choosing any piece of modern office furniture, it is important to consider both the build quality and the style. Decor Viz meets all requirements, with a silent twin motor. It is simple, with a good design, and the frame is built to endure. 
All Decor Viz products are developed and produced in Singapore. Its Motorized Sit-stand Desk offers many features, giving discerning users the most choice and convenience. 
The desk's wake-up timer reminds the user regularly to stand up or sit down. You can customize your desk appearance-wise to suit your preferences. 
11. Ecolus Ergonomic Standing Desk
Ecolus is a good option if you prefer a low-cost ergonomic table in Singapore. The standing desk is simple in design, and also provides the comfort of a traditional desk. It has wheels, allowing you to move it around with ease. 
This ergonomic table in Singapore is both strong and versatile. The Ecolus Ergonomic Standing Desk can be customized to suit your workspace and is made with quality materials to increase its stability and strength. 
12. Bekant by IKEA
IKEA, a reputable furniture retailer, offers the Bekant standing desk in a variety of tabletop colors, including white/black, white/black stained ash, and light oak. This office desk in Singapore comes with a 10-year warranty and has a 160 by 80-centimeter desktop. 
It is also made with eco-friendly, recyclable materials, and the desktop is composed of an assortment of ash veneer, particleboard, clear acrylic lacquer, paper foil, stain, and plastic edging. 
13. Steelcase Flex Height Adjustable Desk
This is one of the best office desks in Singapore. Steelcase is a popular American furniture manufacturer. Its office furniture options are widely used in several Singapore places of work, including schools and hospitals. 
The Steelcase Flex Desk is customizable and dependable, thanks to concealed directional rollers that combine stability and maneuverability. It can be purchased as a fixed desk or an electric standing desk in Singapore. 
Its radius corners make it ideal for those who wish to keep their pets and little children safe, and the desk can move up and down from 57.5 to 123.7 centimeters. 
14. Fitfit Health Standing Desk
The Fitfit Health Standing Desk has an automatic function, which allows you to adjust the desk's height ease. Furthermore, it can be placed on top of your desk, making it easier to use. 
It has a distinctive dual-colored desk platform, which distinguishes it from other standing desks on the market. Unscrew the sides of the desk to reveal a classic black design.
Its surface is composed of strong wood, and the frame and base are made of steel. 
15. TakeAseat Ergonomic Laptop Standing Desk
If you are searching for an office desk in Singapore to be used specifically for your laptop, the TakeAseat Ergonomic Laptop Desk is a great computer desk in Singapore option. It is sleek and portable, so you can easily set it up at the top of your desk and store it without it taking up too much space. 
It is suitable for office use because it has five different height configurations for maximum flexibility. To adjust the position, select one of the preset heights, and press the button. The desk also has a safety lock to ensure that your laptop does not come crashing down.
16. Flexispot E1 Electric Standing Desk
This 122 by 76.2-centimeter sit-stand desk in Singapore is an excellent tall standing desk for your workspace, whether in the office or at home. The work desk in Singapore has a maximum load capacity of 70 kilograms, and a height adjustment range of 71 to 121 centimeters. 
You can set three preferred heights using a seven-button controller. It is also quite affordable, and can be purchased in Singapore through Amazon, which ships its products worldwide. 
17. Harmati Electric Gaming Desk
Another Amazon computer desk in Singapore that gamers may enjoy is the Electric Standing Desk from Harmati. The desk has a large work surface for a range of different monitor or laptop setups, as well as plenty of storage space for extra office supplies or tech devices. 
This standing desk in Singapore can store your preferred heights with programmable presets, and the depth of the height-adjustable table allows for a comfortable distance from the monitor. 
It is sturdy, and the substructure on the metal tabletop is built to withstand heavier loads over long periods. 
18. IKEA Skarsta
If you want a sturdier design, IKEA also has the Skarsta, which has a more industrial look. This standing desk in Singapore is reasonably priced and has a height adjustability range of 70 to 120 centimeters. 
It has manual height adjustment cranks on each side, with adjustable feet ideal for uneven floors. The Skarsta is available in elegant white or beige (for an extra $20). 
19. Homall Height Adjustable Standing Desk
The Homall Height-adjustable Standing Desk has a high-quality motor that allows you to adjust the height silently from 71.9 to 116.1 centimeters. This height-adjustable design is an ergonomic way of working and lets you sit and stand for work and study purposes. 
It aids in the relief of tension caused by sedentary behavior, and significantly increases productivity at work. This computer table in Singapore has a solid wooden 110 by 60-centimeter tabletop, which gives you more space to store tech and office supplies. 
The desk's intelligent digital control panel fully controls the lifting function of the Homall electric adjustable desk, and the digital field displays the desk's real-time height as it moves up and down.  
20. Hollin Eight Ergonomic Table
One of the best standing desks in Singapore is the Hollin Eight Ergonomic Table. Although it lacks the convenience of controller functions found in motorized standing desks in Singapore, the height of the desk can be adjusted with ease by pressing a lever on the side of the table. 
It is lifted by pneumatics, which means it does not make much noise when moving up or down. The best part is that this work desk in Singapore is on wheels, so it can be used anywhere in the house. Lower it to use it as a bedside table or use it to alternate between a sit-stand way of working. 
The table's V-shaped legs and aluminum alloy finish allow it to support up to 60 kilograms of weight. Its caster wheels are lockable, ensuring that it does not roll away when you leave your desk. 
Final Thoughts
Standing desks are great ergonomic furniture that can help you alternate between sitting and standing to avoid remaining sedentary. If you are on the lookout for a standing desk in Singapore, this list is sure to have the perfect one for you.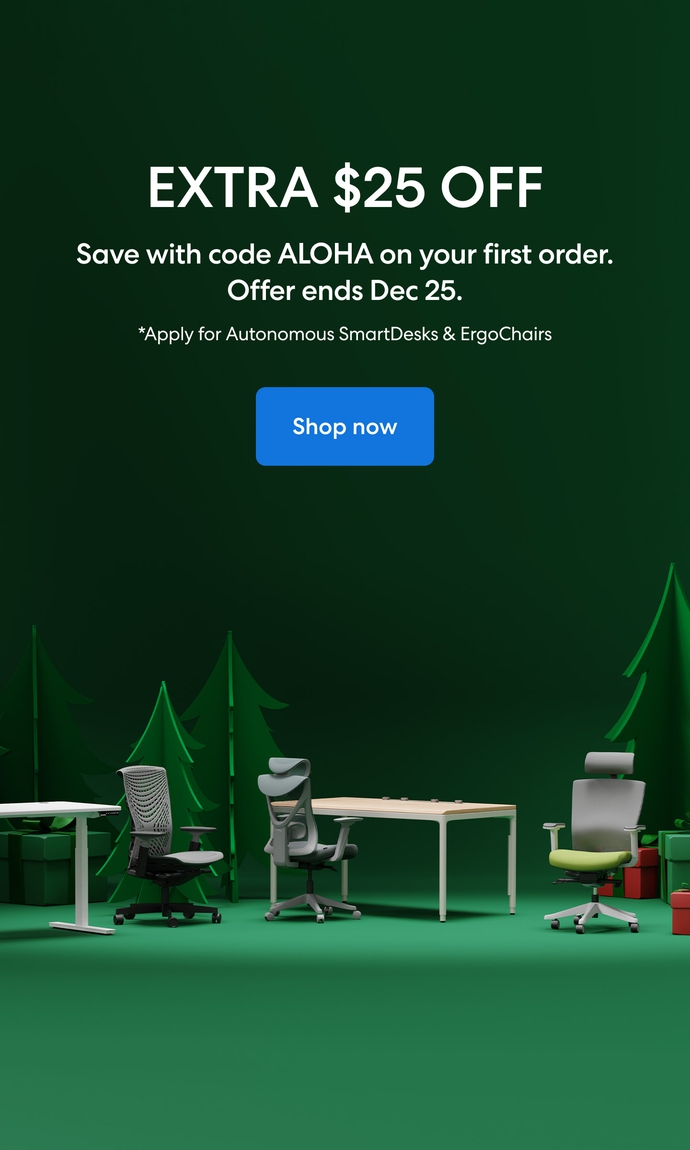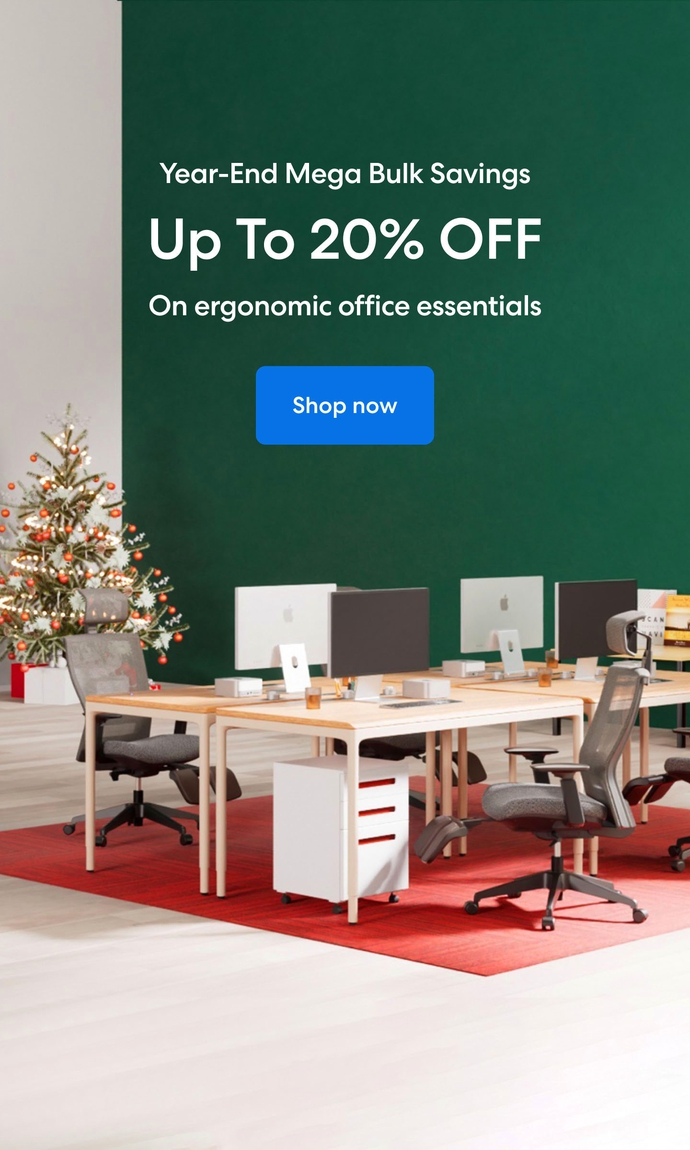 Subcribe newsletter and get $100 OFF.
Receive product updates, special offers, ergo tips, and inspiration form our team.