A home studio is a wonderful investment if you're serious about taking your music production to another level. You'll be recording professional tracks in a convenient environment. A quality studio requires equipment, such as computers, keyboards, and speakers. 
Furniture is essential since it is at the center stage in whatever you do inside the production room. You need a quality music studio desk that boosts and inspires creativity. The suitable table will enhance workflow and make you a better producer. 
Our Picks for the Top 20 Home Studio Desks
1. Autonomous SmartDesk Corner
Two modular segments make your workspace twice as spacious. The shorter side from left to right allows fitting the table in any corner of your home studio. Adjust the height to boost your productivity working in your preferred position from 29.4" to 48". 
A triple motor offers three times the power, unlike most standing desks that use one motor. You won't regret your investment after setting up this L-shaped standing desk. Its solid steel legs will hold up to 400 lbs. of your studio equipment.
2. Autonomous SmartDesk Pro
Get more workspace to hold up to two monitors, with an extra-large option available if you have a more extensive setup. This smart desk with an improved lifting column is powerful enough to hold all your equipment to produce quality music. 
A touchscreen keypad has four presets for saving your ideal work position. You can go from sitting to standing with one touch. A steel frame of this music studio desk will support you in your music production journey for many years, thanks to certification by EMC, UL, and BIFMA.
3. White Oak Standing Desk - 53" x 29" - Home Office
The 53" x 29" white oak standing desk offers a generous height range. You can adjust the height from 29.4" to 48" to match your ideal working position. A programmable keypad with four controls boosts convenience. The simple controls make setting yourself up for success as a top-class music producer a breeze. 
This music studio desk holds 265 lbs. and moves 1.1" when carrying the maximum load. Its solid steel frame is powered by an energy-efficient dual motor. The table top comes in 43 "x24", 53 "x29", or the chunky desktop with 1.6" thickness.
4. FinerCrafts Standing Desk: Curved Top
A T-style frame and laminate top hold your studio equipment securely. An ergonomic curve on the edge gives the desk a futuristic and high-tech appeal. Intelligent control with four height presets and anti-collision detection guarantees efficient use always. 
Work while sitting or standing on this table that adjusts from 27" to 48". It has grommets for cable management to keep your workspace clean and tidy. Leveling pads keep the desk stable, while the two-stage legs are suitable when slightly taller.
5. FENGE Electric Standing Desk: 2-Tier Desktop
The small standing desk has two tiers to give you more space for your music production equipment. Its ergonomic body allows working more relaxed and efficiently while keeping your body in great shape. 
A hook on the side holds the headphone to make the table cleaner and tidy. Its steel frame supports up to 176 lbs., and extra drawers offer more space for your equipment. The recording studio desk is certified to be safe for use by UL, CE, SGS, and TUV.
6. EUREKA L-shaped TechDesk: Monitor Stand & Dual Headphone Hook
A monitor stand and dual headphone hook allow for securing your equipment. Its smart height adjustment controller has two presets and two inbuilt USB ports to keep all your devices powered up. 
Avoid clutter on your studio table thanks to handy cable management. Adjustable leveling feet balances and protects your floor. Use two monitors secured on the study stand. A high-quality mouse pad ensures smooth tracking. Keep your headphones handy on the double hooks.
7. EUREKA ERGONOMIC EUREKA L-shaped Desk: Carbon Fiber Surface
A smart dual motor height adjustment allows you to use the sit-stand desk in different positions throughout the day, boosting productivity. The height adjusts from 29" to 48" to match everyone's work requirements. 
This wooden studio desk has a programmable keypad with two memory presets for sitting or standing. The keypad has two USB ports to charge your devices, an LED, and buttons for up and down movement. An inbuilt power strip also offers wireless charging.
8. Uncaged Ergonomics Rise Up Glass Standing Desk: Electric
A 45.3x23.7" glass desktop gives this table a luxurious appearance that is perfect for all your studio work. The front frame of this recording studio desk has two USB ports and a USB-C charging port to keep all your devices powered up. Two AC outlets under the table allow powering your other equipment. 
There's a smooth gliding drawer for keeping the table clutter free and organized. You glide from sitting to standing at a push of a button, shake-free. The desk has innovative stability thanks to its highly advanced height adjustment mechanism.
9. Mount-It! Standing Desk: Sustainable Melamine
The medium size desk offers 59" W x 29.5" D for all your studio equipment. Its sleek and smart design has an electric motor for elevating the workstation to allow getting out of your chair without interruptions. Three programmable presents make height adjustment a breeze. 
A 10-year warranty gives peace of mind that the desk will give you good value for money. The desktop is built from sustainable melamine to ensure your studio work has a manageable carbon footprint.
10. ApexDesk Standing Desk: Pneumatic Lift Mechanism
You don't need a power source, nor do you have to deal with messy cables with the Apex standing desk. A steel frame with a crossbar enhances stability. Two inbuilt casters in the rear make moving the desk a breeze. Just lift the table at the back to roll it anywhere easily. 
A 55" x 27" rectangular top built from MDF and 3D laminates offer many years of use. The top has pre-installed metal anchors to ease installation. You can disassemble and reassemble the desk multiple times without worrying about damage.
11. EUREKA IM63 Curved Desk: Additional Storage & Manual Height Settings
Get a larger and broader work surface on this 63 "W x 27.56" D desktop that allows using up to three monitors. The manual height adjustment goes from 26" to 32". The clear space below the table gives ample legroom, or you can use it to keep some of your equipment.
This fully-functional studio desk has a mouse pad, a power socket holder, and three cable management holes. You also get where to keep your headphones or a cup of coffee to keep you powered up to produce chart-topping music.
12. Wistopht SmartDesk: Pro
Get ample space for all your studio equipment, including monitors, laptop, and speakers on this table. You also have extra room for accessories. Adjust the height from 25" to 50" using a double motor to lift the table that holds up to 265 lbs. 
A handy keypad remembers up to three height presets with a reminder of when to stand or sit. Its inbuilt anti-collision keeps your kids and pets safe. The LED in this music production desk  goes into sleep mode to save power when not working on the desk. USB type A and C charging ports on the table keep all your devices powered up.
14. FENGE Ultralong CompactDesk + Free Monitor Stand
This desk allows for having healthy and productive work days. An under-the-desk canvas drawer keeps your studio items within easy reach. A side hook for keeping your headphones makes the table cleaner and tidy. 
The ergonomic concept of this electric standing desk with drawers eliminates pressure by allowing working sitting or standing. You won't suffer the consequences of prolonged sitting, such as low back pain and nerve compression.
15. Aiterminal Ergonomic Tempered Glass Desk: USB ports /4 programmable
The transition from 27.1" to 46.3" to match your preferred height is possible thanks to its powerful motor that does the job smoothly, quickly, and quietly. Embedded drawers offer storage for all your accessories and peripherals to keep your workspace tidy. 
Enjoy multiple functions on this music production desk, including an inbuilt USB charging port, three charging sockets, and a USB-C charging port. Its three height adjustment presents allow for meeting multiple height requirements while working. This table holds 135 lbs. of studio equipment.
15. FENGE Ultrawide CompactDesk + Free Monitor Stand
A simple way to produce music better is to use an auto rising desk. Working from various positions throughout the day enhances motivation, mood, digestion, confidence, and memory. You will always enjoy healthy and more productive workdays. 
A clean workspace is more inviting and boosts productivity. An under-the-desk canvas drawer keeps the table tidy and without clutter. Keep your headphones on a handy hook for accessibility wherever you need them.
16. Techni Mobili SmartDesk: Basic Keypad
Elevate your music production using this recording studio desk. Apart from a sleek design, it's crafted from durable particle board with heavy-duty steel on the t-style legs. A height adjustment panel has digitized up and down buttons to set your working position. 
Furthermore, a handy mechanism makes the transition from sitting to standing easy. The smooth ergonomics of this home studio desk enhance productivity. Legs have a durable powder coating that makes them scratch resistant.
17. EUREKA 60" L-shaped Standing Desk: Programmable Keypad
Adjust the height of the Eureka standing desk using an advanced system to your desired position. Its smart anti-collision technology has an inbuilt Hall sensor backed by AI control, stopping the table immediately to avoid accidents.
Get more workspace thanks to the L shape. Its built-in cable management grommets with corner guards allow you to feed your cables efficiently to your table. The desktop comprises CARB P2 and CA Prop 65-compliant materials limiting formaldehyde.
18. FENGE 2-tier Standing Desk: Tablet Stand & USB Ports
Explore the infinite possibilities and a new way to work better using this home studio desk. The control pad with a humanized design has a USB charging port to power all your devices. Its steel frame allows for holding up to 176 lbs. of studio equipment, including a hook for your headphones. 
With a 135 degrees ramp design, this desk fuses function and visual impression. The height adjusts from 32.2" to 52", and the natural wood top enhances the beauty of your space. Using the desk is safe and efficient thanks to certification from CE, UL, TUV, and SGS. 
19. EUREKA ERGONOMIC L60 L-shaped Standing Desk: Keyboard tray
Improve your posture and health using this standing desk. Use the four programmable height settings for a quick and easy transition. You can adjust the height from 29.5" to 48". Its L shape offers a 61" work surface with a 20 "extension. You get enough space for three monitors and other equipment. 
A stand supports two monitors, while RGB light controls the vibe of your setup. The height of the stand allows keeping your head on the screen. An anti-collision system detects obstacles during height adjustment and moves back to protect your kids or pets.
20. Timotion SmartDesk: Core
With its height adjustment ranging from 27" to 45", this desk is perfect for anyone, regardless of height. Its sturdy steel frame with a rectangular column holds up to 270 lbs. of studio equipment. A powerful dual electric motor makes adjusting the height a smooth process. 
This home studio desk offers ample space for all your equipment. You can bank on its certifications from UL508 and SAA that it's built with materials and procedures which you can trust.
What to Look For in a Music Production Desk?
Before you discover our recommendations for the best music studio disk, keep the following in mind. 
Price Matters
The ideal desk for your home studio must fit within your budget. Cheaper options may come with limited space that may only support some of your studio equipment. Again, the most expensive doesn't mean it's the best quality. The ideal table must allow appropriate customizations to match your needs. 
Studio Size
You must consider the space in your studio before picking a desk. Investing in a table that can't fit your space would be a waste of time and money. A good idea is to measure the space you have to ensure that you pick a desk that will fit. 
Materials
A quality desk must support the weight of your equipment. This must have sturdy steel legs with a durable desktop with an appropriate thickness that won't give away due to the weight. Fortunately, each table can hold a capacity according to the manufacturer. Equally important is to check the type of casters to avoid marks and scratches on your floor.
Design
Studio desks come in various designs, including curved, L shape, and two-tier. The design of the table you choose must match your needs. This is because each design has pros and cons. The L-shaped desk offers extended workspace on two sides of a corner.
Conclusion
Making music right from the comfort of your home is a wonderful idea. However, furniture matters after investing in appropriate equipment. A studio desk is an important piece that needs careful consideration since it significantly boosts your productivity.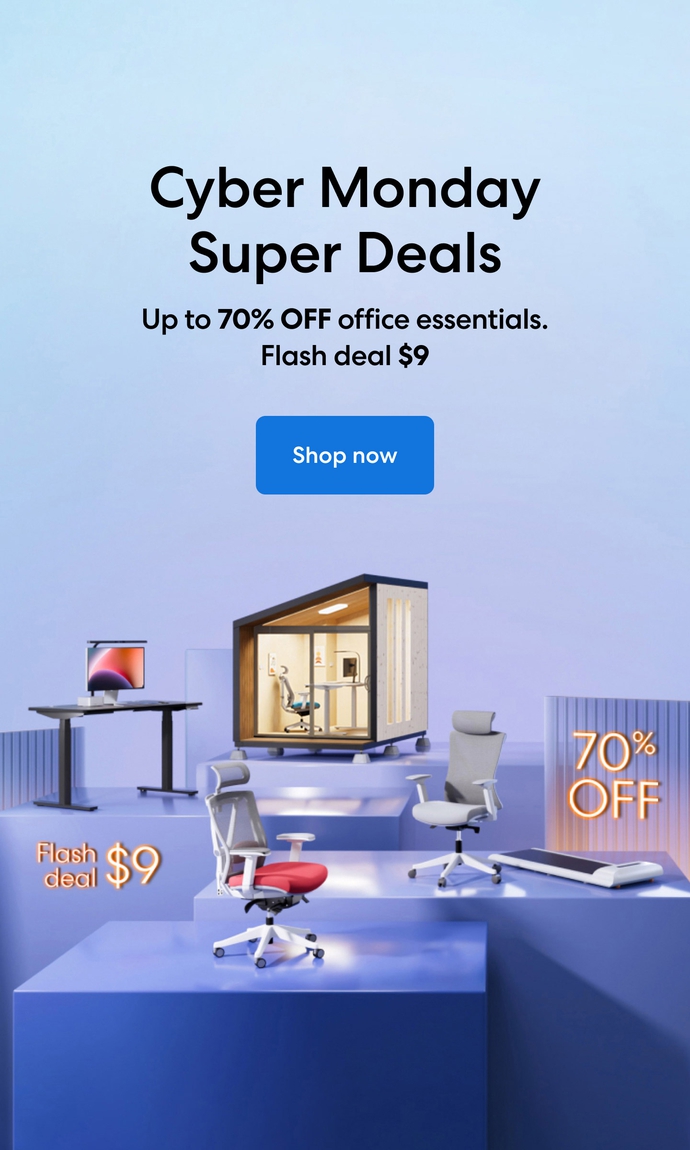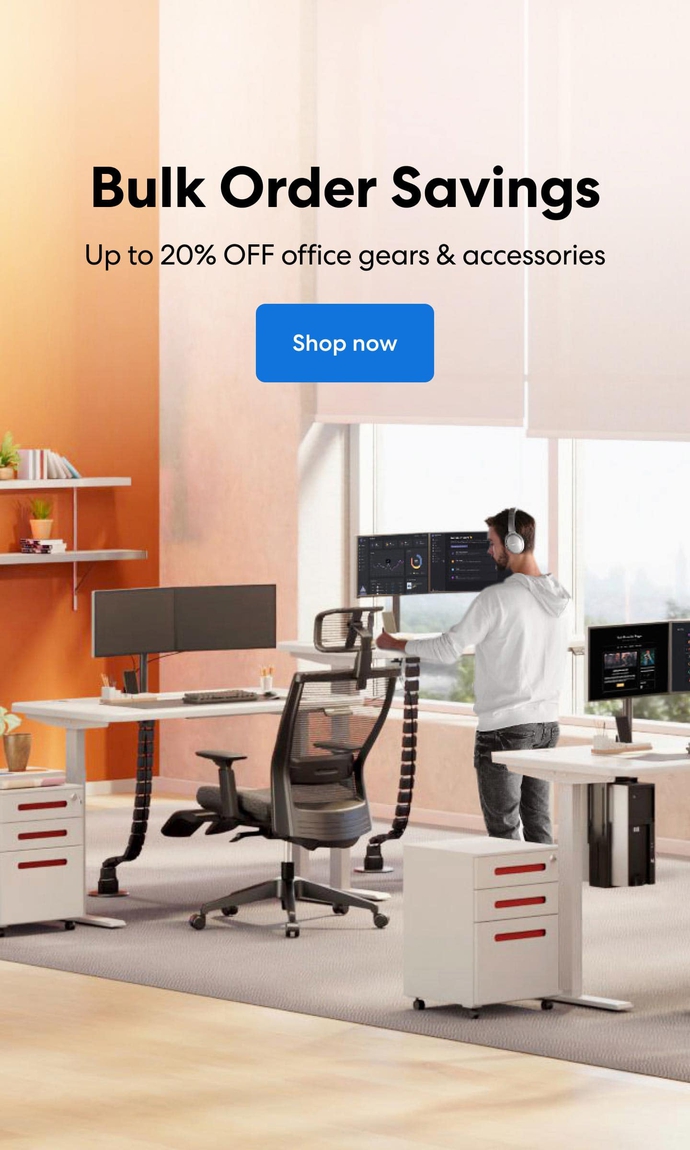 Subcribe newsletter and get $100 OFF.
Receive product updates, special offers, ergo tips, and inspiration form our team.