Wood is a material that has been used for centuries, whether it's to build homes, boxes, boats, or a wood gaming desk. If manufactured correctly, it provides you with a feeling of luxury and elegance while remaining sturdy in structure. 
Today's article discusses the 20 best wood DIY gaming desks for streamers and explains some of the benefits of using one. If you are a gamer, you already know that space is everything, especially if you need to flick shot the guys behind you! 
With the rise of eSports, many manufacturers have created a new product line for their businesses, including wood PC desk models. However, it's good to note that your desk selection boils down to the amount of space you have available in your gaming room or office. 
Do you have a dorm room type scenario or cushy spacious office? Whatever kind of space you have, you can be sure to find a desk on this list that can fit your criteria. We have identified some of the best wood gaming tables that range from budget to top end; it all depends on what you are after. 
Whether you have an exact budget in mind or are simply looking for ideas, you have come to the correct place. Below, we have created a list of the best wooden desks for PC gaming and highlighted their features.
20 Best Wood Gaming Desks for All Gamers and Streamers
Without further ado, let's begin with our exploration into the 20 best wood gaming desks for streamers and pro gamers
1. Autonomous SmartDesk Core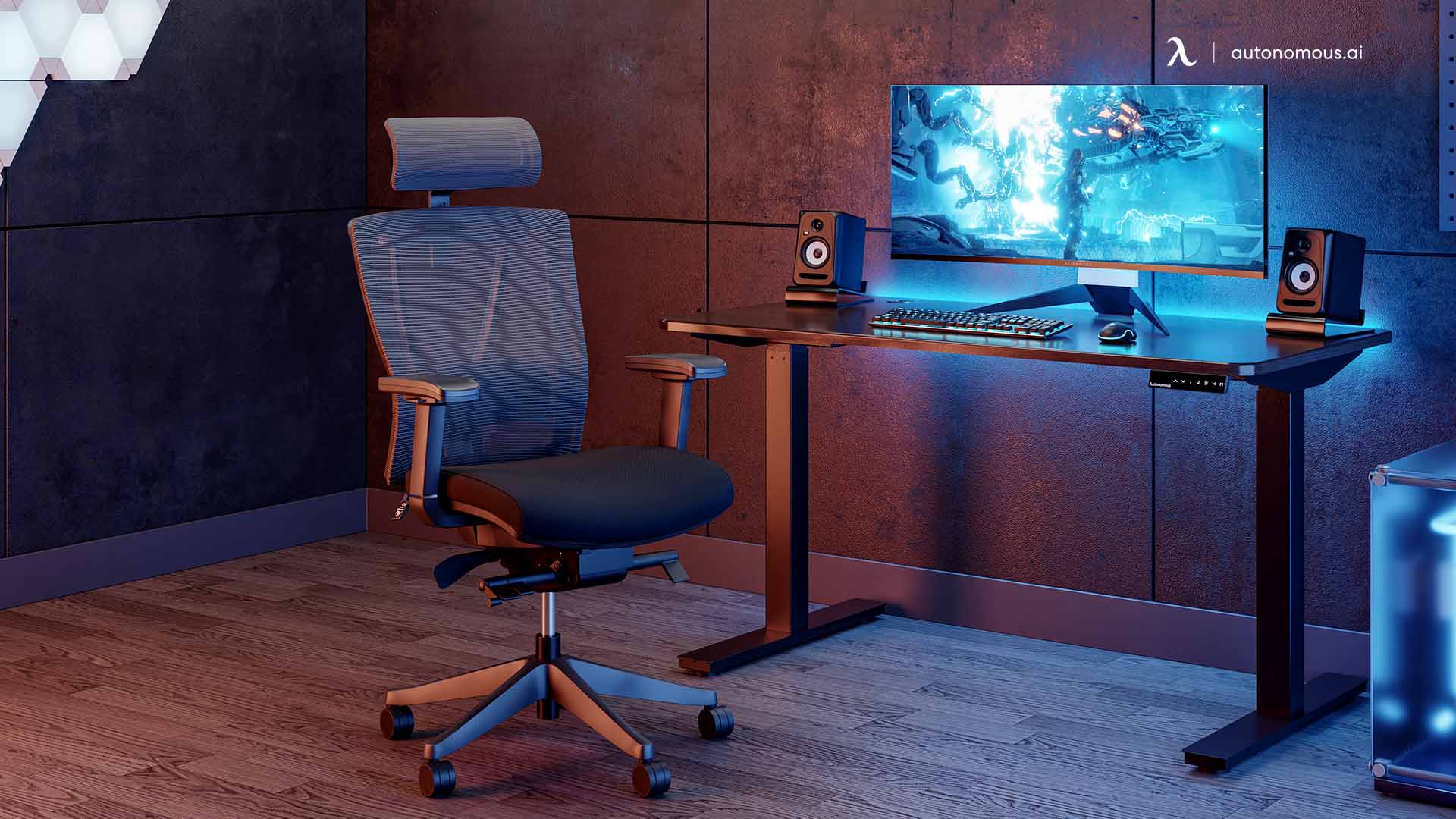 The SmartDesk Core is an excellent home standing desk available in two sizes. There are extra-large and regular options, so no matter the size of your gaming room, one of these desks can fit. 
It has dual electric motors that handle height adjustment between 29.4" to 48", meaning you can sit or stand. Four programmable settings can easily be adjusted to lower and raise the table at ease. This wooden gaming computer desk can lift 265 lbs and has solid steel frame construction that is polished and fancy. 
All products from the Autonomous factory come with a five-year warranty, and the company guarantees that you are receiving a meticulously designed piece of ergonomic equipment. 
2. Autonomous SmartDesk Corner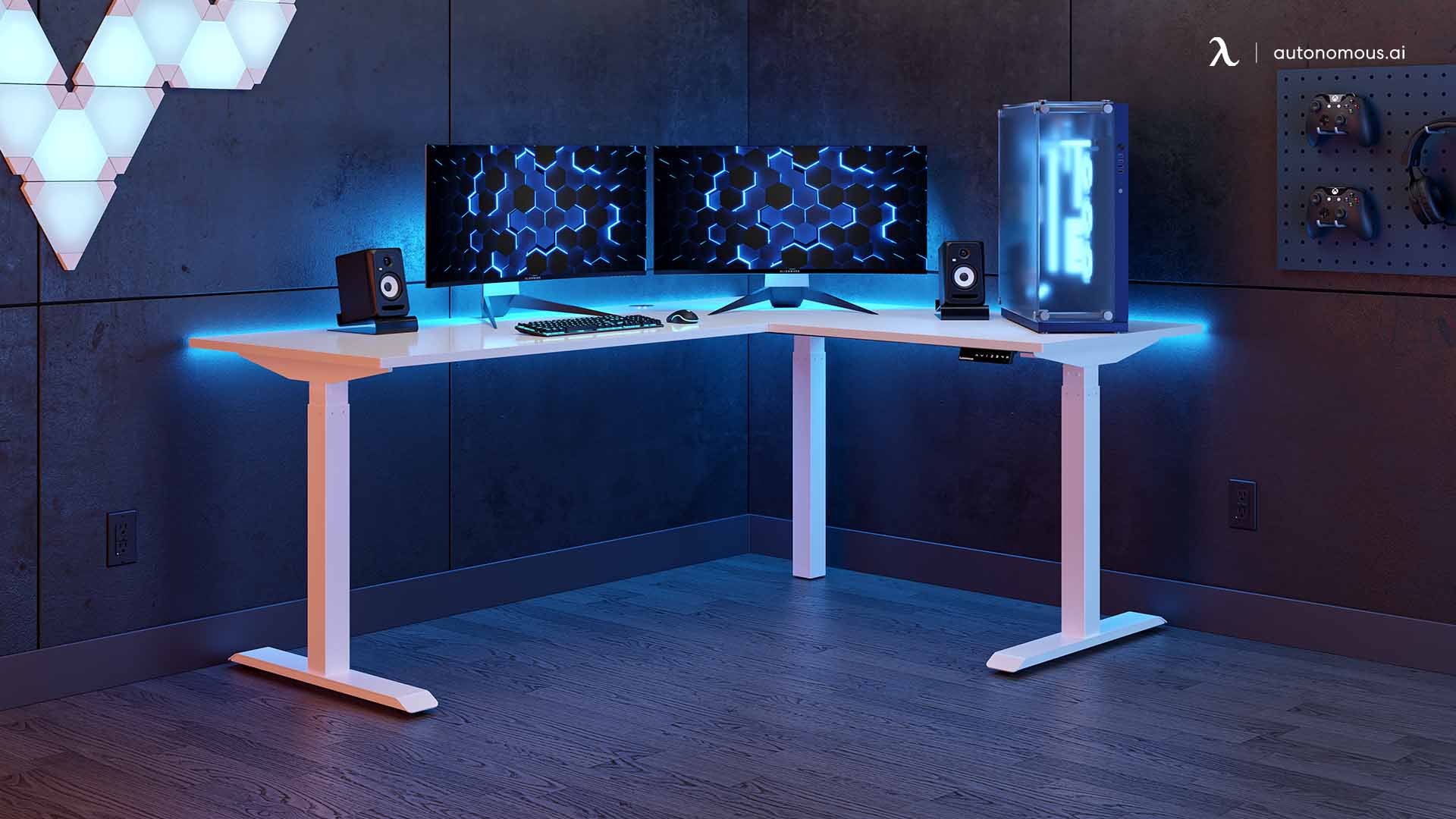 The SmartDesk Corner may be the most suitable wooden gaming computer desk if you have a larger gaming room to work with. It is the perfect aesthetic gaming setup for someone looking for more power and space to get their work or gaming done.  
This wood gaming table can easily hold up to three monitors on its wood desk top. It comes in three colors which are white, black, and brown. The solid steel frame can support up to 400 lbs and comes in two colors: white and black. 
There are whisper quiet triple motors and a height adjustment system programmed through the intuitive settings system of this L-shaped gaming desk. What is fantastic about these desks is that they come in modular segments, meaning they can be made to fit no matter the size of your office space. 
3. Apex Desk Elite Series
It's time to take care of your body and purchase a solid desk that offers the ability to stand or sit while gaming. The Apex Elite features a memory control panel with four custom presets for height adjustment.  
This wood gaming table is excellent value for money and has a tremendous minimalistic appeal. There are also multiple size options ranging from 60 to 71 inches, so no matter the size of your gaming room, the desk can surely fill the space. 
4. Respawn L-Shaped Desk
The Respawn L-shaped wooden gaming computer desk is super spacious, providing enough room to satisfy gamers' requirements. It has a beveled front edge that helps to support your arms and avoids the unnecessary pressure put on the shoulders when gaming for long hours.  
What's marvelous about this desk is that it has a built-in monitor shelf, which not only adds to the aesthetic appeal but frees up space on the worktop. There is also a headphone hanger plus a cup holder for your coffee when pulling an all-nighter gaming session. 
5. Flash Furniture Clifton
One of the most affordable wooden gaming computer desks on this list is the Flash Furniture Clifton. This wood gaming table has a tiered shelving system that can effectively store all your gaming gear and more. The metal frame is solid and sturdy, holding up to 250 lbs.  
This is a wood PC desk more suited for smaller adults due to the miniature nature of its design. If you are on a budget and require an excellent wood gaming desk, this one's for you! 
6. GreenForest Gaming Desk
The GreenForest gaming desk is a well-priced quality gaming desk that can become modular if you purchase two tables. It is incredibly versatile and can be configured in multiple ways so that it can fit wherever you place it. 
If you are after something stylish, modern, minimal, and comes in at a great price, the GreenForest wood gaming desk may be the perfect fit.  
7. Vitesse Racing Style Desk
This wood PC desk can hold up to two monitors and easily supports 350 lbs on the gaming top. It is an excellent value for money desk that includes a variety of integrated charging ports for all your devices. 
If you compare it to other budget models, you find more desk space and many organizational features. The Vitesse racing-style desk is excellent for someone who enjoys car endurance games, such as Gran Turismo. 
8. Walker Edison Soreno Wood Desk
Straight out of the box, this wood PC desk is ready for multiple monitors and has a durable steel frame that can support over 100 lbs of gaming gear. You can extend the design by segmenting the worktops to create a corner standing desk. 
There is a unique cable management system that can help you to keep things neat so that you can focus on what's important, getting that next headshot. 
9. Atlantic Original Desk
This miniature desk is best suited for children or adults with a small stature. It is exceptionally comfortable and has a sleek gaming desk cable management feature that looks stylish and stores wires out the way effectively.  
Even though the wooden gaming surface is small, it still gets the job done perfectly no matter where it is situated. 
10. Arozzi Arena Desk
The Arozzi Arena desk is designed for the minimalist who enjoys gaming for extended periods. A spacious five-foot width allows you to store all your gaming gear with ease and accessibility, meaning everything you need is always in reach.
Its patent-pending design comes in five different colors, making it easy to match with your office space no matter what style it is. Some users report a wobble on this desk, but we only found that accurate when it's overloaded.  
11. AmazonBasics Gaming Computer Desk
The AmazonBasics gaming computer desk fits anywhere you want to place it. Uniquely built-in storage solutions help store your gaming accessories for easy access. The stylish wooden top is supported by a steel base and can hold up to 250 lbs, meaning that you can use two monitors with this table. 
Even though its size is relatively small, it's ideal for long gaming sessions any time of the day. 
12. Mojo Gamer Pro Desk
One of the pricier dark wood gaming desks on the list is the Mojo gamer desk, and rightfully so. This desk is packed with features and requires a power outlet to operate at its full potential. It was designed with eSports enthusiasts in mind and includes a range of gaming accessories as an added extra.  
The sturdy build has plenty of space and zero bounce, no matter how many monitors you stack on top of it. What's great about this desk is that it can be used either standing or sitting due to the built-in electric sit-to-stand mechanism. 
13. Mr. IRONSTONE Desk
Mr. IRONSTONE has been making wood gaming desks for many years, and this model is one of its most well made. The comfy curved desk makes sitting at the desk for long hours comfortable and supportive.  
Its fantastic cable management grommets store your wires seamlessly out of the way. The headphone hook and cup holder are detachable, which frees up extra space when you need it the most.  
14. Thermaltake Level 20 RGB Battlestation Desk
Thermaltake is a name synonymous with gaming, and this dark wood gaming desk is one of the company's flagship products. It has RGB synchronization with iTAKE that not only beautifies the style of the desk but adds a flashy appeal to your gaming room as well. 
A significant function of this desk is that it can be used as a standing desk due to the effective electric motor installed inside the frame. It's cumbersome, which can hinder some users, but we loved it because it provides extra stability to the table. 
We highly recommend this wood gaming PC desk if you spend your night gaming and want something solid plus sturdy. 
15. Eureka Ergonomic Z60 Desk
This wood gaming desk has a vivid RGB side panel that shines brightly and lights up any area. It has a Z-frame design with an equalizing bar that holds the solid wooden gaming surface. 
There are no additional accessories that come with this desk, but that is fine. The Eureka Ergonomic Z60 dark wood gaming desk can hold your extra peripherals because of its 220 lbs carrying capacity. No matter where you put this desk, it's bound to brighten up the room and make your guests say "wow." 
16. Z-Line Cyrus Desk
The Z-Line Cyrus wood gaming desk is ideal as a general work desk and ergonomic PC gaming desk no matter where in the home you position it. It has a large gaming surface with a pull-out tray plus a stable monitor stand that can hold two screens.  
A wooden surface protected by a thin film helps prevent scratching and provides a smooth surface for mouse tracking. Online there are many fantastic reviews regarding this product, and it comes with an excellent three warranty to boot. 
17. DXRacer Gaming Desk
This wood gaming PC desk is perfect for competitive gamers who enjoy racing games such as Need for Speed, DiRT Rally, or Forza Horizon. There are no shelving or adjustability options, but it has a convenient footrest to take a break from the pedal. 
Its design incorporates gamer colors and has an ergonomic 10-degree slope that adds to the comfort of this fabulous desk. The double triangle design is unique and modular, so you can make this wood gaming PC desk fit anywhere you want.  
If you want a desk with a cable management system and enough surface area to store your gaming peripherals, the DXRacer is for you. 
18. Techni Mobili Corner Desk
One of the more oversized wood gaming desks on this list comes in a black and silver luxury design that combines elegance plus style. The solid steel frame construction can support up to 320 lbs and has plenty of storage for your accessories. 
It is not height-adjustable, meaning it's not ideal for taller people. The modular desk can be split in two to create a different desk for a friend or gaming partner. A fantastic thing about this desk is that it comes with an extended five-year warranty and ships out within two days of purchase. 
19. Couchmaster Cycon Desk
This wood gaming desk includes a four-port USB 3.0 hub so that you can charge your devices and connect to your computer with ease. Memory foam cushions on the edge of the desk support your arms and ease pain in the elbows and joints.  
If you are after something minimalistic with an integrated cable management system, then the Couchmaster Cycon desk is for you. 
20. Studio RTA Producer
This wood gaming desk can support multiple monitors and has a sturdy black steel frame that can hold up to 300 lbs. There are many nooks and crannies to store your gaming gears or even your morning cup of java. 
The upper rack is elevated, making this table perfect for larger, more significant adults. 
Conclusion
Gamers know that sitting at a desk for an extended time can be detrimental to their posture. Purchasing a suitable wooden gaming desk can help you remain more comfortable when spending long periods in front of the computer or playing games all night.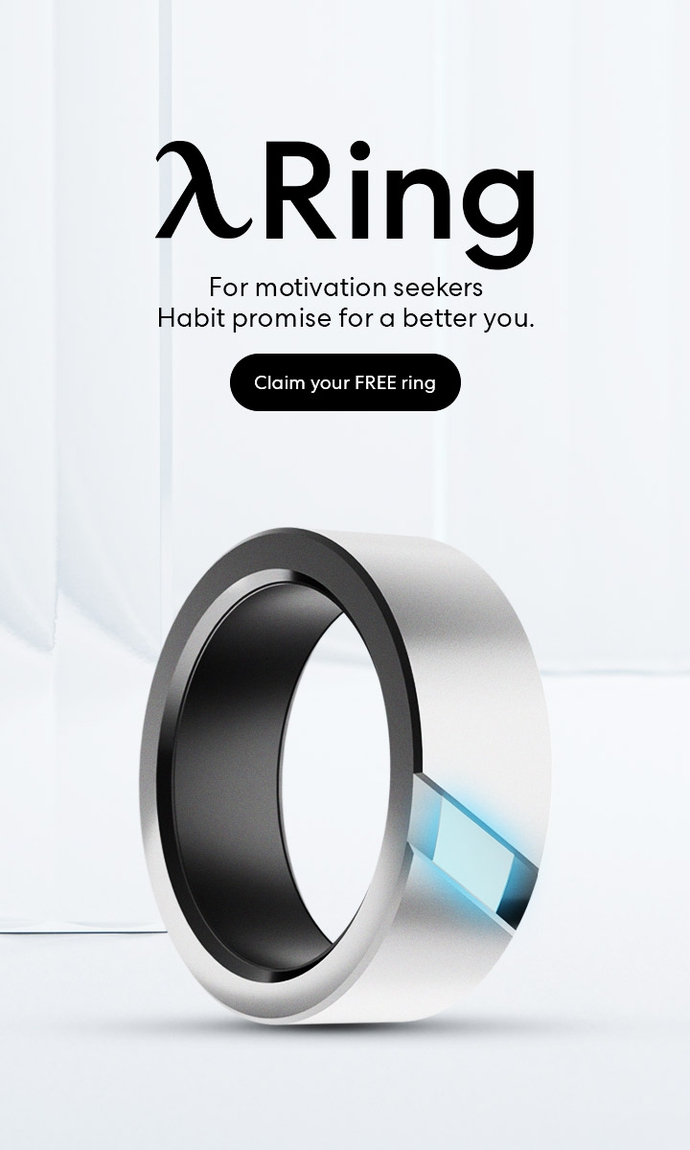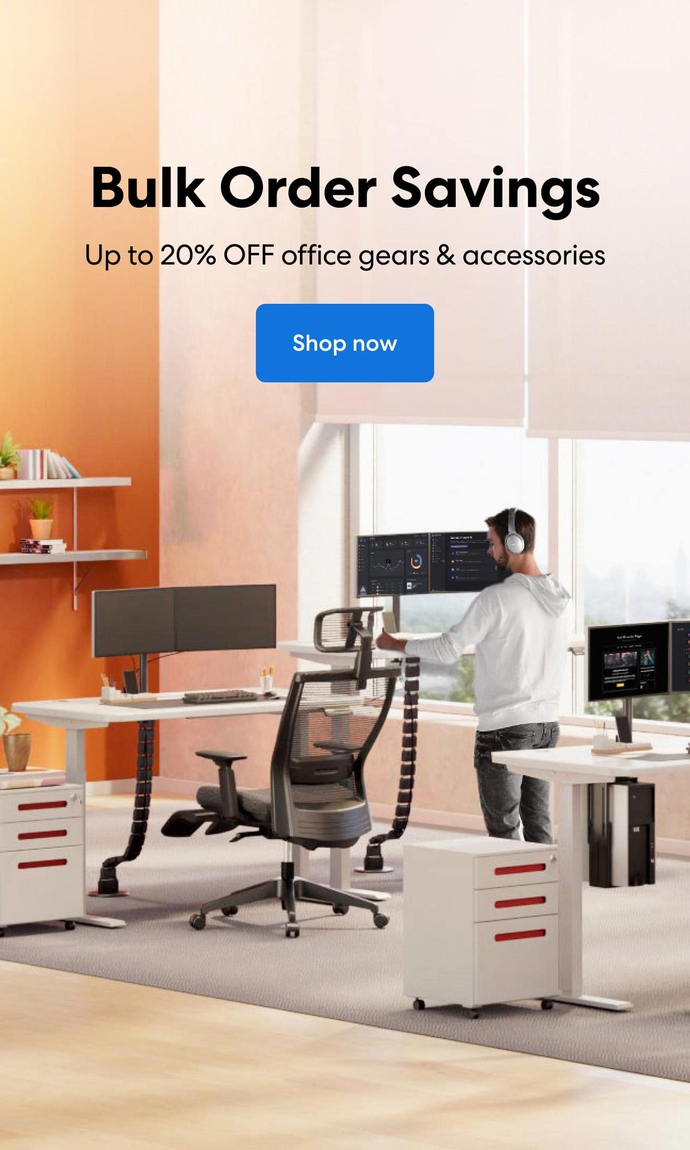 Subcribe newsletter and get $100 OFF.
Receive product updates, special offers, ergo tips, and inspiration form our team.