Workplace Inspiration
20 Attractive Items for Pastel Room Decor to Brighten Up Your Home

Autonomous
|
Nov 9, 2022
1,009 Views
Pastel colors aren't just for kids' rooms or springtime gardens. This pastel design has recently appeared in all parts of the house and office, including adult bedrooms. Don't you like the look of the simple white office or kitchen cabinets? You can go with baby blue. Do you want to liven up your living room? Add a light pink couch to the mix. 
Although pastels are utilized less frequently in interior design rather than in fashion, they are a remarkably versatile and practical accent to most design types. Here are 20 of our best pastel room decor that shows how easy it is to incorporate these home office essentials into your home. 
The 20 Best Items for Pastel Room Decor Ideas
1. Autonomous SmartDesk Junior
If you are looking for the perfect gift for your child, this is the ideal standing desk for your juniors. With a generous 22" adjustment, this chair for the youngest is always the correct height for growing bodies and large enough to assist any activity. There are multiple colors to enhance the aesthetic of their pastel room, whether it's for a girl or a boy. 
A built-in safety system prevents the desk from sliding if it comes into contact with another object. Encourage your youngster to find their concentration by embracing their natural desire to be active. Begin early and cultivate healthy habits that will last for years.
2. Autonomous Sustainable Cork Desk Pad
This cork desk pad is created from ethically produced oak cork tree shavings. It is one of the best computer accessories made entirely of recycled materials and will protect the surface of your desk. Cork harvesting does not hurt the tree in any way - it can help the tree live longer. 
The pad is a perfect little detail if you are looking for pastel room decor. Autonomous Cork Desk Pad enhances mouse performance and comes with a six-month warranty. Generally, it's a simple design and the perfect color to fit any desk.
3. Autonomous Filing Cabinet
This filing cabinet fits nicely beneath your workflow and into your SmartDesk. It has oversized drawers with locks to keep everything secure and is perfect for storing personal devices, documents, and paperwork. 
The Autonomous filing cabinet has solid lockable wheels that allow you to slide it out from beneath your desk. The cabinet in pastel room ideas is made of superfine cold-rolled metal plates with an anti-rust coating. It also has a straightforward and perfect look with little pastel designs that can fit into any office.
4. Mindspace Rose Gold Desk Organizer
The desk organizer's pull-out drawer swings out smoothly and quickly for extended storage, including matching color paper and binder clips. You will have a full view, and everything you need will be right at your hand with its open section. 
Store your papers, pens, binder clips, and every tool you require in this rose gold desk accessories. It's small and has an elegant, pastel color that can fit on every edge of the room.
5. Mindspace Gold Triangle File Holder
The Mindspace gold file holder prioritizes space and has nine spacious sections that provide ample space for sorting mail, documents, and files into different types. This metal desk organizer model is made of sturdy steel wire and can handle large books and files without bending out of structure or tipping over. 
Its triangular shape adds structure and style to your room, as does its metallic pastel pink color. You will also save a lot of space with this pastel room idea.
6. ApexDesk Standing Desk: Pneumatic Lift Mechanism
Take a look at the perfect pastel room decor for your home. This standing desk makes any room more attractive and enhances the pastel look and design. There is no need for a power supply, and there are no untidy cords to deal with when working with this desk in pastel room ideas. 
The Apex pastel standing desk includes two gas cylinders and pneumatic height adjustment. It's made from a steel frame with a crossbar for further stability and two built-in casters in the back for more effortless mobility. You can lift the desk from the front and wheel it anywhere.
7. KERDOM Office Chair: Elastic Mesh & Adjustable Backrest
This office chair may reduce your body's tension due to the characteristic of 30 degrees of reclining and the construction of dispersing the pressure-resistant. The chair's height can be adapted to meet the user's needs. It can also rotate 360 degrees. 
High-density natural sponge, gentle cushions, and breathable mesh make the FelixKing office chair calm and pleasant for sitting and working for over 10 hours. There is also a more extensive selection of pastel colors that everyone would love and would fit perfectly into any pastel room ideas.
8. Skyline Decor Mid-Back: Task Office Chair
The Skyline Task Office Chair is perfect for your office with pastel room decor, home working, gaming place, or even your kids. It has a simple design; you can fit it in with every pastel aesthetic room decor in your home or office. 
Because of its chrome base and dual-wheel casters, this office chair can quickly move across the floor. Its pneumatic adjustment lever allows you to adjust the seat height easily. This model has a large selection of colors that no one will resist.
9. Skyline Decor Mid-Back Swivel Office Chair: Adjustable Arms
This office chair offers height-adjustable padded arms and a mid-back design made of breathable mesh material. It also has a back height knob that adjusts the lumbar support to relieve back strain. This is an incredible item for your pastel home decor.
The chair also has a multi-tilt lock mechanism that rocks/tilts and allows you to lock the chair in infinite configurations. Its tilt tension adjustment knob controls the chair's resistance to reverse tilt. Plenty of chair colors make the perfect choice for every pastel color lover.
10. Enkel Studios Laptop Stand: Solid Birchwood
This laptop stand is one of the best desk accessories that will elevate the laptop screen to prevent slumped seating positions while increasing laptop airflow and cooling. Made entirely of solid birchwood and coated with non-scented protective oils. 
The soft wool feet prevent surface scratches with ethically sourced materials. Enkel Studios laptop stand also has a very smooth and beautiful wooden pastel color that fits into the interior of every home and office.
11. Lamp Depot Magnetic Levitation Lamp: Floating Moon
If you are looking for a lamp for your pastel room decor that will have an elegant and simple look and give you a little light at night, this is the ideal decor for your pastel aesthetic rooms. 
This 3D-printed Led light floats and spins independently above the provided base, thanks to magnetic levitation technology. Each lamp has touch sensor controls and three lighting settings so you can choose the best lighting for your space and improve the pastel look of your office.
12. Moshi Avanti On-ear Headphones
Avanti's curved headphones are ergonomically designed to place the plush, flexible earcups at the ideal 14-degree angle to establish a flawless, noise-isolating barrier while putting gentle pressure on your ears. 
These headphones are made of stainless steel and smooth, breathable leatherette and radiate subtle luxury in a minimalist style. Avanti is the ultimate listening companion, both radically seductive and very comfortable. 
The earcups fold into the headband because of the distinctive rotating headband design, decreasing the device footprint. Furthermore, the folding headphones then fit nicely into a carrying case that comes with them.
13. RapidX Boosta Magnetic Wireless Charger for iPhone 12 & 13
The Boosta Magnetic Power Bank in pastel room decor charges your device with 5,000 mAh when it is needed. Magnetically attach to the rear of iPhone 12 and 13 series to funnel 7.5W of charge. 
With Qi-enabled devices, you can use the power bank either as a wireless charger or through a USB-C connection to power most phones and devices. Boosta is light and thin, making it ideal for on-the-go power boosts. It is MagSafe case compatible and comes in a variety of vivid colors.
14. KERDOM Wifi + Bluetooth Projecter: 1080p Native Player
KERDOM's portable WiFi and Bluetooth projector has more connection functionalities for convenience, increases brightness to 9800 lm, enhances native 1080p resolution for delicateness, and uses a wholly coated and good optical lens to make the image clearer and livelier. You can get an excellent visual experience for your home theater. 
It has a 300" massive screen with a distance of 4-26.2 ft. A 5W double stereo speaker system also provides ambient and high-quality sound. Connect it to your earphones or external speakers via Bluetooth if you desire more.
15. Uncaged Ergonomics KM1 Wireless Keyboard and Mouse
With this elegant, modern wireless mouse and keyboard combo set, you may improve the comfort and looks of your workstation. The wireless mouse and keyboard are powered by a single USB dongle for convenience and efficiency. Smooth, silent keys make typing delightful, and the comfortable wireless mice suit most hands. 
A colorful wireless mouse and keyboard combo for your pastel room design can brighten your professional life. You only need one USB dongle (stashed in the mouse) that powers both the wireless mouse and keyboard at the same time. 
16. Lexon City Pen Cup
This stylish pen holder will complement any office pastel decor. The brushed surface of the pen holder, made of solid aluminum in valuable jewel tones, lends a rich glossy shine to any workspace. This cylindrical pen container is large enough to hold all of your pens. 
It comes in Metallic Grey, Dark Green, and Soft Gold colors to suit most room designs. This trendy desk addition keeps things simple, organized, and stylish. Enjoy improved concentration and productivity with a clear mind.
17. Capra Leather Desk Footrest Cover
This leather Desk Footrest Cover in pastel room decor can prevent your feet from becoming fatigued. It is handcrafted in Capra's workshop and is a one-of-a-kind piece due to its exceptional detail and quality materials. With this item, you can give your desk a fashionable appeal with a practical minimalist design. 
It improves your work by bringing comfort and aesthetics to your home office, increases blood flow and posture, and provides quick relief for tired feet. Capra's office footrest is an ideal pastel home decor for those who appreciate clean, simple, and practical designs.
18. Nexera Atypik Bookcase
With its unusual design and artistic detail of its "A" leg, the Atypik etagere is suitable as the highlight of your workspace. The Atypik 4-shelf Bookcase is both sturdy and attractive, providing the optimal structure to improve the usage of your space, whether in the living room, home office, or any bedroom. 
It comes in warm colors, so you can place it in any pastel room and decorate it with pastel decorations and books.
19. Lamp Depot Projection Lamp: RGBW Ocean Wave Lights
This RGBW Ocean Wave Lamp can generate multi-colored and dynamic ocean waves for any smooth wall or ceiling. The Wave Lamp delivers instant ambiance with the stroke of a button, and you can create a peaceful and romantic atmosphere. 
It will draw your attention in the evening, and you will appear to be under the aurora borealis. Think about this pastel aesthetic room decor and make your room, bedroom, or office more elegant, and you can choose your favorite color to lighten your room.
20. Northread High Gloss Coffee Table: 16 Colors LED Lights
This Northread coffee table is a large and attractive table with a high-gloss white finish and is also helpful with the extra storage shelf beneath the tables for pastel room decor, which allows you to keep the surface tidy. 
The LED coffee table has 16 different colors, six brightness settings, four different lighting patterns, remote ON/OFF and color command, low power consumption, and consistent performance. You can set any color for your pastel room or office and take a break to drink your coffee on it.
Conclusion
Pastel living spaces are the most delicate, edgy, ageless, lively, and stylish all at the same time. Something about this sentimental quality emits a welcoming and elegant energy. Even though the hues are light, pastel décor varies to fit any mood. Whether you want to brighten the atmosphere, offer new contrast, or adore the design, utilizing rose, blush, sage, mint, and other colors can help.
These colors have had enough white to remove the saturation and transform them into a light version of the original hue. When combined, pastel tones look fantastic for any home office setup, so consider a mural or a beautiful view with backdrop sprays of baby blue, mint green, peach, light gray, and lavender. 
We're still determining why too, but it appears to create a relaxing aura that attracts people. Perhaps it is best to admire their desaturation.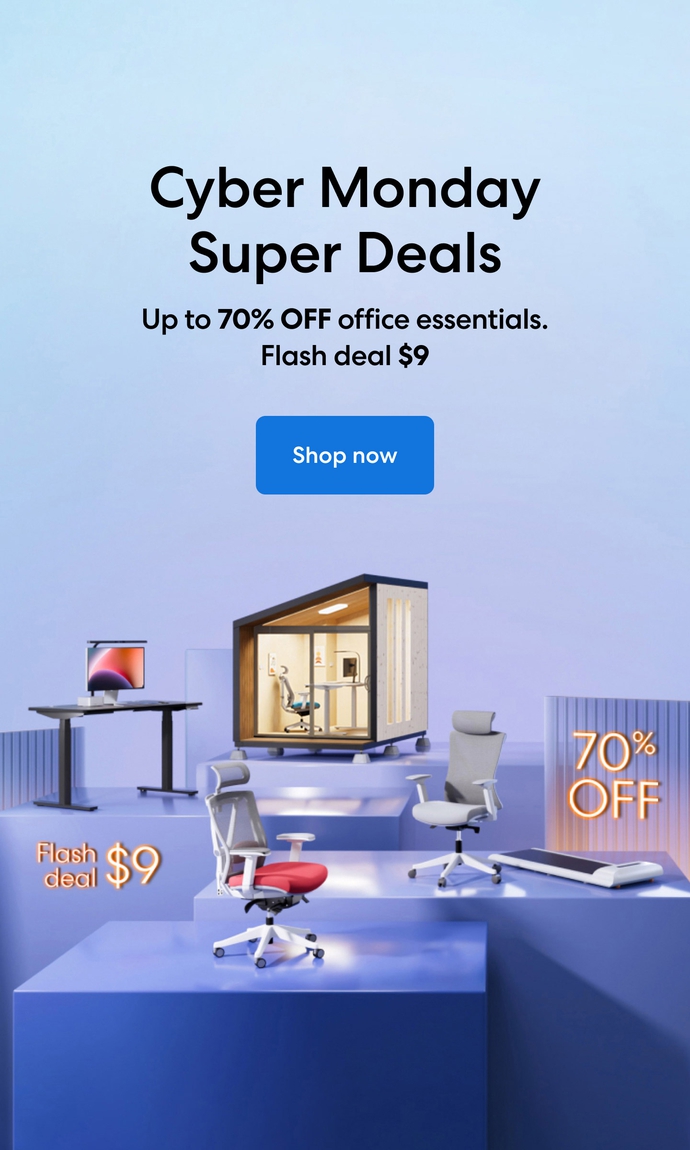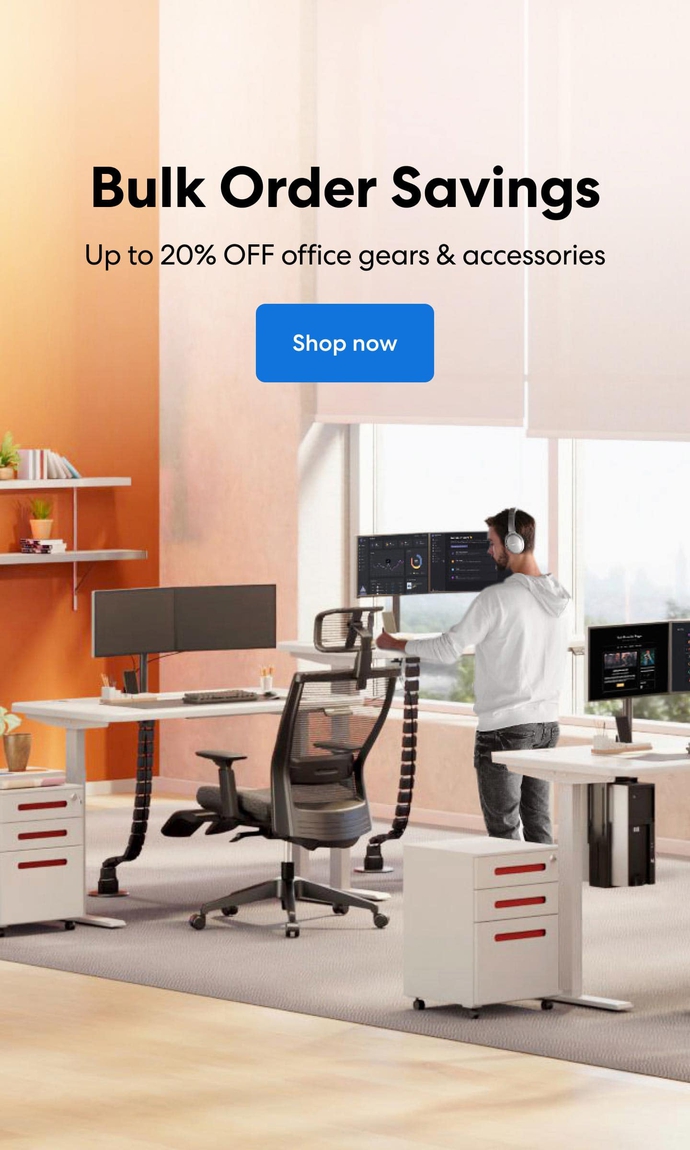 Subcribe newsletter and get $100 OFF.
Receive product updates, special offers, ergo tips, and inspiration form our team.