Smart Products
Top 20 Light Wood Desks for Your Home Office 2023
654 Views
When setting up a home office space, the type of desk you purchase matters. This is likely where you'll spend most of your time as you let your creative thoughts and professional ideas flow. It should function in ways that support your personal and professional goals. Design is important and comfort is key.
Before we dive into some specific light wood desk examples, it's important to consider the types of desks that are available to you. Once you determine which light wood material you wish to have and whether you prefer a traditional desk or a standup option, then you can determine which desk best fits your needs.
Types of Light Wood Desks
There are a few different variations of light wood desks to consider. You may choose to purchase a desk made of bamboo, for example. Bamboo presents a more sustainable option that is strong, flexible, and aesthetically appealing.
If not bamboo, you may opt for a desk made from Medium Density Fiberboard or solid wood. Medium Density Fiberboard, or MDF, is composed of residual wood mixed with both wax and resin. These elements are bound together to create a strong, sturdy, and durable type of wood that is often easy to cut and craft.
Solid wood, of course, is another good option when considering a light wood desk. There are many different types of wood, each with its own look and feel. Solid wood is often a good option for a standing desk, as it is strong and can support a generous amount of weight.
Depending on your tastes, bamboo, Medium Density Fiberboard (MDF), and solid wood are three great light wood desk material types to explore as you research and select your preferred home office desk of choice.
Sitting versus Standing Desks: Which One is Better?
In addition to the type of material, it is also important to consider whether you want a traditional desk or a standing desk.
Many of us are likely more accustomed to utilizing a traditional desk in our home or office space. Traditional desks come in many different shapes and sizes and allow us to sit and focus on work. They often come equipped with built-in drawers for extra storage, which is a nice perk for staying organized and saving on much-needed space.
The downfall of a traditional desk is that you do not have the option to adjust the desk height to accommodate a standing position, whereas, with a standing desk, you do. With a traditional desk, you must be more diligent about getting up and moving around during your workday. In the long term, staying sedentary for extended periods can detract from our physical and mental health and wellbeing.
If you want something with a bit more flexibility, an adjustable standing desk may be a good option to consider. Like traditional desks, these desks also come in a wide range of shapes and sizes depending on your spatial requirements and personal preferences.
The beauty of a standing desk, however, is that you have the option of adjusting the desk to accommodate either a seated position or a standing position depending on how you feel. Standing desks generally encourage more movement throughout your workday, which boasts many health advantages, including:
Possible weight loss or the prevention of additional weight gain

Risk reduction for various cardiovascular ailments resulting from a sedentary lifestyle

Increased energy

Increased mental clarity and stimulation

Increased circulation

Increased productivity

Less muscle and joint aches resulting from extended periods of sitting
Of course, this list is not exhaustive. It is fair to mention that while standing desks can contribute a lot of health benefits, they do have some downfalls to consider. Standing for long periods may be difficult for some people, especially if they are not used to doing so. Additionally, standing desks can cause muscle stiffness and soreness in your neck, shoulders, and arms if they are not adjusted to the appropriate height.
While standing desks can take some getting used to, since traditional desks have long been the default, they can be a valuable option to consider when determining what type of light wood office desk to purchase.
Top 20 Light Wood Desk Recommendations
Up to this point, we've discussed different light wood desk variations and have explored some of the advantages and disadvantages of both traditional and standing desk models.
Now that you have a better sense of what might be best suited to your preferences and needs based on material type and functionality, let's take a closer look at some of 2022's top bamboo office desk options for your home workspace.
1. Smartdesk Core White Oak Standing Desk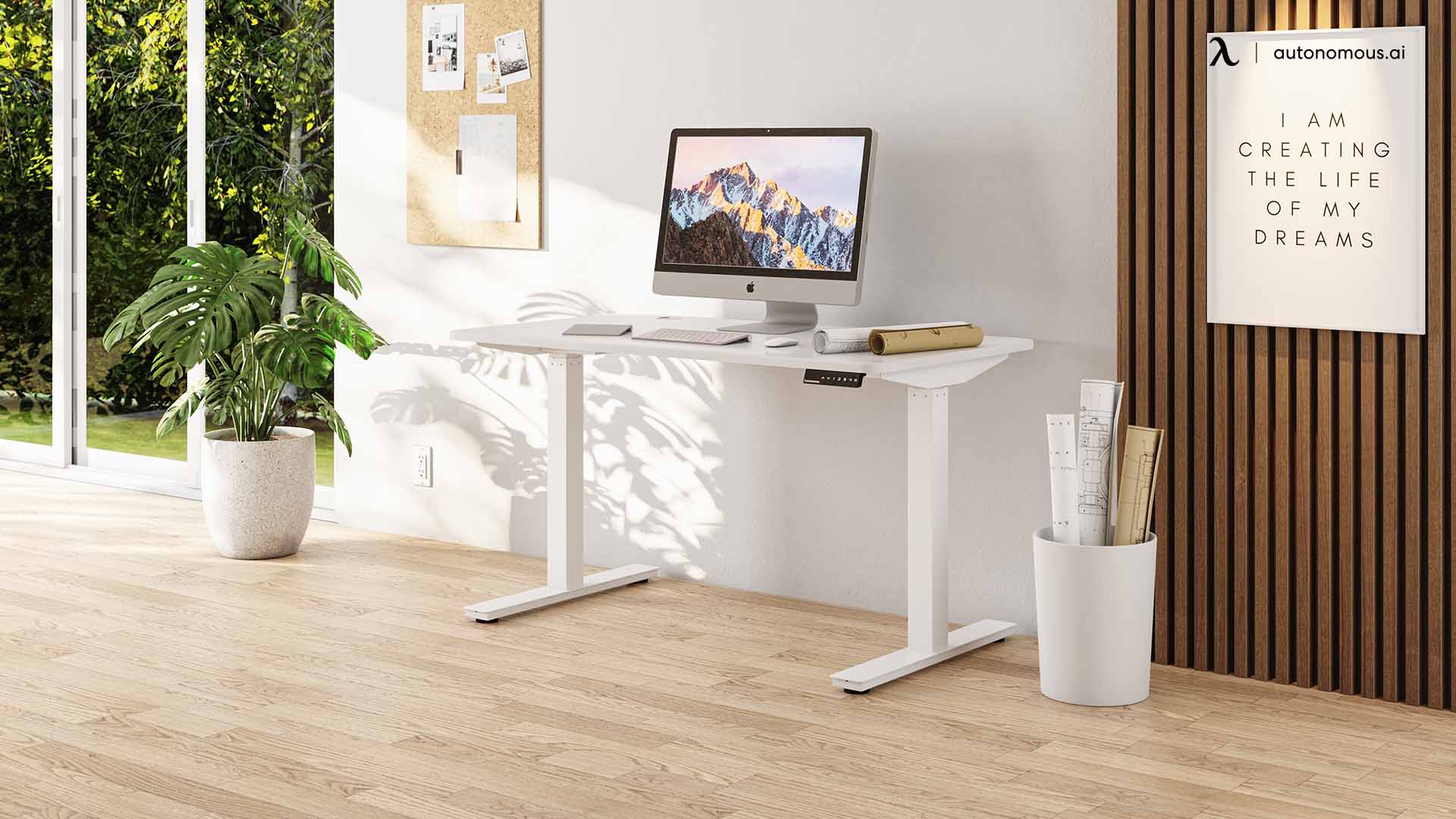 A popular and highly rated option is this Smartdesk Core White Oak. This white desk offers a crisp, clean, and fresh aesthetic for any home office space. With its solid steel frame and quiet motor, adjusting this sturdy desk is easy.
This desk offers an adjustable height range from 29.4 inches to 48 inches so you can sit or stand comfortably throughout the workday. It also features easy-to-use controls that allow you to preset and save up to four custom height selections for quick and convenient adjustment.
Additionally, this desk can lift 265 pounds, which can be incredibly useful if you have multiple pieces of heavy equipment that need to be situated on your desktop.
2. SmartDesk Bamboo Standing Desk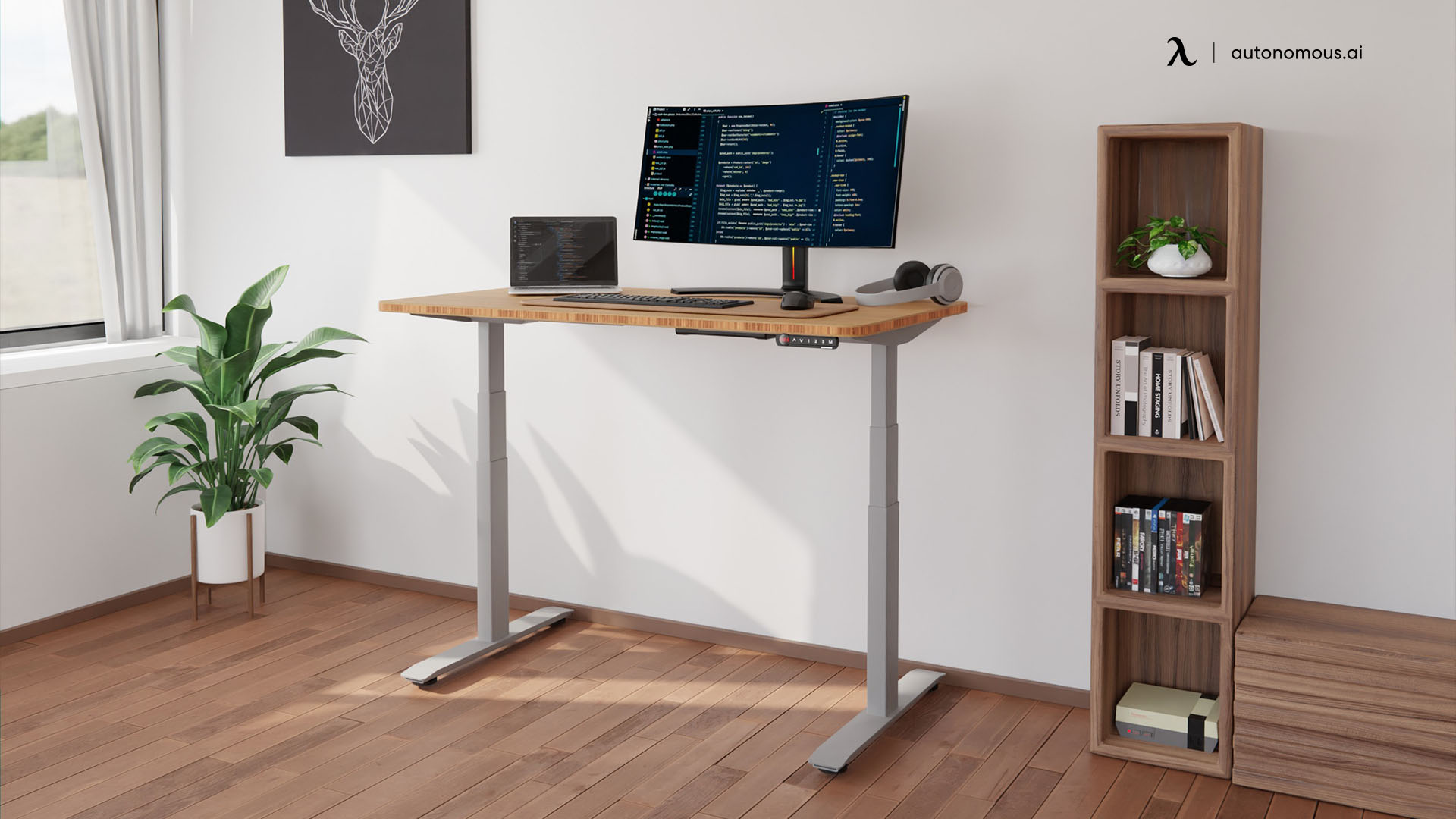 Another great option to consider is this Bamboo Standing Desk. This light wood office desk can help boost both your productivity and encourage greater health and wellbeing in your workspace.
This desk offers many similar features to the desk described above, including its sturdy design, flexible height range, custom controls, quiet electric dual motor, and lift capacity, but provides a unique design alternative. If white oak is not your preferred material of choice, this light wood bamboo desk may be a more suitable option.
3. Smartdesk Pro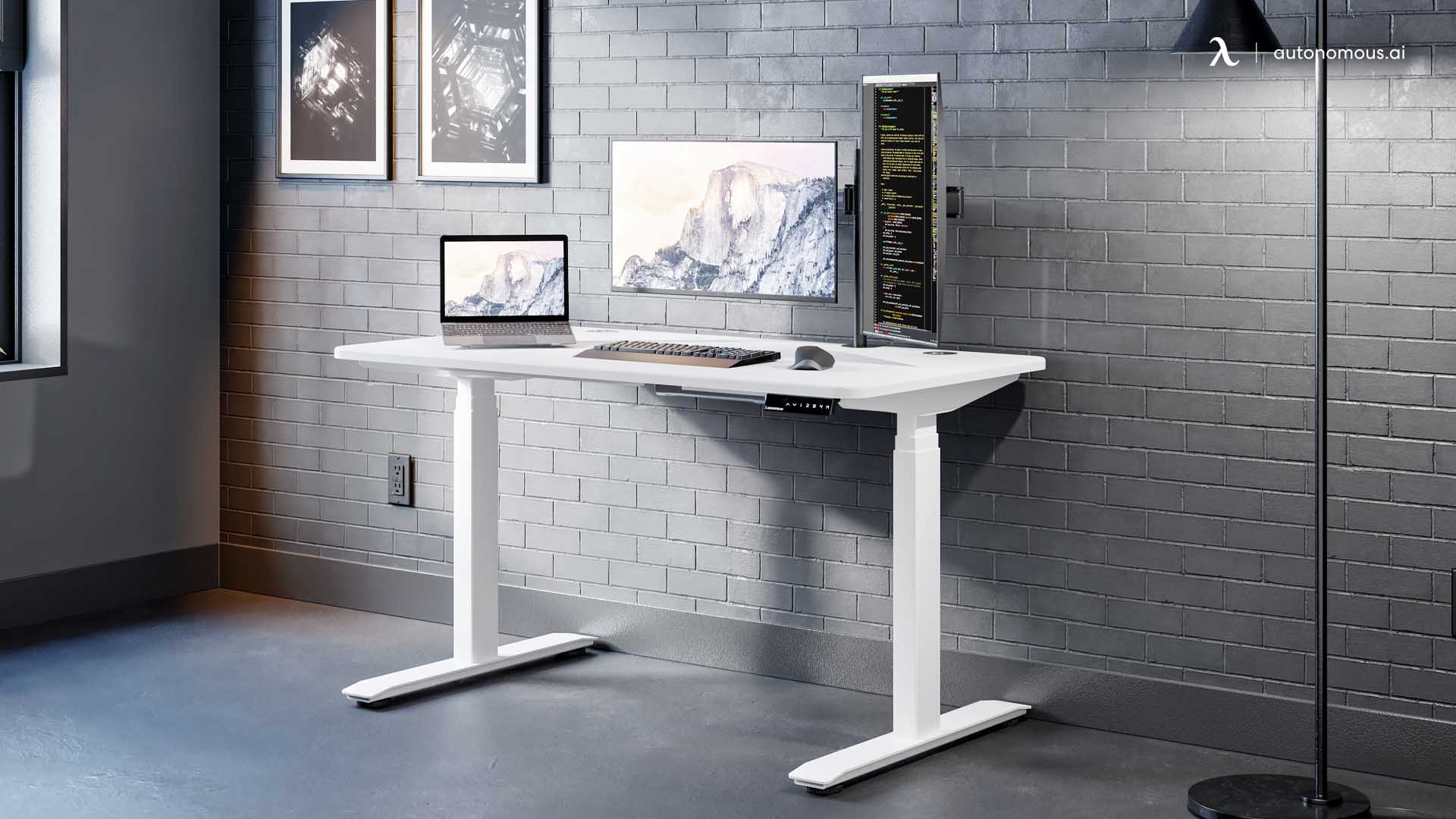 The Smartdesk Pro is another fantastic standup desk option that has been highly rated and reviewed. This adjustable bamboo desk is an advanced standing desk option featuring a wide workspace, a strong frame, and a dual electric motor that boasts a lifting speed of 2.3 inches per second. Best of all, this light wood desk is easy to assemble, as well.
4. RiseUp Dual Motor Electric Bamboo Standing Desk
If you are looking for a light-colored wood desk, look no further than the RiseUp Dual Motor Electric Bamboo Standing Desk. This desk features a durable bamboo top and a clean white frame. Height adjustability is a key feature of this desk, as it can extend from 26 inches to 51.6 inches. Best of all, this desk comes with a generous warranty for extended peace of mind.
5. The Crank Adjustable Height Standing Desk
If you are looking for a light-colored wood desk option that offers something a bit more unique, the Crank Adjustable Height Standing Desk may be something to consider.
This desk comes in a couple of different variations and utilizes a crank that is attached to the side of the desk to allow for manual height adjustment. This light wood desk provides a new, fresh, and funky alternative to its electric counterparts.
6. The Zhu Chuang Electric Standing Desk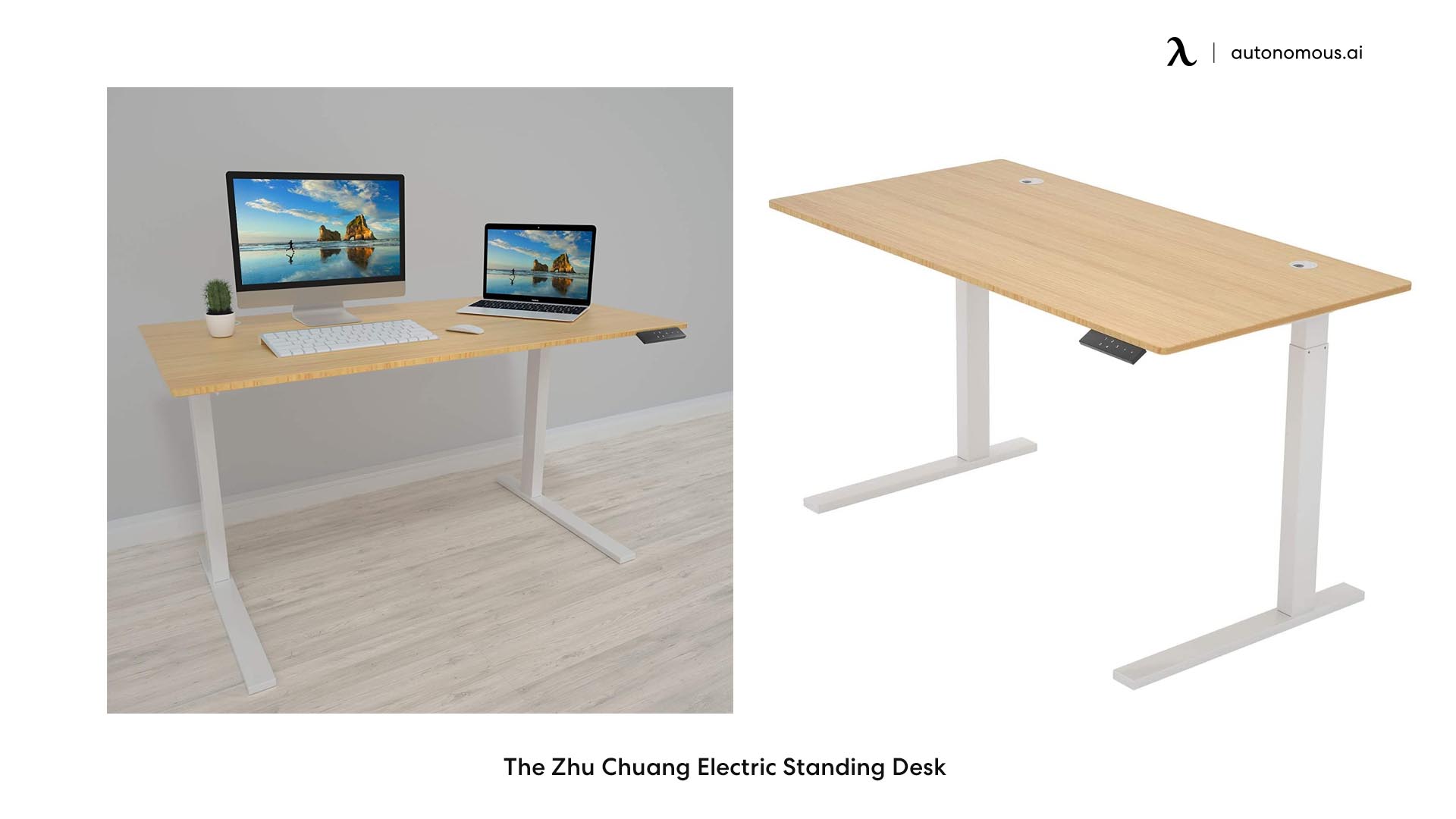 This light wood desk is an attractive and natural standing desk option to consider for your home office space. This desk comes in both a rectangular shape, as well as a contoured shape, to allow for optimal comfort based on your preferences. It features an electric motor system, customizable memory options, and a gracious warranty option.
7. The Jarvis Standing Desk Bamboo Top
This light wood writing desk is both functional and visually appealing. It boasts three adjustable height stages, a handset control to customize your height options, silent motors with quick adjustment times, and a generous warranty.
8. The Split Top Electric Standup Desk
If you are looking for a standup desk that provides a bit more space for organizing your desktop essentials, look no further than this electric standup desk. This light wood office desk offers an additional 5 to 7 inches of height with the split top so you can best accommodate those must-have home office essentials.
9. The Uplift Bamboo Standing Desk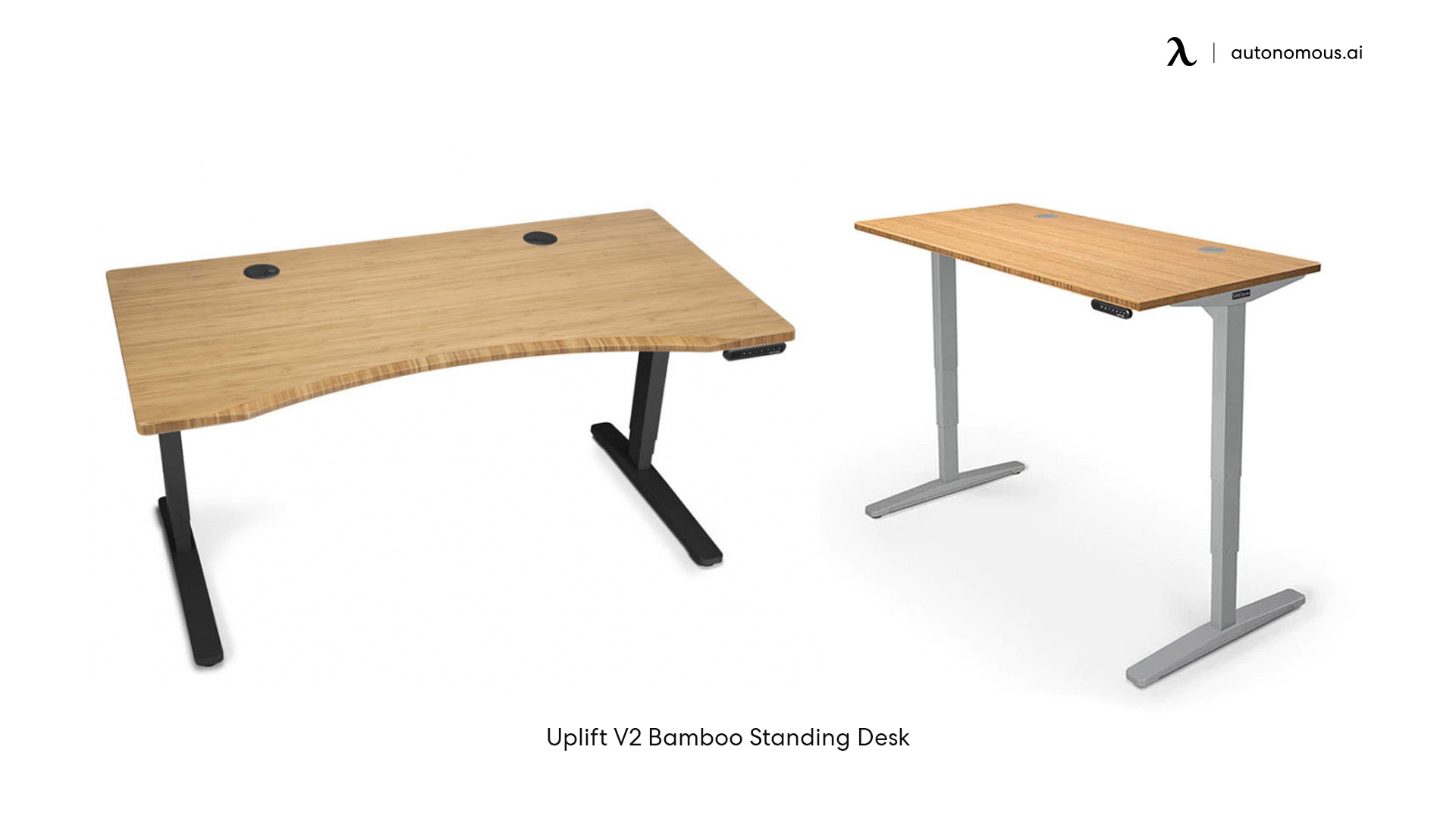 This is perhaps one of the best light wood desk options available in terms of both style and design. It comes in a wide range of sizes, so you can select one that best fits your home office space. Crafted from carbonized bamboo, this desk comes in a rectangular or contoured shape and offers a warranty.
10. Electric Height Adjustable Standing Desk by Flexispot
If budget is a concern, this light-colored wood desk may be a more viable option for your wallet. This is a more affordable standing desk that still lends itself to full functionality and optimal design.
11. Standing Desk by Frasch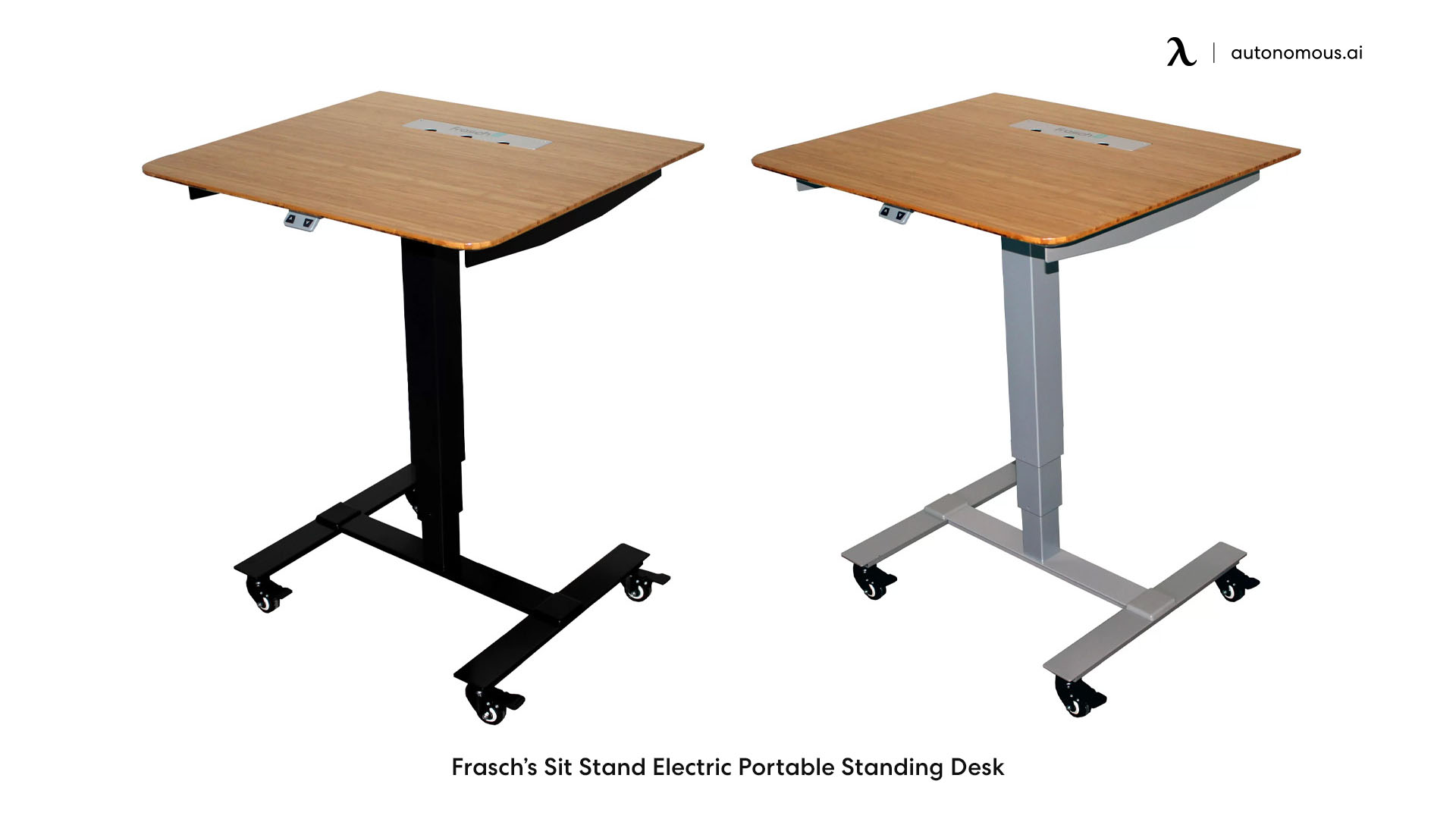 This manufacturer is one of the most reputable names in the industry and stands behind its quality. With a silent motor, this bamboo top desk is treated with a special coating to highlight and protect the natural grain of the wood and further exaggerate its natural beauty.
12. The FEZIBO Electric Height Adjustable Standing Desk
If you are in the market for a bit of extra storage space, this light wood desk with drawers may be the perfect option for you. This light wood office desk includes a drawer, four preset control options, and desk hooks to keep your space clean and organized.
13. The Stand Up Desk Store Electric Flat Top Desk
Looking for a standup desk with greater height options? This bamboo standup desk features three-stage telescopic legs for greater height adjustment and a programmable keyboard to make customization of height a breeze.
14. The Height Adjustable Standing Desk by OFM
This standing desk is every minimalist's dream. It is simple and easy to use with pre-programmed height settings that allow you to adjust quickly and easily with a simple click of a button.
15. Belpre Dual Motor Adjustable Standing Desk by Symple Stuff
With a sleek bamboo finish that is also available in black, this standup desk is easy to use and easy to clean. It boasts an easy-to-operate dual-motor system and has a special anti-collision feature that helps prevent the desk from being set too low.
16. Ascent Hi-Lo Height Adjustable Standing Desk by Inbox Zero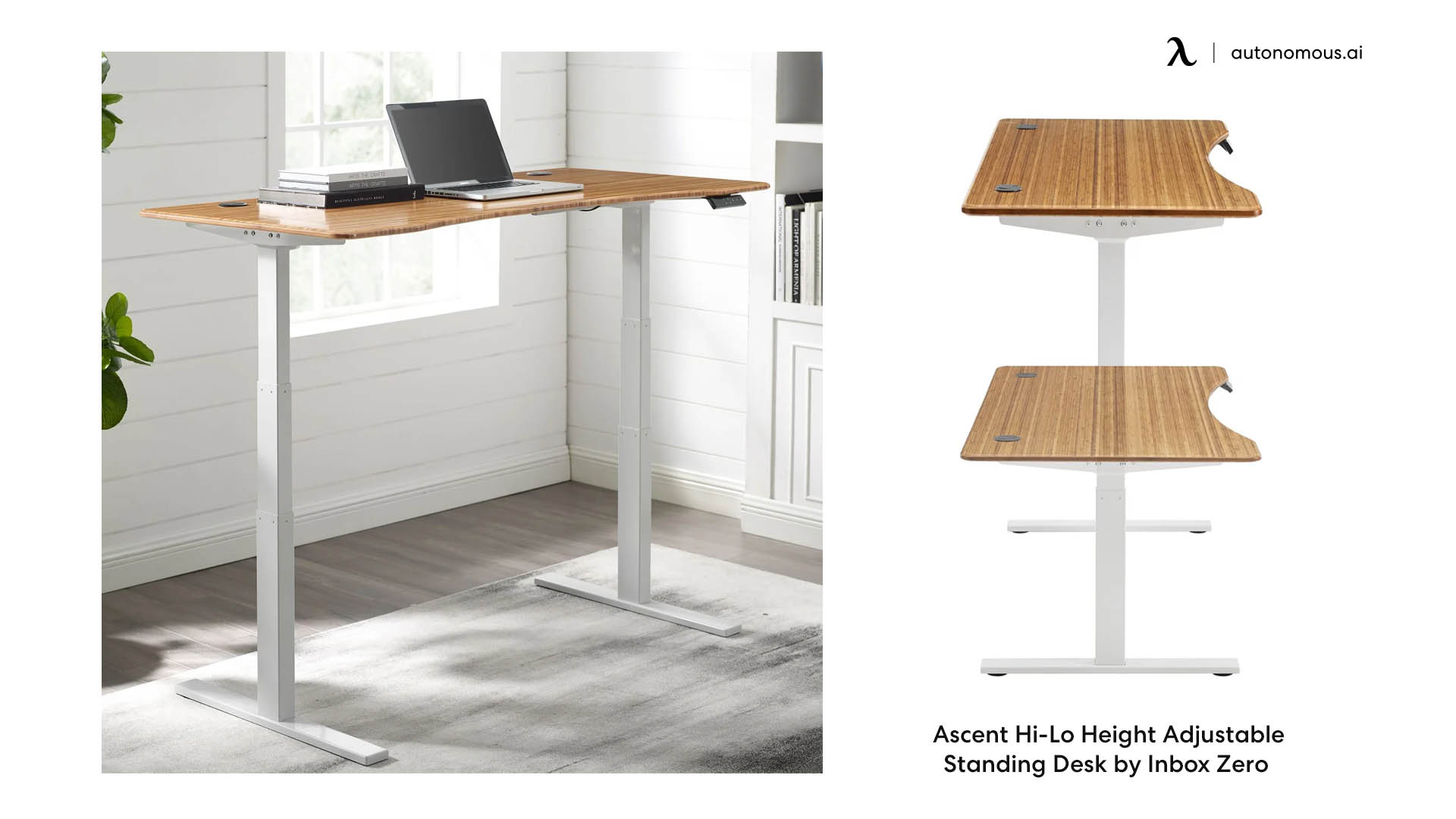 This is another great light-colored wood desk option for your home office setup. This is one of the highest adjustable standup desks on the market, which makes it best suited for those individuals who need a more flexible height range.
17. Sit Stand Electric Portable Presentation Standing Desk by Frasch
Another popular item manufactured by this vendor, this standup desk is compact and portable. It was designed for those who may be giving presentations or small talks but is great for basic use in smaller home office spaces.
18. Juliet Rise Up Standing Desk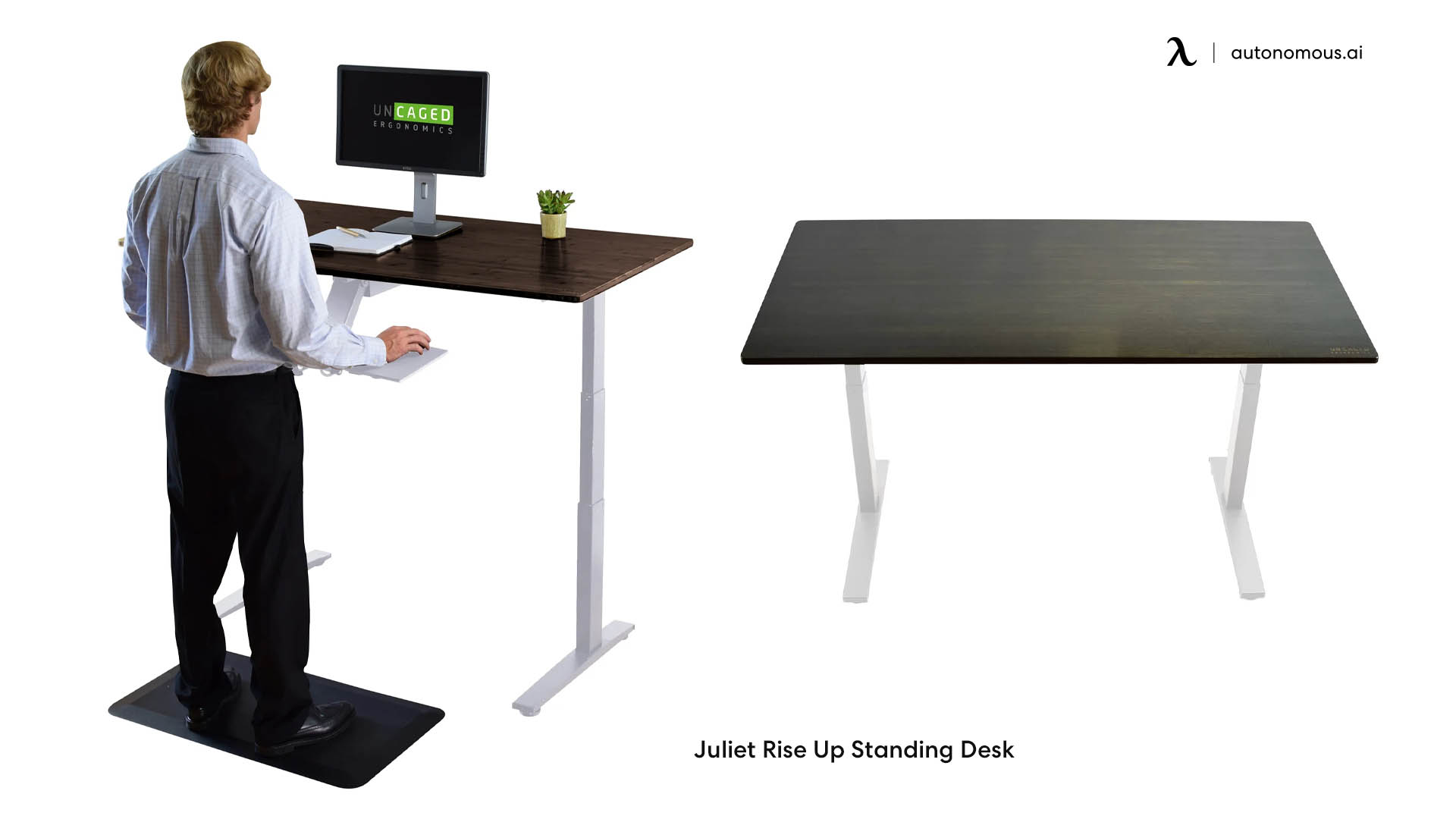 This is another desk that would best suit a minimalist's needs. Elegant, but simple, this desk offers a generous warranty and an easy to use, customizable control panel for quick and efficient height adjustments.
19. Rise Up Adjustable Standing Gaming Desk
If you are looking for a standup desk that can be used for work or play, look no further than this standup gaming desk. This desk features a sleek design, plenty of desktop space, and a generous weight capacity for all your personal and professional endeavors.
20. Smartdesk Surface Bamboo Table-Top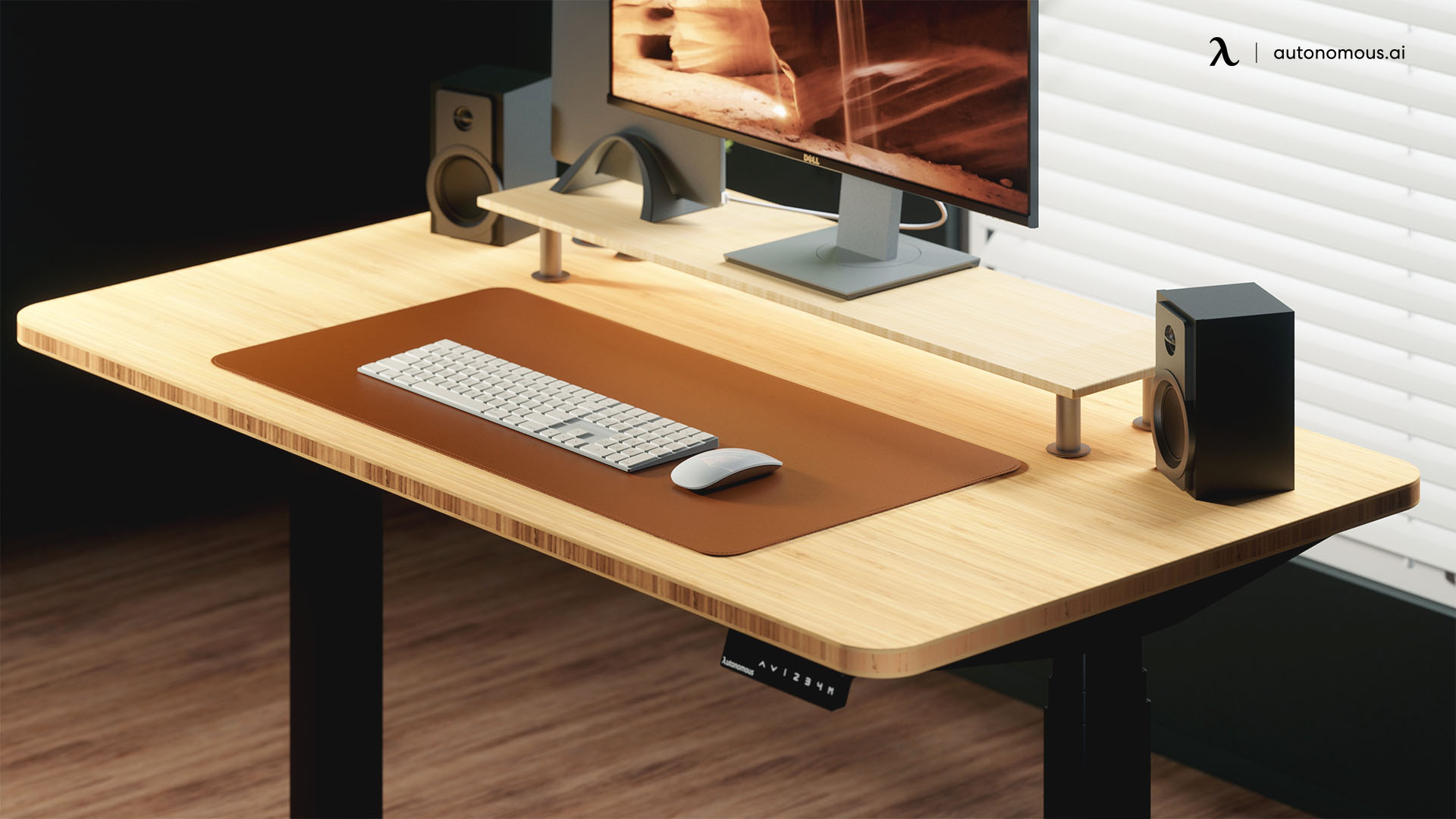 If you are looking for something a bit more customized, this Smartdesk Surface Bamboo Tabletop may be something to consider. This light-colored wood desktop offers a beautiful alternative to purchasing a standard desk and allows you the freedom and flexibility to construct and customize your own base.
This tabletop is smooth, sturdy, and provides an expansive workspace. It comes in a range of colors and can even be custom painted to best suit your unique preferences and personal design tastes.
One of this tabletop's best features, perhaps, is that it can draw you closer to nature and bring a heightened sense of calm to your workspace. The bamboo material elicits a sense of peace and comfort, which can help boost your productivity and bolster your creative flow.
Conclusion
There are many light wood desk options to consider and many of them we've explored together today. In selecting a light wood office desk that best suits your needs, it is important to consider the material, the functionality, and overall ease of use. At first, selecting the best light wood desk for your home office may seem like a daunting task, but it doesn't have to be.
Hey, you have special pricing through your company.
Get exclusive rewards
for your first Autonomous blog subscription.
WRITTEN BYAutonomous
We build office products to help you work smarter.