A modern desk chair is ergonomically designed to support your spinal column and provide comfort. You can find a modern task chair that suits your height and weight from many online retailers. There is something for everyone so consider your needs when investing in one. 
The pandemic has changed the world allowing more workers to operate from home or via the hybrid office model. These days we spend more time at our desks than ever before. There are many seats on the market, and if you are looking to buy an ergonomic chair, you might find the one for you in this article. 
Spending up to 60% of your life in the office takes a toll on your back and neck, so it is vital to have a comfortable seating arrangement when working long periods. Choosing an ergonomic model can seriously improve your well-being, whether you want a chair with wheels or just a traditional office chair. 
There have been many studies done that prove the benefit of an ergonomic chair. So why not treat yourself to comfort? 
If you have a workspace and are looking for a modern computer chair, you have come to the right place. We have listed some of the best modern home office chairs for your viewing pleasure.
What to Look for in a Modern Office Chair
A modern desk chair that's not appropriately accustomed to your body proportions can end up becoming a problem instead of offering solutions. Therefore, there are certain elements to look out for if you want to purchase a new modern computer chair for your home office.
Most people are not familiar with the elements that help you choose the right ergonomic chair. However, here we'll tell you all the aspects that make a modern office chair good for your home office.
1. Height Adjustability
If you can't at least adjust the height of your fabric high back office chair, then you're going to have tons of problems. We all have different heights, and while we're sitting, our legs need to remain at an even height, at a 90-degree angle regarding the floor. If not, you'll be prone to slouch, which will give you lower back pain as a result.
Some people take it for granted, but it is important to sit in the right position while we work to prevent exhaustion and aches, especially in the lower back area.
2. Adjustable Backrests
Not all modern task chairs include adjustable backrests, even if it's a crucial feature.
An adjustable backrest will allow you to set different tilt levels for you to lean your back against it comfortably. This way, you can keep your back supported at all times, even if you change positions too often.
Here we'll also include the headrest for the office chair, as it is attached to the backrest. Although it isn't a vital aspect of modern home office chairs, it can be useful for people that suffer from neck pain.
3. Lumbar Support
As mentioned in the previous section, a good office chair should emphasize the lumbar area. Some of them do, thanks to the integrated lumbar support, which is located in the lower part of the chair's backrest. Sometimes, it may be a "curve" or an extra cushion.
Either way, if the office chair you choose doesn't have visible lumbar support, you may have to use your creativity to make sure it doesn't make you tired after a couple of hours of work.
4. Seat Depth and Width
The seat depth and width are quite overlooked aspects of modern office chairs, but they're as essential as all the other aspects present on this list.
The seat depth will directly modify the position you're in as you work. Too much depth will cause you to be away from the desk as your lower back will be pushed towards the floor, while too little depth will cause you to be uncomfortable as if you were about to fall down from the chair.
On the other hand, the seat width is what defines if the chair fits your size.
It is important to keep in mind both of these aspects to make sure that you're choosing the right modern home office chair. Otherwise, you'll feel discomfort and like you've wasted your money.
5. Material
Unlike popular belief, not all office chairs are made with the same material. There is diverse material available, including mesh, fabric and leather.
Mesh has been the preferred option in recent years due to its breathability and comfort. However, leather is still quite trendy due to the luxurious aesthetic it has, especially if you're interested in an executive chair.
Fabric are a good option for office chair material too, but they're often expensive and quite heavy to carry on your own.
6. Armrests
Although the armrests are absent from certain office chair models, they are essential and can contribute more to your comfort. Therefore, it would be best if you choose a modern desk chair with desk chair arms.
Most of the time, cheap modern desk chairs won't allow you to modify the armrest height, which is why you need to explore multiple options before deciding on a certain model.
Sometimes, the armrests may be fixed, or you may be able to adjust them. However, the more adjustable features your chair contains, the better!
7. Swivel and Casters
The swivel allows you to rotate the seat at a 360-degree angle. This feature is quite common in office chairs, so all you need to worry about is the movement swiftness and whether it is frequent maintenance or not.
As for the casters, along with the swivel, they're meant to provide more movement while you're sitting. For instance, the casters allow you to move while you're sitting if you're trying to reach distant objects. It is present most of the time, but not all chair casters are equally durable.
Different Types of Modern Desk Chairs Available in the Market
Now that you know what aspects to look out for while you're buying a modern desk chair, it is also important for you to know the most common types of office chairs you will find in today's market. Knowing this will help you determine the best option based on your preferences.
1. High back office chairs
As their name suggests, high back office chairs include a high backrest that suits your whole back. Therefore, they are excellent for those who often deal with upper or lower back pain. Your back will be supported from beginning to end.
2. Medium back leather chairs
Medium back leather chairs have smaller backrests that will often be placed below the shoulders. These chairs are quite common, and although they don't cover your whole back, some models include a lower back support system that will allow you to be comfortable at all times without problems.
3. Mesh office chair
As mentioned above, mesh office chairs have become quite popular recently. This material includes little holes that are meant to provide you with breathability. Although the comfort is compromised, they can last for longer periods.
Mesh swivel chairs have become best sellers in 2022.
4. Visitor chairs
Visitor chairs are not equipped with ergonomic features most of the time, as they're meant to be used for short periods. These modern desk chairs are not suitable for prolonged hours of work.
5. Executive chairs
Last but not least, executive chairs are modern desk chairs with high backrests (a bit higher than the average). They can be quite comfortable and convenient, but they're also quite expensive, especially if you choose leather.
Top 20 Most Modern Desk Chairs for 2022
1. Autonomous ErgoChair Recline
It's a modern entry-level office chair that is ideal for someone with back or neck pain. The lumbar support is adjustable, allowing you to have complete control while you sit for long periods working on essential projects. 
It has a backrest made from mesh and is highly breathable to keep you cool on those humid days. It can support up to 250lbs on its comfy foam seat that molds to your bum. Armrests are also adjustable, and there is even a leg rest option. 
When you purchase the ErgoChair Recline, you are going to receive a one-year warranty and a lifetime of lumbar support. 
2. Autonomous ErgoChair Pro
Here is another advanced modern desk chair that features a smooth recline with five lockable positions. The armrests, headrest, backrest are all adjustable. It has a fantastic seat tilt feature to provide you with further comfort and support. 
As with other products from the company, the ErgoChair Pro is made from earth-friendly materials. It supports up to 300 lbs, so it is perfect for more significantly sized adults. 
You are going to be hard-pressed to find flexible lumbar support like this anywhere on the market.
3. Autonomous ErgoChair Plus
The epitome of excellence is the ErgoChair Plus. It is built to last, and it's one of the best ergonomic chairs on the market. Being one of Autonomous most dynamic chairs, it is inspired by movement and adapts to how you move. 
Furthermore, the frameless design is earth-friendly and can support up to 300lbs. There is an impressive five-year warranty, but this chair is going to last you for years because of its durable design. 
It goes hand in hand with a standing desk because it has gas height adjustment and can rise higher than most modern desk chair models on the market. Purchase this ergonomic chair to add to your modern office and enjoy its breathable, comfortable seat. 
4. Autonomous AvoChair
If you are environmentally conscious, this could be the perfect eco-friendly office chair for you. The AvoChair from Autonomous is a simple ergonomic design that is made entirely from recycled materials. 
It's simplistic yet comfortable, and it is easy to move around because of its lightweight. The backrest and seat are made from an elastomeric mesh that is breathable and durable. 
When purchasing this nature-inspired modern desk chair, you are going to receive a two-year warranty. 
5. Gates Executive Leather Chair
It's a chair that makes you feel like a boss. Made from Italian top grain leather, it oozes class with its modern design. The sturdy metal legs can support up to 250 lbs, and the seat hugs your body when you sit back into it.  
Unfortunately, the armrests are not adjustable as this is a seat for a significantly bigger person. Overall it is an excellent modern desk chair seat for someone looking for comfort and style in one package. 
6. Staples Sorina Office Chair
Another executive chair with adjustable armrests, the Staples Sorina, is made from supple bonded leather. The seat is exceptionally comfortable, and it has a high backrest that follows the natural curve of your spine. 
A little pricey, this chair does break the bank, but if you have the cash to splurge, why not treat yourself? 
7. Sihoo Mesh Back Office Chair
The Sihoo mesh back office chair is perfect for someone who is on a budget looking for a robust and sturdy seat. Its design has considered ergonomics and offers excellent lumbar support. 
Its standard gas height adjustment system comes with this modern office chair from Sihoo. There are pivoting armrests, which makes it easy to store it under a desk. Thus, if you are strapped for cash and considering a good ergonomic chair, have a look at this modern desk chair. 
8. Berman Mesh Back Chair
Here is another modern home office chair. With a fair amount of ergonomics and a comfortable backrest for shorter people, the Berman mesh back chair is another one that won't break the bank. The base is made of plastic with solid wheels that glide smoothly over any floor surface. 
You can't expect much from a chair at this rock bottom price. Its seat cushion is soft and contains foam which wears away pretty quickly. Besides a few small things, this is still a good seat for someone looking to get a modern office chair. 
9. Dumont Reclining Office Chair
It's a fantastic reclining chair with a lockable tilt feature. The Dumont reclining chair includes a footrest for when you want to take a power nap at the office. 
A pneumatic system takes care of all your height adjustment requirements, and it operates smoothly. The seat and cushion are made from high-quality materials that make you feel fancy. 
Extremely high priced, this modern office chair is suited for individuals looking to spoil themselves. 
10. Secret Lab Titan Gaming Chair
Even though this is a gaming chair, its style can fit a modern office design. It is made from a robust and durable material that is super comfortable. This modern task chair has some great features, such as adjustable armrests, height, and a recline feature. 
Quality like this doesn't need to cost a lot. That is why the Secret Lab Titan has gained so much popularity. The chair comes in three additions to suit people of all sizes, with the XL model supporting up to 250 lbs.  
If you are a gamer and spend a lot of time at your desk, this office chair for long hours would suit you. 
11. Sidi T50 High Back Chair
Made predominantly from plastic, we found this modern task chair to be exceptionally well designed. The South Korean chair stands out for a couple of reasons. One of these reasons is its unique forward titling ability and highly breathable washable seat. 
The waterfall backrest provides excellent mid-back support and helps to keep circulation in the thighs. Overall, you get a modern desk chair at a fantastic price that gives you superior support and comfort. 
12. Hon Task Chair
Some of the best ergonomic chairs are in the armless category. The HON modern task chair features a host of ergonomic options, unlike similar armless models.  
It is excellent for someone working in drafting or who uses a standing desk chair in their office. The back support is unmatched, and it has a Syncro tilting function that adapts to your movement and curvature of the spine. 
A little higher in price than other models, this modern desk chair is worth every penny. 
13. Chairman Drafting Chair
The ultimate cheap modern desk chair for a draftsman has a ton of features that help make it extremely ergonomic. It has forward-leaning seating that lets you take short breaks from standing while remaining upright. 
Additionally, the armrests are adjustable, and height is managed pneumatically, which also provides excellent stability. Purchase this modern desk chair to complement the standing desk in your office.
14. Pantoon S-Style Chair
An eye-catching bright red chair that helps you sit straight up due to its ergonomic shape. It does come in different colors, so if red isn't your favorite, you can choose from white, black, or blue. This is one of the most modern home office chairs.
These chairs fit well in a modern office with multiple staff members. Unfortunately, you won't find any adjustability options because it is an ABC-constructed piece of office equipment. 
Either way, its unique design, and fancy look can fit into an array of office spaces. 
15. Hermon Miller Aeron
A high-priced piece of ergonomic furniture that is the perfect office chair when sitting for long hours. The Herman Miller Aeron has an advanced mesh seat with various pressure zones that support your lumbar region. 
It contains Posture Fit technology and includes a backrest that offers continuous spinal support. The frame is sturdy, and it has five wheels that allow you to move around the office. Sitting in this chair feels unique, and you could easily spend many hours working on a substantial project. 
16. Sidi T80 Chair
This modern computer chair has a forward tilting fabric seat that helps to support your knees and thighs. Its high back offers superb neck support and has a tilt function to stretch your back. 
The height is easily adjustable via a lever, and the armrests can be moved out of the way if needs be. Overall, it is an excellent addition to any ergonomic workspace. 
17. Nouhaus Ergo3D
The fantastic three-tiered adjustable backrest is the main selling point for the Nouhaus Ergo3D. This unique design offers adjustability that fits your spinal curvature while still maintaining lumbar region support. 
If you are a person suffering from back pain, this chair is going to provide some relief. Height adjustment is handled pneumatically, and the armrests can be neatly tucked away. The Nouhaus Ergo3D comes with a one-year warranty, but it is bound to last for years. 
Although it's a bit pricey, this chair still makes this list due to the comfort and support it provides. 
18. Oak Hollow Aloria
The Oak Hollow Aurora is a lovely modern seat and is the best chair for back pain and neck problems. Its backrest is made out of mesh, making it breathable so that you are kept cool on those hot summer days. 
Furthermore, the seat depth can be adjusted by pulling the lever on the right-hand side of the modern computer chair. You also have the option of various lock and tilt angles so that you stretch back and enjoy the support. 
19. Flow Chair
This chair is made from polyurethane and comes in either a natural, bleached, or brown look that can add style to your workplace. It is a simple, minimalistic chair that can fit into any modern office space.  
It has an excellent swivel feature and an ergonomic shell seat with soft inner upholstery. This chair is perfect for a small modern office or cubicle where space is an issue. 
If you are a smaller individual, you can find comfort and support in this miniature seat. 
20. Serta Valetta Upholster Home Office Chair
This modern computer chair almost looks like a couch with its upholstered seat and low backrest. It has five wheels that allow you to glide on any surface without damaging it. The chrome-finished base is sturdy, durable, and robust.  
Memory foam is used as the seat, and we can confidently say that it is incredibly comfortable. Height can easily be adjusted underneath the chair, and it can support up to 220 lbs. 
This seat could fit in any home or modern office space due to its neutral brown color. Invest in one if you need lower or mid-back support that doesn't cost an arm and leg. 
Conclusion
As we progress further into the future, so do our offices. It is imperative to stay with the times and modernize your workplace. You are going to be providing satisfaction to your staff and boost their well-being. 
Each modern desk chair is an excellent choice if you suffer from lower, middle, and top back pain. The support they provide is unmatched, and you can rid yourself of ergonomic injury while at the workplace. 
Go confidently forward as you work on meaningful projects while comfortably sitting in one of these modern office chairs.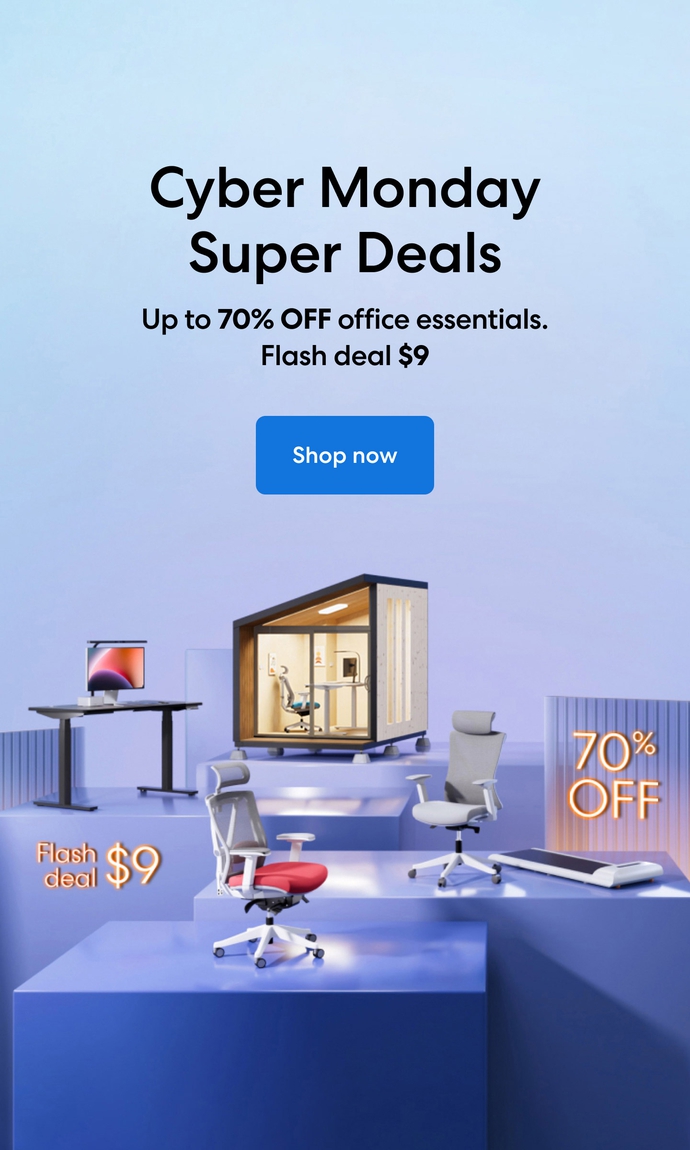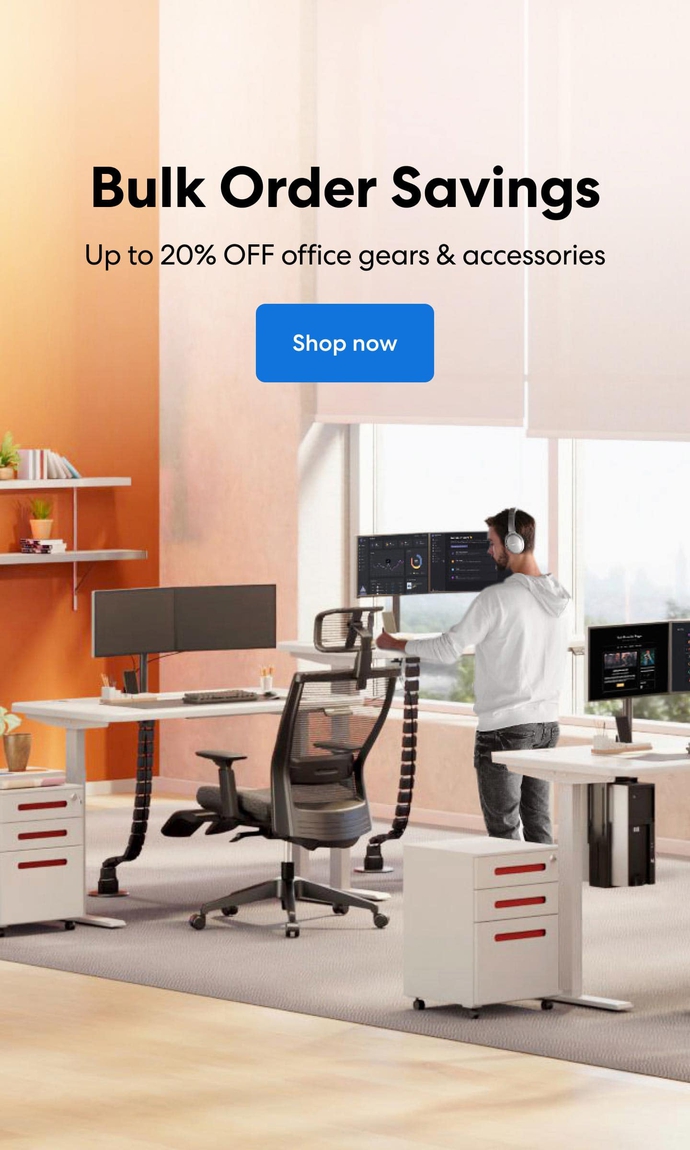 Subcribe newsletter and get $100 OFF.
Receive product updates, special offers, ergo tips, and inspiration form our team.