Workplace Inspiration
20 Office Remodeling Ideas for the New Year 2021

Autonomous
|
Dec 11, 2020
3,408 Views
Office remodeling for the New Year is a great idea to increase your productivity and meet all your professional goals in the upcoming year. By creating a space you love and feel comfortable in, you give yourself a chance to improve your energy and simply feel good while working. 
Here are 20 ideas on how to renovate your space this new year to make it into the perfect home office: 
1. Paint the Walls
To quickly refresh your room or totally change, you just need a few tins of paint for your home office. Pick energetic and funky colors such as pink or violet to make your space energizing. If you are more into minimalism, gray is always a perfect choice. For those who create new products, white can be a good idea as it stimulates creativity.
Pros: A little switch that can totally change how your office looks.
Cons: If you can't paint yourself, hiring an expert can be a bit pricey.
2. Hang Pictures or Photos
Whether you like abstract art or classical landscapes, hanging a picture or photographs on your office wall can give it character and is an easy office remodeling for the New Year. It's an easy way to provide your personality to the space. 
Pros: You can do it on a limited budget.
Cons: If your office has limited space, hanging too many pictures can cause cluttering. 
3. Add Some Shelves
Adding extra space to use is always a good idea. You can pick standing bookshelves or hang them on your wall to not use your limited floor space. You can use them as additional storage space or dedicate them to add some workspace decorating ideas  for the new year. 
Pros: Easy to assemble.
Cons: It can be pricey, depending on the type of shelves you choose. 
4. Add Some Books
Adding books in the place you work can add some personalization and inspiration. You can pick your favorite fictional books or albums connected with your work. When you have a book in the workplace, there is a bigger chance you are going to read during your break instead of scrolling your phone.
Pros: You can use the books you already own, so it is a free solution.
Cons: If you like minimal spaces, books can feel like clutter.
5. Purchase a Smart Desk
To improve your productivity and take care of your health, you can invest in a smart desk. Thanks to them, you save your precious working space and get a standing and sitting workplace in one. 
The SmartDesk from Autonomous increases your comfort and helps you to focus on work. It is also quick and easy to use. You can regulate its height to get the best possible arrangement that suits your body perfectly. The Autonomous SmartDesk can lift up to 300 lbs, so you don't have to take your things off the top of the desk to raise it up.
Pros: Useful, increases comfort, improves health, last for years.
Cons: It's an investment as the price is higher in comparison to standard office furniture. 
6. DIY Smart Desk
If you feel adventurous and creative, you can DIY your Smart Desk. Choose the frame and assemble it by yourself, adding a DIY top. 
This desk frame is solid, and it will last for years. It's a perfect investment for people who are looking for smart solutions to improve their work comfort. You can pick three frames: HomeOffice, Premium, or L-shape for more working space. 
As you create your own top of the desk, you can pick whichever material and color you want. That gives you a chance to design a highly personalized and unique workspace. 
Pros: Save money.
Cons: It takes time and some skills to assemble it. 
7. Purchase an Ergonomic Chair
A new chair is also a good office remodeling for the new year you should try. Take your comfort to the next level, thanks to the smart ergonomic chair. You can adjust your sitting in many possible ways. You support your neck and spine, thanks to which you avoid back pain and injuries. That's a great investment that can increase your energy and improve productivity. 
The ErgoChair 2 from Autonomous comes in six colors. You can choose the one that perfectly suits your interior. Tone up your funky space by choosing classic White or Black or add some spark to the minimal interior by choosing Baby Blue or Evergreen. Red Apple looks great in dark, vintage interiors as well as in modern, toned working spaces. 
If you want to save some money without resigning from full comfort, you can buy a SmartDesk and ErgoChair combo. 
Pros: Significantly increases your productivity and health conditions during work.
Cons: High price in comparison to a standard office chair. 
8. Purchase smart office accessories
Smart office accessories are affordable office remodeling for the new year that can improve your productivity and organize your space. You can choose a cable tray or desk drawer to declutter your desk. The Flow Board is going to be a perfect thing to have some fun with while working. You can also add some extra light with a special LED lamp or organize your space with a filing cabinet.
Pros: Small additions that can help you create a nice working station.
Cons: They may not all fit on the furniture you have in the office. 
9. Add Plants
Choose some beautiful plants and bring nature into your working room. Adding a bit of green to your office can significantly improve your productivity. Plants also have relaxing features that can help you reduce stress. 
As they are responsible for producing oxygen, they create a healthier and unwinding work environment. 
Pros: Relatively cheap solution with an immediate effect on your mood.
Cons: Plants require some attention, so they might not be a good solution for very busy people. 
10. Use Boxes to Organize Your Space
The best way to quickly declutter a space is by removing objects from your view. If you have piles of papers that you don't use every day or bunches of pens all over the place, you can get some boxes or other types of organizers to introduce peace to your space quickly. 
Pros: Cheap and quick solution.
Cons: None. 
11. Buy Essential Oils
You can add some nice, natural smells to your office. Get a diffuser and some essential oils to improve the quality of the air in your work office. Essential oils have different properties. For example, lavender is good for relaxing, while green tea or eucalyptus are energizing. Find a perfect match for your space and swap between fragrances depending on your needs. 
Pros: Easy solution with an immediate effect. Can positively influence your mood. Great choice of smells - diversity.
Cons: Some people can have an allergic reaction to some smells. 
12. Add Inspiring Quotes
If you have a favorite quote from a book you love or a person who inspires you, it is a good idea to expose it. Print it and hang it on the wall. Add it to your computer desktop, write it in your notebook, or even have it painted on your ceiling. As long as you can see it, it is going to work. 
Pros: Easy and cheap to execute.
Cons: After a while it can become boring. 
13. Get Some Funky Furniture or Accessories
Whether you are a minimalist or love some extravagance, adding some funky furniture to your home office can bring the room to the next level. Choose some good quality stool from a designer, a standing lamp with a unique leg, or a fluffy pillow. It can have an interesting shape, vivid color, unusual fracture, or all of the above. The renovation office for the new year is up to you. 
Pros: One item is enough to spice up the whole office.
Cons: Choosing high-quality items can be expensive.
14. Get a Kettle
While working, you can't forget about breaks. For example, a break for a hot drink on a rainy day can turn into a relaxing moment. If you keep a kettle in your office, you can quickly prepare tea even when you work and enjoy it in front of your computer without wasting your working time. 
Pros: Cheap solution
Cons: Can cause too much distraction. 
15. Change the Floor Plan
Perhaps all you need is already in your office, but you are still looking for some change. In this case, you can simply remodel the space you already have. Look at the floor plan and move furniture to different places to find the perfect harmony in your home office. 
Pros: No additional expenses.
Cons: Limited options in case of small or problematic floor plans. 
16. Get a Lamp
Especially on dark winter days, you're going to need some extra light. Turning on the lamp can increase your focus and prevent eye damage. It can be a standing lamp, desk lighting, or a special LED lamp. You can choose a minimal style or pick an antique lamp. As long as it gives you the proper light, you can feel free to pick any style you like. 
Pros: Reduces the risk of eye problems.
Cons: Big lamps can declutter space. 
17. Get a Coffee Machine
Some people cannot imagine working without caffeine. If you are one of them, you should consider adding a coffee machine to your home office. Having a cup of this energizing drink at hand's reach is a perfect solution to save time and avoid distraction by going to the kitchen. 
Give yourself some extra pleasure by picking the best quality coffee and nice pottery set, for example, a handmade ceramic pot. 
Pros: Save time and allow you to avoid distractions.
Cons: Coffee machines are usually an expensive investment. 
18. Get Nice Office Supplies
Sometimes it is all about the details. If you like to take notes, mark pages, draw, or write by hand, getting a nice office supply can take your work to the next level. The market currently offers countless supplies, starting with minimalistic collections, through animal pattern sets, to funky or exclusive accessories. 
Get a new calendar to plan the upcoming year, a bullet journal to set your goals, a cute bookmark, an extravagant paperweight to keep your project in one place, or a useful stapler to organize your documents. 
Pros: Accessories can be purchased at relatively low prices.
Cons: Too many supplies can clutter the space.
19. Declutter Your Space
Sometimes less is more. Look at your home office and think if you really need more stuff, or maybe your space could benefit from clearing what you have. 
Start with ordering all your loose papers and small items from your desk. If there is any bulky furniture that isn't being used, maybe you should say goodbye to them or give them another life by changing the upholstery. 
Who knows, maybe after clearing your space, you are going to get some extra pieces of shelf that you could add a plant to? You can be sure that after clearing your room, you are going to have more space to think, work, and be creative. 
Pros: Free
Cons: For some people, it might be hard to proceed with these changes alone. 
20. Change the Lighting
Studies show that well-designed lighting can improve your productivity, reduce stress, and increase focus. If your office light is not good for you, you should treat this point as a priority. Bad lighting can destroy your sight or even lead to depression. 
Say no to this hospital-like bright bulb or a too dark room, search for something that suits your style, and increase your work results. 
You can buy a bulb with a warmer light or invest in whole new lighting for your office. Remember that it's your office, so you can go a bit wild, choose new chandeliers, keep calm, and pick an industrial bulb that gives a modern vibe to the interior. 
Conclusions
Remodeling your office space for the new year is possible even with a small budget. You can add some accessories or cheer up your walls with a painting or photography. Buying a notebook or colorful pins can make you inspired and readier to work. 
If you have a bit more money to invest, focus on the comfort of your place. Investing in proper furniture is the key to success. With a bigger budget, you can do an extreme makeover of your home office and start the New Year with a totally pimped-up space. You can also consider taking advantage of Autonomous Christmas Sale 2020.
Cover image by Freepik.
Video ads for product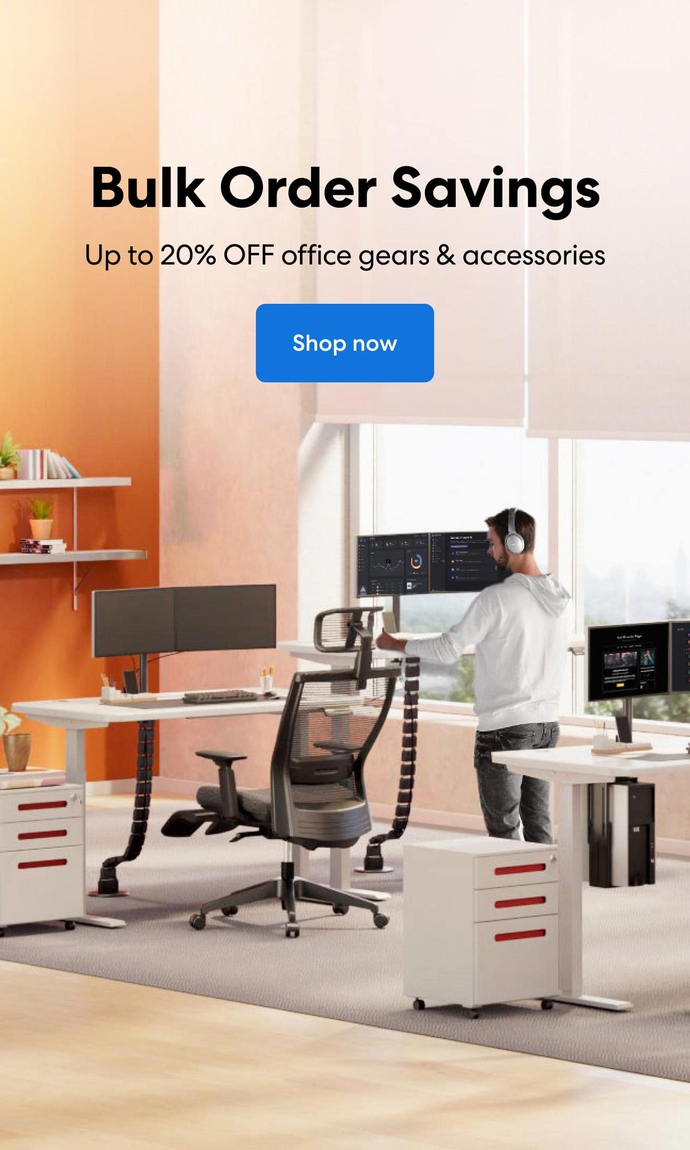 Subcribe newsletter and get $100 OFF.
Receive product updates, special offers, ergo tips, and inspiration form our team.