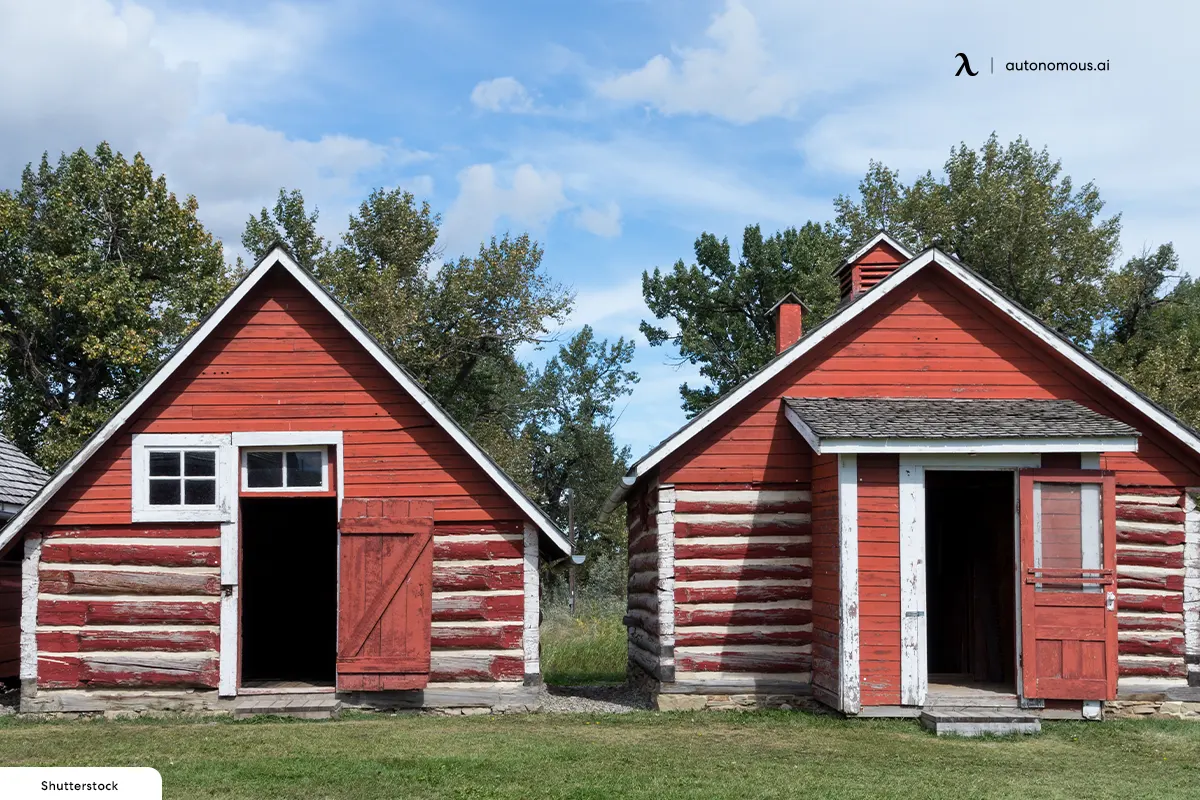 Workplace Inspiration
20 Outdoor Shed Bunkhouse Ideas To Build at Home

Autonomous
|
Jan 12, 2023
2,632 Views
Looking to build a bunkhouse shed? Check out these 20 ideas for inspiration. From classic and rustic to modern and tiny, these bunk house ideas are sure to inspire. So why wait? Start building your dream bunk house today and create a space you'll love to escape. These versatile structures can serve as a cozy retreat, a quiet workspace, or even a full-time residence. 
What is a Bunkhouse?
A bunk house or a prefab ADU is a small structure that provides sleeping accommodations. It typically has multiple bunk beds and may include a kitchenette, bathroom, and living area. Bunk houses are often located on a property or in a campground and are used for group accommodations or as extra guest space.
5 Reasons Why a Bunk House is a Great Addition to Your Property
A bunk house can be a good addition to your property for several reasons:
Extra space for guests: A bunk house gives friends and family who come to visit more places to sleep.
Home office: A bunk house can serve as a quiet and separate workspace, ideal for those who work from home.
Studio: A bunk house can be turned into a studio for art, music, or other creative pursuits.
Weekend retreat: A bunk house can be a cozy and private retreat for weekend getaways.
Full-time living: For those looking to downsize or simplify their lifestyle, a bunk house can be a cost-effective full-time residence.
Overall, a bunk house is a useful addition to any property that can be used in many ways and has many benefits.
20 Outdoor Shed Bunkhouse Ideas
1. Autonomous StudioPod
Elevate your backyard with StudioPod, the ultimate modern bunk house! This compact gem is perfect for a home office, studio, or guest space. Its sleek design and customizable features make it a one-of-a-kind addition to your property. Say goodbye to boring sheds and hello to StudioPod.
Dimension
106" W - 155"L x 106.3"H
Material
Frame: Vinyl sliding - Housewrap - Bitume - Plywood - Honeycomb paper - Steel frame - Plywood
Basement: Steel, Cement
Include
A closet, desk, bookshelf, TV stand, a foldable coffee table and convertible sofa bed
Minimum wattage
150W
Lighting
3 color modes
Warranty
1 year
2. Autonomous WorkPod
WorkPod is ready to help you work in style! This compact and modern bunk house shed/office pod is the perfect solution for a home office, studio, or guest space. This home office shed will help you take your work to the next level by upgrading your backyard!
Dimension
103"W x 142.5"L x 92" - 125.5"H
Material
Frame: Composite wood - Housewrap - Plywood - Honeycomb paper - Wooden frame - Plywood
Basement: Steel, M300 cement
Include
SmartDesk Pro, ErgoChair Plus, Cable tray, Filing Cabinet, Dual Monitor Arm, Anti-fatigue Mat
Minimum wattage
100W
Weight capacity
2.9 tons
Color
Black, White
Warranty
1 year
3. Autonomous Pod
Discover the adaptability of Pod, the best contemporary bunkhouse and privacy pod! This little treasure is ideal for a house, a living space, or a visitor room and is guaranteed to wow. It's a necessary addition to any house because of its modern appearance and adaptable functions.
4. ThinkTanks Compact Office Pod
Get the ultimate compact office with ThinkTanks' Compact Office Pod! This stylish and functional structure is perfect for indoor or outdoor use and comes equipped with a chair, desk, bookshelf, and plants.
| | |
| --- | --- |
| Dimension | 7 x 7 x 7.5 ft |
| Material | Double laminated tempered glass, R200 aluminum |
| Color | Black, Green |
| Interior | Washable PET Felt |
| Standard outlet | 110-220V |
| Lighting | LED 140W |
| Warranty | 3 years |
5. Northwood Steel Garden Shed
Add some flair to your backyard with the Steel Garden Shed! This stunning structure comes in a bold red, white, and gallery blue color scheme that will turn heads. The 40-year-old steel threshold with diamond plating ensures long-lasting durability, making it the perfect workshop or storage space.
6. Classic Storage Shed
Bring a vintage charm to your backyard with the Classic Storage Shed! This unique structure boasts a retro avocado green and Navajo white color scheme and a classic shed design. At 5 feet tall, it's the perfect size for all your storage needs. The two windows add natural light and a touch of whimsy.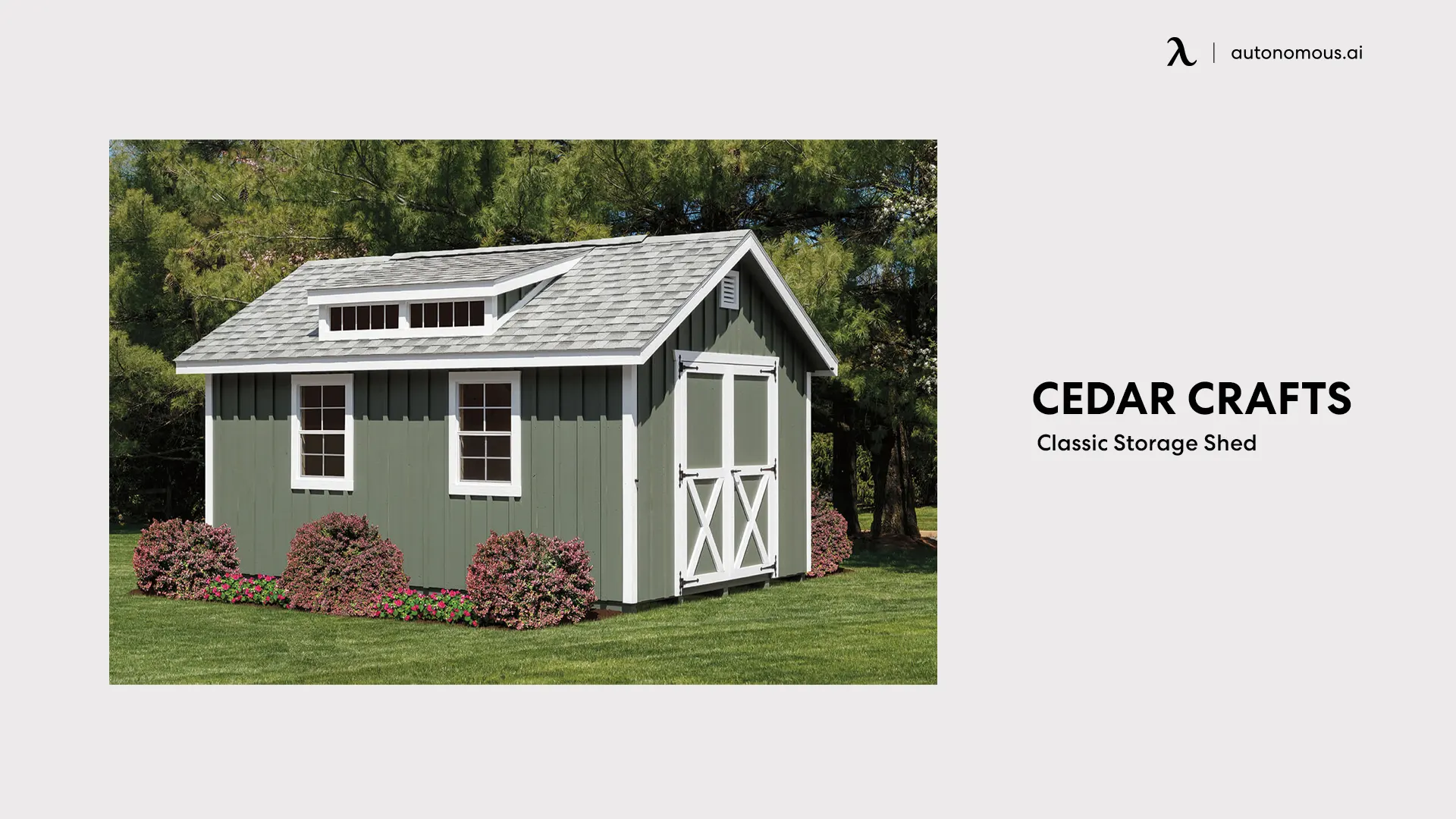 7. Koto Abodu Small Prefab Cabin
Get the best of California's coastal elements and award-winning design with the Koto Abodu small prefab  cabin. This stylish structure features high-end Nordic furniture and customizable features. It is fully furnished and equipped with top-notch appliances. This is one of the best shed bunkhouse ideas.
8. Cabin One
This pre-assembled finished home has clever storage options, a kitchen, a bedroom, a restroom, and built-in gadgets. This eco-friendly prefab cabin has a stargazing skylight and a well-lit bathroom. This bunkhouse shed is perfect for minimalists.
9. Northwood Monterey Shed
Upgrade your backyard with the one-of-a-kind Monterey Shed! This charming barn-red structure is perfect for a workshop or guest space. The five-foot-tall double doors, two window screens, and pressure-treated floor make it functional and durable.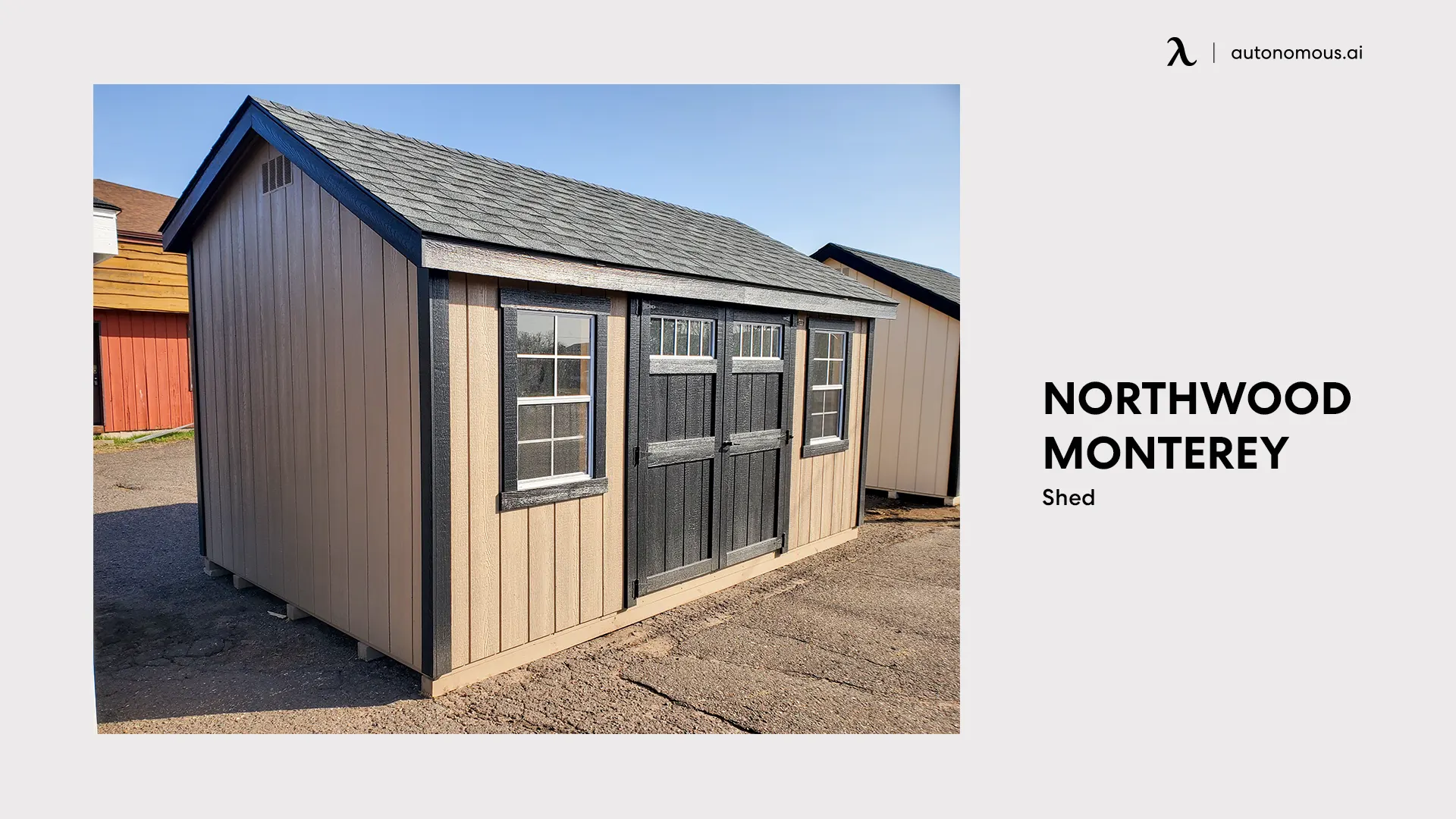 10. Studio Shed's Prefab Backyard Office Shed
Get the perfect backyard office with Studio Shed's office shed! This stylish and functional structure is made of solid hardwood and offers a simple design at an affordable price. Its flat lines and lack of extravagant details make it a versatile addition to any backyard.
11. Modern Shed's Large Shed
This stunning structure features a modern design and an eye-popping red interior, with Maplewood construction for reliability and weather resistance. Don't settle for small buildings; consider one of Modern Shed's many outdoor office shed alternatives, designed with thought and care.
12. Sett Studio Garden Office
Get the ultimate power-efficient garden office with Sett Studio! This compact shed is built with SIPS for maximum efficiency and features a large window for garden views and thick walls for noise reduction.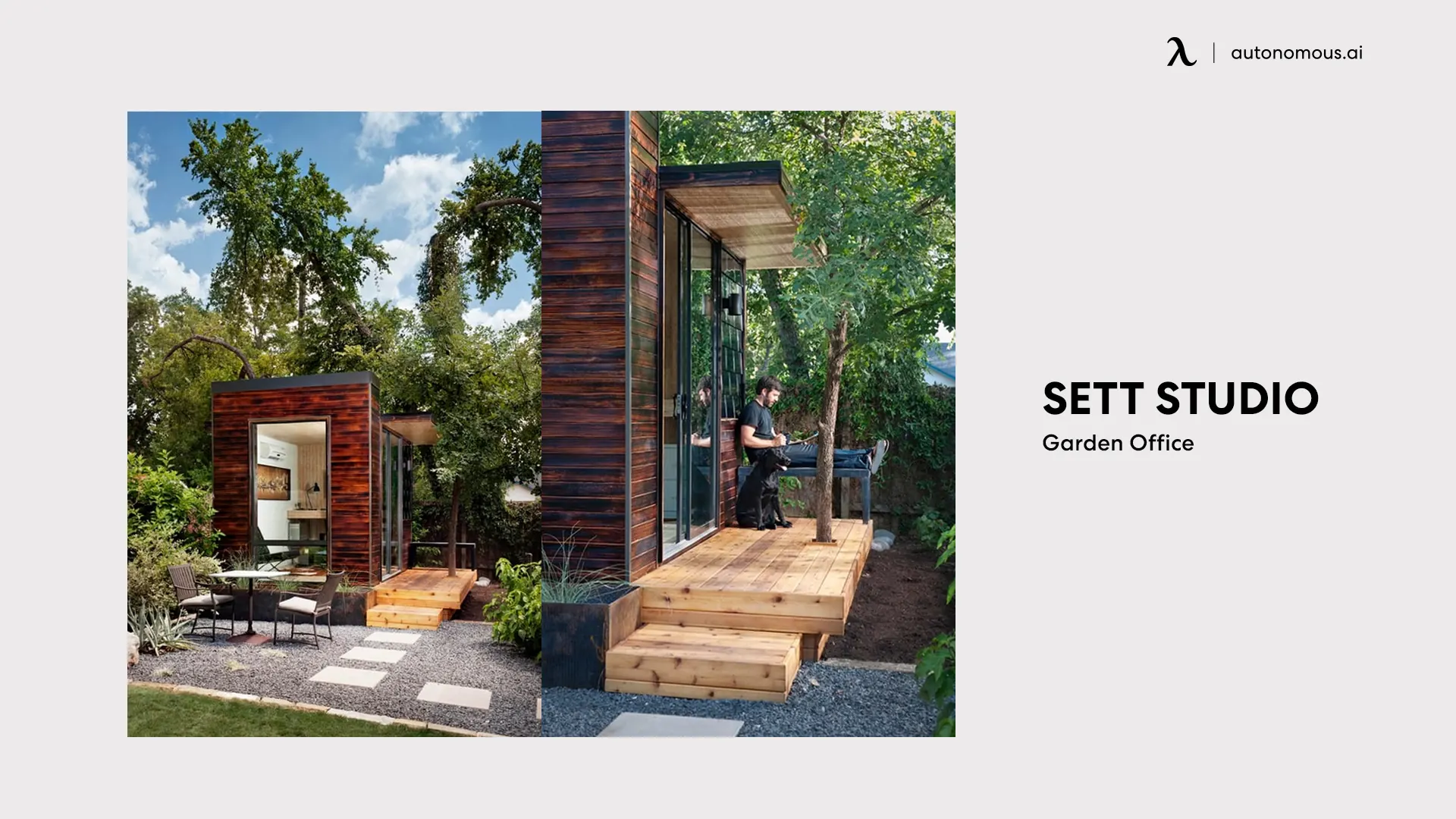 13. Nodes Trillium Series
This small prefabricated cabin is constructed with non-toxic materials and boasts a rainwater collection system and energy-efficient systems. Its bunkhouse shed design lets you go off-grid while reducing your carbon footprint. It is built to last over a century and is of the highest quality.
14. Monocabin
Eco-friendly and stylish, Monocabin's prefab cabin is the ultimate choice for sustainability! With hemp walls and a brilliant white exterior, this simple yet functional design minimizes its environmental impact. Large windows and skylights bring the outdoors in, allowing you to experience nature fully from the comfort of your cabin. This is one of the best shed bunkhouse plans you can commit to.
15. The Bunkie Premier Deluxe
The Bunkie's "Premier Deluxe" is another premium garden shed choice. The architectural design is among the nicest in office sheds, and there's enough room for all your necessary office equipment. It's quite adaptable and has many possible applications.
16. ÖÖD Home Office
This high-end structure requires more planning, a stronger base, and more time to build than indoor pods, but the result is worth it. With the Home Office Work Pod, you can have more privacy and do more in your backyard office.
17. Pod Space Custom Mini Pod
Experience the best of both worlds with a customizable and compact garden office! Despite its small size, this structure allows for extensive personalization and gives you complete control over its aesthetics. When it's finished, you'll have plenty of room to spread out and get your job done without disturbing anyone else.
18. Gohome
This three-bedroom, two-bathroom, two-story home boasts a fully fitted kitchen and social space on the ground floor. You can tailor the interior elements, such as furniture, storage areas, outcroppings, wood burners, and even an outdoor canopy to cover a wood-studded deck, to suit your needs and tastes.
19. Lake Flato Porch House
Get a unique, customizable prefab home with Lake Flato! This design allows for easy disassembly and reassembly to create a one-of-a-kind appearance based on your tastes. As a modular house, it can be built wholly off-site in a factory or constructed in sections and assembled on-site, offering details not seen in other prefab homes.
20. Garden Office Pod
This charming and inviting private shed provides useful tools to revolutionize your backyard. Don't miss out on the opportunity to make your outdoor space an inviting haven with the Garden Office Pod.
Video ads for product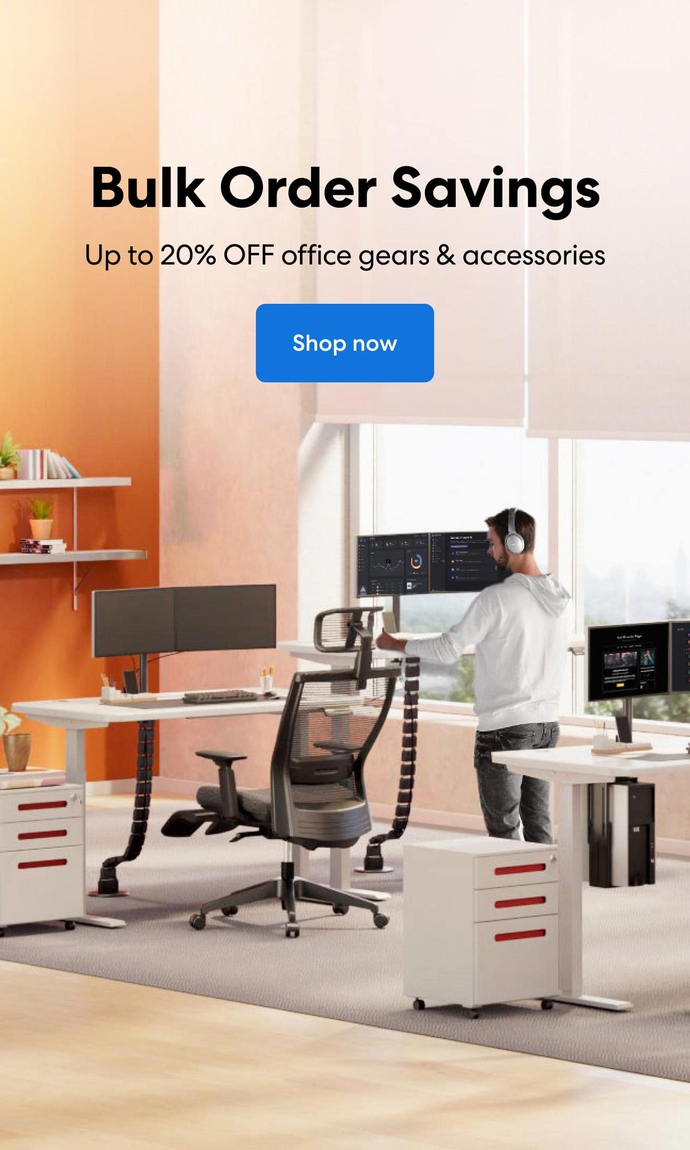 Subcribe newsletter and get $100 OFF.
Receive product updates, special offers, ergo tips, and inspiration form our team.