Generate Original Writing Ideas, in Your Backyard
Make writers' block a thing of the past with your new writing studio built in your backyard. With ceiling to floor windows, there's no barrier between you and nature. Draw inspiration in complete comfort.
Designed to make
a difference.
Your private
space
Built with insulating materials that protects you against the elements and sound-proof.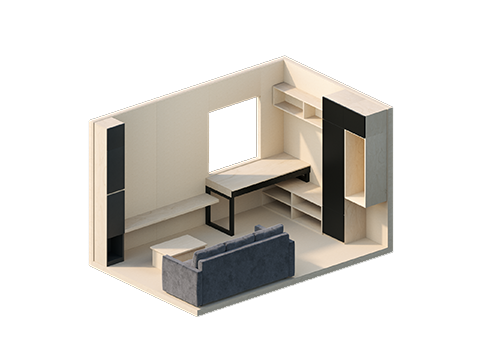 Easy and
fast setup*
Easy to set up by yourself or contractors in a matter of days.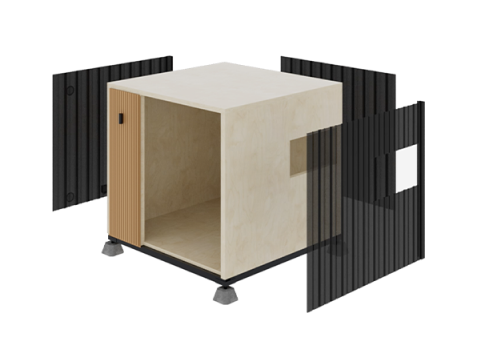 Build on
any terrain*
Doesn't matter what the terrain is - Pod can be built on any ground with strong foundations.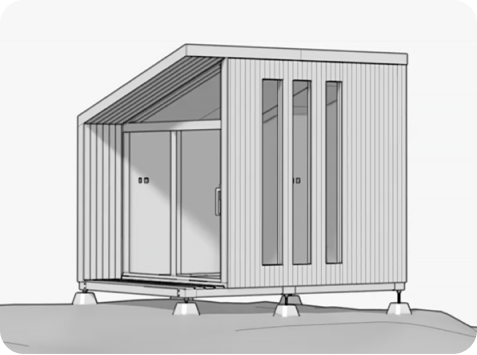 *For optimal results, we recommend hiring professional help to assemble your Pod.
*Please ensure the ground is on solid terrain and not vulnerable to subsiding. Otherwise, additional prep will be needed.
More
Inspiration.
Welcome to a backyard transformed – where imagination meets innovation. Picture the charm of a backyard tiny house, the focus of a backyard office shed, and the artistic vibe of a backyard studio all in one. With clever shed interior ideas, sleek modern shed plans, and the durability of a waterproof shed, we're about to turn your outdoor space into a haven of inspiration - a writing room. Let's have a look at writing room ideas on how to make a perfect writing sanctuary where your backyard becomes a canvas for creativity and functional design.
The Art of Transformation: From Shed to Writing Room
As soon as you pick up your first paintbrush, the shed looks entirely new. Eliminate all unnecessary items, give the walls a new coat of paint, and add in tasteful new furnishings and conveniences. Putting in insulation and soundproofing can help create an atmosphere of peace and quiet inside your home.
Planning Your Retreat
The first step in building anything is to lay out a plan. Plan the space's dimensions and layout, then fill it with furniture that serves both your needs and inspires you to write. You've given careful thought to every nook and cranny, treating it as a blank slate upon which to build an atmosphere that encourages your imaginative pursuits.
The Furnishing Ensemble
Setting up a comfortable writing shed to write is an art form in itself. Pick a desk and chair that will support you and allow you to find the perfect position for those long hours of writing. Your desk is your personal theater, where you can display your laptop, writing implements, and other prized possessions. There are bookshelves there to be your literary companions and comfy chairs waiting to welcome you for some downtime and contemplation.
Technology in Your Writing Sanctuary
The creative symphony of the present day has a decidedly contemporary sound. Provide yourself with plenty of Wi-Fi and electrical outlets in your writing space. Think about how a noise-canceling headset would help you focus while still being in sync with the digital world.
Weaving Nature's Tapestry into Your Space
The presence of nature brings peace and creativity to your sanctuary. Set up your office so you can enjoy a view of the blossoming trees while you work. Fill the writing shed with plants in decorative containers to liven it up. Your home office transforms into a verdant communion between your imagination and nature.
Sustainability's Whispers
The sustainability-minded will feel at home in your writing space. Responsible creation calls for the use of recycled materials, the adoption of energy-efficient appliances, and maybe even the installation of solar panels.
The Personal Touch & The Finishing Flourish
Your writing space should feel like a blank canvas. Add meaningful touches by hanging photographs that evoke fond memories, motivational posters, or artwork that sparks your creativity. Rugs and pillows make the space feel cozy and inviting, perfect for hanging out and working on creative projects. As the finishing touches are made, the lights cast a warm glow, the artwork inspires with its message, and the plants bring the space to life. Everything works together perfectly, a perfect symphony of practicality and aesthetics. Your private writing retreat in the backyard is ready and waiting to help you concentrate and let your thoughts and words flow uninhibitedly.
FAQs
1. What exactly is a writing room?
A writing room, often called a writing studio or writing shed, is a dedicated space designed to foster creativity and focus. It's a serene retreat where writers can escape daily distractions and immerse themselves in their work.
2. How can I transform a simple shed into a cozy writing studio?
Transformation begins with cleaning the shed, adding a fresh coat of paint, and carefully selecting furniture and amenities that enhance comfort and functionality. You can also consider insulation and soundproofing for a peaceful atmosphere.
3. How can I balance aesthetics and functionality when designing my writing studio?
The key is to find harmony between your creative vision and the practical requirements of your writing process. Think about how each design element contributes to your overall experience.
4. Are there any safety considerations I should keep in mind while setting up my backyard writing studio?
Having adequate lighting, ventilation, and electrical wiring in your writing shed is important. It's also crucial to have a fire extinguisher and an escape route planned out in case of an emergency. These questions can help you stay focused and creative as you embark on the journey of establishing your backyard as a writing sanctuary.
5. How can I improve my writing productivity and creativity in my backyard writing studio
Take the time to make your backyard writing studio inviting, well-designed, and free of distractions. It will become a haven where your creativity can soar and your output will increase dramatically. In order to maximize your time spent writing, it is important to keep a few things in mind. You can also prevent writer's block by taking breaks and getting outside in nature. Your backyard can be a productive writing space if you put in the time and effort to create the right atmosphere.
From Cluttered to Creative: Transforming a Backyard Shed into Your Ideal Writing Sanctuary
Your backyard writing oasis is a masterpiece in the symphony of your life. From a small shed comes a place where people can be creative and focused—a writing room where distractions disappear and ideas grow. An inviting retreat has been created with each change, from the paintbrush to the furniture. Inside these walls, ideas flow like a river of ink, stories take shape, and characters come to life. Nature's whispers and modern comforts combine to make a sanctuary where your art can grow. As you sit down at your writing desk, look out the window, or embrace technology, remember that this space is more than a room—it's your artistic sanctuary. In this creative cocoon, where every detail has a purpose, you haven't just made a space; you've started a journey. Here, your writing room ideas can go as far as they want, and your words can be heard.
Show more