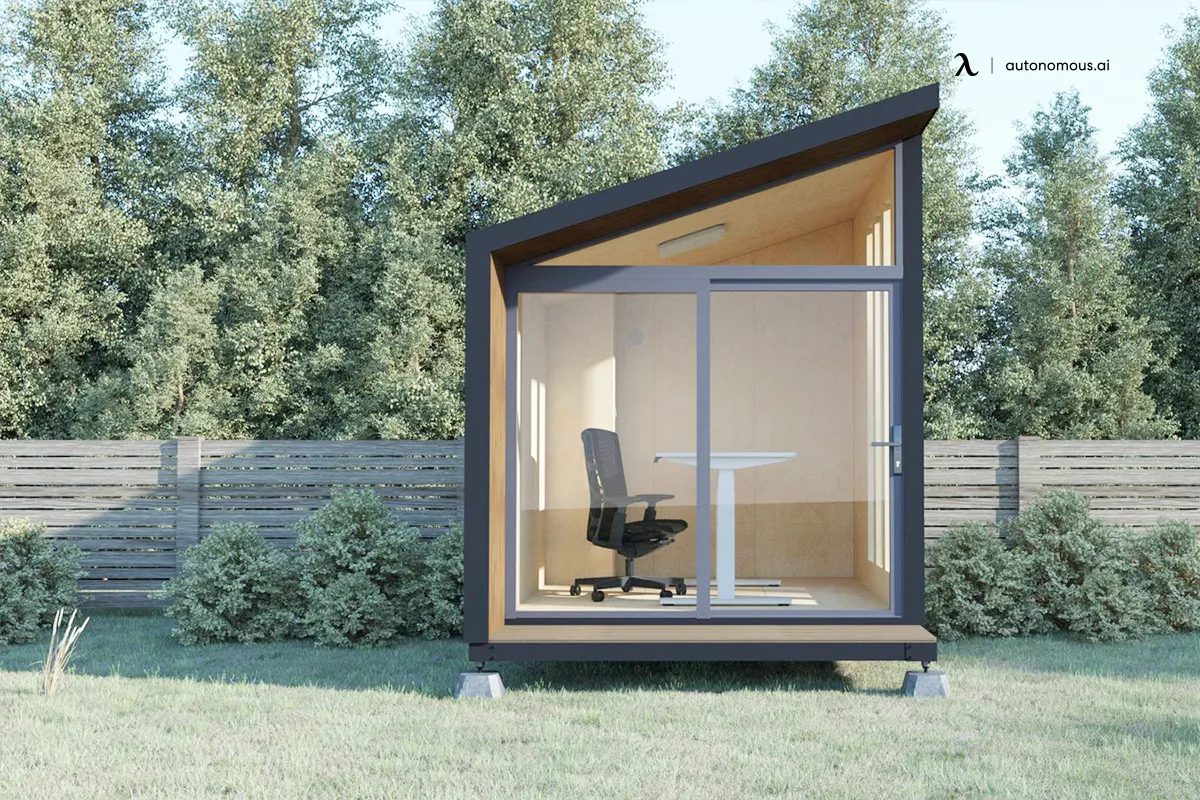 Workplace Inspiration
20 Stylish and Modern Shed Designs for Your Inspiration

Autonomous
|
Aug 13, 2022
3,224 Views
What better way to make good use of the extra space in your yard than to build a modern shed with all the latest designs? With the increase in the number of people who prefer to work from home, a modern backyard shed could be just the thing you need for a quiet place to work. 
However, for you to properly enjoy spending time in your modern shed, it has to be made in the right way to suit your needs. This article is full of some great modern shed ideas to help you out. 
If you would rather build your own shed to your exact specifications, then bring your modern shed plans because we have some great tips on how to do that too. 
Read on to find out how you too can have your very own personal space to relax or get some work done, using one of the many available 2022 modern shed designs. 
The Advantages of Having a Modern Backyard Shed
Some types of sheds are very expensive, depending on the modern shed design that has been used. Even the cheaper options still require some sort of investment, which will lead people to question if they really need a workstation pod in the first place. 
However, there are certain benefits to having such a work area on your property, such as: 
Better Privacy
If you decide to work from home, one of the biggest issues you will encounter is dealing with your family members while trying to get some work done. Try as you might to insist on being allowed to work, it is very difficult when surrounded by people. 
Having a small garden office pod eliminates that problem because you will have your own space to work which everyone else will make an effort to respect.
Less Noise
A busy household or noisy neighborhood is always going to be difficult to control. The solution is to find a quieter place for you to work in, and the best option is in a work pod. Many of the latest sheds have a great home office shed design that features great noise reduction linings to give you the peace and quiet that you need. 
Increase Productivity
Your levels of productivity will greatly increase when you are in a work environment that is conducive to maintaining high levels of focus. Even a quiet house still has a lot of distractions and doesn't allow you to mentally switch your mind into "work mode".
Reduces Stress
One of the best ways to reduce stress is to step away from all the activity around you and retreat into one of the latest privacy pods that are available on the market. The newer models come loaded with design features that are made specifically to minimize stress and improve your general mood and well-being. 
Is Affordable
Compared to the cost of commuting to and from work every day, investing in a very affordable modern backyard shed is much cheaper. There are also many different modern shed design options to choose from, depending on how much you want to spend.
Important Things To Consider
There are many types of modern backyard sheds available that come fully set up and ready to be installed anywhere you wish. However, there are some important considerations that you need to make, such as: 
Amount of space available

Location of the shed

Laws in your neighborhood

Size of shed you require

Type of furniture you will need

Internet connectivity

Utilities, such as water and electricity 
Building Your Modern Backyard Shed
Even though it may seem intimidating at first, building your own backyard DIY office is not that difficult when you follow the following instructions: 
Step 1: Plan
The first thing you need before going any further is a set of great modern shed plans. You do not want to finish making your work pod and then be immediately disappointed because it looks outdated. Good plans will also help in reducing expenses because wasting of materials will be limited. 
Step 2: Buy Materials
There are a lot of environmentally friendly materials to choose from, and if you pick carefully, they will be affordable and offer great insulation and noise reduction. 
Step 3: Start Building
When everything is in place, it's time to start building, starting from the foundation all the way up to the roof. While most of the work can be done easily, there are special things such as wall boarding, and roofing that may require hiring experts.
Step 4: Add the Utilities
Depending on your needs, your modern shed design may include running water and electricity. If this is the case, then you will need to hire an electrician and a plumber to install these. You can also get some internet connectivity added while you are at it. 
Step 5: Furniture
You will definitely need some office furniture if you intend on getting any work done at all. There are a lot of ergonomic desks and chairs available to choose from Autonomous. Some filling cabinets and other office accessories will be good as well if you can fit them into your modern shed.
20 Modern Shed Ideas To Consider
If you do not relish the thought of building your own shed, there are other options. Take a look at the following modern backyard shed ideas: 
1. Autonomous WorkPod
Top of the list is the new Autonomous WorkPod. This office pod is designed to create the perfect work environment by cutting out all distractions, such as noise. By stepping into one of these pods, you will immediately get the feeling of separating work from home life. Made from sturdy material, it is available from Autonomous on a one-year warranty.
Dimension
103"W x 142.5"L x 92" - 125.5"H
Material
Frame: Composite wood - Housewrap - Plywood - Honeycomb paper - Wooden frame - Plywood
Basement: Steel, M300 cement
Include
SmartDesk Pro, ErgoChair Plus, Cable tray, Filing Cabinet, Dual Monitor Arm, Anti-fatigue Mat
Minimum wattage
100W
Weight capacity
2.9 tons
Color
Black, White
Warranty
1 year
2. Thinktank Booth
Built for one person, the Thinktank Booth is a very small modern backyard shed that is not ideal if you regularly work with colleagues. However, what it lacks in size, it more than makes up for in features designed to improve work productivity.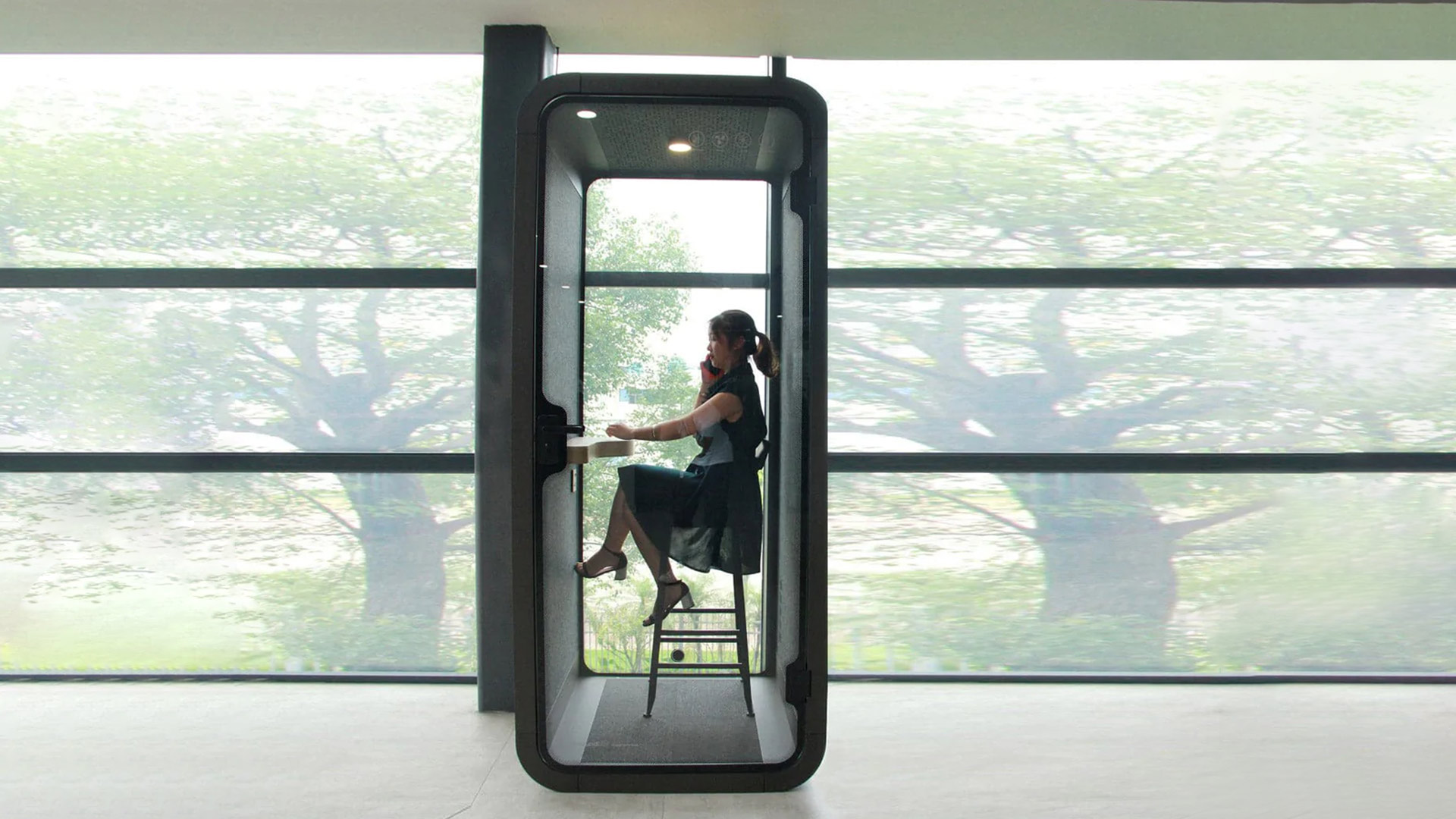 Dimension
External size: 40"W x 37"D x 91"H
Internal size: 33"W x 35"D x 84"H
Product weight
Gross weight: 279kg
Net weight: 235kg
Power supply
100-240V/50 - 60HZ
Natural lighting system
4000K/421LM
Color
Black, White
Include
Motion sensor and switch control
Multiple region electric sockets
Emergency safety hammer
Furniture as shown in pictures
Warranty
3 years
3. Merline Privacy Pod
As the name suggests, the Merline Privacy Pod features some of the best sound-proof material on this list. If absolute quiet is what you are after, then you should definitely consider this option. You will be hard-pressed to find a quieter modern shed than this latest offering from Merline. 
4. Poppinpod Om Sit
While most modern shed ideas are focused on improving privacy, the Poppinpod Om Sit does the opposite. In fact, thanks to its floor-to-ceiling windows, this pod is very open indeed. It is a great way to enjoy some beautiful outdoor scenes though, especially if you have a nice garden.
5. Ecospace WorkPod
Ecospace WorkPod is a modern shed that focuses on the important features of a home office above everything else. A lot of importance is placed on things, such as lighting, heating, and ventilation. It is also small, making it ideal for limited spaces.
6. The Pillar Booth
The Pillar Booth is a great choice if space is a big issue because it is one of the smallest sheds you will find on the market. If you are not claustrophobic, you can enjoy its great noise reduction technology by shutting the magnetic doors and getting to work. 
7. ÖÖD Home Office
This is one of the best-looking modern shed ideas on this list, thanks to its three-sided panoramic floor-to-ceiling windows and use of high-quality material. If cost is not an option then this is the modern backyard shed for you.
8. Yardadu Turnkey Backyard Sheds
The futuristic design of the Yardadu Turnkey Backyard Sheds makes them a firm favorite for many people who work from home. You can choose from three great options, which are the Zen Office, Focus Office, and Productivity Office. 
9. Room Phone Booth
If you have a larger shed that is used by a lot of other people, but you sometimes need some quiet time to focus on your work, then the Room Phone Booth is a great option. Ideally suited to being set up indoors, you can tuck it away in a quiet corner of the shed. 
10. Stylish Backyard Office Ideas
Those who love being stylish in everything they do can consider adding a bit of that in their modern shed design process. By adding a few high-quality materials, and using the latest designs such as panoramic windows, you can end up with a very trendy-looking modern shed to be proud of.
11. Rounded Roof Shed
The roof can be one of the most striking features of any shed, which stands out from a distance and catches the eye. Rounded roofs are making a comeback, and you can incorporate some of these ideas in your modern shed plans. 
12. Outdoor Lounge
Work doesn't always have to be tedious. With the Outdoor Lounge, you can bring elements of the living room right to your office. Sit back on a comfortable couch with your laptop and experience the joys of working from home. 
13. Pink Palace
Designed specifically for the ladies who want to try working from the comfort of a modern shed, the Pink Palace is the ideal setting to feel at home and boost your productivity. The idea behind the design can also be tweaked to make it suitable for men to enjoy as well by selecting more masculine colors. 
14. Reclaimed Wood Shed
The environmentally conscious will love this type of shed, which manages to be very modern and functional while leaving as small a carbon footprint as possible. You can even combine it with recycled glass and other environmentally-friendly materials.
15. Tucked Away Shed
Employing the modern shed design ideas that are influenced by having limited space, a small tucked-away shed is the best solution if all you want is a quiet place to work but you do not have that much yard space to work with. It also looks very good when set up in a quiet corner of the yard. 
16. Bar-Lounge Shed
Another type of modern shed design that is made for those who prefer to work in a relaxed environment is the Bar-Lounge Shed. By adding a mock bar counter and some high stools, you can recreate the feeling of working from your favorite chill spot. This is great for reducing stress and stimulating the mind to come up with great ideas. 
17. Victorian Vibe
If you are a fan of ornate furniture from the Victorian era, then why not add a bit of that into your workspace? Although the original pieces of furniture may be very expensive, there are a lot of imitations that may suit your budget. 
18. Stunning Sanctuary
Bring some relaxation and a bit of Zen with you to the office. By adding a few candles and adjusting the light, you can create the perfect stress-free environment that you will enjoy working in even on the days you have a lot of work to do.
19. Indoor Flowers
These days, a lot of people are beginning to see the value of having some indoor plants scattered around the office. Research has suggested that having the right flowers in a work environment is a great way to boost morale and increase productivity. The choices of flowers are endless, so anyone can easily find the best type for them. 
20. Organized Workspace
If you love having everything in your office arranged in a particular way, then you can invest in a few essential pieces of furniture, such as filing cabinets, to help you keep everything in its place and easy to reach 
Conclusion 
There is no denying the rise in the popularity of working from home, and if these trends continue, then having a modern shed is not only essential, but it is the future. There are plenty of upsides to working from home, and when paired with the right modern shed idea, you can create your perfect working environment easily.
Video ads for product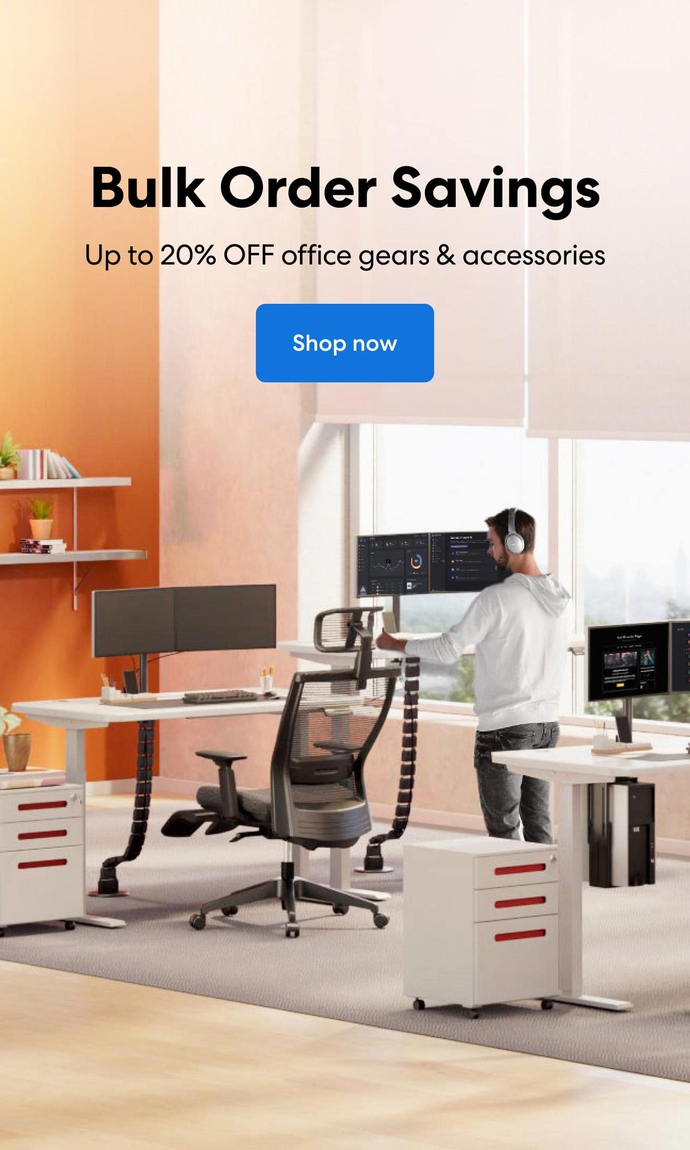 Subcribe newsletter and get $100 OFF.
Receive product updates, special offers, ergo tips, and inspiration form our team.